How to see Kerala's backwaters by houseboat
Exploring Kerala's famed waterways by houseboat
By
Sharell Cook
Last updated 19 May 2020
The 'backwaters' is the name of the enchanting palm-lined waterways that are synonymous with Kerala. This 900-odd kilometre labyrinth of canals connects large regions of Kerala and was constructed centuries ago for transporting cargo, such as spices and rice.
Traditional boats called kettuvallam (made by tying pieces of wood together with coir rope, made from coconut fibres) collected the cargo from isolated villages along the waterways and carried it to traders in town. However, use of the boats fell as a preference for modern forms of transport grew. The vessels are now being used for houseboat trips on Kerala's backwaters and have become one of the region's most popular attractions.
Kerala's backwaters still function as an important hub of local life. Commuting, fishing and farming are frequently undertaken on the backwaters and a Keralan houseboat trip provides a fascinating glimpse into these everyday activities. It feels like a journey through another world as you serenely glide past paddy fields, homes, coconut groves, churches, temples, toddy shops and wildlife.
An overnight stay aboard a houseboat will further reward you with a surreal sunset reflected on the water. Delicious Keralan food, freshly cooked on board the boat, makes it even more enjoyable.
What is a Keralan houseboat like?
Keralan houseboats come in various shapes and sizes, from basic to ultra-luxurious. There are even houseboats with spas and swimming pools.
The smallest houseboats have one bedroom, while the largest have ten. Some have rooftop sun decks. Keep in mind that only one and two-bedroom houseboats can cruise along the narrow waterways. Bigger houseboats won't fit here and are best for shorter trips.
Most houseboats are really comfortable with living rooms, dining rooms, modern amenities, air-conditioning, and en-suite bathrooms. Expect all your meals to be cooked for you by an onboard chef. Most houseboats will ask you to specify whether you want vegetarian or non-vegetarian meals before setting off.
Be aware that you'll spend most of your time on the water. This is a chance to switch off from life, meditate on the views and slow down -- not something that always to do when travelling in India.
Authentic India
Fresh perspectives on familiar places
Home to one billion people and 23 major languages, India is one of the world's most diverse places. You could visit every year for a lifetime and still not see all of it. Many come for its colourful history and tongue-tingling food, or to explore the centuries-old spirituality of a country that places faith at the heart of its society.
Get the guide
Where to start a Keralan houseboat trip
The Kerala backwaters primarily extend from the major port city of Kochi to coastal Kollam. However, there are backwaters in the far north and south of the state as well. The main starting point for a Keralan backwater trip is Alleppey, about two hours south of Kochi. Known as the 'City of Canals' and the 'Venice of the East', Alleppey is the centre of backwater houseboat tourism. Nearby Kumarakom is also a popular place for houseboats.

Of the 1,200 plus houseboats in Kerala, about 700 operate in the core waterways of Alleppey and Kumarakom. Depending on your itinerary, it might be better to begin your houseboat trip elsewhere to avoid this overcrowding. This is particularly true if you don't want to find yourself surrounded by dozens of boats on standard routes during the peak season of December and January. Some are likely to be laden with rowdy domestic tourists who delight in playing loud music and getting drunk. Recommended alternative starting points are Kottayam, Kollam, Kasargod in northern Kerala, and Kozhikode (Calicut).
How long should I spend on a Keralan houseboat trip?
Houseboat trips are usually for one-day or overnight. However, it's possible to hire a houseboat for shorter or longer lengths. A three-night trip will cover the top canals, interior villages, and more remote waterways. However, a brief three-hour trip may not be sufficient if you're interested in seeing a lot of the small canals or want to experience rural life.
You can combine a houseboat trip with a stay at a resort or homestay along the backwaters. Many accommodations have their own houseboats, and offer overnight and sunset cruises.
Do note that the boats must be moored after sunset, so that fishing activity isn't disturbed.
Keralan houseboat routes and what to see
Alleppey-Kumarakom

The most common Keralan houseboat routes are round trips from Alleppey and Kumarakom. The Alleppey waterways are made up of a mixture of wide and narrow canals, dotted with villages and paddy fields. Alleppey is also a centre of coir manufacturing with factories that you can visit. Kumarakom has wider waterways and is dominated by the vast expanse of Lake Vembanad (one of the largest freshwater lakes in Asia). Highlights include the Kumarakom Bird Sanctuary and Pathiramanal Island, where you can see cormorants, herons and kingfishers, amongst many other bird species. In between Alleppey and Kumarakom are sprawling reclaimed farming areas such as C Block, R Block, and H Block.
North of Kumarakom, the rivers and canals of Vaikom merge with Vembanad Lake. Tranquil Vaikom is one of the oldest townships in Kerala and offers village life experiences. Pottery, mat weaving, coconut processing, sand mining, and making coir ropes are carried out there. This is a convenient destination for one-day backwater excursions from Kochi, as it's only an hour away by car from the city.
Alleppey-Kuttanad
Those who want to avoid the glut of houseboats will find the unconventional Alleppey- Kuttanad route via Punnamada Lake the most appealing. This encompasses quiet and calm waterways around Thottappally, Nedumudi and Thakazhi. The Kuttanad district is referred to as the 'rice bowl of Kerala' and cultivation of rice here is intriguingly done below sea level.
Kollam-Ashtamudi Lake
Kollam has grown in popularity as a backwater destination but it's yet to become touristy. It offers a very different experience to Alleppey and Kumarakom due to its important history. It has one of the oldest trading ports on the state's coast and a thriving cashew industry. Ashtamudi Lake is the focal point of houseboat trips in this area, with mangroves and migratory birds. There are more than 15 islands on the lake. One of them is Monroe Island, which draws visitors who want an authentic slice of local life away from the crowds. Routes cover the islands and pass through relatively unexplored waterways. You'll get to see plantations, Chinese fishing nets, rustic villages, a heritage palace, and diverse places of worship.
Kozhikode backwaters
The unspoiled Kozhikode backwaters are situated near Kappad beach and Kadalundi Bird Sanctuary, about five hours north of Kochi. This area is also historically important, as it's where Portuguese explorer Vasco Da Gama landed in the 15th century. Houseboat trip routes include Canolly Canal, Kallai River and Ellathur village.
One-way houseboat trips
It's possible to take a one-way houseboat trip, starting in one destination and ending in another, such as Alleppey to Kumarakom. The cost may be higher if the boat needs to return to its original departure point. The route between Alleppey and Kollam is ideal for a longer one-way trip, extending across two nights. It's very scenic with many narrow canals, farm fields, and secluded villages. Plus, it goes past Amritapuri Ashram of Amma, the "Hugging Mother". Alumkadavu, where houseboats are built, is another attraction on the route.
Other off-the-radar routes include Alleppey to Kidangara (one-night), Alleppey to Mankotta (one-night), Chettuva to Manaloor in Thrissur district, and the Poothotta backwaters near Kumarakom.
Keralan houseboat routes away from Alleppey
Kochi
A newly renovated cruise boat terminal at Kochi is set to increase backwater tourism in the area, with routes covering city landmarks such as Bolgatti Palace and Cochin Shipyards, and Vypeen Island. However, tourists who want to go on a backwater trip from Kochi in a traditional-style houseboat are typically taken to departure points elsewhere.
Northern Kerala
Houseboat tourism is still in its infancy in northern Kerala's Kasaragod district, meaning idyllic and undisturbed waterways. There are a couple of houseboat routes here. One runs between Payyanur and Kottapuram near Nileshwar, covering Valiyaparamba Island and the Kavvayi backwaters. Oyster Opera theme village, dedicated to oyster farming, lies along this route. The other route covers the waterways around Chandragiri, near Bekal, where there's a 17th century fort built by Sivappa Naik of Bedanore.
Southern Kerala
In far southern Kerala, the waterways around capital city Trivandrum are defined by lakes and rivers. This area has fewer houseboats and isn't optimal for backwater trips. A cruise along the picturesque Poovar backwaters, about an hour south of Trivandrum, in a motorboat or country boat is your best bet.

How to book a Keralan backwater tour
The boom in backwater tourism and associated proliferation in houseboats is posing a concerning threat to the environment in Kerala. The waterways around Alleppey and Kumarakom have become noticeably polluted as a result of poor waste management practices.
In order to address this, the Keralan government has introduced a new houseboat classification system with Silver, Gold and Diamond ratings (to replace the older Silver Star, Gold Star and Green Palm categories).
The ratings take into account factors such as responsible waste management, disability-friendly features, use of eco-friendly materials, codes of conduct for guests and staff, quality of furnishings and fixtures, use of LED lamps, biogas stoves, smoke alarms, and first-aid kits.
When booking with a houseboat operator or tour company, it's important to check that the houseboat has been appropriately registered and classified.
Experiencing Kerala's waterways beyond houseboats
Many visitors to Kerala are now choosing to take tours in smaller local boats (called country boats), canoes, or even kayaks, to villages along the narrower canals where houseboats can't go. This provides a more intimate, immersive experience of the Keralan backwaters.
Another alternative is to spend a night or two at a hotel or homestay alongside the waterways and dreamily watch the houseboats go by. Numerous options are concentrated around Alleppey and Kumarakom.
Those who are travelling on a budget and want to save money can take one of the public ferry services operated by the State Water Transport Department, such as the one between Alleppey and Kottayam.
How to extend your Keralan trip
Munnar
Love tea? include the hill town of Munnar on your itinerary. It's one of India's top tea producing areas where you can see tea being harvested, go tea tasting, take a plantation walk, and even stay on a plantation. It's about a six hour drive from Kochi.
Kochi
Kochi will charm anyone who appreciates architecture and history. It's a beguiling blend of Arab, British, Dutch, Chinese, Portuguese, and Jewish influences. A bit over an hour north of Kochi, the Muziris heritage precinct (from North Paravur to Kodungallur) has some of the oldest religious structures in India, dating back thousands of years to the time Muziris was an ancient port city. It's one of the country's biggest conservation projects.
Thekkady
The most popular attractions in this forested area in Kerala's Idukki district are Periyar National Park, the spice plantations at Kumily, and local tribal villages.
Wayanad
This lush hilly region along the Western Ghat mountains also has tea, coffee and spice plantations. It attracts adventure enthusiasts who trek to spots such as Chembra Peak and Meenmutty Falls and go bamboo rafting at Kuruva Island. The prehistoric carvings at Edakkal caves are compelling too.
Marari Beach
Visiting the backwaters around Alleppey and want a beach break nearby? Marari borders a fishing village and remains relatively undeveloped, yet has a temping range of accommodations. Some are bang on the beach and offer authentic Ayurvedic treatments.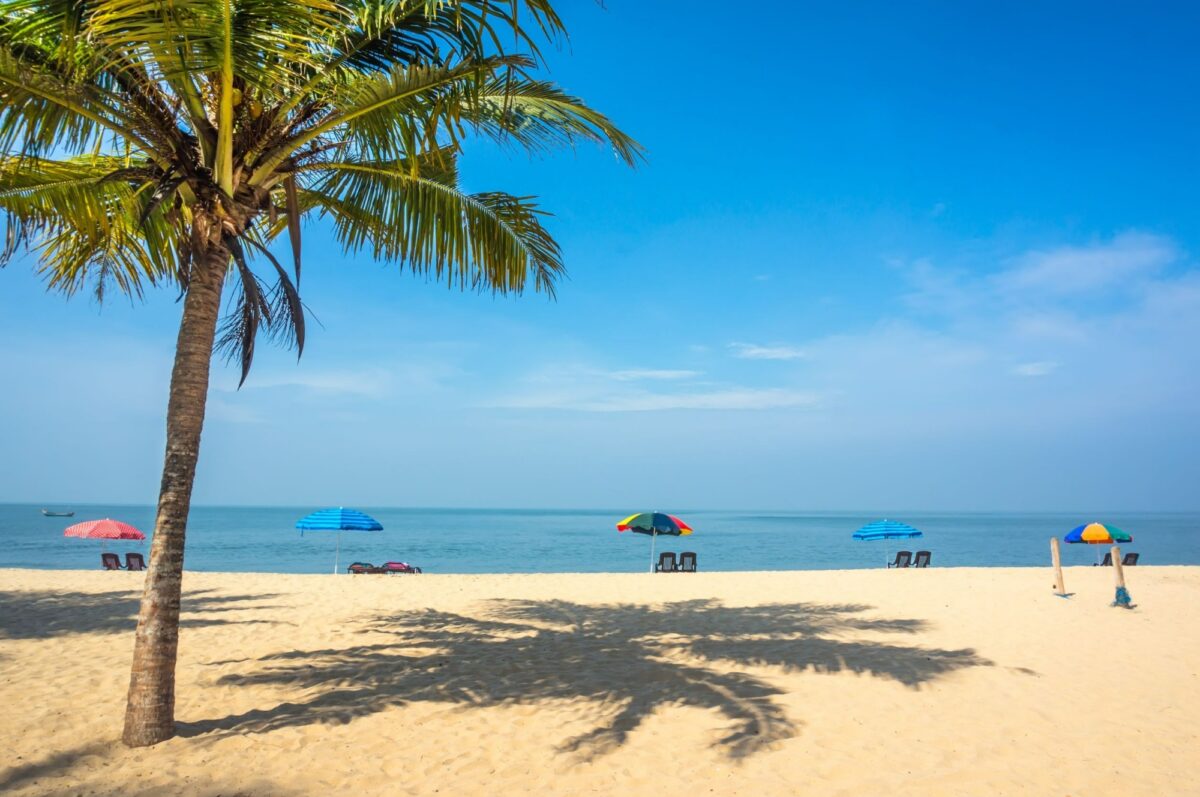 Folk arts and dance
Kathakali (an elaborately costumed dance-drama) is the most well known of Kerala's many unique and unusual folk art forms. Others include theyyam ( an ancient ritual art form that involves the channeling of deities that come to earth), kalaripayattu (a form of martial arts), and pulikali (tiger play performed during the Onam festival, whereby men dress up as tigers and dance to traditional percussion instruments).
The appealing thing about Kerala is that it's a year-round destination, with things to do even during the rainy season.
Month-by-month
January is peak season in Kerala and the waterways around Alleppey become congested with houseboats. Less touristy destinations such as the beaches and backwaters of northern Kerala, or Monroe Island in the south, are good alternatives for getting off the beaten track at the start of the year.
By February, the crowds have dissipated and the energy-sapping humidity is yet to set in, making it an ideal month to visit the state.
Kerala's tourist season ends in March, as humidity rises to uncomfortable levels in coastal areas. The Western Ghat mountains provide the best respite, with tea plantations in Munnar and Wayand popular — and cooler — attractions.
By May, the humidity is brutal. Kerala is best avoided at this time, as it's also busy with Indian families on school holidays. Cheap deals are possible if you can take the heat. Head to Kovalam beach, on the state's southern tip, to watch the southwest monsoon roll in at the end of May.
The monsoon rains gather in intensity in June, with heavy rain and sometimes flooding over the next few months. However, the monsoon season is optimal for Ayurveda (a holistic mind and body approach to healing), as the heavy atmosphere makes the body more receptive to treatment. If you don't mind getting wet, Periyar National Park remains open, offering tiger and elephant sightings.
There's a brief reprieve from the rain in September, humidity is bearable, and off-season discounts are still available. This shoulder season is an attractive time to enjoy Kerala's verdant nature and waterfalls. Go hiking or explore the Western Ghat mountains and hill stations.
The tourist season resumes in October and prices rise accordingly. Diwali school holidays bring an influx of domestic tourists to Kerala in November. Prices increase further in December as the balmy, dry winter sets in and peak season commences.
Festivals and events
Kerala's iconic temple festivals take place from January to May with vibrant processions of drummers, gods and goddesses and elephants. Kerala Tourism holds a state-wide folklore festival in early January, which showcases 200 folk art forms. The 10-day Swathi Sangeetholsavam classical music festival at Kuthiramalika Palace in Trivandrum is another highlight in early January.
Traditional snake boat races are a feature of the monsoon season in Kerala, from June to September. The races now continue through to November as part of the new commercial Champions Boat League.
Onam, the state's biggest festival, falls across two weeks in August or early September. Onam is a harvest festival, celebrated by all the state's religions despite its Hindu origin. Expect boat races, feasts and dance processions featuring performers dressed as tigers and hunters.
From October to May, fascinating costumed theyyam rituals are performed at temples in northern Kerala's Kasaragod and Kannur districts.
Head to Fort Kochi during the last week of December for the popular Cochin Carnival. It culminates with a grand street procession on New Year's Day. The Kochi-Muziris Biennale also happens every second year in and around Kochi, from December to March. It's Asia's largest exhibition and contemporary arts festival.