Borneo
Untamed nature
Borneo is 'one great wild, untidy, luxuriant hothouse, made by nature for herself', wrote Charles Darwin in the 1800s. He was fascinated by this immense island's unique wildlife and despite the impact of logging and mining, it remains a rainforested trove of birds, plants and animals. Exotic orchids, orangutans, sun bears, pygmy elephants, Irrawaddy dolphins, clouded leopards: there is much to see, but some, like the orangutan, are under threat.
Away from a number of very worthy sanctuaries, it's not easy to spot these rare creatures. So take a paddle up river deep into the jungle to stay with tribespeople in a traditional longhouse. Here, you can get a local to show you around.
Seasons and climate
Sitting astride the equator, Borneo has a warm, tropical climate. Although it is broadly possible to separate Borneo's climate into the usual two seasons for the region — wet and dry — weather conditions are often very localised and extremely difficult to predict. Even in the dry season, it is better to prepare for the odd downpour rather than assuming it will stay dry.
Unusually for South East Asia, the dry season in Borneo runs from March to October, and the heaviest rainfall is in December and January, although the far north is at its driest in February and March. Kinabalu National Park is considerably cooler than its surrounding lowlands so make sure to pack layers to keep warm, especially in the evening.
Month-by-month
January is best avoided in Borneo, as heavy rains fall over the majority of the country and most wildlife will hide away in the dense jungle. February brings drier weather in the north of the country, so head to Gaya Island or plan a trek up Kinabalu, taking advantage of the low season offers. March and April offer more dry weather, as well as the start of whale shark season for divers, which runs until May.
June, July and August are peak season on the island, with the best travel conditions but the biggest crowds and highest prices. The wildlife is very active at this point in the year – the summer months are a perfect time to see the famous orangutans and turtles native to Borneo. It is also the best time of year for diving, with excellent visibility of up to 40m on calm days. Baby turtles hatch on Turtle Island in August.
September marks the end of high season and while the weather is not as reliable, the crowds thin and there is still a good chance of sunshine in the majority of the island. Head away from the coast and travel inland to the Danum Valley and Kinabatangan River. October is similar to September but brings more frequent rain, which really takes hold in November and December. This is Borneo's low season and can be a good time to take advantage of cheaper prices.
Events and festivals
The heavy rains mean that the beginning of the year is quiet on the festival front, although Chinese New Year is celebrated at the end of January or start of February.
The majority of Borneo's festivals fall in the dry season. May brings the Miri Jazz Festival to northern Sarawak, where world-famous musicians entertain the crowds, whatever the weather. The festival only allows a very small number of tickets to be purchased at the gate, so make sure to buy yours online before you go to save disappointment.
The end of May is Borneo's Harvest Festival called Gawai Dayak. It is a national holiday in Sarawak. Beginning at sundown on May 31st, the celebrations include wearing traditional dress, sharing of food, music and even a ritual sacrifice of a chicken.
The middle of the dry season is also the high point for festival season. Head to Kuching for the Rainforest Music festival in July, where musicians from all over the world perform at this three-day festival – one of the biggest in Asia. Despite the dry season date, it is likely to be as muddy as anything Glastonbury can offer. If the mud puts you off, instead head for Sibiu, where the Borneo Cultural Festival draws 20,000 visitors each July to marvel at Borneo's indigenous music, art and culture.
As the festival season draws to a close, don't miss the Borneo International Kite Festival in Bintulu where teams fly complex kites over Bintulu airfield. Held in September, this festival includes cultural performances and authentic Malaysian food, making for some excellent photography opportunities. For something more cultural, visit Tenggarong in East Kalimantan for Erau, one of Indonesia's oldest festivals. Held since the 16th century, Erau celebrates the region's Dayak people with music, traditional dance and sporting events.
All you need to know to begin planning your trip to Borneo
Do I need any vaccinations to see orangutans?
There are no vaccinations required to see orangutans, but humans can pass certain diseases on to orangutans and vice-versa, so contact is discouraged. Depending on where else you choose to visit, you may need to take malaria tablets or have vaccinations. As with any travel, speak to your doctor to get the most up to date medical advice.
What will seeing orangutans be like?

Try not to have any expectations. Remember that it is a privilege to see these animals at all and each experience will be different. Respect the orangutan, so do not call out to it, feed it or approach it. There are other reasons for this: to rule out potential danger if the orangutan feels threatened, and to avoid the animals becoming too used to humans or developing bonds with them.
What's the difference between visiting orangutans in the wild vs conservation centres?
Orangutans on show in conservation centres are just that. Remarkable as they are, the spectacle is staged and the orangutans are habituated to come every day at the same time for food. This does not rule out variety, or unpredictability, but narrows it down.
Seeing orangutans in the wild is more difficult, but is also more exciting and more compelling. It can also be disturbing when you see their natural environment being compromised by forestry, palm oil and other industries.
How can you ensure that the places you visit are ethical?
Choose your tour group well. There are a handful of local setups — in Sarawak, Sabah, and Borneo-wide — who really stand out as ecotourism pioneers. Going local is generally better. Try to use a tour company who is genuinely local (and not just a foreign interest with a local shopfront), and is actively involved with local communities and on the ground conservation. When booking with them, always mention this as one of your reasons for getting involved.
How physically demanding are orangutan tours?
This depends entirely on the tour you choose to take. Some jungle treks allow you to decide how much or how little you trek, while others feature full-on itineraries with full-day walks. Whatever option you choose, it's important to remember that the climate will play a big part in how physically fit you feel. With high humidity and temperatures, it is easy to get more tired, more quickly.
Should I tip my orangutan guides?
Tipping is not compulsory nor expected, so how much you tip is entirely up to you. If you do choose to tip, try to do so for both good service and ethical behaviour — this encourages guides to become more ethical.
What is life like on board a klotok?
Klotoks are the famous houseboats that you'll sail on to reach more remote parts of the jungle or rainforest. Typically, visitors will stay for several days on board the klotok while exploring the rainforest. On most klotoks, you'll sleep on the top deck in the open air, with mosquito nets and clean bedding. Showers are generally buckets of water (although more upmarket ones may have showerheads) and most don't have electricity.
A klotok tour is a chance to unwind and experience the jungle scenery, away from the gadgets (and comforts) of modern life. Apart from trekking, watching the jungle go by and eating delicious home-cooked food, there is little else to do — but that can make for a magically relaxing experience.
Orangutans are native to only two places in the world — the island of Borneo and Indonesian Sumatra. However, the orangutan's natural habitat is shrinking at an alarming rate, forcing these gentle animals away from food sources and into conflict with humans.
The problems are many. Illegal logging, forest fires, mining and particularly palm oil plantations are all fragmenting the orangutan's natural habitat. According to the Orangutan Foundation, the current rate of forest degradation means that the orangutan will have lost 80% of its natural habitat by 2080.

This means that it is increasingly difficult to see orangutans in the wild. Most visitors to Borneo and Sumatra will choose to see orangutans in one of the rehabilitation centres. These places do good work, looking after orphaned and injured orangutans, nursing them back to health and teaching them the skills needed to reenter the wild. Regular feeding times attract semi-wild orangutans to feeding stations, making it easy for visitors to experience orangutans.
However, there is no substitute for seeing a fully-wild orangutan in the jungle. The orangutans you see at rehabilitation centres are used to seeing humans. They may interact differently and as the viewing times are so short, many centres are crowded with tourists. Seeing a wild orangutan might only involve a fleeting glimpse of orange fur in a tree, but it might be a moment you treasure for the rest of your life.
How to spot wild orangutans
Put simply — to see wild orangutans, you need to journey further into the rainforest, away from the bigger tour groups. In locations like the Kinabatangan River, you'll slowly journey up the water on a klotok, looking for sun bears, crocodiles and proboscis monkeys before docking and touring through the jungle, listening to birdsong and tracking orangutans. Here, you might not see another tour group at all. The experience is completely different from a rehab centre.
Your best chance of seeing a wild orangutan is in Sabah, purely due to numbers. There are approximately 11,000 wild orangutans in Sabah, compared with just 1,600 in Sarawak. Most will journey to the Kinabatangan River or Danum Valley in Sabah or Batang Ai in Sarawak for wild orangutan spotting.
Choosing your destination will depend on your level of fitness, the type of trip you want (hiking/boating) and what else you want to see on your trip. Expect to spend at least three to four days on a wild orangutan tour, staying either on a klotok boat or in rainforest lodges.
Your tour will take you to feeding stations in the rainforest, where you can watch orangutans feasting on fruit, vines, small insects and plants. Watch for the interactions between mothers and young children, or the presence of large males with throat pouches, beards and large cheeks.
Best places to see orangutans on Borneo and Sumatra
The only places you can see the orangutan in its natural habitat are on their native islands of Borneo and Sumatra. Seeing wild orangutans means embarking on a guided jungle trek, but there are several sanctuaries and rehabilitation centres which offer a more accessible way to see orangutans feeding and swinging through the trees. While many of these centres do invaluable work protecting and conserving these magnificent creatures, it's well worth making the extra effort to try to see them in their natural habitat if you can.
There are four places you can see orangutans — the Malaysian states of Sabah and Sumatra, Indonesia's Kalimantan, and Sarawak, which spans both countries. Perhaps the most easily accessible is Sabah, with Kalimantan the least westernised region. Choosing where to see orangutans depends on the type of experience you want. Here are the options.
Best places to see orangutans in the wild
Kinabatangan Wildlife Reserve, Sabah
The Kinabatangan River is Sabah's largest waterway and is the most popular destination for those looking to glimpse an orangutan in the wild. Most visitors choose to cruise down the river, taking the occasional jungle trek and overnight camping stay. As well as orangutans, you can also spot pygmy elephants, macaques, crocodiles and other wildlife.
Danum Valley Conservation Area, Sabah
This is real jungle. Thick with trees and lush tropical plants, the Danum Valley is an isolated, wild area where orangutans, proboscis monkeys and many bird species can be spotted. For a proper jungle experience, try a nocturnal guided trek, when the forest comes alive with the sound of wildlife.
Maliau Basin Conservation Area, Sabah
This pristine rainforest was unreachable for decades. Then, in the 1980s, scientists and primate researchers began to cautiously explore the area. Now open to a limited amount of tourism, this is a great place to see truly wild orangutans. A word of warning — trekking here is arduous, so you'll need to be physically fit.
Batang Ai, Sarawak
The only place to see wild orangutans in Sarawak, Batang Ai National Park is most famous for the contributions of the indigenous Iban tribe, who conserve the rainforest and conduct surveys into the orangutans. Make sure you take time to engage with Iban culture if you choose to look for orangutans in Batang Ai.
Gunung Leuser National Park, Sumatra
Home to the Sumatran orangutan, UNESCO-listed Gunung Leuser National Park offers the opportunity to see proboscis monkeys, gibbons and hornbills. If you're lucky, you may even spot the incredibly rare Sumatran tiger or rhino.
Tanjung Puting National Park, Kalimantan
Home to the world's largest population of wild orangutans, Indonesia's Tanjung Puting National Park is also the base for several conservation centres. Most visitors take a traditional klotok boat upriver, looking for sun bears, proboscis monkeys, civets and gibbons. Visitors to this park normally spend a few days cruising upriver.
Where to see orangutans in rehabilitation centres
Sepilok Orangutan Rehabilitation Centre, Sabah
The largest orangutan rehabilitation centre in the world, Sepilok cares for orphaned orangutans who buddy up with older apes to learn how to survive in the wild. Visiting revolves around feeding times at the centre, but Sepilok also offers volunteer placements.
Semenggoh Wildlife Centre, Sarawak
A couple of hours from Kuching, Semenggoh is a rehabilitation centre for orphaned and injured orangutans. Here, they learn the survival skills needed for re-entry into the forest. Visitors get to see orangutans feeding in the morning and afternoon, where they can practice their swinging and nest building skills.
Matang Wildlife Centre, Sarawak
This unique wildlife centre offers refuge to injured an orphaned orangutans, as well as other wildlife such as sun bears and civet cats. Visitors can watch the animals feeding, or for the more adventurous, volunteer on placements.
Camp Leakey, Kalimantan
Perhaps the world's most famous orangutan centre, Camp Leakey is named for the legendary primatologist Louis Leakey and is run by Dr Birute Galdikas. Come for feeding time and the world-class information centre.
Orangutans may be our closest relatives, not chimps — at least if you believe a 2009 American study, which suggests that as well as sharing nearly 97% of our DNA with orangutans, we also share 28 physical characteristics. Whatever the case, orangutans are extraordinarily humanlike in their gestures. They are capable of learning complex tasks, expressing emotions and developing strong bonds.
When visiting orangutans in the wild or in conservation centres, it's best not to have any expectations. This will allow for the unpredictability of the experience to take its natural course. Everyone experiences orangutan viewings and interactions in a different way.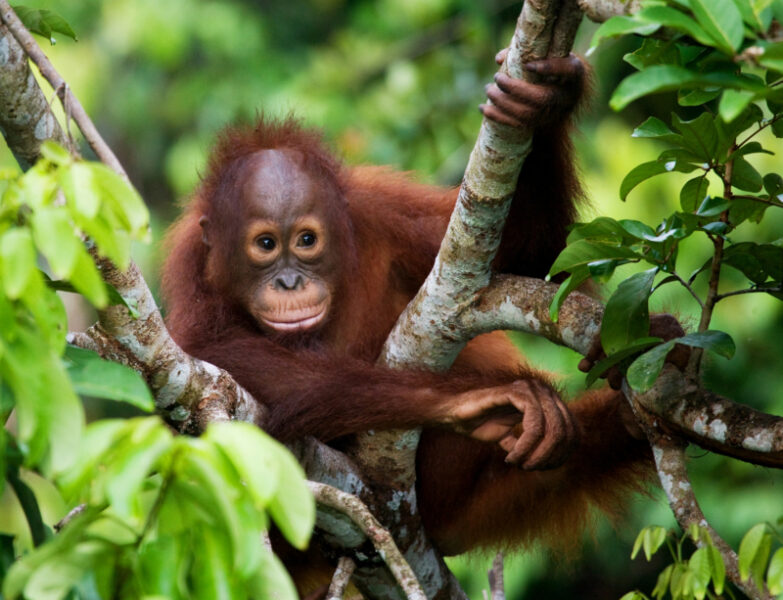 Health and safety
Orangutans are gentle giants and attacks on humans are very rare, but they have happened when the apes feel threatened. In order to avoid threatening orangutans, be respectful of the animal. Never hold, feed, touch, play with or in any way disturb an orangutan and always move at least six metres away from an animal that is on the ground. Never try to take selfies with orangutans and be aware of guides that encourage you to do so — this behaviour can be extremely stressful for orangutans. When viewing the animal in the wild, contact is best avoided to stop orangutans becoming too used to humans and developing bonds with them.
While you do not need any vaccinations to visit orangutans, humans can communicate certain diseases to orangutans and vice-versa, so contact is discouraged.
What to pack and wear
It's vital to wear cool, breathable clothes when visiting orangutans, particularly in the wild. Humidity in Borneo's rainforest can reach up to 95% and it is very hot, so you'll be sweating. Wear fabrics like cotton or linen and bring plenty of water and sunscreen. Try to wear long-sleeve tops and trousers if jungle trekking — leeches are common. The region is also prone to occasional downpours, so bring a light waterproof jacket.
Depending on how you choose to see orangutans, you may wish to bring walking boots. If you're only visiting the rehabilitation centres, most paths are well trodden so trainers will probably be enough.
The orangutan experience
No tour company will be able to guarantee that you'll see orangutans on your trip. However, choosing to visit an orangutan rehabilitation centre makes it much more likely. Here, rangers call out to the orangutans as they carry sacks of bananas and sugar cane to the feeding stations. This will usually be greeted by whooping and the sight of orangutans swinging through the trees as they come for a free meal. You're more likely to see a female and her babies than a large male orangutan.
Seeing orangutans in the wild can be a much more fleeting experience. You're more likely to catch a glimpse of an orangutan in a tree than up close at a feeding station. However, this is a much more immersive experience, involving cruising up a river on a klotok, staying with indigenous tribes and learning more about the rainforest.
Alongside orangutans, there are many other animals worth seeing, from sun bears to macaques, hornbills to crocodiles and all sorts of creepy crawlies.
Viewing guidelines
Regardless of whether you choose to see orangutans in the wild or at rehabilitation centres, always remember that you're looking at a wild animal.
Keep a respectful distance — Stay at least 10m away from any orangutan so that it does not feel threatened
Don't feed the orangutans — Never feed the orangutans. Doing so encourages behaviour that is detrimental to their survival in the wild
Stay away if you feel ill — Humans can be extremely contagious to orangutans and can transmit airborne diseases. Some viewing places will ask you to wear a mask
Keep noise down and don't disturb the natural habitat — Keep your voice low and never call out to an orangutan.
Visit local communities and use local guides — Conservation and sustainable ecotourism relies on the participation of the local community
See also Compassionate Travel: A guide to animal-friendly holidays
Volunteering with orangutans is one of the best ways to help conserve this critically endangered species. The dangers facing orangutans are many: deforestation, illegal logging, being kept in captivity and hunting are all contributing to a declining orangutan population. There are many different volunteer programmes you can choose to join.
Paid for programmes or volunteer for free
The two main options for volunteering with orangutans are programmes where you pay a fee to work with the animals for a set amount of time (normally between 2-4 weeks) and programmes where you give up your time for free.
Paid for programmes are normally run by charities. The fee you pay — normally anything from a couple of hundred pounds to several thousand — contributes directly to the upkeep of the orangutans and survival of the project. You'll be provided with accommodation and board during your stay. Paid-for programmes accept volunteers without any direct skills in conservation. You'll spend your time creating a better environment for the orangutans, whether that's constructing enclosures or feeding platforms, cleaning out cages or general maintenance. It's important to note that the majority of your time won't be directly in contact with the orangutans, but rather working on the environment in which they live.
It's also possible to put your real-life skills to work in volunteering projects for orangutans. For example, web developers or copywriters could revamp the charity's website, vets could work more closely with the animals or carpenters could lead on construction. Most programmes will ask you to list your skills so they can try and make the best use of your time.
Although fewer in number, some projects do allow visitors to volunteer for free. However, these are generally more on maintenance projects and do not involve working directly with orangutans or other wildlife.
The daily routine of a volunteer
The daily routine of a volunteer varies depending on the programme. However, you can expect mornings to begin early (around 8am to avoid the worst of the midday sun), with basic husbandry the main task. This can be preparing food for the orangutans, cleaning out enclosures, watering plants — anything that is needed to get the centre up and running. Expect an extended lunch break when the sun is at its hottest, before an afternoon of maintenance, construction and more cleaning.
Tasks can include peeling and cutting fruit, building and repairing feeding stations and even interaction with tourists and guests, if the rehabilitation centre offers tours.
It's important to note that volunteer programmes aren't just about time spent with orangutans. You'll also spend a lot of time interacting with other volunteers, visitors and site personnel. This also means that evenings are spent sharing stories with other volunteers — it's important to be sociable and to be prepared for communal living.
Weekends are free and volunteers often explore other parts of Borneo, Malaysia or Indonesia, whether national parks, major cities or resorts.
Where can I volunteer with orangutans?
There are numerous volunteer programmes with orangutans in the region but perhaps the two most popular pay-to-volunteer programmes are at the Sepilok Orangutan Rehabilitation Centre in Sabah and the Matang Wildlife Centre in Sarawak.
Sepilok offers four-week pay-to-volunteer programmes starting every month, including accommodation, transfers, board and excursions to nearby wildlife sanctuaries and conservation projects. The programme involves working at the centre's indoor and outdoor nurseries, field surveys, preparing food and cleaning out enclosures.
Matang Wildlife Centre offers the opportunity to work with orangutans and other animals at its centre. Pay-to-volunteer programmes here last either 14 or 28 days, starting twice a month. Accommodation, airport transfers and essential food and drink are included in the booking price.
Outside of these two main programmes, you may be able to volunteer with research or conservation centres that do not work directly with orangutans.
Sabah's best places to see orangutans
Borneo is the only island in the world that is home to three nations: Malaysia, Brunei and Indonesian Kalimantan. Sabah is one of the two Malaysian Borneo states in the northern part of the island. It was part of the British protectorate of North Borneo until 1963.
Mountainous and jungle-covered, with astounding flora and fauna, Sabah's nickname — the land below the wind — stems from its location: just south of the typhoon belt, in the equatorial doldrums. There are approximately 11,000 orangutans in Sabah.
Why choose Sabah to see orangutans?
Sabah is home to Borneo's most iconic orangutan-spotting and rehabilitation centre, Sepilok, which draws thousands of tourists each year. Located on the northeast coast and easily accessed by car, coach or local bus services, this is the place to see orphaned orangutans learn the necessary life skills to be let loose into the wild again.

Sabah also boasts some of the island's most amazing conservation spots to see orangutans in their natural habitat: the Kinabatangan River area and Danum Valley. At the same time, you will come face to face with a whole lot of other wildlife: various primates including pot-bellied proboscis monkeys, Borneo elephants, Sunda clouded leopards and tropical birdlife galore. Of an estimated 104,000 orangutans left in Borneo, Sabah is home to about 11,000.
Where to see orangutans in Sabah
Sepilok Orangutan Rehabilitation Centre

Immersed in rainforest on Sabah's northeast coast on the lip of the Kabili-Sepilok Forest Reserve, lies the Sepilok Orangutan Rehabilitation Centre — arguably Borneo's most famous place to see orangutans. The first rehab centre for orphaned orangutans in the world, Sepilok was set up as a joint effort by Englishwoman Barbara Harrison and the government of Sabah in 1964. The centre cares for young orangutans orphaned as a result of illegal logging and those kept as pets, aiming to teach them the skills necessary to re-enter the wild.
Baby orangutans stay with their mothers for up to six years, learning how to forage, feed and most importantly, climb. At Sepilok, orphaned orangutans are paired with older ones in the hope that they'll pick up the necessary skills. For infant orangutans, 24-hour care is provided by humans and in the centre's nursery. It can take up to seven years for an orangutan to be released back into the wild.
Now operated by Sabah's Wildlife Department, the key attraction here is feeding time, which happens between 09:00-12:00 and 14:00-16:00. On arrival, you will watch a brief movie on the site's history at the visitor information centre. From there, a boardwalk leads through the rainforest to an orangutan playground, where — from behind a glass observation window — you can watch the centre's youngest residents playing on swings and climbing and clambering around.
Then, it's onto the feeding platform, perched up in the trees about 25m from the viewing area. The number of orangutans here depends largely on how many are in the area and how hungry they are. Once the huge apes are full of bananas and vitamin shakes, they set off to have a swing and a play. You'll also see macaques and gibbons swing by for a bite to eat.
It's important to follow the centre guidelines and never touch, harass or try to take selfies with the orangutans — remember this is a rehabilitation centre, not a zoo.
While at Sepilok, it's also worth visiting the neighbouring Bornean Sun Bear Conservation Centre, for a look at the world's smallest bear species (averaging 120-150cm in height).
Sepilok is about 25km west of the waterside town of Sandakan. There are several daily flights in and out of Sandakan from Kota Kinabalu, Sabah's capital, and some flights from Kuala Lumpur. If you are not on a tour, you can get there easily by car, taxi or by bus from Sandakan.
Orangutans near the Kinabatangan River

The 560km Sungai Kinabatangan is Sabah's longest waterway and the second largest in Malaysia. This mighty river is an excellent place to see both wild orangutans and in conservation.
A good place to start your journey is the Lower Kinabatangan Wildlife Sanctuary. Created in 1999, this is one of only two places in the world inhabited by ten species of primates, including many orangutans and long-nosed, leaf-eating proboscis monkeys. Both species thrive on the river's mangrove and freshwater swamp habitat.
The best way of seeing the apes is to take a day or overnight tour from Sandakan. Several nature lodges located along the river offer wildlife safaris in the early morning, afternoon and evening, guided by excellent boatmen and spotters. These experts are adept at seeing orangutans sitting high in the mangrove trees along the riverbank chomping on fruits. The sanctuary is also home to langurs and an abundance of birdlife, including hornbills, crested serpent eagles and stork-billed kingfishers. If you're very lucky, you may even catch a glimpse of a Bornean elephant, while the river itself is home to freshwater sharks and crocodiles.
Wildlife is present here year-round, though keep in mind March-April is the dry season, so there will be less rain.
The area is also home to the Kinabatangan Orangutan Conservation Project, a conservation centre run in partnership with French NGO HUTAN. It works with local communities on environmental education programmes and research projects. Although not a tourist-oriented enterprise like Sepilok, the centre may help you source guides should you wish to search for wild orangutans.
Orangutans in the Danum Valley Conservation Area

The 438sq/km Danum Valley protected forest reserve is one of the largest swathes of primary lowland dipterocarp rainforest in Borneo, set aside for wildlife conservation, research and education since the 1980s. So thick is the forest here (trees can grow to 70m high) that humans have never settled permanently, but perhaps that's why it is one of the best and most reliable locations for wildlife sightings, with recent studies putting the number of orangutans in the area at around 500.
If you choose to visit Danum, you must book accommodation in advance at one of the only two lodges available: either the nuts and bolts accommodation of the Danum Valley Field Centre - one of the leading rainforest research hubs in Southeast Asia, or at the Borneo Rainforest Lodge, whose wooden chalets by the river constitute one of Borneo's leading nature resorts.
Activities at both lodges include nature trails, guided jungle treks, night wildlife excursions, canopy walks and birdwatching. Wandering the trails quietly, you might easily pass an orangutan swinging happily in a tree, or observe a whole troop of cheeky red leaf monkeys, playing around at sunset. On the night wildlife excursions, it is not uncommon to spot clouded leopards and sun bears, as well as the weird and wonderful, bulging-eyed western tarsier, a small leaping primate. One for the adventurous.
Orangutan spotting in Sabah at a glance
Sepilok: On Sabah's northeast coast, travelling from the town of Sandakan, you can visit both the famous Orangutan Rehabilitation centre at feeding time, and the neighbouring Sun Bear Conservation Centre for a close-up -- though controlled -- encounter with the man of the forest.
Kinabatangan River: With the highest concentration of orangutans in Malaysian Borneo, sightings here are pretty much guaranteed on the day/overnight river wildlife safaris offered by many tour companies and riverside lodges. Proboscis and pit vipers are among other common sightings on the dawn and dusk treks through the river's mangrove and swamp environments.
Danum Valley: Located within a vast, fully-protected expanse of undulating tropical rainforest, not only is this home to a sizeable population of orangutans but a wildlife spotting place par excellence. Look for the rare Sumatran rhino, pygmy elephants, sun bears and clouded leopards and ten primates in all.
Sarawak's best places to see orangutans
Sarawak together with Sabah makes up Malaysian Borneo — also known as East Malaysia. A river-threaded land, the state's 55 rivers provide a vital link between the coast and remote jungle interior, where both ethnic tribes and orangutans dwell in the wild.
The waterways constitute an incredible navigable network of 3,300km. For many of Sarawak's predominant Iban tribe — fearsome former headhunters — rivers are still the only means of transport to their hinterland homes.
Iban longhouses dot the forested riversides way upriver, deep into the jungles. Some of those forests fall within the 'Heart of Borneo' conservation region, which is home to significant, though dwindling, populations of the orangutan.
Why choose Sarawak to see orangutans?
Sarawak may not be Malaysian Borneo's leading orangutan sighting state — with Sabah often stealing the limelight — but it offers authentic orangutan sighting adventures and off-the-beaten-track experiences that Sabah cannot match. This will allow you to escape the crowds, whilst still on the orangutan trail. The upriver trips in Sarawak are unparalleled for excitement and wonder, allowing visitors to encounter rare cultures and tribal life, as well as the chance of seeing the orangutan in the wild.

For those with less time on their hands, the Semenggoh Nature Reserve near Kuching is an easily-accessed home to a colony of semi-wild orangutans who are accustomed to human encounters.
Where to see orangutans in Sarawak
Semenggoh Wildlife Centre
Just 20km south of state capital Kuching lies Sarawak's first forest reserve. Established in 1920, Semenggoh became a rehabilitation centre for orangutans, honey bears and hornbills in 1975. Semi-wild orangutans live at the sanctuary, having graduated from the infant-oriented Matang Wildlife Centre west of Kuching. Visits revolve around feeding times (09:00-10:00 and 15:00-16:00), where you will see these playful and unpredictable creatures up close. Some come within an arm's reach and may sit alongside you on the feeding platform, while others hang out further back in the trees.
The viewing area is a 1km walk from the entrance, where a series of graphic images warn of the dangers of inappropriate behaviour with the orangutans, such as goading them, teasing them with food, or just getting too close for comfort (the reserve's forest trails have been closed since an orangutan attacked some staff in 2014). The reserve also has an Orangutan Museum where you will get some great insights into orangutan behaviour and conservation, as well as seeing the resident crocodiles. The reserve is also home to an arboretum and botanical research centre so you can wander among a lovely ethnobotanical garden with a wide variety of plants, as well as a fruit orchard, bamboo garden and pond with floating pavilion.
The centre opens between 08:00-10:00 and 14:00-16:00 for visitors and is easily accessible from Kuching, taking around 30 minutes by car, coach or taxi.
Batang Ai

Batang Ai National Park is the only place in Sarawak where you can spot orangutans in the wild and is also one of the least known destinations for doing so, thanks to its remote location.
As part of the region's largest protected area for tropical rainforest conservation, this 240sq/km park — together with the Lanjak Entimau Wildlife Sanctuary in Malaysia and Indonesia's Bentuang Karimun National Park — forms a near 10,000sq/km sanctuary for one of the few viable orangutan populations in Borneo alongside other endangered species. There are an estimated 1,000 orangutans in Batang Ai.
For conservation reasons, only part of the park is open to visitors. With the highest orangutan population density in central Borneo (1.7 animals per sq/km), the chances of seeing a wild orangutan here are good. However, sightings should be regarded as a bonus, not a guaranteed experience. Visitors also have the chance to see gibbons, langurs and hornbills, as well as engaging with the indigenous Iban community, who are fully involved in park conservation and management across Batang Ai. A nomadic community once infamous for headhunting, the tattoo-covered Iban make up 30% of Sarawak's population and work in conjunction with the Sarawak Forest Commission to conserve the park. They are masters of the longboat and orangutan tracking.
The only way of getting to the orangutan zone in Batang Ai is on a multi-day tour, which normally includes travelling upriver on a longboat, staying in jungle camps or Iban longhouses and experiencing Iban culture. It's important to choose a tour company that supports community efforts and is endorsed by orangutan charities.
Most tours begin with a four-hour drive from Kuching to Batang Ai reservoir, before transferring into a longboat and sailing over Batang Ai dam and into its tributaries. Jungle camps and longhouses are basic, but interacting with this once hidden tribe is fascinating. You'll learn about their culture, how to forage for food and enjoy some local rice wine ahead of the adventure. Many visitors find this part of the trip enlightening.
Your orangutan safari will take you deep into the island's dense, steamy jungle in pursuit of sightings. This orangutan experience is physically demanding, with searing heat, high humidity, slippery conditions and the possibility of leeches — but the payoff is immense. Finding yourself in a region totally isolated from the outside world, with wild orangutans feeding and swinging from the trees is a magical experience.
Orangutan spotting in Sarawak at a glance
Semenggoh Nature Reserve: This reserve on Kuching's outskirts offers the opportunity to see Borneo's famous ape up close. Seeing the semi-wild orangutans swinging through the tree is a life-changing experience.
Upriver trips to Batang Ai: Offering unparalleled insight into Iban traditions (from food foraging to fishing & longhouse life), a trip to Batang Ai means a rare chance to see orangutans in the wild.
Longhouse stays: Staying with Iban longhouse communities in the jungle trek is a memorable experience.
Sumatra's best places to see orangutans
Lush and volcanic, the Indonesian isle of Sumatra is a land of rugged tropical terrain and orangutan-filled jungles. Wedged between Java and the Malay Peninsula, the island envelopes the Leuser Ecosystem, one of the most biodiverse places on earth.
Over half the size of Switzerland, at 2.6 million hectares, the largest rainforest conservation area in Southeast Asia sweeps in the Gunung Leuser National Park — home to the orangutan plus three highly endangered large mammal species: the Sumatran rhino, elephant and tiger.
Why choose Sumatra to see orangutans?
The Sumatran orangutan — The Pongo Abelii — is a species apart. Far fewer in number than the Bornean orangutan, the chance of seeing them in their native habitat is equally rare.

A dire warning was issued in April 2019 by animal charities in the UK: the Sumatran orangutan could be extinct within two decades. Critically endangered on the IUCN (International Union for the Conservation of Nature) Red List, it estimates their current population living in the wild at about 13,846.
Dwelling only in the forests of northern Sumatra, most of the remaining population live amid the tropical lowland rainforests, cloud-draped mountains and steamy peat swamps of the Leuser Ecosystem and its surrounds.
Sumatran orangutans have lighter red coats and thinner faces than their rounder Bornean cousins, but do have some similar traits — including one particularly surprising one, according to the WWF. Adult males have a beard and moustache, while adult female Sumatran orangutans also have beards.
The best time to see them in the wild is whenever you can. As with all tropical climates, Sumatra has wet (October to April) and dry (May to September) seasons; but due to climate change and regional unpredictability, the line between the two is becoming increasingly blurry.
Where to see orangutans in Sumatra
Gunung Leuser National Park

Once present across the island of Sumatra and even into Java, the orangutan population has now been pushed back into the island's north amid the coffee plantations of the provinces of North Sumatra and Aceh. Only some fall within the protected zone of the Gunung (Mount) Leuser National Park.
Despite being technically protected under Indonesian law, the extraordinarily life-rich Leuser Ecosystem — including the orangutans (and people) that live within it — continues to face threats of mining activities, palm oil, pulp and paper plantations. Only about a third of the apes live in internationally-recognised protected conservation areas.
For now, the only place geared to greet you for orangutan sightings/tours is the 7,927km square Gunung Leuser National Park, where the creatures dwell in lowland rainforests. The chances of seeing the orangutan here are high, together with other primates such as the leaf monkey, macaques and gibbons.
The rainforests, montane forests and peat swamps of the Leuser Ecosystem is the last place on earth where Sumatran orangutans roam free together with elephants, tigers, rhinos and sun bears — though the likelihood of seeing these animals is far less.
The main launchpad for the park is the village of Bukit Lawang, spread along the banks of the Sungai Bohorok river, on the eastern fringes of the park. The resort lies 90km west of Medan City, the main arrival point on the island by air.
Bukit Lawang actually grew up around the now-closed Bohorok Orangutan Rehabilitation Centre, set up by two Swiss women in 1973 with the aim of returning captive and orphaned orangutans to the wild after teaching them the art of tree climbing and nest building. Accommodation in Bukit Lawang is basic, but the whole village is geared towards orangutan tours.
Those travelling independently can also board a bus to Medan from the Pinang Baris bus station, but the relatively short journey will take up to four hours and coaches are not air-conditioned. Furthermore, there have been serious alerts about ticketing rackets at this station, with organised groups displaying aggressive behaviour towards travellers, pressuring them into paying higher than the going fare.
The orangutan experience

In order to enter the park, visitors must be accompanied by a licensed guide. The entrance fee is 150,000 Rupiah (£8) and travellers should be prepared for jungle trekking. It is possible to take day tours, but those looking for a more adventurous experience can choose overnight jungle camping stays or basic guesthouses, lasting from one night to four.
Visitors should be prepared to hike for several hours to reach orangutan nesting spots, but along the way you can spot Thomas Leaf monkeys, macaques and other apes. As you'll be viewing orangutans in the wild, it's vital that you follow the advice of your guides and respect the animals. Never feed them (this is so they don't become reliant on humans) and keep a respectful distance.
Be aware that you are more likely to spot female Sumatran orangutans and their babies than adult males, who only visit the forest during mating season. Trekking at Gunung Leuser is relatively easy for those with decent fitness levels. Day treks are family friendly, although those with young children may find the heat and humidity an issue. Expect a day trek to last about eight hours in total.
Orangutan spotting in Sumatra at a glance
Close encounters with orangutans in the wild: Seeing the critically endangered Sumatran orangutan in its own habitat and spreading the word about conservation efforts.
Back-to-nature experiences: Overnight jungle treks offer the chance to sleep in bamboo camps in the rainforest.
Jungle trekking: On longer treks, experienced guides will introduce to the wonders of the rainforest. You may even be lucky enough to see the Sumatran elephant or tiger.
Kalimantan's best places to see orangutans
Kalimantan or 'Indonesian Borneo', occupies the giant's share of central and southern Borneo, representing about three-quarters of the island. Formerly Dutch Borneo, colonial rule was established in 1863 and wound up in 1949 when Kalimantan became a part of the Republic of Indonesia.
A massive state, Kalimantan is split into five provinces: central, east, north, south and west. For the traveller it presents a challenge: it is huge with poor roads and undeveloped tourism infrastructure. These factors, along with continuing logging activity even in nature reserves, have kept orangutan tourism low in the region, despite the relatively high population of orangutans.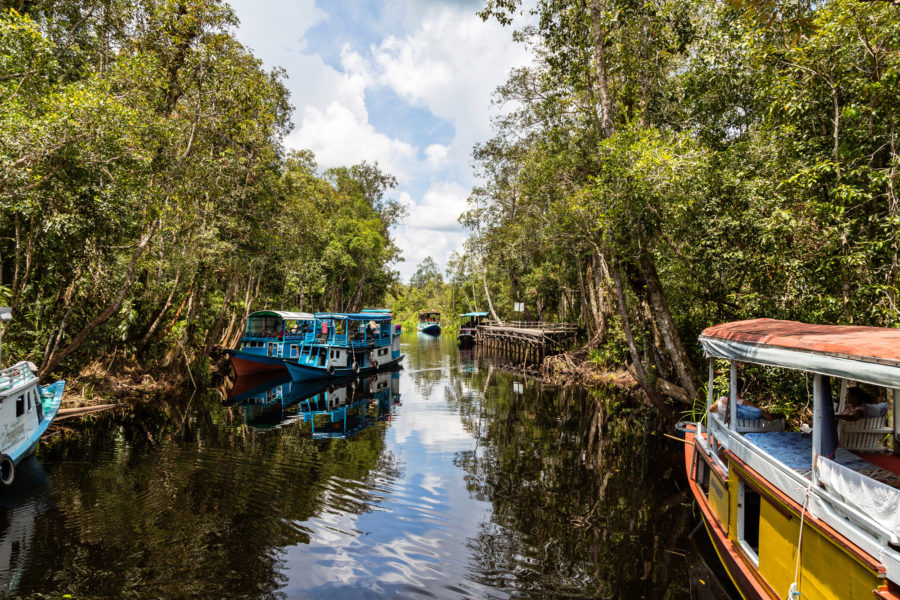 Why choose Kalimantan to see orangutans?
The majority of Bornean orangutans today exist in Kalimantan, especially along the east coast. Yet tragically, most wild populations live outside of protected areas in forests that are exploited for timber production or are being revamped for agriculture.

Many of these areas are off-limits to tourists, along with a host of other sites, even extending to national parks, which apart from having no transport and other visitor facilities, have long been monopolised by forestry and logging companies.
The major focus, for tourists and conservation, thus falls on the one site in central Kalimantan that has been at the heart of orangutan conservation efforts since the 1970s: Tanjung Puting National Park.
Where to see orangutans in Kalimantan
Tanjung Puting National Park

"One of the natural wonders of the world", according to the UK's Orangutan Foundation, Taman Nasional (National Park) Tanjung Puting is also one of the major hopes for the orangutan's survival.
It has been this way for some time. It was at Tanjung Puting in 1971 that leading orangutan authority Dr Biruté Galdikas established the Camp Leakey research station — an instrumental step in bringing the plight of the park's most famous resident to worldwide attention.
Set amid the largest swathe of coastal tropical heath and peat swamp forest, which used to cover much of southern Borneo, Tanjung Puting started out as a game reserve in 1935 before becoming a National Park in 1982.
The best way to experience the wonders of Tanjung Puting is on a traditional klotok (houseboat) puttering gently along Sungai Sekonyer as you search for pot-bellied macaques, hornbills and the odd crocodile. Starting from the Kumai river port in the central Kalimantan city of Pangkalan Bun, your guides will typically stop at three main feeding stations within the park, where you will get to experience semi-wild orangutans during feeding sessions. The best option for this is at Tanjung Harapan, but you'll also stop at Pondok Tangui. Your final destination will be Camp Leakey, a 4-4 ½ hour journey upriver.
From the docking point, be prepared for a 45-minute walk to the first feeding platform at Camp Leakey, on a flat and well-maintained path. Here, as well as orangutans, you will see Bornean bearded pigs, gibbons and mangrove-loving proboscis. Camp Leakey is your best chance to see orangutans — most were released around here and stay close to the site. In general, orangutans around Camp Leakey are the most relaxed around humans. Look out for Tom, the camp's alpha male (but if you do see him, be careful not to engage in a staring match).
Once feeding time is over, you can explore the camp's excellent information centre. Tanjung Puting offers plenty of other activities including birding, hiking and wildlife tours — as well as cultural trips to remote villages.
Be aware that boat congestion on the river can be very high between July and September, which is one reason to consider visiting during low season months of November to April (it is also less expensive). This is the wet season, but heavier rains generally only fall in January and February. Tour guides recommend shoulder months for a mix of good weather and low crowds: October, December, March and June.
Orangutan spotting in Kalimantan at a glance
Tanjung Puting Biodiversity Hotspot: The mangroves here teem with animal life, with sun bears, macaques, crocodiles and of course, orangutans.
Camp Leakey: Many tourists are seduced by the story of this groundbreaking orangutan research station, named after the legendary paleo-anthropologist, Louis Leakey. He was both a mentor and inspiration to Dr Biruté Galdikas as well as other famous orangutan primatologist-conservationists who worked here — Jane Goodall and Dian Fossey.
Klotok tours: Much of the charm of orangutan tours in Tanjung Puting tie in with the backwater river trips by klotok. The ramshackle multistorey vessels are used by locals to transport goods up and down the river.
Orangutans in Borneo
A guide to responsible orangutan tourism
Orangutans are magical creatures. Whether gracefully swinging through the trees, staring at you soulfully from their deep black eyes or watching a mother carefully groom a grizzling baby, seeing your first orangutan up close is a moment you never forget.

View this guide
Things to do in Borneo
Our recommended experiences and activities
Borneo trips
Suggested routes & itineraries from our experts
Why Horizon Guides?
Expert travel guides
Our guides are written by the leading experts in their destinations. We never take payment for positive coverage so you can count on us for reliable and impartial travel advice.
Authentic experiences
We curate exceptional trips in underrated places, organised by the very best tour operators who live and breathe their destinations and are passionate about authentic, responsible tourism.
Give back to mother nature
We'll plant 50 trees for every trip booked via the Horizon Guides site in partnership with the International Tree Foundation, who carry out sustainable community forestry projects in Africa.