Tiny Montenegro has long been touted as the hot, new travel destination – and it's easy to see why. The scenery is spectacular, with almost 300km of coastline, rugged, snow-capped mountains and pretty towns cut into the rock all waiting to be explored.
While it's worth spending time on Montenegro's excellent beaches, the real adventure comes inland. Head into the Durmitor and Prokletije mountain range and you'll be able to hike, bike and kayak in forests and national parks that are still home to bears and wolves – it's like stepping back into a fairytale.
This is also a place to explore some fascinating European history, as a dividing line between the east and west – and also the place that sealed the end of Yugoslavia, with a successful independence referendum in 2006. Look for frescoed monasteries, elegant mosques and imposing Catholic churches, as well as a number of hilltop fortresses.
Montenegro's best beaches
An essential guide to Montenegro's most beautiful beaches and coastline
Bay of Kotor

Montenegro is a country full of beautiful views, but the Bay of Kotor's waterfront might just be the best...

Lake Skadar National Park

Skadar is the Balkans largest lake, with two-thirds sitting in Montenegro and the rest in Albania...

Lovćen National Park

Lovćen is most famous for the towering mausoleum of St Peter at the Jezerski vrh peak, but it's worth exploring the park adventure activities, from ziplining and quad-biking for thrill-seekers to hiking and cycling for the more sedate...

Cetinje

Sitting at the foot of the Lovcen mountains, Cetinje is the former royal capital of Montenegro...

Stari Bar

High up on the edge of a bluff near Mount Rumija lies the ruins of Stari Bar – the original town of Bar, which is now a port city down by the water...

Biogradska Gora National Park

Peaceful Biogradska Gora is best-known for its primeval forest, where you can spot ancient beech, maple, elm and juniper trees — some of which are more than 500 years old...

Durmitor National Park

Home to more than 50 peaks, mountain rivers and underground streams, the dramatic Durmitor National Park is Montenegro's adventure playground...

Lake Piva

Lake Piva was created in 1975 after the Piva River was blocked by the construction of the hydroelectric Mratinje Dam, flooding Piva Canyon...

Virpazar

Considered the main gateway to Lake Skadar National Park, the tiny village of Virpazar was once an important trading port...

Tara Canyon

Found on the northern edge Durmitor National Park, the Tara Canyon cuts deep into the landscape, with its deepest point being only 200m less than the Grand Canyon...

National Park Prokletije

...
Places to go in Montenegro
Montenegro Tours
Mountain Biking in Montenegro
Explore the Bay of Kotor and Lake Skadar
8 daysFrom €740
| | |
| --- | --- |
| | Bay of Kotor, Lake Skadar National Park, Lovćen National Park, Cetinje, Stari Bar, Virpazar, Budva Riviera |
| | Private guided tour, Self-guided tour |
| | Active, Biking, Nature & Wildlife, National Parks |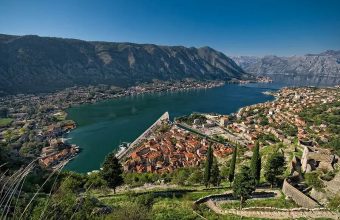 4 in 1 Road Cycling Balkan Express
Explore Montenegro, Albania, Bosnia & Herzegovina and Croatia by bike
8 daysFrom €950
| | |
| --- | --- |
| | Albania, Bosnia and Herzegovina, Croatia, Montenegro |
| | Private guided tour, Self-guided tour |
| | Active, Biking, Nature & Wildlife, National Parks, Culinary, Food, Wine |
The Best Cycling Routes Along EuroVelo 8
Cycling from Croatia to Albania via Montenegro
8 daysFrom €790
| | |
| --- | --- |
| | Albania, Croatia, Montenegro |
| | Private guided tour, Self-guided tour |
| | Active, Biking, Nature & Wildlife, National Parks, Culture, Culinary, Food |
Trans Montenegro Cycling Tour
Explore the mountains and coastlines of Montenegro
8 daysFrom €790
| | |
| --- | --- |
| | Bay of Kotor, Lake Skadar National Park, Lovćen National Park, Cetinje, Durmitor National Park, Lake Piva, Tara Canyon, Podgorica |
| | Private guided tour, Self-guided tour |
| | Active, Biking, Nature & Wildlife, National Parks, Culture, History |
Exploring Montenegro and Albania by Bicycle
Cycle through historical towns and explore Lake Skadar
8 daysFrom €740
| | |
| --- | --- |
| | Albania, Montenegro |
| | Private guided tour, Self-guided tour |
| | Active, Biking, Nature & Wildlife, National Parks, Culture, History, Culinary, Food, Wine |
Exploring Montenegro's Coast and Lake Skadar
Cycle the picturesque roads around Lake Skadar
8 daysFrom €690
| | |
| --- | --- |
| | Bay of Kotor, Lake Skadar National Park, Lovćen National Park, Cetinje, Stari Bar, Virpazar |
| | Private guided tour, Self-guided tour |
| | Active, Biking, Nature & Wildlife, Photography, National Parks, Culinary, Wine |
Montenegro Travel Companies
3e Travel
Self-guided hiking and cycling trips to the Western Balkans
| | |
| --- | --- |
| | Balkans |
| | Custom itinerary, Private guided tour, Self-guided tour |
| | Family, Adventure, Backpacking, Hiking & Trekking, Active, Walking, Camping, Biking, Nature & Wildlife, Photography, Birdwatching, National Parks, Culture, History, Culinary, Food, Wine, Solo Travel |
Kudu Travel
Cultural walking tours in the Balkans
| | |
| --- | --- |
| | Balkans |
| | Small group tour |
| | Beach, Family, Adventure, Backpacking, Hiking & Trekking, Active, Walking, Horseback Riding, Nature & Wildlife, Photography, Birdwatching, National Parks, Culture, Archaeology, Museums & Galleries, History, Culinary, Food, Wine, Solo Travel |