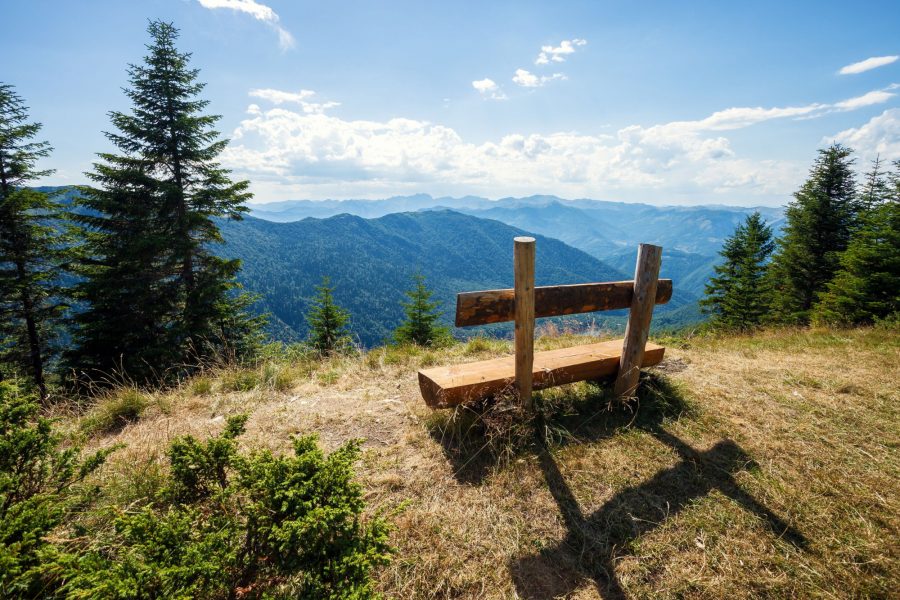 Peaceful Biogradska Gora is best-known for its primeval forest, where you can spot ancient beech, maple, elm and juniper trees — some of which are more than 500 years old.
11 days
Mountain walks in Montenegro
Exploring Montenegro's national parks
Trebinje (2 days)
→
Tara Canyon (1)
→
Durmitor National Park (1)
→
Biogradska Gora National Park (2)
→
Lake Skadar National Park (2)
→
Lovćen National Park (1)
→
Bay of Kotor (1)
→
Dubrovnik (1)
View itinerary
8 days
Hiking Montenegro's national parks
Exploring Montenegro's hiking trails
Durmitor National Park (2 days)
→
Tara Canyon (1)
→
Biogradska Gora National Park (1)
→
Lovćen National Park (1)
→
Bay of Kotor (3)
View itinerary
Where to go in Montenegro
Our recommended places
Bay of Kotor
Montenegro is a country full of beautiful views, but the Bay of Kotor's waterfront might just be the best. Spend a couple of days meandering through its towns, from the restored palaces of Perast to Kotor's Venetian old town. Nowhere combines ancient history and stunning scenery better.
Lake Skadar National Park
Skadar is the Balkans largest lake, with two-thirds sitting in Montenegro and the rest in Albania. The surrounding national park is the perfect place to escape the heat of the city, with awe-inspiring mountains, island monasteries and pretty villages. Look for rare Dalmatian pelicans on the lake's water – the world's heaviest flying bird.
Lovćen National Park
Lovćen is most famous for the towering mausoleum of St Peter at the Jezerski vrh peak, but it's worth exploring the park adventure activities, from ziplining and quad-biking for thrill-seekers to hiking and cycling for the more sedate.
Cetinje
Sitting at the foot of the Lovcen mountains, Cetinje is the former royal capital of Montenegro. Its streets are a mix of small cottages and imposing mansions, which previously housed European ambassadors. Today, many of these mansions have been converted to museums and galleries, but most visitors head for Cetinje Monastery, built in 1701 and home to relics of St Peter of Cetinje. St Peter became a monk aged 12 and then governor of Montenegro, famously defeating Napoleon in the battle of Dalmatia.
Stari Bar
High up on the edge of a bluff near Mount Rumija lies the ruins of Stari Bar – the original town of Bar, which is now a port city down by the water. Although some houses and shops have set up in the old city, it remains largely in ruins after being hit by an earthquake in 1979. Despite this, it's a fascinating place to stroll around the old fortress walls and grand buildings.
Durmitor National Park
Home to more than 50 peaks, mountain rivers and underground streams, the dramatic Durmitor National Park is Montenegro's adventure playground. Come in winter (December-March) for skiing, or head out of season for hiking, kayaking and rafting.
Lake Piva
Lake Piva was created in 1975 after the Piva River was blocked by the construction of the hydroelectric Mratinje Dam, flooding Piva Canyon. The 180m deep lake is tremendously beautiful, but take the time to explore the nearby Piva Monastery – rebuilt brick-by-brick in 1982 after a further reservoir meant it had to be moved.
Virpazar
Considered the main gateway to Lake Skadar National Park, the tiny village of Virpazar was once an important trading port. Look for the imposing fortress built by Turkish invaders on the hill towering over the town. Modern-day Virpazar is a great place to sample Montenegrin wine, with several vineyards and tasting rooms around the town.
Tara Canyon
Found on the northern edge Durmitor National Park, the Tara Canyon cuts deep into the landscape, with its deepest point being only 200m less than the Grand Canyon. Explore the waters by rafting or kayaking, cycle along the river or admire the views from the top of Mount Curevac.