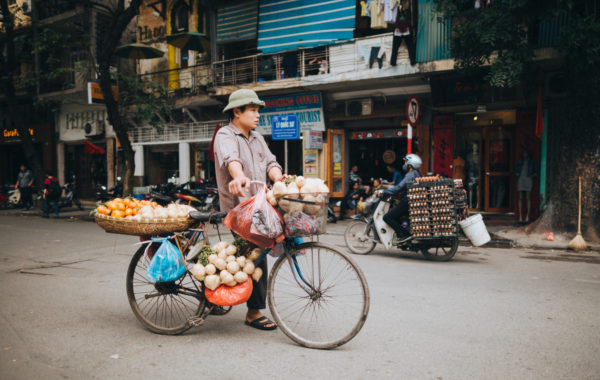 Vietnam
Head-spinning contradictions and character
Contributors
Elephants in Asia, Ethically
Humane experiences with Asia's sacred animal
Elephant riding in Asia may seem commonplace and normal, no different to horseback or camel rides. Too few realize that with elephants — an undomesticated animal and endangered species — it's much more complicated. That's why we created this guide.
Get the guide
Any preconceived notion of Vietnam will quickly disintegrate upon arrival. The most enthralling country in southeast Asia is dynamic, diverse and full of head-spinning contradictions.
Long, narrow and boasting 3,444km of coastline, Vietnam's character varies from one province to the next. The north has limestone mountains, hill tribes, world famous Halong Bay and the vibrant capital city of Hanoi. In the centre, the largest cave in the world, waterfalls and the charming UNESCO World Heritage town of Hoi An. The south has languid beaches, tropical islands, the fertile Mekong Delta and Ho Chi Minh City, Vietnam's largest metropolis.
Venture outside of the cities and it doesn't take long to find yourself immersed in a traditional rural world of agriculture and fishing. Imperial dynasty, French colonial and war-time vestiges remain — and some citizens continue to suffer from the legacy of Agent Orange and unexploded ordinances. But Vietnam isn't focused on its turbulent past; nearly 100 million citizens are busy hustling for a brighter future. The result is a fascinating mix of old and modernity.
Just when you think you have the country figured out, it'll surprise like a cinematic plot twist. Unabating, unforgettable — that's Vietnam.
Get a custom itinerary
Specialist advice from Vietnam experts
Describe your ideal trip
We connect you with a top Vietnam tour company
Get a custom itinerary with no pressure to book
Start here
Why Horizon Guides?
Expert travel guides
Our guides are written by the leading experts in their destinations. We never take payment for positive coverage so you can count on us for reliable and impartial travel advice.
Authentic experiences
We curate exceptional trips in underrated places, organised by the very best tour operators who live and breathe their destinations and are passionate about authentic, responsible tourism.
Give back to mother nature
We'll plant 50 trees for every trip booked via the Horizon Guides site in partnership with the International Tree Foundation, who carry out sustainable community forestry projects in Africa.