Central Asia
Magical landscapes and Silk Road cities
By Steven Hermans
Sandwiched between the Middle East and China, Central Asia is a land of bloody history where warlords like Genghis Khan and Tamerlane ruled and rampaged. Made up of five former Soviet states ‒ Kazakhstan, Uzbekistan, Kyrgyzstan, Turkmenistan and Tajikistan ‒ it's best known for being the central artery of the ancient silk route connecting China with Europe.

Uzbekistan is the cultural highlight, home to glittering silk road cities like Bukhara, Samarkand and Khiva, with their mosaic-laden madrasas, cobalt-domed mosques and souks thronging with traders. Elsewhere, it's about experiencing untouched landscapes and the people who've lived in them for generations. Try the snow-capped Pamir and Tian Shan mountain ranges of Kyrgyzstan and Tajikistan, where traditional herding communities ride horses, sleep in traditional yurts and hunt with birds of prey.
The Five Stans
How to plan your trip to Central Asia
The climate of Central Asia is one of extremes. Between the lowest point in the former Soviet Union, 132m (433ft) below sea level to peaks over 7,000m (23,000ft) high, you should expect anything and everything. The region is also the furthest place on Earth from the ocean...read more
Kazakhstan

A land for wanderers

...

Altyn Emel National Park

...

Uzbekistan

Mosques, mausoleums and madrasahs

Central Asia's showstopper, Uzbekistan is synonymous with the famed Silk Road which weaved its way through much of this historic country...
Places to go in Central Asia
Central Asia Tours
Highlights of the "Five Stans"
Explore the heart of the Silk Road
22 daysFrom €4,580
| | |
| --- | --- |
| | Kazakhstan, Kyrgyzstan, Tajikistan, Turkmenistan, Uzbekistan |
| | Small group tour |
| | Nature & Wildlife, Culture, Cities |
In Depth Uzbekistan
Guided tour of Uzbekistan's historical highlights
14 daysFrom €2,590
| | |
| --- | --- |
| | Khiva, Bukhara, Samarkand, Tashkent, Termez, Derbent |
| | Small group tour |
| | Culture |
Historical cities of the Silk Road
In the footsteps of Marco Polo
15 daysFrom €4,060
| | |
| --- | --- |
| | Kazakhstan, Kyrgyzstan, Tajikistan, Uzbekistan |
| | Small group tour |
| | Culture, Cities |
Best of Uzbekistan
Where the ancient and modern world collide
8 daysFrom €1,540
| | |
| --- | --- |
| | Khiva, Bukhara, Samarkand, Tashkent |
| | Small group tour |
| | Culture |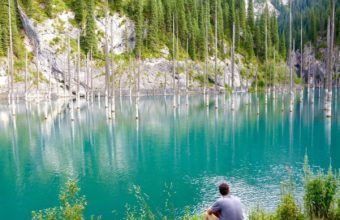 Explore Kazakhstan
Overland through the giant of Central Asia
8 daysFrom €1,590
| | |
| --- | --- |
| | Nur-Sultan (Astana), Astana, Charyn Canyon, Altyn Emel National Park, Turkestan |
| | Small group tour |
| | Nature & Wildlife, Culture |
Kyrgyzstan to Uzbekistan
Land of nomads and Silk Road traders
15 daysFrom €2,480
| | |
| --- | --- |
| | Kazakhstan, Kyrgyzstan, Uzbekistan |
| | Small group tour |
| | Nature & Wildlife, Culture |
Central Asia Travel Companies
Kalpak Travel
Small group tours of Central Asia
| | |
| --- | --- |
| | Central Asia |
| | Custom itinerary, Small group tour, Private guided tour |
| | Adventure, Hiking & Trekking, Active, Nature & Wildlife, Culture, Solo Travel |