Travelling to Azerbaijan can be confusing. This is a country that is both European and Asian. Cosmopolitan capital Baku is full of designer shops and 21st-century architecture, but travel a couple of hours away and you can be in rural villages in the desert.
What Azerbaijan is blessed with — beyond the oil of the Caspian Sea — is natural beauty. There are snow-capped mountains and arid deserts, bubbling volcanoes and fire-brimmed hillsides. Yes, the contrasts can be jarring, but that's all part of the appeal of this fast-changing country.
Where to go in Azerbaijan
Our recommended places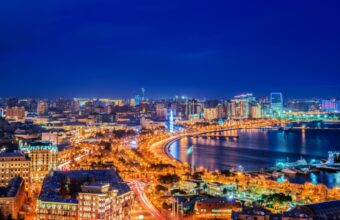 Baku
Azerbaijan's capital might be changing fast due to the oil-boom, but its heart still lies in the UNESCO-listed Old City, full of tree-lined boulevards and fascinating mansions. Look for ruined mosques and busy bakeries dotted between the new fashion boutiques.
Lahij
The ancient village of Lahij in the Upper Caucasus was once an important trade and craft centre, with artisans creating copper adorned ornaments and knives, weaved cloth and leatherware before mass-produced factory goods saw the town decline. Today, the town's artisans mainly sell to tourists, but it's worth visiting for Lahij's cobbled streets and cosy workshops.
Sheki
Once a trading stop on the fabled Silk Road, the town of Sheki is now the perfect place to sample Azerbaijan's historic architecture (look for Sheki Khan's Palace), craft workshops and try piti, a national dish of lamb stew cooked in a clay pot.
Mount Yanar Dag
Azerbaijan is known as the Land of Fire and nowhere is that more apt than at Mount Yanar Dag in Mehemmedi village, where an eternal flame burns from the hillside's underground gas reserves. Come at night for a spectacular show.