Think Japan is just futuristic cities and advanced technology? Think again. Yes, Japan is home to Tokyo with all its gleaming lights, capsule hotels and robot restaurants, but there is also another side to this country, which teems with traditional culture. Travel around and you can stay in ancient ryokans (traditional inns), meditate with monks and explore beautiful countryside.
Japan's varied geography means there is plenty to explore beyond its cities. More than two-thirds of the country is mountainous, with hiking and hot springs to soothe weary feet and plenty of snow for winter sports enthusiasts. Look out for wildflowers and cherry blossom in the warmer months and head to the southern islands for tropical beaches.
Wherever you travel in Japan, you're assured of an excellent meal. One of the world's great cuisines, Japanese food is seasonal, sourced from fresh, local ingredients and incredibly varied. Try ramen in Hokkaido, hotpot dishes in the north and sushi in coastal areas.
Japan is a year-round destination, with each season bringing its own unique highlights. This means there's no 'best' time to visit – it all depends on where you want to go, and what you want to do while you're here.
Month-by-month
January and February are the coldest months, which is great for avoiding crowds in the cities. It's also the best time to hit the ski slopes, when the mountains of northern Japan are smothered in powder snow.
Spring runs from March to May, bringing with it the beauty of cherry blossoms in bloom (sometime between mid-March and mid-April). Seeing the country transformed into an ethereal sea of delicate pink petals is mesmerising, but comes at the cost of large crowds and high prices.
Mid-June to mid-July is the rainy season, another quiet time with less-than-ideal weather. July and August are the hottest months, which combined with high humidity can make sightseeing uncomfortable. Summer is also festival season though, making it one of the liveliest times to visit.
September can bring typhoons, as summer shifts into autumn. October and November are among the most pleasant months in Japan, thanks to the comfortable weather and stunning colours of autumn leaves, although there is a corresponding increase in visitor numbers. December is another quiet month – apart from at the ski resorts – as winter sets in again.
Festivals and events
Japan loves a festival, and there are far too many amazing events to list them all – check what's happening in the cities you're visiting so you don't miss anything.
New Year is celebrated from the end of December through the first week of January – it's a big holiday, so lots of shops, restaurants and attractions close. If you're here on New Year's Eve, head to a temple or shrine to ring in the New Year the traditional way.
February is the peak time for snow festivals, the most popular and impressive of which is the Sapporo Snow Festival with its enormous pop-culture-themed snow statues.
Cherry blossom season in March-April brings a raft of hanami (flower viewing) festivals, where people picnic on tarpaulin sheets under a ceiling of petals and drink until the early hours. Shortly after this comes Golden Week, an extended national holiday best avoided due to the huge crowds and high costs.
Summer is Japan's true matsuri (festival) season. Some of the best include Kyoto's Gion Matsuri, Osaka's Tenjin Matsuri, Aomori's Nebuta Matsuri and Tokushima's Awa Odori. Whichever you attend, expect lively dancing, elaborate floats, traditional music, and some jaw-dropping fireworks displays.
In later months festivals tend to tail off, although there are special events for autumn leaf viewing. Christmas is not a big holiday here, but you can expect to find celebrations in bigger cities.
Experiencing the best of Japan beyond Tokyo
When people think of Japan, there are certain destinations that spring readily to mind. The futuristic skyline of Tokyo, the neon-lit streets of Osaka, the serene temples of Kyoto. These cities are fantastic places to visit – particularly on your first trip – but their rightful popularity can bring with it crowded attractions and high prices. Fortunately, Japan has far more to offer than just its major urban hubs. By stepping off the well-trodden tourist track and exploring the country's more rural destinations, not only is it possible to escape the crowds but you also get the chance to experience a more authentic side of Japan.
Here are our recommendations for less-frequented areas to visit, where you can fully immerse yourself in Japan's natural beauty and traditional culture.
1. Hokkaido's mountain peaks
Wildlife-filled wilderness
Hokkaido is Japan's northernmost island, a vast, untouched wilderness of mountains, lakes and forests teeming with wildlife. As both the largest and least-developed of the 47 prefectures, it's one of the best places in the country to lose yourself in pristine scenery of epic proportions.
To reach Hokkaido, you can either fly or take the shinkansen (bullet train). Both domestic and international flights serve New Chitose Airport, just outside the city of Sapporo. It's worth spending a day or two here before heading out to explore the rest of the prefecture. One of the largest cities in Japan, it's most famous for its February snow festival and as the home of Sapporo beer.
One thing to consider when visiting Hokkaido is that – outside of big cities like Sapporo – public transportation is not so readily available. This remoteness is part of the reason why fewer tourists travel Hokkaido, but also why the experience can be so magical. To really make the most of the prefecture and see the more remote locations, hiring a car is strongly recommended.
Off-the-beaten-path in Hokkaido
With your own transportation, the options for self-guided tours are endless. Trek over rugged mountain peaks in Daisetsuzan National Park, relax in steaming onsen (hot spring) baths while gazing out at bubbling volcanic pools in Noboribetsu or go camping under the stars in Shikotsu-Toya National Park.
One of the most beautiful spots in the prefecture is the Blue Pond in Biei. Its name comes from the otherworldly colour of the lake's water which, thanks to its mineral content and the white of the rocks at the bottom, glows a vivid cerulean. Combined with the stark branches of the dead silver birch trees emerging from it, it's an unforgettable sight.
The climate in Hokkaido is colder than on Japan's other islands, and the type of trip you have and activities you do very much depend on the time of year. The freezing winters bring vast amounts of snowfall, creating perfect conditions for world-class skiing and snowboarding at the many resorts across the island. There's also a wealth of other snowy activities to enjoy, such as sledging, snow tubing, and drift ice tours.
The refreshing summers, meanwhile, provide welcome relief from the heat and humidity that grips the rest of the country. This time of year is ideal for hiking, canoeing, rafting, and admiring the carefully cultivated meadows of colourful flowers, like the lavender fields of Furano.
2. Snow and ice in rejuvenated Tohoku
Wintry walks after the tsunami
The Tohoku region is made up of six prefectures clustered together at the northern tip of Japan's main island of Honshu: Akita, Aomori, Fukushima, Iwate, Miyagi and Yamagata. United by their stunning natural scenery, top quality onsen resorts, and bitter winters, these prefectures are among the least-visited by international tourists despite their poetic beauty.
One of the reasons for this lack of popularity is that much of the area was impacted by the 2011 earthquake and tsunami, and the ensuing nuclear disaster in Fukushima. Don't let this put you off, however, as much reconstruction has successfully taken place since then and the region actively welcomes tourism as a means to help Tohoku thrive.
Access is possible by both plane and train. The journey from Tokyo to the main hub of Sendai in Miyagi takes about 90 minutes on the shinkansen, whilst a trip to the furthest north prefecture of Aomori will be around three hours. To minimise train costs, you might want to consider the Japan Rail East Pass for Tohoku, which gives tourists five days of unlimited travel on JR trains in the area. Having said that, renting a car is still the most convenient (and sometimes only) way to access the more rural parts of the region.
What are onsen?
Onsen are natural hot spring baths with mineral-rich water, which are said to bring a wealth of health benefits to bathers. There are both indoor and outdoor varieties, with the vast majority being gender-segregated as bathers are nude. A key part of Japanese culture, an overnight stay at a traditional onsen ryokan inn is highly recommended.
Off-the-beaten-path in Tohoku
Just like Hokkaido, the time of year you visit makes a big difference here. In the summer, head to the sprawling Towada-Hachimantai National Park to hike craggy volcanic landscapes before soaking your tired muscles in rustic onsen resorts. Visit Miyagi's Naruko Gorge for breathtaking views of the famous Ofukazawa Bridge – particularly in the autumn when the leaves change to blazing red and fiery orange – or take a day trip from Tokyo to Fukushima's popular Oze National Park. And don't miss Aomori city's spectacular Nebuta festival in August. Huge, vivid floats depicting gods and samurai and illuminated from the inside are paraded through the streets, accompanied by energetic dancers and the infectious beat of taiko drums.
In winter snow and ice festivals abound, like the Iwate Snow Festival with its magnificent snow sculptures and fireworks, and the Yokote Kamakura Festival in Akita, where visitors can enter igloos made by local residents to enjoy sake and mochi rice cakes. This is also the time to ski and snowboard in a town like Zao Onsen in Yamagata. Zao is not only famous for hot springs and scenic slopes, but it's also one of the only places in Japan where you can see 'snow monsters' – trees coated with thick layers of snow and ice, which take on curious monster-like shapes.
3. Japan's ancient capital of Nara
Culture, history and 1,200 wild deer
As Japan's first capital, Nara is one of the most historically and culturally significant cities in the country. It's home to eight UNESCO World Heritage Sites, although for many it's the 1,200 adorable, semi-wild deer who roam Nara's park and streets that are the biggest draw.
Nara is very easy to access. Located in the Kansai region, it's less than an hour on the train from both Kyoto and Osaka cities. As such day trips here are common, but if you really want to get under Nara's skin, an overnight trip or longer is highly recommended. Tourists numbers drop off spectacularly as evening approaches, and there's nothing so peaceful as wandering the city's serene temple grounds after dark.
Off-the-beaten-path in Nara
It may sound like Nara isn't exactly a lesser-known destination, and to some extent that's true. The big-name sights like Todaiji temple with its giant Buddha, Kofukuji temple and its towering pagoda, and the exquisite, lantern-lined Kasuga Taisha shrine, all attract plenty of visitors. However, if you stray just slightly from these locations, you'll find a wealth of attractions that see only a fraction of these numbers.
For example, to the east of the city stands Mount Wakakusa, whose gentle grassy slopes offer a fantastic vantage point out over the city. If you're here in January don't miss the dramatic Wakakusa Yamayaki festival, which features an epic fireworks display before the entire mountainside is set ablaze. Back in the city centre, wander the narrow lanes of the old Naramachi merchant district to step back in time to ancient Nara, or find Zen at the Isuien and Yoshikien gardens with their impeccably-manicured landscapes.
Even Nara Park, one of the city's most famous spots, is large enough that if you keep walking you'll find an uncrowded spot where you can have the deer all to yourself. Simply purchase a pack of shika senbei (deer crackers) at one of the many stalls and watch your new best friends come running!
When you get peckish yourself, try a freshly-made local mochi rice cake from Nakatanidou, or sample local sake at Harushika brewery. For a real treat, track down the elusive Lamp Bar. This steampunk-style speakeasy is run by a world-class bartender, who creates phenomenal original cocktails to suit each individual customer.
Nara city is also an ideal base for exploring the rest of Nara prefecture. If you're in Japan during sakura season, take a trip south to Yoshino. This mountain town is home to over 30,000 cherry trees and widely acknowledged as the country's number one spot to see the blossoms.
4. Volcanic Kagoshima
Moon landscapes and volcanic ash
Tucked away at the southern tip of Kyushu (the most southern of Japan's four main islands), Kagoshima is a friendly city with great weather and a lengthy history. It's also home to one of the most active volcanos in the country, the mighty Sakurajima.
Kagoshima can be reached by bullet train in just under four hours from Osaka, or more quickly by plane. Flights from Tokyo take around an hour and a half, with the journey from Osaka taking just over an hour. You can see most of the city's highlights in two or three days, but a longer stay will allow you to explore the wider prefecture too.
Off-the-beaten-path in Kagoshima
With the exception of Fukuoka in the north, Kyushu as a whole isn't really on the tourist map yet, and Kagoshima prefecture is no exception. Rural and wild, it's worlds away from Tokyo's bustling streets – instead of skyscrapers, the rugged peak of Sakurajima looms constantly over Kagoshima city, erupting plumes of smoke several times a day and coating everything in fine ash.
You can take a boat out to Sakurajima for a closer look at this majestic volcano. Wander among the jagged black rocks of the Nagisa Lava Trail, or soak your feet in the free, heated outdoor foot baths. Back on the mainland, tour the elegant gardens, ponds and tea houses of Sengan-en, where you can also purchase some of the prefecture's intricately-designed cut glass as a souvenir.
For a truly unique experience, head down to the quaint town of Ibusuki to try sand bathing. This traditional practise involves lying down on the beach and being buried up to your neck in the distinctive dark grey sand, which is naturally heated from below by volcanic water. It might sound strange, but it's one of the most comfortable and relaxing sensations you'll experience! The area's volcanic nature also means there are plenty of regular onsen to be found, so take advantage of the many chances to unwind and rejuvenate during your stay.
If you have time, take an overnight trip to the remote and mysterious island of Yakushima. This primaeval forest world was the inspiration for Studio Ghibli's Princess Mononoke, and when exploring it's hard not to be transported to the film's magical world. The ancient trees hide stunning hiking trails, which take you past cascading waterfalls and monkey-inhabited jungle to Jomon Sugi, said to be the oldest tree in Japan.
5. A taste of the tropics in Okinawa
Pristine beaches and island-hopping
Okinawa is Japan as you've never imagined it. A subtropical island chain with its own distinctive culture, this is a laidback land of flawless beaches, sparkling azure ocean, and world-class scuba diving.
Okinawa was previously known as the Ryukyu Kingdom before becoming part of Japan, and much of its culture, festivals and crafts, as well as sightseeing spots like Shuri Castle, date back to this time. Almost everything about the prefecture – from the atmosphere and weather to the food and the music – is different from the mainland, which makes it a unique and interesting place to explore.
The best way to reach Okinawa is by air. Direct flights to the capital city of Naha take just under three hours from Tokyo and just over two from Osaka. To visit the smaller islands, you can either take a ferry or catch an onward flight. Depending on how much island-hopping you want to do, you could easily spend anything from a long weekend to a couple of weeks exploring the prefecture.
Off-the-beaten path in Okinawa
Okinawa has long been a favourite honeymoon destination for Japanese couples, and the main island also sees a reasonable number of tourists, particularly from other parts of Asia. It's worth bearing in mind that there's a noticeable US military presence on the main island, which results in the occasional noisy aircraft flying overhead. Once you leave the main island however, it's a completely different story.
Each individual island in the prefecture has something unique to offer, and the best part is that – providing you avoid the major Japanese holidays – you may well find you have entire beaches to yourself during your visit. Some of the most beautiful coastlines can be found on Miyako Island, where the ocean is especially clear. The colour of the water here is absolutely stunning, a mix of all different shades of turquoise and aquamarine. Keep an eye out for jewellery made with gorgeous hotaru glass to bring a little bit of the colour back home with you. And if you'd rather explore beneath the ocean's surface, head to Ishigaki where you can dive with huge, graceful manta rays, or the Kerama Islands to swim with sea turtles.
For a different island experience take a boat to Iriomote, which is almost entirely covered by mangroves and lush jungle, and is home to the elusive Iriomote wildcat. Meanwhile to learn more about Ryukyu culture, travel to Taketomi. Here you can walk around a traditional Ryukyu village of single-storey houses with distinctive red-tiled roofs and shisa lion statues standing guard. The island is also home to Kaiji Beach, famous for its delicate star-shaped 'sand', which is actually the skeletal remains of tiny sea creatures, said to bring good luck if you find some.
Where to go in Japan
Our recommended places
Tokyo
Tokyo has more Michelin-starred restaurants than any other city in the world, but it's not just about famous restaurants and high prices. Tokyo is filled with excellent places to eat, from neighbourhood noodle joints to high-end sushi. Get out and explore.
Kyoto
Kyoto is home to more than 2,000 atmospheric temples and shrines. Look for robed monks, hear prayer chants and meditate in zen gardens – Kyoto is the place to immerse yourself in Japan's culture, traditions and religion.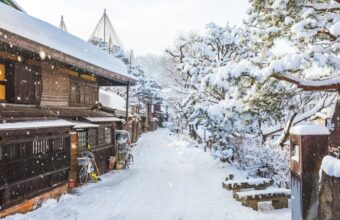 Takayama
Little Takayama in Central Honshu is famous for its taste of rural Japan. Set on Miyagawa River and nestled into the Hida mountains, Takayama is the perfect place to explore traditional Meiji-era inns, teahouses and sake breweries.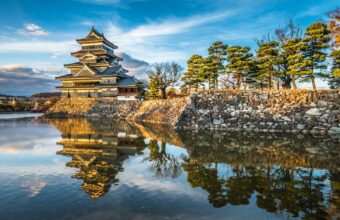 Matsumoto
The alpine city of Matsumoto is famous for many things – it's renowned for producing incredible art and artists, its beautiful setting in the northern Japanese Alps and for being the birthplace of soba (buckwheat) noodles, a Japanese delicacy. Try super-fresh soba noodles in one of Matsumoto's restaurants – some even offer the chance to make your own.
Hakone
Hakone is best known for its natural onsen (hot spa pools) and views of Mount Fuji. Dip in one of the pools and soak up the view, before exploring Fuji-Hakone-Izu National Park's mountains, Pacific Islands and volcanoes.
Kinosaki
Kinosaki is the archetypal onsen town — as well as being tourist-friendly. Come and stay in a traditional ryokan (inn), feast on the local speciality of crab and relax in your cotton kimono, before sampling one of the seven public onsen in town.
Himeji
Built in 1580, Himeji-jo has a legitimate claim to be Japan's most magnificent castle. Its five-storey main keep is surrounded by moats and walls, with an arrow-marked route taking visitors around the castle. Look for the narrow openings where the castle defenders poured boiling oil onto attackers and – less gruesomely – the beautiful views over the city from the top.
Takamatsu
The gardens of Ritsurin Park are one of Takamatsu main attractions and are the perfect place to relax. Originally built for the Sanuki warlords, look for the Engetsu-kyo bridge and the lotus pond.
Osaka
Japan's third-largest city might not be its prettiest, but it is one of its most welcoming. Osakan's are known for their humour and the city has an extensive live music and comedy scene. A must-try local dish is takoyaki (grilled octopus dumplings), which is sold on most street corners.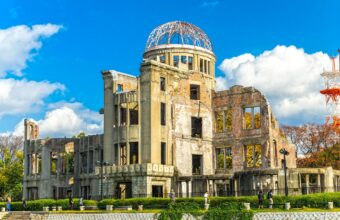 Hiroshima
While modern Hiroshima is a thriving, cosmopolitan city, it will always be known as the city destroyed by the world's first atomic bomb. The city's Peace Memorial Park and Atomic Bomb Dome are moving reminders of its tragic past.
Iya Valley
The Iya Valley is a huge expanse of tree-lined mountains and deep river gorges, home to tiny villages, hot springs and great views. The region's domineering cliffs meant the region has played a big part in Japanese history, hiding political dissidents, beaten armies and regional clan leaders.
Kanazawa
Kanazawa is capital of the Ishikawa Prefecture and was largely undamaged by World War Two air raids, making it a great place to explore Japan's historical architecture, such as the Nagamachi samurai district. However, its main attraction is Kenrokuen, one of Japan's most beautiful landscape gardens.