Vast, varied and constantly changing, China is a heaving mix of the past and future. Trying to describe China as one thing would be impossible; after all, for centuries it was ruled variously by the Mongols, the Manchus and the Han, and it is made of up a multitude of ethnic minority groups, languages, cuisines and landscapes — which all come together to create the China of today.
Most visit for the iconic experiences: walking on a world wonder, the Great Wall; strolling the glittery Shanghai Bund and seeing the Terracotta Warrior Army, a vast collection of lifesize clay warriors that China's first emperor had made to accompany him safely into the afterlife.
But China really comes into its own once you arrive and begin to unpack its huge array of experiences. Sweat it out over a steaming cauldron of spicy hotpot, admire some of the world's most celebrated contemporary architecture in hypermodern Shenzhen, hike a Himalayan valley or marvel at romantic Silk Road landscapes in the northwestern deserts, and zip between them all on China's shiny, hypermodern high-speed rail system. You could visit a thousand times and never get bored.
7 days
Historic north east
Wall and warriors
Beijing (2 days)
→
Great Wall of China (1)
→
Xi'an (2)
→
Pingyao (1)
→
Beijing (1)
View itinerary
10 days
China's Golden Triangle
The big three
Beijing (3 days)
→
Xi'an (2)
→
Shanghai (3)
→
Hangzhou (2)
View itinerary
14 days
China overland
Metropolises, teahouses and ancient history
Beijing (3 days)
→
Great Wall of China (1)
→
Xi'an (2)
→
Shanghai (3)
→
Chengdu (2)
→
Yangshuo (3)
View itinerary
Month-by-month
China's summers are hot, humid and sweaty and see lots of people on the move. The best places to visit at this time of year are in the far northeast, as well as the coastal areas, such as port city Qingdao and tropical island Hainan, which is an up-and-coming surfing and beach destination in the South China Sea. Be aware that late May through August is typhoon season.
September to November are some of the best months to visit China, as the weather cools down and humidity drops off. This is a great time to visit the big-hitter sights, such as the Forbidden City and Shanghai's Bund with fewer crowds and fresher temperatures.
December to February can be extremely cold, especially in the north, but this is also a great time of year to visit the Great Wall. You'll experience far fewer crowds and might just see the wall covered in a dusting of snow. Be sure to layer up! Likewise, the south of China experiences milder temperatures during the winter, making it a good time to go for a bamboo raft ride down the Li River in Guilin, for example.
The spring is another ideal time to visit almost anywhere in China, with April being particularly excellent in terms of climate and crowds. This is a good month to cross the far northwest deserts of Gansu and Qinghai before the extreme summer heat sets in, or take a walk in the bamboo-clad mountains closer to the east coast before typhoon season ramps up.
Festival and events
China's peak travel seasons revolve around its public holidays, when it seems like all 1.4 billion of its citizens are on the move. China follows the lunar calendar, meaning its holidays and festivals change slightly from year to year.
China's main annual holiday, Spring Festival/Chinese New Year, occurs in January or February. While the country shuts down and goes on the move over Chinese New Year week, you can plan your trip at the end of the period to experience the Lantern Festival, when giant lanterns are displayed and illuminated, many in the shapes of animals.
Athletes should aim to visit China in May, when the Great Wall Marathon sees hundreds of racers don their running shoes and race their way over, around and along sections of the wall near Beijing.
During the Dragon Boat Festival in June, dragon boat races and accompanying festivities are held in cities and villages all over the country.
Beer drinkers can revel in vast amounts of the foamy good stuff at 'Asia's Oktoberfest': the Qingdao Beer Festival. It is held in late July/early August at the Tsingtao Brewery, which was founded by German colonists in 1903.
Late September or early October marks the Mid-Autumn Festival, a traditional holiday held on one of the brightest full moons of the year. This is usually celebrated with moon-viewing parties in parks or public spaces, lighting lanterns, lion dances and stargazing.
Exploring the hidden parts of China's Great Wall
China can seem like an intimidating place, due to its huge size and the language barrier that most travellers face. However, first-time visitors needn't worry: this is a country of incredibly friendly and curious people eager to help. The pace at which China has developed its transport system means that getting around today is much easier than even a decade ago, with sparkling subways in most big cities and high-speed trains reaching all ends of the country.
When planning a trip to the country to visit the Great Wall of China, it's important to remember China's size and to plan realistically. Most of the country's major tourist sites are popular with domestic visitors, meaning that in high season and during China's national holidays, there can be long queues and enormous crowds, as well as ticketing controls at some of the biggest sights.
China continues to develop at a rapid pace, and the old cliche that this is a 'land of contrasts' certainly holds true. Things change quickly here and it's a good idea to approach your trip with a sense of expecting the unexpected. Venues often close without warning and transport timetables sometimes don't match what is listed and for international visitors, many things are lost in translation.
Visitors who approach China with a sense of adventure and flexibility will find their trip not only fulfils their dreams of experiencing some of this great culture's immensely important historical sights and tremendous culinary output, but they may also come away with a greater sense of mindfulness.

History of China's Great Wall
One of the world's man-made wonders and the most popular visitor attraction in China, the Great Wall is rightfully on the must-see list of every first-time visitor. Like the country's other main historic sight, the Terracotta Warrior Army, the Great Wall was conceived by China's first emperor, Qinshihuang, to protect his reign (221-207 BC). Construction continued on the wall through four distinct eras, including the Jin dynasty (1115-1235), when work was sped up due to the threat of attack from the north by Mongol leader Chinggis Khan.
The most visibly famous sections of the wall are the stone brickwork ramparts, beacon towers and flying eaves snaking up and down the mountains north of Beijing. These remains date to the Ming dynasty (1368-1644) when the Hongwu Emperor had just ousted the previous Mongol-run Yuan dynasty and wanted to ensure the security of his empire from northern invasion.
What many don't understand about the wall is its sheer size. At officially more than 21,000km in length, the wall stretches from Shanhai Pass, where it meets the Bohai Sea in Hebei province, to its westernmost point at the stunning mudbrick Jiayuguan Fort in the Gobi Desert in Gansu province. Not one continuous wall, it is actually comprised of thousands of smaller sections of wall across this vast distance.
There are several sections of restored Ming dynasty walls near Beijing, which are the most accessible. These tend to be busy with tourists as they are easier to visit, with even footing, handrails, cable cars and facilities like bathrooms and refreshments.
Where to see the Great Wall of China near Beijing
Of the Beijing sections of the Great Wall of China, Badaling is the closest to the city and the busiest, while Mutianyu is slightly further away and sees relatively fewer numbers, particularly in the winter.

Busy Badaling is the only section of the Beijing Great Wall accessible by train. Other sections require private vehicle hire or a combination of buses and taxis. The best option is to choose which section of the wall you want to visit and book a private car with an English-speaking driver. Some companies pre-book add-ons like the Ming Tombs, so it is worth knowing and stating your preferences upfront.
Badaling, Mutianyu and Huanghua Cheng are the closest sections to Beijing and are easily visited in a day or even a morning. Sections further away, including Zhuangdaokou, Jinshanling, Jiankou and Gubeikou can be visited on a day trip, but it's worth staying overnight at these to experience village life and to have more time to explore unrestored areas or see the wall at dawn or dusk.
If you visit Mutianyu on a January morning, you are likely to have the ramparts nearly to yourself (though you'll want to cover up, as temperatures regularly hover well below freezing). At nearly 150km from Beijing, the restored sections of the wall at Jinshanling see very few visitors, but this requires either a very long travel day or an overnight stop due to the distance.

The end of the Great Wall in Jiayuguan
Hopping on a plane or high-speed train to the desert city of Jiayuguan offers a completely different way of visiting the Great Wall of China. Here, the rammed earth and mud brick construction give the wall an almost forlorn appearance befitting its history. The name 'Jiayuguan' means 'first pass under heaven' and this fortress gate marked the end of the Chinese empire and the beginning of everywhere else. Criminals and those banished from the empire were turfed out via this gate and left to make their way alone through the desert.
Where and how to see the Wild Wall
There are numerous sections of the Great Wall that have been left unrestored close enough to Beijing to be convenient for a wild hike or trek. Be aware that the wall is steep and covers deep valleys and vertiginous mountains, so trekking can be exhausting and treacherous – as well as being frowned upon by the authorities. However, the rewards are spectacular views of this architectural wonder far away from the maddening crowds.
Hikers need to wear appropriate clothing, including very sturdy hiking boots, and bring plenty of water and food. When hiking unrestored sections of the wall, it is a good idea to hire a guide who knows the way, as some sections become completely impassable or dangerous, while others pass through military zones and require a detour.
Visiting the Great Wall of China at Zhuangdaokou
Just 80km from Beijing, this is one of the most accessible yet least visited sections of unrestored wall. It's possible to hike from here to the restored section at Huanghua Cheng in 1-2 hours, passing a river, reservoir and stunning views.
Visiting the Great Wall of China at Jiankou
This completely unrestored section 100km from Beijing is very steep and is best for experienced hikers. You can hike from here to the restored section at Mutianyu in 2-3 hours, passing extremely wild scenery, particularly at the 180-degree curve known as Ox Horn, one of the steepest and most difficult places to hike the wild wall.
Visiting the Great Wall of China at Gubeikou
Starting from Gubeikou town, 130km from Beijing, two sections – Wohushan and Panlongshan – of totally unrestored wall incorporate crumbling ramparts and watchtowers. The Wohushan section to the west of town features two 'sister mountains', while to the east is the Panlongshan section, with the General Tower and 24-Window Tower.
Seeing the Terracotta Army and alternative Xi'an
As the ancient end of the Silk Road and one of China's historical capitals, Xi'an is a mesmerising mix of history, architecture, culture and food. Travellers come to see the Terracotta Warriors, which were unearthed just outside of town in 1974, but are often surprised at how large and cosmopolitan the city is.
Terracotta Warrior Army: a brief history
One of the most astonishing archaeological sites in the world, the Terracotta Warrior Army is a massive collection of fired-clay soldiers, chariots and horses. The army was commissioned by China's first emperor, Qinshihuang, at the end of the third century BC. He was to be buried with the army as protection in the afterlife.
The Terracotta Warrior site was discovered by local farmers in 1974. The farmers were drilling a well not far from the known tomb of the Qin Emperor at nearby Mount Li. They'd dug about a metre down into the ground when they encountered pottery figures and arrowheads. The site was excavated and eventually, a terracotta army of 8,000 figures, all standing in battle formation, were revealed.
In 1976, two additional pits of soldiers were uncovered, and the site opened as a museum and tourist attraction in 1979. Unesco declared the Terracotta Warrior Army a World Heritage Site in 1987 and work continues to expand the site and protect the archaeology today.
How to visit the Terracotta Warrior Army
What strikes you most when visiting the Terracotta Army is its sheer scale. The sculptures, which are all life-size or bigger, have been excavated where they were buried and still stand in perfect rows. There are three excavation pits, the largest of which is protected by a vast warehouse the size of an aeroplane hangar. A walkway leads around the edges, allowing for close-up viewing, where it becomes clear that each horse and soldier has a unique facial expression, hairstyle and clothing. The best viewing points are at the corners of Pit 1 (the largest pit), where you are able to get as close as possible to the warriors and take in the expanse and scale of the site.
An onsite exhibition hall showcases bronze chariots and a few of the most interesting sculptures and allows for closer inspection of the figures' lifelike features, as well as the incredible detail put into the horses and chariots.
Visitors to the Terracotta Warrior Army need at least 3-4 hours to see the entire site, including the exhibition hall. A day trip will often incorporate a morning visit to the Terracotta Warriors with an afternoon at the Huaqing Hot Springs, a geothermal hot spring and palace used by Tang emperors and featuring in Bai Juyi's poem Song of Everlasting Regret. The Huaqing Palace was also the site of the 1936 'Xi'an Incident', when Kuomintang political leader Chiang Kai-shek was kidnapped during the Chinese civil war.
The Terracotta Warrior Army site is located about 50km from the centre of Xi'an. Many visitors opt to take a guided tour of the site, which offers in-depth insights about the culture, history and archaeology of the site. There are also city buses that run from Xi'an Railway Station to the site, taking about an hour, and official tour guides can be hired at the ticket windows.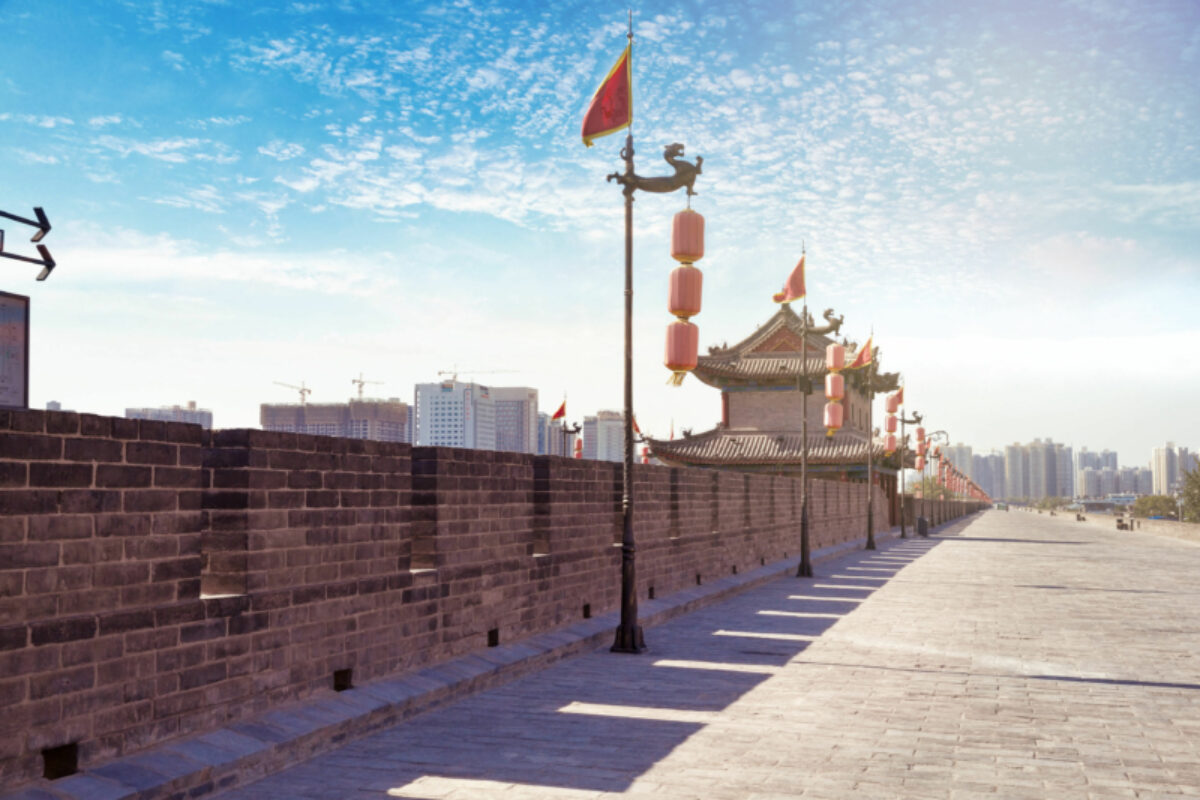 Xi'an beyond the Terracotta Warriors
Beyond Xi'an's Terracotta Warriors lies a treasure trove of culture, history and artefacts waiting to be discovered.
Xi'an city wall
Xi'an's fortifications were built in the 14th century and have been well maintained and restored over the succeeding eras, leaving the most completely preserved ancient city wall in China. The wall surrounds the old town and its ramparts are made of stone brickwork not unlike that of the Ming Great Wall, with wide ramparts large enough for walking, cycling, and excellent vantage points from which to view the city. Bikes can be all along the wall, which is a very manageable 13.7km long.
Seing Xi'an's Big Wild Goose Pagoda
Dating to the Tang dynasty (618-907), this striking pagoda nods to Xi'an's history as a punctuation mark on the Silk Road. It's brick build and plain, square design draws inspiration from the desert citadels of Central Asia and Persia, brought by monks and traders travelling to and from India and Europe.
Visiting Xi'an's Muslim Quarter
Xi'an is home to a huge community of Hui people, a Muslim ethnic minority group primarily from China's northwestern provinces. The Hui are known for their amazing cuisine, particularly lamian, a type of hand-pulled noodle served in spicy beef broth. The back streets surrounding Xi'an's drum and bell towers form traditional Hui neighbourhoods. These winding alleys house the Grand Mosque, surrounded by markets, bookshops, restaurants and food stalls operated by the Hui. Be sure to sample the local baked goods, as well as paomo, a type of lamb-broth stew eaten with torn pieces of steamed bread.
On the Shanxi trail: Alternative historical sights near Xi'an
Visiting Pingyao
About halfway between Beijing and Xi'an in Shanxi province, Pingyao is considered one of the most well-preserved ancient towns in China. The draw here is the completeness of the old town, with its serene courtyards and towering walled fortifications. It's worth staying overnight to take in the atmosphere of historic alleyways lit by swaying red lanterns.
Exploring Datong and Yungang caves
Also in Shanxi, Datong offers a similar experience to Pingyao's romantic lantern-lit streets and impressively restored ancient walls, with the addition of Yungang caves just outside of town. One of China's premier Buddhist art sites, the caves comprise a collection of Silk Road grottos carved from the 5th century and drawing influences from across Central Asia, Persia and even Greece. Add a day or two in Datong to incorporate a visit to the Hanging Monastery, a Buddhist temple built on a cliffside on precarious stilts. Nearby are also a number of wild, unrestored remains of the Great Wall best explored with a guide.
Where to go in China
Our recommended places
Beijing
With a history dating back over three millennia, China's mammoth capital is a proud celebration of old and new — showcasing shiny modern skyscrapers alongside the imposing Ming and Qing-era Forbidden Palace. Like China itself, the city has been transformed over the last century, from an ancient walled city to a stylish metropolis and seat of the ruling Communist Party. Politics are never far away in Beijing, and any trip would be amiss without a visit to the vast pedestrianised Tiananmen Square — site of Chairman Mao Zedong's mausoleum and the National Museum of China.
Xi'an
The eastern end of the ancient Silk Road and one of China's historical capitals, Xi'an is a fascinating fusion of culture, food, archaeology and history.
You'll no doubt want to see its famous Terracotta Army, which is located just 50km from the city centre, and is serviced regularly by buses and tour companies, but include some time to see the rest of Xi'an too.
Once known as Chang'an (meaning Eternal Peace), the city's 14th century walls have been carefully restored and maintained, and the Tang-dynasty-era Big Wild Goose Pagoda holds plenty of interest beyond its enjoyable name. The Muslim Quarter in the heart of the city is famous for its mosques and markets where you can sample delicious street food.
Shanghai
Shanghai is China's biggest city and a rising financial powerhouse. In the heart of the city is the Bund. This famous promenade symbolises Shanghai and from here you can see its enigmatic mix of architecture, from grandiose colonial buildings to modern skyscrapers.
Chengdu
The charming city of Chengdu, with its beautiful traditional teahouses, is the perfect place to experience China's famed tea-drinking culture. As the capital of culinary-favourite Sichuan Province and UNESCO's first-ever City of Gastronomy, Chengdu's food-scene is as varied, flavoursome and spicy as you might expect. Once you've sated your taste buds, make sure you take a trip to the Chengdu Panda Base, a non-profit research and breeding facility for giant pandas, red pandas and other endangered species.
Great Wall of China
Mutianyu is easy to reach from downtown Beijing and home to one of the best-preserved sections of the Great Wall of China, with densely distributed watchtowers and breathtaking woodland views. Go early to avoid the worst of the crowds, and choose from a cable car, chair lift or hike up, and a hike or toboggan back down.
Yangshuo
In recent years Yangshuo has transformed from a quiet rural settlement into one of China's most popular tourist destinations. Known for its striking limestone karst landscape, the region has fantastic cycling and hiking routes, while the town itself has developed a reputation for partying and shopping. Escape the hustle and bustle and connect with nature with a paddle down the gentle waters of the Li River on a natural bamboo raft.
Hangzhou
There aren't many images of China more iconic than Hangzhou's West Lake. Zhejiang Province's capital and former seat of the Song Dynasty, Hangzhou's rolling green hills, spotlessly clean lake and rich cultural heritage ensure this "heaven on earth" remains a must-visit for travellers touring the Middle Kingdom.
Pingyao
Considered China' best-preserved ancient walled city, Pingyao Ancient City (its appropriate official name) is famous for its largely intact Ming and Qing-dynasty infrastructure and architecture. Though a number of China's cities boast "ancient" historic features, history-buffs shouldn't miss Pingyao's authentic and extensive old town.