How to see the Terracotta Warriors at Xi'an
Seeing the Terracotta Army and alternative Xi'an
As the ancient end of the Silk Road and one of China's historical capitals, Xi'an is a mesmerising mix of history, architecture, culture and food. Travellers come to see the Terracotta Warriors, which were unearthed just outside of town in 1974, but are often surprised at how large and cosmopolitan the city is.
Terracotta Warrior Army: a brief history
One of the most astonishing archaeological sites in the world, the Terracotta Warrior Army is a massive collection of fired-clay soldiers, chariots and horses. The army was commissioned by China's first emperor, Qinshihuang, at the end of the third century BC. He was to be buried with the army as protection in the afterlife.
The Terracotta Warrior site was discovered by local farmers in 1974. The farmers were drilling a well not far from the known tomb of the Qin Emperor at nearby Mount Li. They'd dug about a metre down into the ground when they encountered pottery figures and arrowheads. The site was excavated and eventually, a terracotta army of 8,000 figures, all standing in battle formation, were revealed.
In 1976, two additional pits of soldiers were uncovered, and the site opened as a museum and tourist attraction in 1979. Unesco declared the Terracotta Warrior Army a World Heritage Site in 1987 and work continues to expand the site and protect the archaeology today.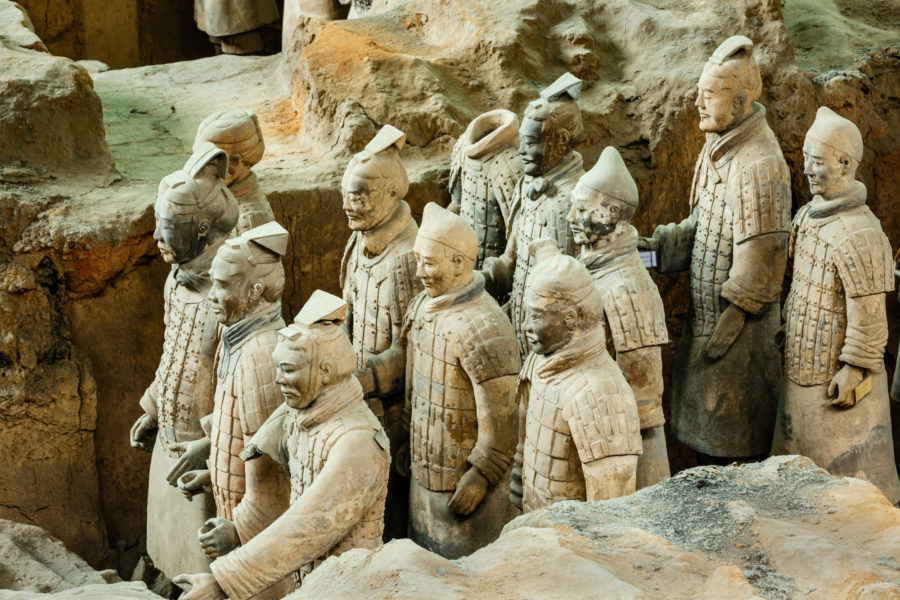 How to visit the Terracotta Warrior Army
What strikes you most when visiting the Terracotta Army is its sheer scale. The sculptures, which are all life-size or bigger, have been excavated where they were buried and still stand in perfect rows. There are three excavation pits, the largest of which is protected by a vast warehouse the size of an aeroplane hangar. A walkway leads around the edges, allowing for close-up viewing, where it becomes clear that each horse and soldier has a unique facial expression, hairstyle and clothing. The best viewing points are at the corners of Pit 1 (the largest pit), where you are able to get as close as possible to the warriors and take in the expanse and scale of the site.
An onsite exhibition hall showcases bronze chariots and a few of the most interesting sculptures and allows for closer inspection of the figures' lifelike features, as well as the incredible detail put into the horses and chariots.
Visitors to the Terracotta Warrior Army need at least 3-4 hours to see the entire site, including the exhibition hall. A day trip will often incorporate a morning visit to the Terracotta Warriors with an afternoon at the Huaqing Hot Springs, a geothermal hot spring and palace used by Tang emperors and featuring in Bai Juyi's poem Song of Everlasting Regret. The Huaqing Palace was also the site of the 1936 'Xi'an Incident', when Kuomintang political leader Chiang Kai-shek was kidnapped during the Chinese civil war.
The Terracotta Warrior Army site is located about 50km from the centre of Xi'an. Many visitors opt to take a guided tour of the site, which offers in-depth insights about the culture, history and archaeology of the site. There are also city buses that run from Xi'an Railway Station to the site, taking about an hour, and official tour guides can be hired at the ticket windows.
Xi'an beyond the Terracotta Warriors
Beyond Xi'an's Terracotta Warriors lies a treasure trove of culture, history and artefacts waiting to be discovered.
Xi'an city wall
Xi'an's fortifications were built in the 14th century and have been well maintained and restored over the succeeding eras, leaving the most completely preserved ancient city wall in China. The wall surrounds the old town and its ramparts are made of stone brickwork not unlike that of the Ming Great Wall, with wide ramparts large enough for walking, cycling, and excellent vantage points from which to view the city. Bikes can be all along the wall, which is a very manageable 13.7km long.
Seing Xi'an's Big Wild Goose Pagoda
Dating to the Tang dynasty (618-907), this striking pagoda nods to Xi'an's history as a punctuation mark on the Silk Road. It's brick build and plain, square design draws inspiration from the desert citadels of Central Asia and Persia, brought by monks and traders travelling to and from India and Europe.
Visiting Xi'an's Muslim Quarter
Xi'an is home to a huge community of Hui people, a Muslim ethnic minority group primarily from China's northwestern provinces. The Hui are known for their amazing cuisine, particularly lamian, a type of hand-pulled noodle served in spicy beef broth. The back streets surrounding Xi'an's drum and bell towers form traditional Hui neighbourhoods. These winding alleys house the Grand Mosque, surrounded by markets, bookshops, restaurants and food stalls operated by the Hui. Be sure to sample the local baked goods, as well as paomo, a type of lamb-broth stew eaten with torn pieces of steamed bread.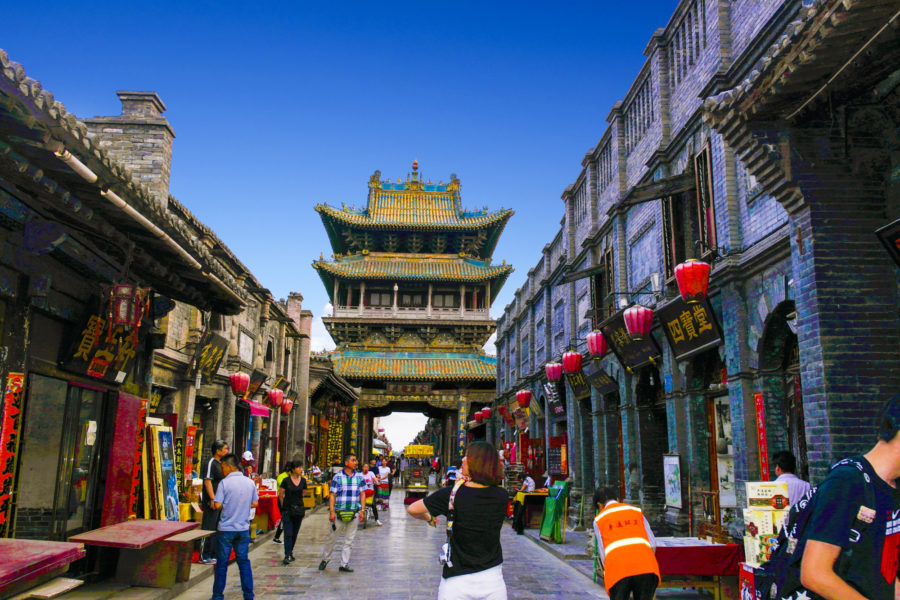 On the Shanxi trail: Alternative historical sights near Xi'an
Visiting Pingyao
About halfway between Beijing and Xi'an in Shanxi province, Pingyao is considered one of the most well-preserved ancient towns in China. The draw here is the completeness of the old town, with its serene courtyards and towering walled fortifications. It's worth staying overnight to take in the atmosphere of historic alleyways lit by swaying red lanterns.
Exploring Datong and Yungang caves
Also in Shanxi, Datong offers a similar experience to Pingyao's romantic lantern-lit streets and impressively restored ancient walls, with the addition of Yungang caves just outside of town. One of China's premier Buddhist art sites, the caves comprise a collection of Silk Road grottos carved from the 5th century and drawing influences from across Central Asia, Persia and even Greece. Add a day or two in Datong to incorporate a visit to the Hanging Monastery, a Buddhist temple built on a cliffside on precarious stilts. Nearby are also a number of wild, unrestored remains of the Great Wall best explored with a guide.
Get a custom itinerary
Specialist advice from China experts
Describe your ideal trip
We connect you with a top China tour company
Get a custom itinerary with no pressure to book
Start here
Why Horizon Guides?
Expert travel guides
Our guides are written by the leading experts in their destinations. We never take payment for positive coverage so you can count on us for reliable and impartial travel advice.
Authentic experiences
We curate exceptional trips in underrated places, organised by the very best tour operators who live and breathe their destinations and are passionate about authentic, responsible tourism.
Give back to mother nature
We'll plant 50 trees for every trip booked via the Horizon Guides site in partnership with the International Tree Foundation, who carry out sustainable community forestry projects in Africa.