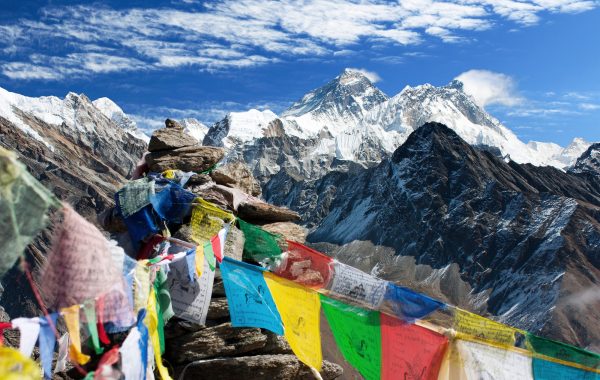 Nepal
The country at the top of the world
With the spectacular Himalayas running down its eastern side, it's no surprise Nepal is known as the roof of the world. Getting out into these vast panoramas with their immense snowy peaks, flower-strewn meadows and sparkling lakes — while also making time to relax at chilled out Pokhara — is reason enough to visit. But there's far more to Nepal than just mountains and trekking.
Down on the hot lush plains of the Terai, you'll find a brace of magical national parks where rare beasts like one-horned rhino and tiger roam and the trees twitch with birdlife. Your chances of seeing rhino are surprisingly high if you visit in the spring. Then there are the cultural jewels, a scattering of ancient cities stuffed with serene temples, cobbled alleys and hidden squares. In parts of Bhaktapur, Patan and the vibrant capital Kathmandu, it feels like life hasn't changed in generations.
Trekking In Nepal
Nepal's best treks and hikes
The mighty Himalaya have occupied a special place in the imaginations of adventurers and intrepid travellers for generations. And nowhere more so than the nation of Nepal: land of the Sherpa and home of Mount Everest (plus eight of the world's other 10 tallest peaks!) A country that embodies the allure and romance of these unimaginably vast mountains.
View this guide
Things to do in Nepal
Our recommended experiences and activities
Nepal trips
Suggested routes & itineraries from our experts
Why Horizon Guides?
Expert travel guides
Our guides are written by the leading experts in their destinations. We never take payment for positive coverage so you can count on us for reliable and impartial travel advice.
Authentic experiences
We curate exceptional trips in underrated places, organised by the very best tour operators who live and breathe their destinations and are passionate about authentic, responsible tourism.
Give back to mother nature
We'll plant 50 trees for every trip booked via the Horizon Guides site in partnership with the International Tree Foundation, who carry out sustainable community forestry projects in Africa.