Europe's newest country is also one of its most talked about. Kosovo self-declared independence from Serbia in 2008 and is recognised by more than 100 countries as a nation — but not Serbia, with whom animosity still lingers.
Despite the signs of conflict that still haunt the region, Kosovo is a safe place to travel to. Visitors come for hiking in the Sharr Gorge and Rugova Canyon, to see 13-century monasteries and enjoy mountain villages, but the biggest draw is the welcome of Kosovans who want you to enjoy their fledgling state.
If you're after off-the-beaten-path Europe, it doesn't get much more unspoilt than Kosovo.
15 days
Off-the-beaten path in the Balkans
Albania and Kosovo's hiking trails
Tirana (1 days)
→
Durres (1)
→
Berat (1)
→
Albanian Riviera (1)
→
Butrint National Park (2)
→
Gjirokastra and the Drino Valley (1)
→
Kruja (1)
→
Shkodra (2)
→
The Accursed Mountains (2)
→
Prizren (3)
View itinerary
Where to go in Kosovo
Our recommended places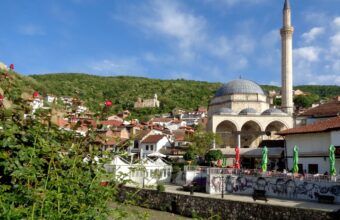 Prizren
Kosovo's second city is its cultural heartland, packed with history, handicrafts and Kosovo's best food. Try wine-tasting in the nearby Rahovec region, grilled meat kebabs in its restaurants and local Shar cheese.