The Best Road Trips In Australia
Epic journeys across the Australian outback and ocean roads
By
David Whitley
&
Sara Jane Armstrong
Last updated 17 Feb 2021
Getting from A to B in Australia is a different prospect to most countries. When your country is the size of a continent, the old cliché that travel is about the journey rather than the destination takes on a slightly different meaning. Sure, you can always fly. But for the quintessential experience, nothing beats crossing this land on four (or two) wheels.
Virtually any Australian road trip has the potential for adventure—you could, if you were that way inclined, just see where the road takes you. Or you could follow one of the following classic Australian road trip itineraries. Whichever route you follow, take the amount of time you think you need and double it. You won't regret slowing down, taking your sweet time, and stopping off frequently to enjoy the view and the local hospitality.
This is Australia. Buckle up and enjoy the ride!
Australia's best road trips
On this page:
Australia road trip route map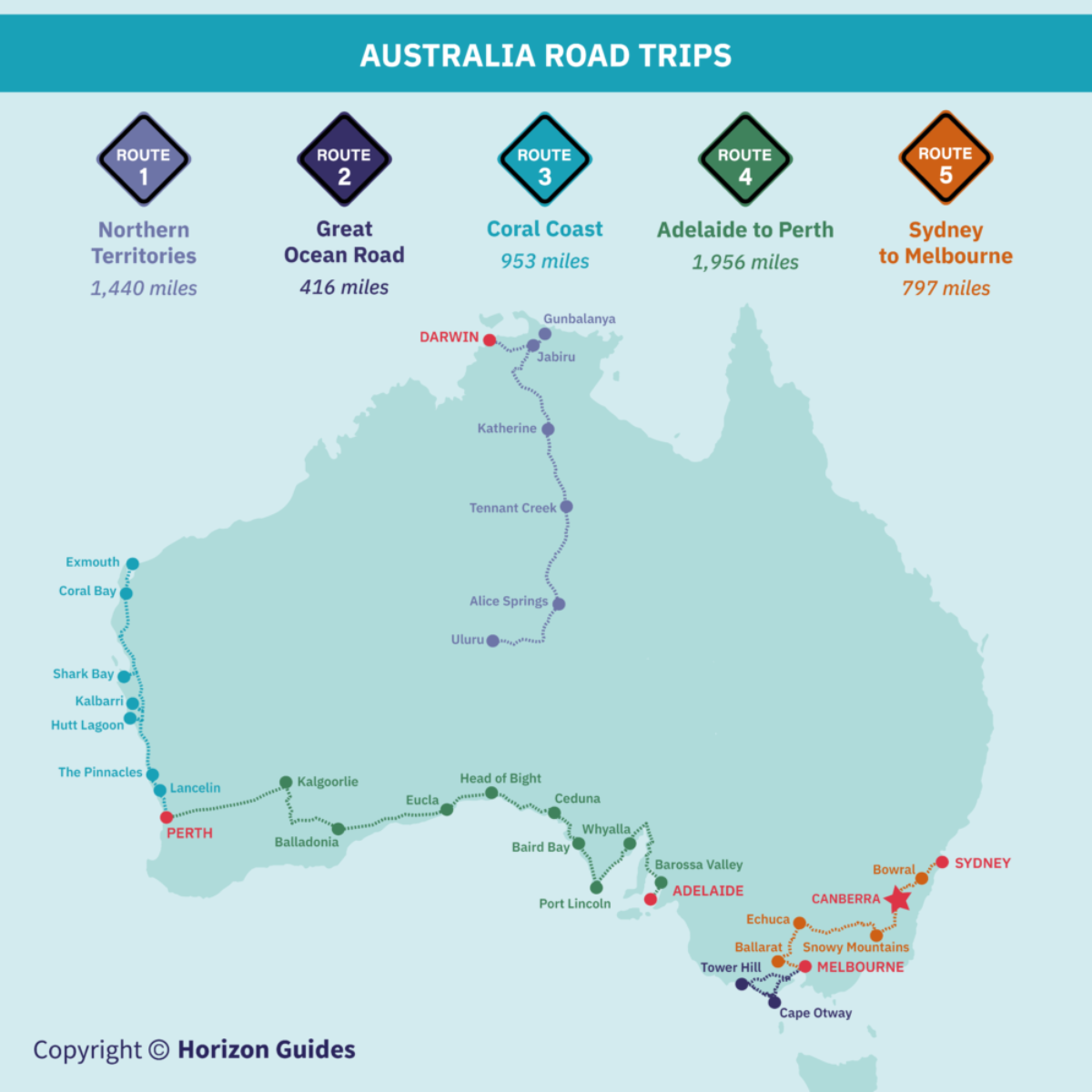 Top five Australian road trip routes
In a country of this scale, nearly any journey by car can quickly turn into an epic road trip. For some structure to your four-wheeled adventure, take a look at our top five recommended routes:
1) Sydney to Melbourne inland road trip
Approx. distance: 1,282km (796 miles) (one way)
Duration: At least two to three days
Suggested route: Sydney—Bowral, Southern Highlands—Canberra—Snowy Mountains—Beechworth—Echuca—Ballarat—Melbourne
Read more: Sydney to Melbourne inland road trip
2) Adelaide to Perth road trip
Approx. distance: 3,140km (1,950 miles)
Duration: At least 10 days
Suggested route: Adelaide—Barossa Valley—Whyalla—Port Lincoln—Baird Bay—Ceduna—Head of Bight—Eucla—Balladonia—Kalgoorlie—Perth
Read more: Adelaide to Perth road trip
3) Northern Territory road trip
Approx. distance: 2,320km (1,440 miles) (one way)
Duration: At least seven days
Suggested route:
Darwin—Jabiru, Kakadu—Gunbalaya—Katherine—Tennant Creek—Alice Springs—Uluru National Park

Read more: Northern Territory road trip
4) The Great Ocean road trip
Approx. distance: 670km (416 miles)
Duration: Two to three days
Suggested route: Melbourne—Apollo Bay—Cape Otway—Aire River Beach—Great Otway National Park—Twelve Apostles—Port Campbell National Park—Tower Hill—Melbourne
Read more: The Great Ocean road trip
5) Coral Coast road trip
Approx. distance: 1,600km (995 miles) (one way)

Duration: At least five to six days

Suggested route: Perth—Lancelin—The Pinnacles—Hutt Lagoon—Kalbarri—Shark Bay—Coral Bay—Exmouth
Read more: Coral Coast road trip
Planning a road trip
There are a few tools that are essential for a smooth road trip in Australia. The Wikicamps app maps out all the campsites available along your route, including details of their price and access to facilities. Free camping is illegal in most of Australia, and campsite prices average only around $10 a night per vehicle.
It is also important to map out gas stations available along the route. The characteristic long desert drives don't allow for frequent stops, and you don't want to get stuck out in the Outback. Travellers taking detours into quieter territory typically carry an extra jerry can or have multiple tanks.
Renting a vehicle is very straight-forward, and many companies offer cars suitable for camping. Campervans, with back seats that convert to bed space, are common. If you're interested in seeing everything the country has to offer, you can opt for the Australian favourite and get a 4WD. These often come equipped with rooftop tents that can fit 1-4 campers depending on size, saving you the hassle of a tent. Most roads are easily navigable in a regular car, just make sure to get your camping kit in advance.
Each state sells passes that will grant you access to all of the national parks in that state, for a one time fee. These can be bought at the entrance to any park, and are bought per car rather than per passenger. If you're planning to visit all the parks on your route, these work out as far better value
Best times for road trips in Australia
January, February and March are the hottest months of the year in the south of the country, with January, in particular, being when Australians hit the beach due to school holidays. It's the heart of the wet season in the north — remote roads can be flooded out, but accommodation prices are low and waterfalls in full flow.
Up north, the wet season transitions into the dry during April and May. 4WD tracks to key sites in National Parks reopen, and jellyfish more-or-less disappear from the Great Barrier Reef. Down south, temperatures cool a little, while still being shorts and T-shirt weather most of the time. It's a good time for bushwalking.
June, July and August are the winter months down south — the ski season kicks in for the Snowy Mountains, and big city temperatures can drop into single figures. Sea temperatures are a couple of months behind the land, though, so you're good for a swim surprisingly deep into winter. Up north, it's warm, dry and blue skies.
September and October are essentially springtime in the southern states. Weather is changeable, but warming up, with wildflowers exploding into life — particularly in Western Australia — and native wildlife becoming more active. In the north, the humidity starts to crank up.
The rains return in the north during November and December and tour, hotel and trip prices drop. But it's prime time in the south, often hot without being unbearably so, and even fussy locals agree the sea is warm enough to swim in again.
Events and holidays
The long, hot January days are accompanied by the Australian Open tennis in Melbourne and Australia Day festivities across the country on January 26. Expect plenty of fireworks.
February and March see the world's second and third largest fringe festivals take over Adelaide and Perth, while the Mardi Gras parade in Sydney becomes a riotous celebration of all things LGBTQI+. Motorsport fans can also take in the Formula One Grand Prix in Melbourne.
April's main event — the ANZAC Day commemorations on April 25 — is a more sombre, but hugely moving and community-spirited affair. There's also Tasting Australia — a nationwide food festival.
In May and June, Sydney is illuminated with the Vivid light art festival, and the country's sporting obsessions are on full display with the rugby league and Aussie Rules football seasons hitting their stride — the Grand Finals are held in October.
That's also when the famed Bondi to Coogee coastal walk in Sydney, which also becomes a giant open-air sculpture gallery for Sculpture By The Sea.
In early November, Aussies use the Melbourne Cup horse race as an excuse for a boozy party, and revelry throughout December culminates in the New Year's Eve celebrations. Again, the big cities blow serious budgets on fireworks.
In this guide: