For several decades, the Cerro Arenal Volcano was the most active in Costa Rica, spewing molten lava and red hot boulders into the surrounding darkness. Since 2010, activity has been limited to puffs of smoke and the occasional rumble, but that hasn't stopped visitors exploring the adjacent Arenal Volcano National Park.
Where to go in Costa Rica
Our recommended places
Monteverde
Boasting an incredible ecosystem and home to approximately 5% of the planet's total bird species, 130 mammal species and more than 3,000 plants, the cloud forests of Monteverde are a nature lover's dream. Visitors can explore an array of trails which wind through 13km of forest and enjoy bird's-eye views from the many skywalks, hanging bridges and zip lines throughout the reserve.
Puerto Viejo de Talamanca
Once a sleepy backwater surfing town, Puerto Viejo has become a stop-off for travellers looking to party. While it can be raucous on the main strip, head a couple of blocks out of town and you'll be able to stay with families in quiet houses with only the sounds of the rainforest for company.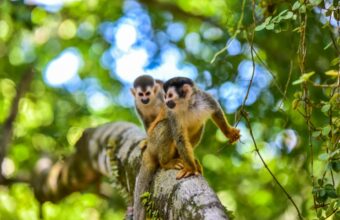 Manuel Antonio National Park
If you imagine Costa Rica to be a paradise of pristine beaches, exotic flowers, thick rainforests, and crystal-clear waters, where monkeys and sloths and scarlet macaws frolic freely, then you have Manuel Antonio National Park in mind.
The smallest national park in the country, this is also the most visited — a true paradise for beach-goers and nature lovers, where emerald rainforest spills into the turquoise sea.
Guanacaste
Once part of Nicaragua, Guanacaste in Costa Rica's northwest is home to some of the country's most beautiful beaches. Try Tamarindo for year-round sunshine, Playa Hermosa for a beach with mountain views and wildlife, or Playa Panama for easy swimming.
Cocos Island
The uninhabited Cocos Island is known as one of the world's best scuba diving destinations. A dive in its nutrient-rich waters can include schooling hammerhead sharks, white tip reef sharks, tiger sharks, manta rays, marble rays and occasionally even whale sharks.
San Jose
At first glance, San Jose might not seem like the prettiest of cities but delve a little deeper into the colonial mansions of Barrio Amon, the restaurants of Barrio Escalante and the many live music clubs, and you'll soon uncover the beating cultural heart of Costa Rica's capital.
Tortuguero
Impossible to reach by car, Tortuguero on the north east coast of Costa Rica can only be accessed by boat. Thanks to limited development, a journey down its waterways offers the chance to see manatees, crocodiles, caiman and monkeys.
Cabo Blanco Nature Reserve
The first national park in Costa Rica, Cabo Blanco Absolute Natural Reserve is part of the Tempisque Conservation Area in the province of Puntarenas. Visitors can enjoy hikes to secluded beaches filled with a diverse array of waterfowl, such as frigate birds, brown pelicans and Costa Rica's largest population of brown boobies. When walking the forest trails it is possible to spot plenty of wildlife, including armadillo, anteaters, deers, coyotes and several monkey species.
Santa Teresa
A small beach village in the Puntarenas Province, Santa Teresa's beach is famous amongst surfers for its fast and powerful beach break and consistent waves. With a long, palm-lined beach and laid-back vibes, you could easily spend a few days relaxing and munching on street food.
Surfers shouldn't miss Ria Mara (meaning Suck Rock), a fantastic point break at the northern end of the beach which is a local favourite.