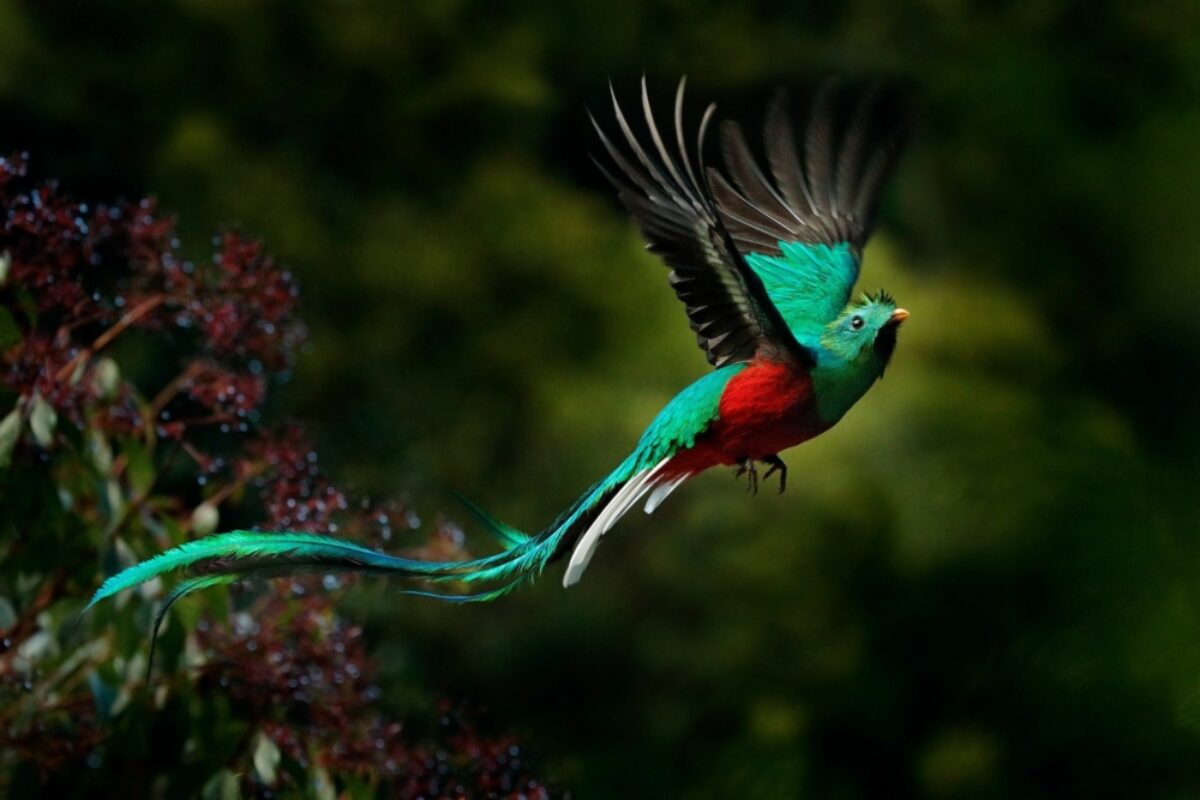 Costa Rica is a leader in land conservation, with an astonishing 25% of its territory designated as protected area. Its dizzying array of national parks (26 in total) are home to all kinds of wildlife, landscapes and ecosystems — think volcanic peaks, white-water rapids and miles of coastline.
Adventure is never far from the table in Costa Rica. There are rainforest hikes and world-class surfing, while its biodiversity and green conservation means that more than half a million species call Costa Rica home, from tropical fish and howler monkeys to toucans and scarlet macaws.
So come to Costa Rica and join the local ticos in their peaceful, relaxed way of life.
New edition!
The National Parks Of Costa Rica
Exploring the most biodiverse country on earth
Costa Rica's national parks are a beacon of inspiration to the nation's neighbors and to the world. As a leader in land conservation, Costa Rica has designated an astonishing 25% of its landmass as protected area--the highest in the world. A dizzying 26 national parks encompass all kinds of landscapes, habitats, and ecosystems.
Get the guide
Seasons & climate
Costa Rica is very close to the equator, so expect warm tropical weather. Year-round average high temperatures range from 23 to 32 C (75 to 90 F) during the day, and average low temperatures hover between 15 and 18 C (60 to 65 F) at night. Like most tropical climates, Costa Rica's year is divided into two seasons:
Dry season lasts from December to April. Coinciding with North American winter and spring break holidays, this is the most popular and recommended time to visit. However, being in the tropics, there is always a chance of rain regardless of the month. It's advisable to pack a light waterproof jacket or poncho, just in case!
The rainy season (or more optimistically called the "green season" goes from May to November. Usually, it's briefly interrupted by a mini-dry season (or veranillo) in the month of July.
During the rainy season, expect dry, sunny mornings and predictable afternoon showers.
Microclimates of the national parks
Since Costa Rica is so geographically diverse, its climate can only really be described in general terms. Each national park represents a distinct subregion with its own microclimates. Weather can vary significantly between parks (and even within them!).

National Park

Climate notes

Rainfall per year

Average temperature

Manuel Antonio

Very wet rainforest, with chances of showers year-round.

380 cm (150 in)

27-30 C (81-86 F)

Poás Volcano

Cooler, higher altitude cloud forest, can get chilly, lots of wind and rain.

400-500 cm (158-197 in)

12-15 C (54-59 F)

Tortuguero

Humid and very rainy June-November. Peak turtle nesting takes place July-September (high season).

444-597 cm (175-235 in)

20-32 C (69-90 F)

Cahuita

Coastal, warm and humid year-round. Seasons are reversed in the Caribbean coast, with drier weather from May to November.

No data

No data

Arenal Volcano

Normal rainy and dry seasons preside, although it's a popular destination year-round.

No data

24-32 C (75-90 F)

Monteverde Cloud Forest Reserve

Rainy year-round, but slightly cooler, windier and less rainy during the "dry" season of November-April

No data

14-25 C (59-77 F)

Corcovado

Two climate zones: the coast and the highlands, at 782 m (2,565 ft) elevation. Whale-watching seasons: July-November and December-March

Coast: 350 cm (138 in)

Highlands: 550 cm (217 in)

No data

Tenorio Volcano

Heavily influenced by its Caribbean side, normal rainy and dry seasons preside.

350 cm (138 in)

15-24 C (59-75 F)

Guanacaste

Varied, but notably dry for Costa Rica. Small annual rainfall is courtesy of its highland cloud forests

300 cm (118 in)

19-28 C (66 - 83 F)

Rincón de la Vieja Volcano

Caribbean side is lush and wet, while the Pacific side – the more visited – is very dry during half the year.

508 cm (200 in), mostly on Caribbean side

No data
What passport/visa documents will I need?
All travelers will need a passport valid for at least six months after your arrival date. Upon arrival at immigration you'll receive an entry card which you should keep with your passport. Citizens of the US, Canada, UK, Japan, South Korea and the Schengen area can visit Costa Rica as a tourist visa-free for up to 3 months. You may be asked to show proof of onward travel.
What currency and cards are accepted?
Costa Rica uses the colón, symbol ₡, which is subdivided into 100 centimos. US dollars are widely accepted and readily converted. UK sterling and Euros can be converted in airports and cities. Try to have notes in pristine condition, notes with tears may be rejected. Visa, Mastercard and American Express are widely accepted, especially in cities and in larger hotels.
Are banks, currency exchange and ATMs easy to find?
You'll find ATMs in virtually every town and city, usually connected to international networks. ATMs will usually dispense colón and USD.
You'll find banks and currency exchange in major cities and airports. It's usually faster to change currency at the airport or your hotel. Banks are open from 8:30 - 11:30 and 2 - 4:30pm, and are closed for holidays.
How much spending money will I need?
For personal spending (outside of hotels, tours, transfers and other items covered in your itinerary), you should budget between $200 - $400 per week. This would cover meals not specified in your itinerary, drinks, liquor, tips, souvenirs, etc. Prices are roughly equivalent to or slightly higher than US prices.
What vaccinations are required?
Make sure your routine vaccinations are up to date: measles-mumps-rubella (MMR), diphtheria-tetanus-pertussis, varicella (chickenpox), polio, and your yearly flu shot. For other vaccinations check with your doctor at least three months before departure.
Is Costa Rica good for kids?
Costa Rica is generally an excellent destination for families and younger travelers offering everything from canopy zip lining and river floating, to wildlife spotting and fun beach towns. A few considerations to keep in mind: there may be long transfers to and from airports and destinations, often over fairly bumpy roads. Child car seats may not be up to ideal standards, so if you're renting a car maybe bring your own. Certain baby care items may not be available in rural areas, but can be found in most towns and cities.
Costa Rican cuisine is relatively unchallenging for infants and staples like Gallo Pinto (rice, beans, sometimes with plantain, eggs and cheese) are usually a safe bet.
Do I need travel insurance?
Travel insurance isn't mandatory but is strongly advised. Costa Rica is a safe and convenient country but unforeseen circumstances can occur any time, any place. It always makes sense to travel with a policy that covers accident, medical, baggage and cancellation. Note that your credit card insurance may not apply in certain circumstances.
What power adaptors will I need?
The Costa Rica grid runs on 110 volt AC at 60 hertz, with type A / B power sockets.
Language
Spanish is the official language in Costa Rica. English is widely spoken in tourist centres, and at hotels, restaurants, etc. Knowing a few words of Spanish will go a long way and is always appreciated.

Will my cell phone work?
GSM network coverage in Costa Rica is improving rapidly, although is still patchy in rural areas and national parks. You'll find LTE 4G coverage in most cities.
You can make international calls from hotels or public call centres/internet cafes (called locutorios). You can also use public phone booths with pre-purchase cards available at newsstands. International calls are expensive, especially from hotels. To save money try to have people call you back instead.
International calls
Costa Rica country code: 506
When calling from the US: dial 011 + Country Code (506) + City Code + Number
When calling the US from Costa Rica: dial 001+ Area Code + Phone Number
Inside Costa Rica
When calling from city-to-city: dial City Code + Number
When calling from within a city: dial 0 + Number
How much should I tip?
Tipping is not essential but will always be appreciated. Tipping expectations are less rigid than in the US and you can tip what you feel appropriate using the guidelines below. Don't worry about offending anyone. Keep small bills (either USD or colón) for tips.
Private drivers: $5 per passenger, per day. Slightly more if the driver is also guiding, or for longer journeys.
Local guides: $5-$7 per person, per day. For naturalist or specialist guides up to $10-$15.
Luggage handlers: $1-$2 or $0.50-$1 per bag; room cleaning staff: $1 per room per day, unless a service charge has already been added.
Restaurants: 10-15%, check if a service charge is already added.
Is it okay to bargain/haggle?
In cities and larger stores prices will be fixed. Artisans and souvenir markets may be flexible, but the initial quoted price will always be fairly close to what is expected. If they're flexible on the price aim for 70-80 per cent of the original price. Always bargain with a smile and a friendly demeanor.
Health & safety
Costa Rica is renowned for being a safe and convenient country to visit. This is one of the least threatening places on earth. The Tico spirit is outgoing and welcoming and your presence will be warmly appreciated by everyone you meet. That said, complacency can easily lead to inconvenience or worse. Keep the following in mind to ensure a happy and successful trip.
Don't keep all your money and important documents in one place. Keep cash and passports in a money belt or pouch, and keep a copy of your passport safely elsewhere. You can scan and email a copy of your passport to yourself so it's always available online.
Leave the fancy jewelry at home. Don't unpack your belongings in public or show large sums of cash and expensive gadgets.
Pay attention to your surroundings, especially when using ATMs and currency exchange or in busy environments. Pickpockets are fast and skilful and may set up false diversions to distract you while someone else rifles through your bag or purse.
Never leave bags unattended or out sight. Use hotel secure storage to leave bags and the safe to store any valuables.
Health and fitness
The better your physical condition the more you will enjoy your trip. Be prepared for different climates, altitude, physical exertion and a different diet. Use your departure date as an opportunity to get in shape and prepare for your trip, especially if you'll be doing any mountainous hiking.

Food and sanitary standards in Costa Rica are of generally high standards but you can reduce the risk of getting traveler's tummy with some simple precautions.
Tap water is considered safe to drink but bottled water is widely available in cities, and purified water is available in lodges and rural accommodations. Bring a water canister to fill up, rather than using disposable plastic bottles. Avoid unwashed fruit and vegetables.
What keeps Costa Rica so green?
Countries all over the world look to Costa Rica as a shining example of ecotourism and green travel. How did it earn this lofty green reputation? Beyond catchy PR slogans such as "No Artificial Ingredients", the path to ecotourism success has taken careful planning and smart building.
Costa Rica's policy-makers have been thinking ahead about their country's ecological potential for decades. They famously fought of loggers and cattle industry moguls in the 1980s, while neighbouring Central American countries saw dramatic deforestation. Today the country runs entirely on renewable energy.
National parks
Costa Rica takes great pride in its national parks system. A grand total of 26 parks cover an astounding 25% of the country's land mass.
The first national park, Poas Volcano National Park, was established in 1955. Today, Costa Rica's elementary school kids learn about the national park system at an early age and a sense of stewardship for these protected areas is ingrained into their education.
Green certification programme
The Costa Rica Tourist Board rewards businesses for good green practices through its Certification for Sustainable Tourism (CST) programme. This program grades hotels and other travel providers on criteria such as planting of trees, smart use of resources, customer education, use of biodegradable materials, and waste reduction. Look for the leafy green CST logo on your hotel and tour operators' websites to know they've aced this important certification.
Fantastic ecolodges
Costa Rica is home to some of the most famous and successful ecolodges in the world. Check in to a lodge that has gone out of its way to preserve its surroundings, celebrate local culture, and employ local staff. Many run on-site organic farms, which supply their restaurants. Ecolodges here were some of the first in the world to prove that 'eco' and 'luxury' can go hand-in-hand — for a price, you'll find five-star amenities in harmony with the rainforests and coastal ecosystems.
Earth-aware travellers
At the end of the day, it's up to visitors themselves to decide how green their trip will be. Happily, Costa Rica tends to attract the kind of visitors that care about their impact on a place. You can make sure your visit makes a positive impact by choosing your hotels and operators carefully. Ask questions and check certifications!

When you're out immersing yourself in Costa Rica's natural wonders, tread lightly and leave no trace. Off-trail hiking is prohibited. Keep a respectful distance from wildlife. Remember to treat all the stops on your itinerary as the fragile ecosystems that they are. Handle with care!
How to see jaguars, birds and turtles in Costa Rica
Home to more than half a million plant and animal species, Costa Rica is one of the best places to see wildlife in the world -- and one of the most biodiverse countries on the planet. Its broad variety of habitats, with unspoilt beaches, cloud-shrouded mountains, tangled mangroves and precious primary forests provide refuge for an astonishingly wide spectrum of wildlife in Costa Rica, from whale sharks to white-faced capuchins.
Location plays a role too: flanked by Caribbean and Pacific waters, forming a bridge between the two American continents, Costa Rica is visited by hundreds of migratory bird species each year, and humpback whales from both hemispheres endure a 9,000km journey to mate and raise their young in Costa Rica's bays.
The allure of Costa Rica's wildlife is that it is both in your face and tantalisingly elusive all at once. Even in populated areas, visitors might see howler monkeys, white-nosed coatis (likened to racoons) or a pair of scarlet macaws simply by walking to the shops, not to mention an abundance of otherworldly insects.
However, Costa Rica's sloths, tapirs and wild cats can be much harder to spot. The fauna here is some of the most colourful on Earth (think iridescent hummingbirds, acid-green frogs and rainbow-bright fish), yet only those who are patient and pay close attention will catch a glimpse of such visual delights. When it comes to year-round wildlife spotting opportunities, Costa Rica is one of the best places in the world.

After decades of large-scale deforestation, Costa Rica is now the world's poster child for eco-tourism, with over a quarter of its land dedicated to national parks and nature reserves.
However much of the wildlife in Costa Rica is still endangered or under threat from illegal logging, poaching, habitat loss and the exotic pet trade. Done right, responsible tourism in Costa Rica can be part of the solution, and taking a sustainable trip with an environmentally-aware guide or tour operator can be a wonderful way to witness nature in all its glory while supporting the communities who aim to protect it.
The best places to go birding in Costa Rica
How to go birdwatching in Costa Rica
Purple-throated mountain gem. Coppery-headed emerald. Great green macaw. The names of Costa Rica's birds alone are enough to prompt the purchase of a telescope and tripod.
There are more than 900 bird species here, with over 200 of them just passing through. Five million birds are estimated to migrate to and through Costa Rica annually, with peaks in March and April as they head north, and September and October as they head south. With such a rich and ever-changing bird population, it's not uncommon for birdwatchers in Costa Rica to spot a hundred species in just one day.
Keel-billed toucans, hummingbirds and scarlet macaws are some of the most striking and well-known birds found in the region, but none is more esteemed amongst birders than the resplendent quetzal, an iridescent-feathered trogon associated with Mayan legends and symbolic of freedom. It is notoriously difficult to spot thanks to its green plumage, but come to the aptly-named Parque Nacional Los Quetzales in the breeding season (April) and you can see male quetzals putting on a display, gliding through the air to show off their twin tail feathers.
Other top places for birdwatching in Costa Rica include the wetlands of Caño Negro Wildlife Refuge, where water birds such as storks, kingfishers, herons and spoonbills gather; Palo Verde National Park, where in dry season visitors can rent bikes to get around the diverse terrain and reach its lesser-known corners; Corcovado National Park, home to the country's largest population of scarlet macaws (which mate for life), plus more than 400 other species; and Monteverde Cloud Forest Reserve where 30 different types of hummingbird glimmer amongst the greenery.
Birding lodges within protected nature reserves are an experience in themselves, as guests often enjoy panoramas of the forest from their bedrooms and access to expert guides. Many lodges also provide binoculars and other gear for guests' use – but you might want to bring your own neutral/camo-coloured clothing. Stay quiet and you'll be surprised what appears when birdwatching in Costa Rica.
The best places to see Costa Rica's wild cats
Where to see jaguars, pumas and ocelots
Six species of endangered wild cat prowl the depths of Costa Rica's jungles – and while you'd be incredibly lucky to spot any of them (they're mostly nocturnal, averse to human contact and populations are declining), if you're trekking through their turf at dusk or dawn they'll certainly be watching you.
The only big cat on the list, and perhaps the most revered of all, is the jaguar; they are the largest terrestrial carnivore in Central America, preferring to live near water sources such as swamps and rivers. The puma comes second in terms of size – they are equally elusive, but sightings have been reported by farmers and the occasional tourist. Then there's the tree-dwelling margay, which has been known to imitate the calls of its prey; the ocelot, which is twice the size of a domestic cat and the most populous wild cat in Costa Rica; the lithesome oncilla, which tends to live in higher elevations like Monteverde; and the weasel-like jaguarundi, the only diurnal (active during the day) cat of the bunch.
The more remote you venture, the higher your chances of encountering Costa Rica's wild cats. Overnight or multi-day hikes allow you to travel deeper into your chosen park and increase your odds of spotting a big cat. You can see all six species of wild cat in Costa Rica in La Amistad International Park (a UNESCO-listed site shared with Panama) and five can be found in Corcovado National Park on the Osa Peninsula. Dry season – December to April – offers the easiest access to national parks and the best chance of seeing Costa Rica's wild cats.
It's worth noting that La Amistad's tourism infrastructure is very limited and hiking here can be extremely demanding. Corcovado's trails are more defined and ranger stations (ie. overnight shelters) are well established – but it's hardly Disneyland. Visitors can expect mosquitoes, scorching beach tracks and a heavy pack (you'll need to carry your own water), the strain of which is swiftly forgotten when you hear a rustle in the undergrowth or a distant roar – could that be a jaguar? Much of the joy is in the search.
Wherever you go, a professional guide is essential – they'll keep you safe and spot myriad signs of life that would otherwise pass you by, including wild cat paw prints.
Guaranteed sighting of Costa Rica's wild cats
To guarantee a sighting of Costa Rica's wild cats, consider visiting Las Pumas Rescue Centre. The reputable visitor-funded centre rehabilitates injured and rescued wild cats before releasing them back into the wild if possible, or caring for them in their sanctuary.
The best place to see sea turtles in Costa Rica
How to see hatching turtles in Costa Rica
Sea turtles nest on the shores of Costa Rica year-round – you just need to know where to look. On Costa Rica's Caribbean side, the turtle's namesake Tortuguero National Park welcomes nesting Atlantic greens between June and October, with hatchlings emerging in November and December.
Leatherback turtles and the critically endangered hawksbill turtles nest here earlier in the year too, although their numbers are smaller and the chance of spotting them less likely. On the Pacific coast, Pacific greens and olive ridleys lay their eggs year-round, with leatherbacks nesting from November to February.
One of the most incredible turtle watching experiences in Costa Rica – and on Earth – occurs on Playa Ostional between July and November. For a few days around each new moon (when the sky is darkest), thousands of olive ridley sea turtles drag themselves ashore, laying millions of eggs in the sand just beyond the high tide line. This phenomenon, named la arribada (arrival) is thought to be a technique used to overwhelm predators and reduce egg losses. To witness la arribada, you must be accompanied by a guide, as the beach is patrolled to prevent poachers from stealing the eggs for human consumption.
Photography is not allowed at night time, but there are often a few tardy turtles left at sunrise, which can make for beautiful pictures – just be sure to keep at least 10 metres away from the turtle.
Between 45-90 days after turtles lay their eggs, hatchlings will start to emerge. Many small-scale Costa Rican conservation projects on both coasts dig up and reincubate a portion of eggs to guarantee their safety. The planned release of these hatchlings is more predictable, and locals can usually point you in the right direction. There's nothing quite like watching a handful of tiny baby turtles flap their way to the water to get swept up by the surf.
The best places to see whales in Costa Rica
Costa Rica's whale-watching hubs
The balmy, nutrient-rich waters off Costa Rica's coastline provide migrating whales with the ideal shelter in which to rest, breed and raise their young.
There are two breeding seasons: December to March, when whales from California and Canada head south for warmer climes; and July to October, when Antarctic whales travel north. Costa Rica's whales are best spotted from the Pacific coast, but the Caribbean side does also see North Atlantic St Lawrence humpbacks from December to March.
So how can you see whales in Costa Rica? Keep your eyes peeled along the shorelines of Guanacaste from December to March – whales gather so close to the coast that it's possible to witness them simply by walking along the beach. For Antarctic whales, Marino Ballena National Park in Uvita offers some of the finest spotting opportunities, with plenty of tour options to choose from. September's annual whale and dolphin festival celebrates these creatures with educational talks, family activities and discounted boat tours. South of here, Drake Bay on the Osa Peninsula is also a fine choice.
If you choose to take a tour, do your research and ensure you pick an ethical operator. Small boat tours are best and guides should be passionate about the creatures you're looking for. If you spot a tail or fin, don't get in: swimming with whales and dolphins in Costa Rica is illegal and can be dangerous and distressing for whales, especially if they're accompanied by newborn calves.
It's worth packing anti-sickness meds if you plan to go whale-watching in Costa Rica – binoculars and choppy waves don't mix well.
The best places to see sloths in Costa Rica
Spotting slow-moving sloths
For many visitors to Costa Rica, sloths are top of their wildlife spotting wish list. Two of the world's six species of sloth live in Costa Rica – the Hoffmann's two-toed sloth and the brown-throated (three-toed) sloth. The former has a brown snout and beige fur around its face, while the latter is grey/brown with distinctive eye markings.
Where there are trees, there are sloths – which means they're present year-round and you can spot them almost anywhere, you can see sloths in Costa Rica in bigger numbers on the Osa Peninsula, at La Selva Biological Station and Tortuguero National Park. Deforestation means much of their habitat has been lost, and they're far more likely to be found near roads and towns than they once were.
While your odds of crossing paths with one of these slow-moving creatures during a nature hike is fairly high, you'll need to look hard to spot them. In Corcovado National Park, where they enjoy their preferred (and sadly much diminished) primary forest habitat, it can take half an hour to locate one sleeping in the lofty canopy, even with a guide who's received a tip that it's there.
A sloth's fur is covered in a green algae which camouflages them amongst the leaves. They also sleep for 20 hours a day, so travellers who spot them moving from branch to branch – such as at popular Manuel Antonio National Park – are very lucky indeed.
If, unlike a sloth, you can't hang around for days or weeks waiting to spot one in Costa Rica, consider visiting a reputable sanctuary such as Toucan Rescue Ranch (near San Jose), where you can tour the grounds, watch sloth feeding time (no true conservation centre would allow guests to hold them) and learn more about these laid back animals from dedicated volunteers.
Idyllic beach holidays in Costa Rica
With more than 800 miles of shoreline, two oceans (the Pacific and the Caribbean), and multi-colored sands, from pink, to white, to cinnamon, to nearly black, Costa Rica is an idyllic beach escape. Choose to revel with the crowds or carve out a tiny slice of sandy paradise, all of your own.
Manuel Antonio National Park
This central Pacific town and national park are home to some of the country's most beautiful white-sand beaches. Here, dense rainforest literally spills into the sea, soft sands are pristine, white-faced monkeys frolic on the beachfront, and the gentle waters are warm.
Cahuita National Park
Home to the best beach trails in Costa Rica — beachfront and sandy, they follow rainforest down miles of white sands — Cahuita is also home to 600 acres of the most vibrant, dynamic coral reefs in the country. Turtles also nest on area beaches.
Guanacaste National Park
This north-Pacific province is home to many of Costa Rica's most beautiful beaches, known as the "Gold Coast:" a string of golden beaches, with smatterings of pink and white sand thrown in for good measure. Baby-pink Playa Conchal, surf-haven Playa Grande, and the protected cove of Sugar Beach are regional favorites.
Where to get active in Costa Rica
Costa Rica is a treat for active and adventure travelers of all levels, with easy-to-difficult hiking trails, canoeing and kayaking, whitewater rafting, and more. Thrill-seekers flock to the country's canopy ziplines, waterfall rappelling, parasailing, and other high-intensity fun.
Corcovado National Park
Corcovado's rushing rivers and rustic, rugged terrain promise endless options for active travelers. The park itself is not accessible by car, most visitors arrive by air but you can hike (or horseback-ride) in–a trek that can take up to 15 hours. Canoes can be rented within the park, but availability is very limited.
Rincón de la Vieja Volcano National Park
Rincón de la Vieja is another rugged destination, as wild as almost anywhere on Earth. Active travelers will enjoy horseback-riding to the park's entrance, then hiking throughout the park's rustic trails, which wind past boiling mud pots, small craters, fumaroles, and hot springs.
Monteverde Cloud Forest Reserve
Monteverde's dense cloud forests are the ideal setting for active adventures, with approximately eight miles of hiking trails that snake through the reserve. Outside the reserve, this is an adventure playground of hanging bridges, canopy tours, horseback riding, and more. Tip: be sure to book a night hike.
Quepos and Manuel Antonio are an active travel haven on land and by sea, with hiking trails, mangrove kayaking, whitewater rafting, tree-climbing, and snorkeling, as well as adventure activities like parasailing, waverunners, ATV tours, and banana boats.
Arenal Volcano National Park
Known as the adventure capital of Costa Rica, La Fortuna (also called Arenal, after the nearby volcano) offers a full host of adrenaline-fueled activities: caving, ATV tours, hiking, ziplines, horseback riding, kayaking, whitewater rafting, mountain biking, sport fishing, waterfall rappelling, and more.
The best national park for families
Bringing your kids to Costa Rica is the best way to endear yourself to the Ticos. What's more, the country's lush landscapes seem to love kids, too. Almost every corner of Costa Rica promises outdoor fun to delight the youngest members of your family. Beaches and rivers, rainforest and cloud forests, canals and mountains--everything can be tailored to travellers young and very young.
Guanacaste National Park
For beach-loving kids, Guanacaste has piles of soft sands, oceanfront pools, and plenty of protected swimming spots. Children also love spotting sloths, howler monkeys, and playful (although mischievous) white-faced monkeys, which frolic along the beachfront.
Manuel Antonio National Park
With white-sand beaches and gentle coves, sandy walking trails and ocean adventures, Manuel Antonio offers a host of kid-thrilling activities: swimming, catamaran tours, dolphin and whale watching, surf lessons, and wildlife spotting.
Arenal Volcano National Park
For kids who love an adventure, look no further than Arenal Volcano, an action-packed destination of canopy tours (expert guides will accompany the youngest zipliners), hanging bridges, horseback rides, waterfall swims, caving and amusement park-like hot springs, complete with waterslides.
The best national parks for luxury trips
Costa Rica's luxury hotels, lodges and retreats are downright opulent, offering privacy, fine architecture, incredible food, and top-notch service in the most beautiful surrounds. From the Four Seasons to all-inclusive eco resorts, Costa Rican luxury is a fusion of natural setting and glorious details.
Corcovado National Park
As remote as is the Osa Peninsula, you might not expect there to be significant luxury options — but you'd be very wrong. This region is a hotspot for eco-luxury: small lodges that offer all-inclusive packages of beautiful accommodations, fresh food, and nature tours.
Guanacaste National Park
Guanacaste was a luxury vacation pioneer in Costa Rica — -the country's first home to international luxury chains, including the Four Seasons, Westin, and the JW Marriott. Over time, local luxury lodges have also cropped up along the coastline.
Manuel Antonio National Park
Manuel Antonio is one of the top destinations in Costa Rica — a must inclusion on any itinerary — so it's no surprise that lavish luxury hotels have appeared on the breezy hilltops above the national park.
Arenal Volcano National Park
Once known solely for its adventure offerings, Arenal has now built thriving luxury-level tourism around its breathtaking hot springs, which promise volcano-fed, therapeutic soaks surrounded by botanical gardens and lush jungle. Some of Costa Rica's most luxurious new hotels are located in Arenal.
Where to go in Costa Rica
Our recommended places
Monteverde
Boasting an incredible ecosystem and home to approximately 5% of the planet's total bird species, 130 mammal species and more than 3,000 plants, the cloud forests of Monteverde are a nature lover's dream. Visitors can explore an array of trails which wind through 13km of forest and enjoy bird's-eye views from the many skywalks, hanging bridges and zip lines throughout the reserve.
Cerro Arenal Volcano
For several decades, the Cerro Arenal Volcano was the most active in Costa Rica, spewing molten lava and red hot boulders into the surrounding darkness. Since 2010, activity has been limited to puffs of smoke and the occasional rumble, but that hasn't stopped visitors exploring the adjacent Arenal Volcano National Park.
Puerto Viejo de Talamanca
Once a sleepy backwater surfing town, Puerto Viejo has become a stop-off for travellers looking to party. While it can be raucous on the main strip, head a couple of blocks out of town and you'll be able to stay with families in quiet houses with only the sounds of the rainforest for company.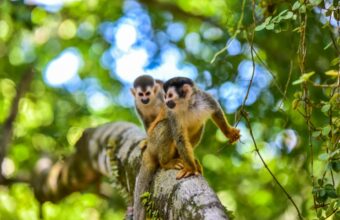 Manuel Antonio National Park
If you imagine Costa Rica to be a paradise of pristine beaches, exotic flowers, thick rainforests, and crystal-clear waters, where monkeys and sloths and scarlet macaws frolic freely, then you have Manuel Antonio National Park in mind.
The smallest national park in the country, this is also the most visited — a true paradise for beach-goers and nature lovers, where emerald rainforest spills into the turquoise sea.
Guanacaste
Once part of Nicaragua, Guanacaste in Costa Rica's northwest is home to some of the country's most beautiful beaches. Try Tamarindo for year-round sunshine, Playa Hermosa for a beach with mountain views and wildlife, or Playa Panama for easy swimming.
Cocos Island
The uninhabited Cocos Island is known as one of the world's best scuba diving destinations. A dive in its nutrient-rich waters can include schooling hammerhead sharks, white tip reef sharks, tiger sharks, manta rays, marble rays and occasionally even whale sharks.
San Jose
At first glance, San Jose might not seem like the prettiest of cities but delve a little deeper into the colonial mansions of Barrio Amon, the restaurants of Barrio Escalante and the many live music clubs, and you'll soon uncover the beating cultural heart of Costa Rica's capital.
Tortuguero
Impossible to reach by car, Tortuguero on the north east coast of Costa Rica can only be accessed by boat. Thanks to limited development, a journey down its waterways offers the chance to see manatees, crocodiles, caiman and monkeys.
Cabo Blanco Nature Reserve
The first national park in Costa Rica, Cabo Blanco Absolute Natural Reserve is part of the Tempisque Conservation Area in the province of Puntarenas. Visitors can enjoy hikes to secluded beaches filled with a diverse array of waterfowl, such as frigate birds, brown pelicans and Costa Rica's largest population of brown boobies. When walking the forest trails it is possible to spot plenty of wildlife, including armadillo, anteaters, deers, coyotes and several monkey species.
Santa Teresa
A small beach village in the Puntarenas Province, Santa Teresa's beach is famous amongst surfers for its fast and powerful beach break and consistent waves. With a long, palm-lined beach and laid-back vibes, you could easily spend a few days relaxing and munching on street food.
Surfers shouldn't miss Ria Mara (meaning Suck Rock), a fantastic point break at the northern end of the beach which is a local favourite.