Active adventures in Costa Rica
Natural wonders and unspoiled beauty
Begin your immersion in Costa Rica's unspoilt nature in Guanacaste's beach town Tamarindo, where you can take a surfing lesson, try your hand at fishing, paddle along in a kayak or simply relax. Head south towards Santa Teresa, stopping at the indigenous village of Guaitil to learn about artisanal pottery, before exploring the long tree-lined Playa Santa Teresa, a popular surfing destination. Next, take an excursion to the incredibly diverse Cabo Blanco Nature Reserve for wildlife spotting and forest hikes. Cross the scenic Gulf of Nicoya to Manuel Antonio National Park, the smallest national park in the country and one of the most popular, for good reason. Spend a day strolling around the capital San José, then travel to the cloud forests of Monteverde for wildlife walks, zip-lining and organic coffee tasting. Enjoy incredible views of the majestic Arenal volcano, and a spot of thrill-seeking in adventure hot-spot La Fortuna. Continue on to the Caribbean coast's wildlife-rich Tortuguero National Park. Enjoy a day exploring Tortuguero's mangrove canals, then head back to San José to finish your trip.
Key information
| | |
| --- | --- |
| Destinations | Monteverde, Manuel Antonio National Park, Guanacaste, San Jose, Tortuguero, Cabo Blanco Nature Reserve, Santa Teresa |
| Activity | Beach, Nature & Wildlife, Active, Trekking |
| Physical Level | Mild |
| Season | January - December |
Suggested itinerary
Watersports in Guanacaste's Tamarindo
Day 1–2 in Guanacaste
Once part of Nicaragua, Guanacaste in Costa Rica's northwest is home to some of the country's most beautiful beaches. Try Tamarindo for year-round sunshine, Playa Hermosa for a beach with mountain views and wildlife, or Playa Panama for easy swimming.
Learn to surf in Playa Santa Teresa
Day 3–4 in Santa Teresa
A small beach village in the Puntarenas Province, Santa Teresa's beach is famous amongst surfers for its fast and powerful beach break and consistent waves. With a long, palm-lined beach and laid-back vibes, you could easily spend a few days relaxing and munching on street food.
Surfers shouldn't miss Ria Mara (meaning Suck Rock), a fantastic point break at the northern end of the beach which is a local favourite.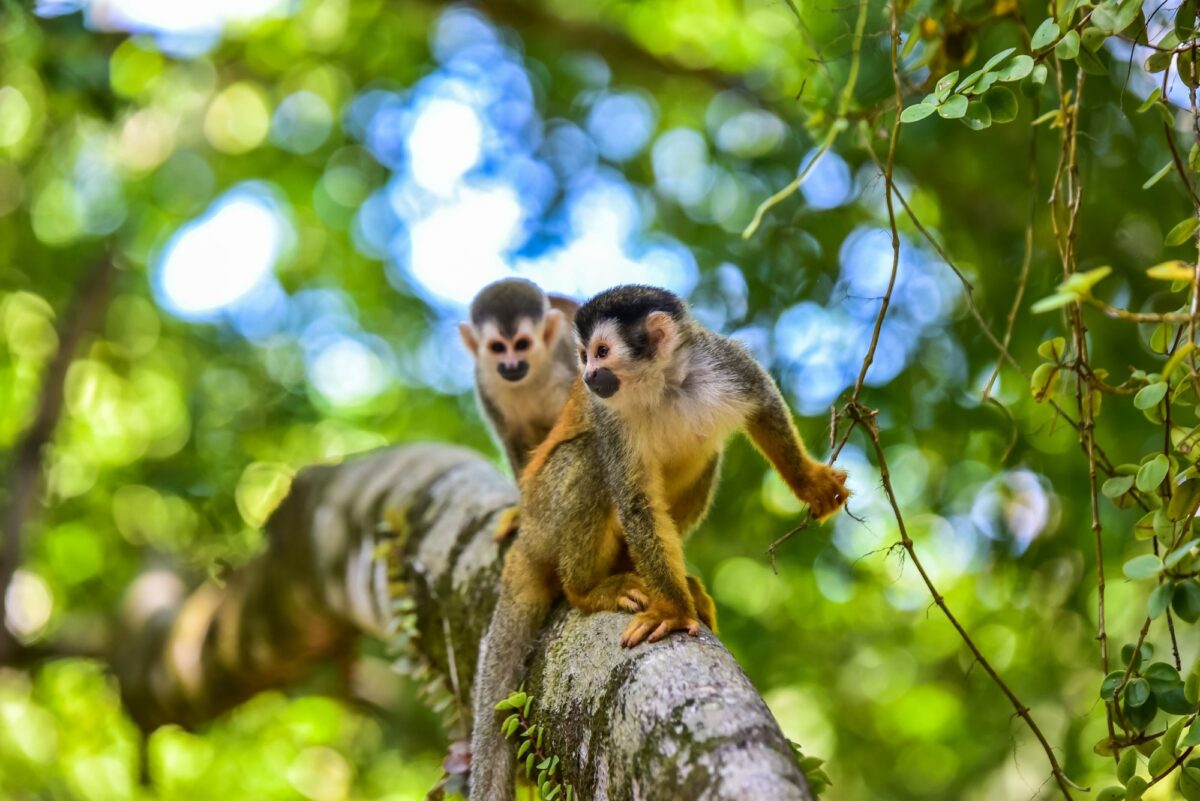 Spot wildlife in Cabo Blanco Nature Reserve
Day 5 in Cabo Blanco Nature Reserve
The first national park in Costa Rica, Cabo Blanco Absolute Natural Reserve is part of the Tempisque Conservation Area in the province of Puntarenas. Visitors can enjoy hikes to secluded beaches filled with a diverse array of waterfowl, such as frigate birds, brown pelicans and Costa Rica's largest population of brown boobies. When walking the forest trails it is possible to spot plenty of wildlife, including armadillo, anteaters, deers, coyotes and several monkey species.
Hit the beach in Manuel Antonio National Park
Day 6–7 in Manuel Antonio National Park
If you imagine Costa Rica to be a paradise of pristine beaches, exotic flowers, thick rainforests, and crystal-clear waters, where monkeys and sloths and scarlet macaws frolic freely, then you have Manuel Antonio National Park in mind.
The smallest national park in the country, this is also the most visited — a true paradise for beach-goers and nature lovers, where emerald rainforest spills into the turquoise sea.
Don't miss
Visit Ballena National Marine Park
Named after the humpback whales that migrate to the region each year, Ballena National Marine Park is the perfect place to see sea birds, dolphins, turtles – and the afore-mentioned whales.
Get cultural in gritty San José
Day 8 in San Jose
At first glance, San Jose might not seem like the prettiest of cities but delve a little deeper into the colonial mansions of Barrio Amon, the restaurants of Barrio Escalante and the many live music clubs, and you'll soon uncover the beating cultural heart of Costa Rica's capital.
Don't miss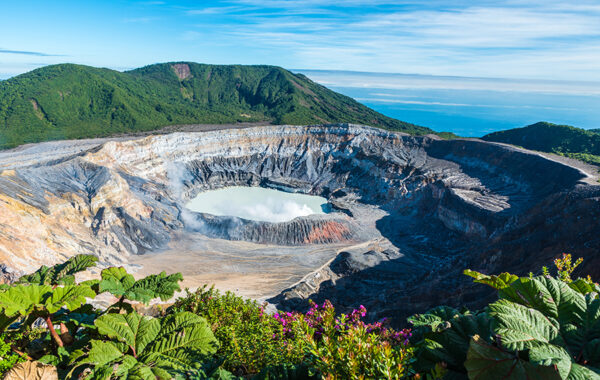 Explore the slopes of Poás volcano
The most popular of Costa Rica's five active volcanoes, Poás volcano is within easy-driving distance of San José and is the largest open volcano in the world. Its crater is over a mile across and 1,050ft deep, with two small lakes at the bottom. Arrive early to beat the crowds and clouds.
Lose your head in the clouds at Monteverde
Day 9–10 in Monteverde
Boasting an incredible ecosystem and home to approximately 5% of the planet's total bird species, 130 mammal species and more than 3,000 plants, the cloud forests of Monteverde are a nature lover's dream. Visitors can explore an array of trails which wind through 13km of forest and enjoy bird's-eye views from the many skywalks, hanging bridges and zip lines throughout the reserve.
Visit the (for now) dormant Cerro Arenal Volcano
Day 11–12 in Cerro Arenal Volcano
For several decades, the Cerro Arenal Volcano was the most active in Costa Rica, spewing molten lava and red hot boulders into the surrounding darkness. Since 2010, activity has been limited to puffs of smoke and the occasional rumble, but that hasn't stopped visitors exploring the adjacent Arenal Volcano National Park.
Float down the canals of Tortuguero
Day 13–14 in Tortuguero
Impossible to reach by car, Tortuguero on the north east coast of Costa Rica can only be accessed by boat. Thanks to limited development, a journey down its waterways offers the chance to see manatees, crocodiles, caiman and monkeys.
Don't miss
Volunteer with with a sea turtle conservation project
Costa Rica is a sea turtle paradise, with turtle hatching occurring on various beaches on both the Caribbean and Pacific coasts throughout the year. There are dozens of small conservation projects and protected areas set up, with many containing a nursery where volunteers can help. Do your research and always be respectful of these beautiful and endangered animals.
Return to San José and depart
Day 15 in San Jose
Head back to San José for your onward departure.
Other itineraries you might like