A collaborative effort between the Uganda Wildlife Authority and Rhino Fund Uganda, this private, non-profit animal sanctuary offers a secure home and breeding programme for the only wild rhinos left in Uganda. Committed to restoring Uganda's rhinoceros population — including breeding and re-introducing the rhinos to national parks — the sanctuary is open to the public, who can visit and learn about the 22 southern white rhinos currently residing there.
10 days
Western Uganda
Mountain gorillas and beyond
Murchison Falls National Park (1 days)
→
Ziwa Rhino Sanctuary (1)
→
Kibale Forest National Park (2)
→
Kazinga Channel (2)
→
Queen Elizabeth National Park (2)
→
Mgahinga Gorilla National Park (2)
View itinerary
Where to go in Uganda
Our recommended places
Mgahinga Gorilla National Park
While Bwindi Impenetrable Forest steals the limelight, the smaller Mgahinga Gorilla National Park in southwestern Uganda has arguably better views and is directly connected to the extended Virunga conservation area. Travellers visiting the park can hike the extinct Virunga Volcanoes, track golden monkeys, join a gorilla trek or keep their eyes peeled for the buffalo, elephants and rare bird species which call these rainforests home.
Queen Elizabeth National Park
For an incredible wildlife experience with second-to-none photo opportunities, head to Ishasha in Western Uganda's Queen Elizabeth National Park, where you can see the area's rare population of tree-climbing lions snoozing happily up above the ground in fig and acacia trees. One of the most popular parks in Uganda, the area possesses incredible biodiversity, with 96 species of mammals, including good numbers of elephants, leopards and hippos.
Murchison Falls National Park
Uganda's most popular and largest nature reserve, Murchison Falls National Park's beautiful location and impressive animal populations (the park is home to over 15,000 elephants) makes it a wonderful stop for any traveller hoping to glimpse Uganda's rich wildlife. Straddling the Victoria Nile, the park contains numerous rapids and waterfalls, including the powerful Murchison Falls. Visitors can get up-close to the falls, before enjoying a world-class safari on the shores of Lake Albert.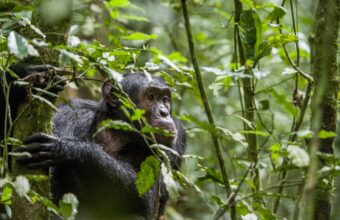 Kibale Forest National Park
Grab yourself a guide and set off into the evergreen jungle of the Kibale National Park in Western Uganda in search of chimps. You shouldn't have too much trouble finding them, as this beautiful forest is famous for its thriving primate population.
Kazinga Channel
Visit the Kazinga Channel in western Uganda and see one of the world's largest concentrations of hippos and elephants in their natural habitat. The channel is a wide, 20-mile long freshwater channel connecting Lake George and Lake Edward.
Bwindi Impenetrable National Park
The dense forests of Bwindi in the south-west corner of Uganda are home to over half of the world's small population of the endangered mountain gorilla. These creatures can't survive in captivity, so trekking to their natural habitat is your only chance to view them.
Karamoja Highlands
Once the domain of only the most adventurous of travellers — up until five years ago it was a closed district which required travel permits to enter — Uganda's Karamoja region is now officially open for tourism, and well worth the visit. The north-eastern border of the region is characterised by rugged volcanic highlands which make for fantastic hiking, while the region's former isolation has preserved the culture of its nomadic, agro-pastoral people, the Karamojong.
Mount Elgon National Park
Straddling the border of Kenya and Uganda, Mount Elgon National Park is home to some of the best trekking in East Africa. Emerging from tropical montane forest, the extinct volcano Mt Elgon has five main peaks, with the highest, Wagagai (at 4321m) accessible from the Ugandan side of the park. Visitors can also enjoy shorter hikes up Tororo Rock and in the surrounding caves and forest, or do a spot of bird-watching from Sipi Falls. With fresh natural pools and fantastic views across the plains, it's the perfect place to relax and cool down.

Kidepo Valley
Trek high up into the mountains of the Kidepo Valley in northeastern Uganda and get a fascinating insight into the lives of the small but authentic population of Ik tribespeople. Give something back to the area by hiring a porter to help with your travels here.
Rwenzori mountains
Climb to the top of Africa's third-highest mountain while avoiding the kind of crowds found at Kilimanjaro with a hike in the stunning Rwenzori mountains. Located on the western border with the Democratic Republic of Congo, Mount Stanley, at 5,109m, is Uganda's highest point.
Kampala
Bordering the shores of Lake Victoria in the heart of the Buganda Kingdom, Uganda's capital city is an engaging and dynamic city with a rich history. Topping the quality of life surveys for East African capitals, Kampala has enough sights to occupy tourists for a couple of days and is well worth a visit before heading out in search of the country's incredible wildlife.
Lake Victoria
Named after Queen Victoria and one of Africa's Great Lakes, Lake Victoria is the world's largest tropical lake, with its waters divided between Tanzania, Uganda and Kenya. Known as Nnalubaale in Luganda, the lake's size, tropical highlands, beaches, 200+ species of fish and wildlife-rich islands make it a worthy stop on any East Africa tour itinerary.