7 day Zambia itinerary
South Luangwa and Lower Zambezi Safaris
See both sides of Zambia
Explore the best of Zambia's safari destination on this route. Begin in capital city Lusaka, before flying to Mfuwe airport on the edge of South Luangwa National Park. Here, you can take a walking safari through the African bush to get closer to the wildlife or go on a night drive to see big cats hunting. Continue your wildlife adventure by transferring to the riverfront of the Lower Zambezi, where you can see hippos, elephants, lions and more. Take a boat safari along the Zambezi, or – if you feel adventurous – go canoeing. Travel back to Lusaka for your departure.
Key information
| | |
| --- | --- |
| Destinations | Lower Zambezi National Park, South Luangwa National Park, Lusaka |
| Activity | Nature & Wildlife, Safari, Photography, Birdwatching |
| Physical Level | Easy |
| Season | January - December |
Suggested itinerary
Spot leopards in South Luangwa National Park
Day 1–4 in South Luangwa National Park
Found in eastern Zambia at the end of the Great Rift Valley, South Luangwa National Park is famous for its population of leopards, who stalk the antelope, impalas and pukus that line its riverbanks.
Don't miss
Boating safari in South Luangwa National Park
Visit South Luangwa National Park between December and April and you'll be able to take a boating safari through the flooded lagoons of the Luangwa River. You'll get a unique perspective on the Park's animals and birdlife.
Go wildlife watching in the Lower Zambezi National Park
Day 5–6 in Lower Zambezi National Park
The Lower Zambezi National Park's wildlife is centred around the floodplain along the northeastern side of the Zambezi River. Combined with Mana Pools National Park in Zimbabwe, this is one of Africa's best places to see elephants, zebras, leopards, lions and many more.
Don't miss
Go Tiger fishing on the Lower Zambezi
The razor-toothed tiger fish is one of the world's most powerful freshwater fishes. Found in the Lower Zambezi area, you can fish them year-round – but look out for crocodiles and hippos lurking below the water's surface.
Return to Lusaka and depart
Day 7 in Lusaka
Fly from Lower Zambezi Royal Airstrip to Lusaka International Airport for your onward flight.
Where to stay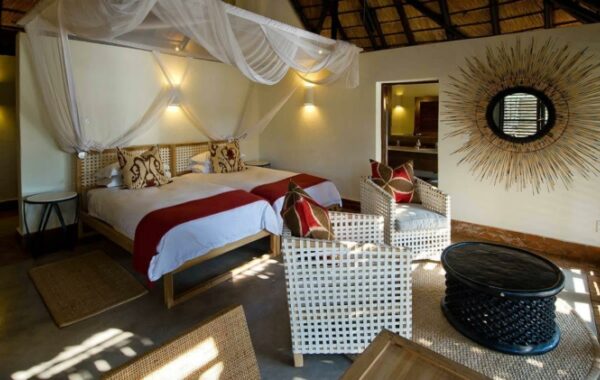 Deluxe
Mfuwe Lodge
Located just inside South Luangwa National Park and less than an hour drive from Mfuwe International Airport, Mfuwe Lodge was voted the Best Lodge in Zambia in 2009. Choose from eighteen thatched chalets, complete with private decks, on the banks of two wonderfully wildlife-rich lagoons.
Deluxe
Royal Zambezi Lodge
Situated on the bank of the Zambezi river opposite Zimbabwe's birdlife-rich Mana Pools, the family-owned Royal Zambezi Lodge offers 15 elegant safari suites overlooking the river. The lodge has a range of facilities, with a spa and wellness centre, outdoor pool, cocktail bar and restaurant serving international cuisine.

Book this itinerary
This route booked with one of our specialist tour operators would cost from $4,895pp. Pricing varies by accommodation class, and can be tailored to suit your budget.
Pricing is typically inclusive of hotels, transfers, meals, and all guided excursions and activities.
Learn more
Contact us now and we'll connect you with a specialist tour operator with more information on how to tailor and book this itinerary.
Planning a trip to Zambia
Get a custom itinerary with specialist advice from Zambia experts
Describe your ideal trip
We connect you with a top Zambia tour company
Get a custom itinerary with no pressure to book
Other itineraries you might like
Why Horizon Guides?
Impartial guidebooks
Our travel guides are written by the leading experts in their destinations. We never take payment for positive coverage so you can count on us for impartial travel advice.
Expert itineraries
Suggested itineraries and routes to help you scratch beneath the surface, avoid the tourist traps, and plan an authentic, responsible and enjoyable journey.
Specialist advice
Get friendly, expert travel advice and custom itineraries from some of the world's best tour operators, with no spam, pressure or commitment to book.