Things to do in Nepal
Recommended experiences and activities
Annapurna
Complete the Annapurna circuit
The Himalayas range is 10 times the size of France, so it's no surprise that the majority of people heading to Nepal come here to explore the range. Top of the routes is the Annapurna circuit, with its 125km circular route around the range and landscapes ranging from jungle to alpine forest.
See all Annapurna trips
Everest Base Camp
Hike to Everest base camp
Hiking to base camp is either a beginning or an end: for some, it marks the culmination of their trip, for others the beginning of something bigger. Either way, the views on the hike are spectacular.
See all Everest Base Camp trips
Langtang Valley
Trek the alpine Langtang Valley
Langtang offers short alpine treks near the Nepalese border with Tibet. Although relatively low in altitude, trekking along the valley offers plenty of wildlife and alpine views. It also offers excellent short (one week) treks.
See all Langtang Valley trips
Chitwan National Park
Spot wildlife in Chitwan National Park
This World Heritage listed Chitwan National Park is one of the best places in Nepal for viewing wildlife. Spot rhinos, monkeys and more than 500 species of bird — and even a leopard if you're lucky.
See all Chitwan National Park trips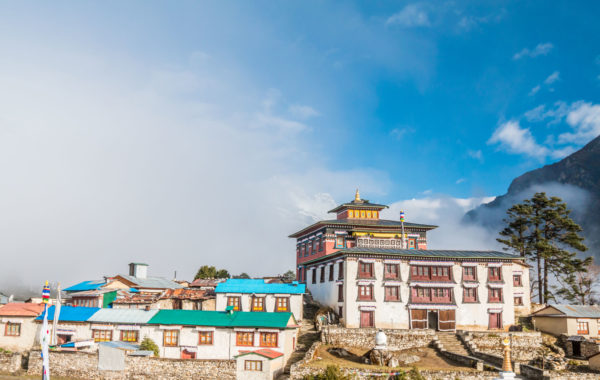 Tengboche Monastery
Seek enlightenment at Tengboche Monastery
Thyangboche is tucked away in the north-eastern corner of Nepal and is only accessible by trekking. A spiritual home for sherpas, Thyangboche is home to the Tengboche Monastery — the largest Buddhist learning centre in the entire Everest region.
See all Tengboche Monastery trips
Phakding
Experience village life in Phakding
Phakding might be small, but it's worth visiting, whether as part of a trip to Everest base camp or independently. This small village near the Dudh Kosi river is a photographer's dream, with forests, a meltwater river and mountains in the background.
See all Phakding trips
Makalu
Explore the forests of Makalu
Isolated villages, forests hung in mosses and orchids, high yak pastures and, finally, the rock and ice wastes around Makalu base camp make for some of the most inspiring mountain vistas in Nepal.
See all Makalu trips
Upper Mustang
Discover cultural Upper Mustang
Shrouded in mystery and completely closed to outsiders until 1992, walking here is as much a cultural experience as a mountain one.
See all Upper Mustang trips
Why Horizon Guides?
Expert travel guides
Our guides are written by the leading experts in their destinations. We never take payment for positive coverage so you can count on us for reliable and impartial travel advice.
Authentic experiences
We curate exceptional trips in underrated places, organised by the very best tour operators who live and breathe their destinations and are passionate about authentic, responsible tourism.
Give back to mother nature
We'll plant 50 trees for every trip booked via the Horizon Guides site in partnership with the International Tree Foundation, who carry out sustainable community forestry projects in Africa.