Once a hideout for smugglers and pirates, Isla Santiago is now best-known for Sullivan Bay, where century-old lava has solidified into bubbles and caves, and Puerto Egas, a wet landing where you can see seals, sea lions and sea birds.
13 days
Machu Picchu & Galapagos cruise
An epic land and sea voyage of history and nature
Lima (1 days)
→
Sacred Valley (2)
→
Machu Picchu (1)
→
Cusco (2)
→
Quito (2)
→
Isla Santa Cruz (1)
→
Isla Fernandina (1)
→
Isla Isabela (1)
→
Isla Santiago (1)
→
Quito (1)
View itinerary
10 days
Galapagos and Amazon basin combined
Explore the highlights of Ecuador
Isla Santa Cruz (1 days)
→
Isla Santiago (1)
→
Isla Bartolomé (1)
→
Isla Genovesa (1)
→
The Amazon Basin (3)
→
Quito (3)
View itinerary
5 days
Galapagos eco-lodge exploration
Luxury ecotravel at its finest
Quito (1 days)
→
Isla Santa Cruz (1)
→
Isla Bartolomé (1)
→
Isla Santiago (1)
→
Quito (1)
View itinerary
Things to do in Isla Santiago
Our recommended experiences and activities
Isla Santiago
Snorkel at Puerto Egas
Snorkelling at Puerto Egas allows you to get in the water with sea lions, sea turtles, tropical fish and even sharks – this is one of the archipelago's premier places to get in the water.
Where to go in The Galapagos Islands
Our recommended places
Isla Santa Cruz
Almost all visitors to the Galapagos Islands will touch down in Isla Santa Cruz at some point. From beach walks at Tortuga Bay to giant tortoises at El Chato Reserve, there is plenty to see — but make sure to visit the Charles Darwin Research Centre to learn more about the wildlife you'll encounter on your trip.
Isla Isabela
Isabela is the largest of the Galapagos Islands and is made up of five (sometimes) active volcanoes. Check out Volcan Wolf — the highest point in the entire Galapagos and Volcan Alcedo, home to hundreds of giant tortoises and juvenile hawks.
Isla Genovesa
Stay with us – Isla Genovesa is also known as Booby Island due to the sheer number of goofy-looking Nazca and red-footed boobies that live here. This island is a must for bird-watching enthusiasts, with great frigatebirds, short-eared owls and many more in residence.
Isla Rabida
Famous for the unique red colour of its beach and cliffs, Isla Rabida is known for the sizeable number of flamingos that feed on shrimp in its lagoon, snorkelling with sea lions and the large number of bird species that live here.
Isla Floreana
To the north of Floreana lies Punta Cormorant, a beautiful white sand beach that runs for
720m and is known as the best flamingo lagoon in the Galapagos. The mix of bright pink birds and green backdrops makes for stunning photographs. You can also see sea turtles nesting here from December to May.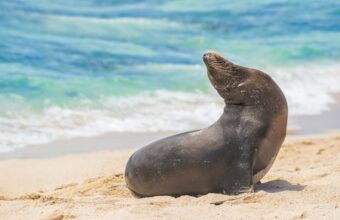 Isla San Cristóbal
Sea lions are everywhere in San Cristobal, so head down to any accessible waterfront to see noisy sea lions and furry babies frolicking on the sand and occasionally taking to the water.
Isla Española
Española is one of the more remote Galapagos Islands, at some 90km southeast of Isla Santa Cruz. Visitors come from March to December to see its colony of waved albatross, giant tortoises and the Hood mockingbird – which is found nowhere else on earth.
Isla Bartolomé
Tiny Bartolomé is most famous for its landscapes and scenery. A set of steep steps leads to a 360-degree viewpoint over the island, looking back on black volcanic formations, marine life and striking reds and greens.
Isla Fernandina
The third largest — and youngest — of the Galapagos Islands, Fernandina has a unique environment which makes it a haven for thousands of slowly-moving marine iguanas, Galapagos penguins, flightless cormorants and sea lions. This is also the island where you're most likely to see a volcanic eruption, with the last happening in 2009.
Isla Darwin
Tiny Darwin Island, at the remote far north of the archipelago, is one of the world's premier scuba locations. Rarely visited by short tours, these quiet waters teem with whale, Galapagos and silky sharks, hammerheads and more.