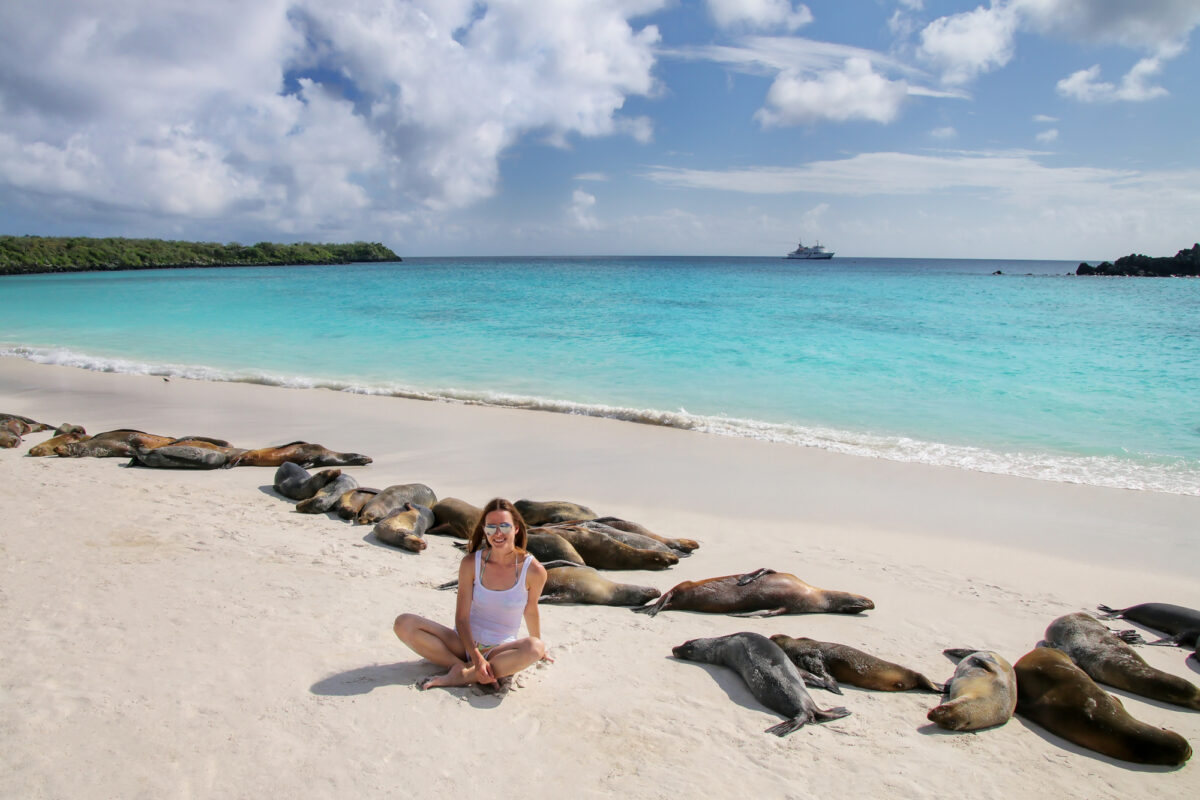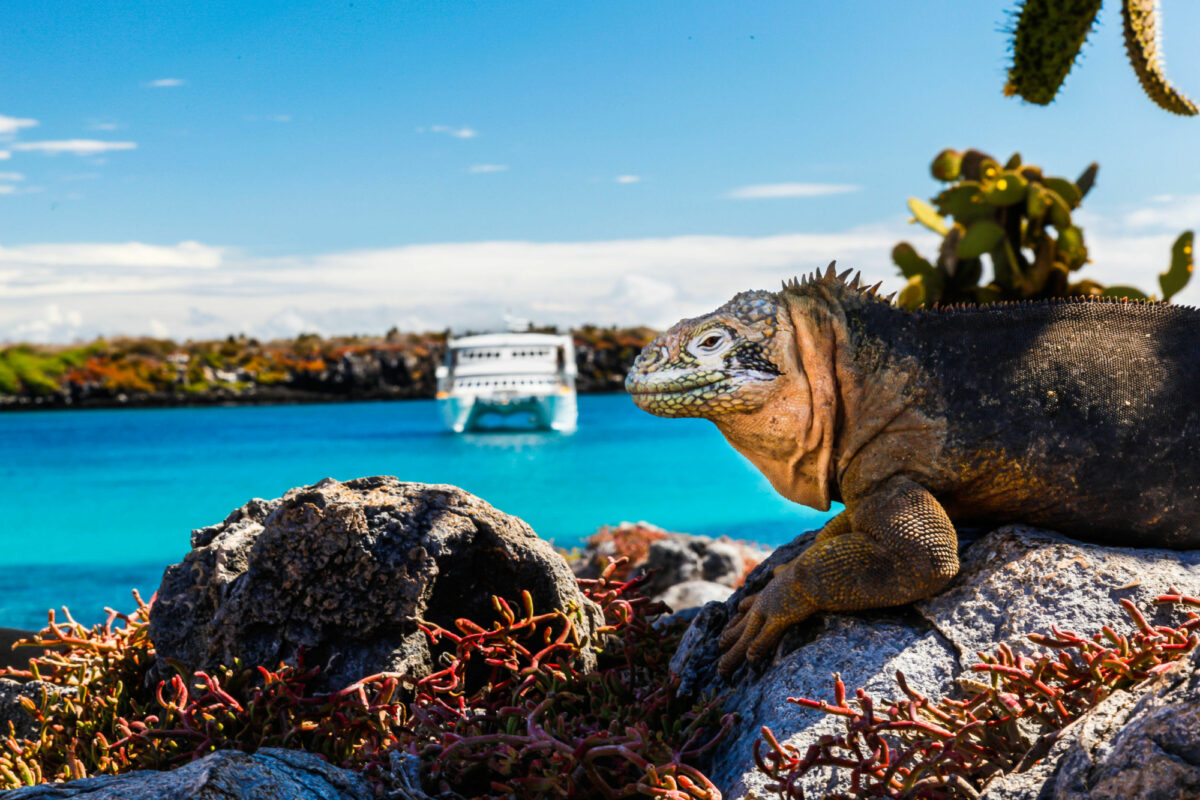 For such a tiny smattering of islands flung far into the Pacific Ocean, the Galapagos archipelago has had an outsized impact on humanity and our understanding of ourselves. Cut off from human contact for millennia and under unique geological conditions, the islands became a petri-dish for mother nature; a place where species could mutate and evolve in isolation, leaving clues for what would become Charles Darwin's revolutionary theory of natural selection. The Galapagos today remain an exemplary natural wonder despite centuries of settling, intensive fishing and, more recently, a booming tourism industry. Done right, tourism to the Galapagos can play a key role in their conservation, so plan your trip carefully, tread lightly, and help preserve the Galapagos for generations to come.
The Galapagos Islands
A guide to responsible wildlife watching
A visit to the Galapagos Islands is an experience. Sheltered from human intervention for millennia, this group of volcanic islands cast adrift in the Pacific Ocean was instrumental in changing the way humanity viewed itself, once we finally found them. For it was at the Galapagos that Charles Darwin formulated his theory of evolution by natural selection, inspired by the variety and adaptability of the islands' wildlife.
Get the guide
Best months for a Galapagos cruise
Galapagos seasons & climate
While the Galapagos Islands' climate can be roughly divided into two seasons, its tropical location means this is a destination worth visiting year-round. Choose the dry season (June-November) for cooler weather and an abundance of nesting birds, or visit in the wet season (December-May) to see mating turtles, tortoises and sea lions and for better diving and snorkelling.

Be aware of the El Niño current, which affects the Galapagos Islands every five to seven years. This current of warm water can cause excessive rainfall and heavy flooding on the Islands, and often has a negative effect on the region's marine life. There is no way to predict when the current will strike next, although scientists are able to give an indication of how likely it is in a given year. While it is safe to visit the Islands during El Niño, be prepared for heavy rainfall.
Galapagos cruise: month-by-month
The new year brings hot and humid weather to the Islands, with drizzle a persistent factor. January is when green sea turtles begin to lay their eggs and land birds begin to nest. Look out for male marine iguanas changing colour to attract mates. The start of the year is generally considered one of the best times to visit the Galapagos.
Warmer, wetter weather settles across the Islands between February and April, with many of the Islands' wild inhabitants (such as sea lions and tortoises) beginning their breeding and nesting seasons. March is a great month to visit for snorkelling due to the clarity of the water. By May, spring flowers are in bloom and the rainfall is beginning to recede. Look out for blue-footed boobies beginning their unusual courtship dance.
June signals the beginning of the colder, drier months known locally as the garúa. The weather creates a proliferation of plankton in the seas around the Islands, making it a great time to watch penguins and albatross feeding. This is also the time to visit for whale-watching, with humpback whales and whale sharks spotted around the Galapagos.
August is the coldest month to visit, but brings the benefit of seeing baby sea lions on the western and central islands. This is the time to visit to watch Galapagos penguins courting and mating on Bartolomé Island.
By November, the weather is beginning to warm up again, with whales once again visible near the northern Islands. December is one of the best months to visit the Galapagos, with plenty of sunshine and warm water to swim and snorkel in. Visit to see giant tortoises hatching and albatross migrating. Book early — the Christmas period coincides with the South American holiday period, so cruises and boats are booked well in advance.
Everything you need to plan your trip
There's no escaping it: a visit to the islands isn't the cheapest (or simplest) trip you can take. But it needn't break the bank, or be excessively complicated. Here's how to narrow down the options and choose the best Galapagos trip for your group.
Step aside, humans. The protagonists of the Galapagos Islands' history are the rare and endemic species that populate this far-flung chain of volcanic islands in the Pacific.
As Charles Darwin discovered on his famous voyage on the HMS Beagle in 1835, the natural history of these dynamic islands reveals the fits and starts of evolution itself.
Humans only arrived on the scene fairly recently, all too often as the villain of the plot. 16th century Spanish explorers were appalled by the stark volcanic landscape, calling the islands a hell on earth. Pirates and whalers used the islands opportunistically, capturing and killing wildlife en masse. Most recently, habitats have been threatened by invasive species introduced by humans, as well as the strains of a growing resident population and tourism trade.
As part of the carefully-managed tourism model, guests are accompanied by local, certified naturalists guides. These guides bring the natural and human history of the islands to life. Visitors learn about their own complex role in the Galapagos narrative.
How a typical Galapagos trip works
Arrival and departure
The Galapagos Islands are only reachable by flight from mainland Ecuador.
Flights from Quito usually stop in Guayaquil to pick up additional passengers. The flight time between Quito and the port city is about 30 minutes. The stop in Guayaquil is about 30 minutes (do not deplane).
Flights from Guayaquil fly directly to Baltra (main Galapagos airport) or San Cristobal (secondary Galapagos airport). The flight time is about 1.5 hours. Most tour operators will insist on a full day in either Quito or Guayaquil before your flight to the islands, in case of delays on international flights -- the cruise ships won't wait for anyone!
Quito or Guayaquil?
When choosing which airport in Ecuador to arrive at, keep in mind the following:
Quito is a gem of a colonial capital city, worth spending at least a day and a night in. It has a thriving art, music, and restaurant scene, as well as a bevy of historic sights to discover. However, its new international airport is far from the city centre (45 mins to one hour drive), adding airport transit time to the itinerary.
Guayaquil is a more industrial-looking port city, without the charms of Quito. Advantages are more direct flights to the Galapagos and easier access to the airport.
When shopping for international flights, compare fares to both cities. A good combination is to arrive in Quito and depart from Guayaquil, or vise versa
How to choose your Galapagos tour type
There are three broad categories of Galapagos trip. Which you choose depends on your preferred travel activities and flexibility:
Cruises are organised in itineraries of eight days, five days and four days. Longer cruises have the benefit of reaching farther, less-visited sites. Shorter cruises are easier to combine with a land-based experience of the Galapagos and other travels in Ecuador and South America.
Hotel-based/land-based trips on Santa Cruz Island are often organised as packages as well. Package length is more flexible, but usually start at four days/three nights. The hotel will organise daily excursions such as speedboat trips to neighbouring islands and guided trips.
Island hopping allows you to stay at lodges on various islands linked by short flights or speedboats. Only four islands are inhabited: Santa Cruz, Isabela, Floreana, and San Cristobal. Lodges on the less-populated islands of Isabela and Floreana tend to be more simple, with fewer amenities. Isabela is less populated than Santa Cruz and San Cristobal, giving you the chance to relax and discover the island's visitor sites without the crowds.
Galapagos cruise vs land tour
The Galapagos Islands present an important choice when planning a trip; do you take a land-based tour or cruise? Both styles of travel have their advantages, choosing the best trip for you depends on your personal tastes and travel style.
| | |
| --- | --- |
| Galapagos by cruise | Galapagos by land |
| Fixed schedule. Cruises take the guesswork out of the equation with set itineraries. Small motorboats (called 'pangas') shuttle small groups of passengers at set intervals, with an expert guide in the boat to point out the creatures of the region while making sure that the trips goes smoothly. | Flexibility and freedom. When staying on land at the hotels that dot the landscape of Santa Cruz, San Cristobal and Isabela, guests dictate the schedule. Day trips are arranged to the nearby islands by boat in the morning, leaving the afternoon and evening free for doing your own thing. |
| Cover more ground. Boats travel at night, and drop anchor off of the shores of a new destination each day. This gives passengers a broader view of the islands. | Zoom in. Land-based trips put you side by side with the local communities by exploring towns and tagging along with fishermen on the morning's journey. |
| Fine facilities. Luxury cruises have opulent amenities and attentive top-notch staff, but space is limited. | More room. Land accommodations give guests the room to stretch their legs at the end of the day. |
| Caution: wet landings. Inflatable motorized boats take travelers from the ship to the shore. Visitor sites have dry and wet landings; wet requiring wading through knee high water to disembark. | Caution: small speedboats. When island hopping, shuttle-style speedboats ferry passenger between islands. The journey is often choppy and it's wise to come prepared with Dramamine. |
A final consideration when choosing between land and sea options is the footprint you leave after the trip is done. Cruises add to the pollution of the Galapagos' waters (although many are eco-certified and mitigate their impact). Hotels on land encroach upon the natural habitats of the creatures that surround them. Pay attention to each option's certifications, awards, and ecological credentials.
Life on board a Galapagos cruise

For travellers choosing a cruise-based trip, the type of boat and facilities on offer plays a big part in their decision-making. However, many simply think about where the boat will be docking and what they'll do on-shore. Here's what life is like on board a Galapagos cruise.
Your Galapagos cruise
Life onboard cruise ships revolve around early starts. Mornings consist of wake up calls, breakfast buffets and gearing up for trips to the uninhabited islands. On some ships there are pre-breakfast excursions or fitness classes to get you ready for a day of exploring.
Travel from ships to shore is done via pangas (small, motorised rubber boats) that are swift and used for both wet and dry landings.
The majority of the day on a cruise is spent exploring different islands. Normally there are activities including hikes and snorkelling in the morning, followed by lunch on the ship, and trips to other parts of the island where you are anchored in the afternoon.
After spending most days out exploring, evenings are reserved for relaxing. There is usually a briefing in the evening with your guide to go over the next day's destination. Depending on the boat these can detail activities for the next day, be presentations about the islands, activities geared towards children, dancing, or time to talk about the day's events.
Accommodation and lodging
Accommodation standards vary depending on the level of boat you stay on. The deluxe cruises go all out with luxury rooms, balconies and amenities you would expect in a five star hotel. Others maximise space with more rooms and more passengers. On most ships, there is an inherent trust and things like locks on doors don't exist. Theft isn't a concern in the islands, but consider bringing bags with locks for valuables if you're worried.
One thing to consider when choosing a cruise is where the rooms are located. Rooms lower in the water are calmer when it comes to the open sea and can reduce the risk of seasickness. The other side of the coin is they are also closer to the engine room.
Food and drink
Breakfast and lunch are normally buffets with an ample choice of international and Ecuadorian food to choose from. Breakfast includes fruit and juice, while lunch gives you chicken or meat dishes and Ecuadorian-style seafood along with salads and vegetarian options.
Dinner is normally a more formal affair with a choice of main course and pre- and post-dinner drinks with other guests. Some of the boats include your bar tab in the price, but typically you can expect to pay for alcohol, tips and any other extras.
Dealing with bad weather
When the weather gets rough the crew decides the agenda for the day. Typically storms only last a short time. If you are out exploring and rain sets in, your guides might decide to head back to the ship until the weather subsides. If it clouds over and is only a light storm, you might be given the option of going out to the islands with appropriate gear.
At times the sea can be choppy, and many passengers take sea sickness pills as a precaution. Normally after a few days people have adjusted. If seasickness is a major concern for you, catamarans are the steadiest crafts that operate in the islands.
Rules and regulations
As a Unesco World Heritage site that has suffered from unsustainable tourism in the past, it is vital that you choose responsible partners when visiting the Galapagos Islands, as well as leaving as small a footprint as possible. Here are some tips on how you can keep the Galapagos Islands thriving.
Tour companies and guides
Tour companies in the Galapagos Islands run the gamut from luxury operators on boats with first class amenities to budget options that use every bit of space for cabins and equipment.
The important things to look for is a commitment to the islands and their preservation, staff that understand the intricacies of international travel and a level of service that takes into account the needs of individuals.
All trips, whether by land or by sea, are required to have certified guides accompany guests. On some boats, these guides are accompanied by naturalists. On others, guides with certification are responsible for entire groups.
A rule of thumb to consider is that you get what you pay for. If you are looking for a deal, make sure you vet the company beforehand to avoid any surprises once on your adventure.
Commitment to conservation in the islands is often more talk than action. As such, ask companies what they are doing to ease their footprint on the archipelago. Finding out details about how they deal with waste, specific projects they support, and plans in place for sustainable travel will give you a better picture of who you are dealing with.
Galapagos National Park rules and fees
New rules from 2018 require that you must have reservations for a hotel, land-based trip, or cruise before going to the islands. To facilitate this, there is an online form to enter your travel details. Other new rules state that all visitors must have travel insurance and show proof before leaving.
The online form is found here by clicking on the Pre-Registro Individual from the left hand menu. It is in Spanish, and a break down in English is available here.
When planning a trip, be aware that the Galapagos National Park has tight regulations in place to help protect the islands. These include carefully screening bags before and after your flight and a regulation that each boat can only visit each visitor site once in a 15-day period. This can make things difficult for those who want to visit specific islands during their trip, so make you sure you check your itinerary.
Before your flight for the islands leaves the mainland, you need to buy a transit control card for $20. This card helps to track the visitors on the Islands. It is returned at the end of your trip. Once you arrive, you pay a $100 national park entrance fee in cash. The fee helps with conservation projects around the island.
Travellers in the Galapagos Islands are expected to stay six feet away from wildlife, even when approached. You also may not feed the animals and flash photography is prohibited.
Local economy and what to buy
Supporting the local communities is the Galapagos means buying locally. Souvenirs are on every corner and Main Street in places like San Cristobal and Santa Cruz islands. Buying products from local artisans including coffee and chocolate helps sustainable tourism in the archipelago.
There are plenty of products that are available for travellers to buy including Galapagos coffee, chocolate, art, and souvenirs. On Santa Cruz Island, jewellery shops sell products made by local artisan women using recycled materials. Artisans also come on board boats visiting the port. This helps to both boost the income of the local people, and tackle the problem of waste on the islands.
Banned products are those that use the natural resources of the islands, such as coral and sea shells. Remember that taking anything from the Islands is illegal -- even a small stone.
Beyond your Galapagos trip
For those who want to make an impact that helps protect the islands after a trip, organisations including the Charles Darwin Foundation, the Galapagos Island Trust, the Galapagos Conservancy and Children of Galapagos have direct donation links that support ongoing programmes.
Here's what you need to know about visiting the Galapagos Islands.
What's the local currency?
The US$ is the official currency of Ecuador, which means no standing in line at currency exchange if you're travelling from the USA.
What documents do I need for the Galapagos?
Visitors from North America and most European countries don't currently need a visa to enter Ecuador but please double check before departure. Your passport must be valid for at least six months beyond the date of departure from Ecuador.
In addition to the originals, bring a copy of your passport, a list of identity card numbers and the international phone numbers of their issuing institutions. Store these separately from your original documents in case of an unforeseen problem with emergency contact numbers and medical information.
Valid health insurance is also required to travel to the Islands. Please check that you are covered for emergency air transport as there are only basic facilities on the Islands.
What electronic equipment is available in Ecuador?
Pack extra SD cards, cables, chargers and batteries for computers, electronics and phones. Even in Quito and Guayaquil, accessories for major brands are hard to find and extremely expensive due to high import taxes. Bringing a point-and-shoot camera is also a good idea for moments when taking out expensive photography gear is impractical.
Will my cell phone work in the Galapagos?
Cell phones on GSM networks generally work in the Galapagos. Check with your provider to find out the specifics of your plan and the charges for using it internationally. Extremely high rates are common, and it's better to know beforehand to avoid the shock after returning home. It's always wise to turn off data roaming before heading abroad.
At the airport in both Quito and Guayaquil you can buy traveller's sim cards for your stay in Ecuador. These use a pay as you go system, and don't require an Ecuadorian ID to activate.
Is there internet access?
Internet in the Galapagos pales in comparison with the speeds of the United States and Europe. Most hotels have connections but expect limited range, slow loading times and long waits. Internet on board cruise ships is generally unheard of, or will be via satellite connections at exorbitant pricing — for emergencies only, if at all. WhatsApp with a 3G plan also works on most ships when out at sea. Much better to plan to do without and enjoy your surroundings!
How much should I tip?
In restaurants, a 10% service charge is added to the bill; for crew, drivers and staff, $5-10 a day is fair. For guides and trip leaders, $10-15 dollars a day is the norm. Note that apart from tourism destinations, tipping isn't typical and what you leave is entirely up to you.
What are the luggage restrictions?
Most airlines restrict luggage to one checked bag up to a maximum of 40 pounds and one carry-on bag that weighs up to 15 pounds. This is generally recommended for all air travel within South America. Extra baggage can usually be accommodated for a fee.
Are land-based trips better for avoiding sea-sickness?
Not necessarily. Although land-based trips mean spending the night in hotels or lodges you'll still visiting various islands by boat — usually small speedboats, which can be extremely choppy and can cause problems for younger and older travellers.
Can I roam the islands solo?
Visitors on organised tours are required to be accompanied by a registered guide for their own safety and for the protection of the islands. You can rent bikes, kayaks, and snorkel equipment and spend days discovering the inhabited islands of Santa Cruz, San Cristobal, Floreana, and Isabela.
What are the advantages of different ship sizes?
"Large ships" are only relatively large. They carry 90-100 guests with 30-40 crew — clearly not your average Caribbean cruise liner!
Large ships have more facilities, including larger deck spaces and more social areas, but are not necessarily more luxurious than the smaller ships. Higher cabins have better views, but they're usually more expensive and will feel rockier in strong seas.
Smaller ships are able to anchor closer to the islands, but this is less important considering that all cruises use small motorboats to land on the islands. Remember that smaller boats will pitch further in choppy seas, so those susceptible to seasickness should bring Dramamine or equivalents. Catamarans tend to be the most stable vessels.
Packing list for the Galapagos Islands
Pack light, quick-drying clothes for the Galapagos. Heavier materials such as cotton take longer to dry in the humid weather. Remember that you'll be travelling on boats (including pangas and rafts with dry and wet landings) and that you'll need waterproof clothing.
It's also worth packing seasickness tablets to help you cope with the rocky journeys to the islands.
Basics to pack for a trip to the Galapagos Islands include:
Sturdy hiking boots
Rain jacket
Waterproof trousers
Waterproof bag for electronics
Sunscreen
Sunhat
Breathable hiking socks
Water bottle
Seasickness tablets
Fleece or windshell
The best of each Galapagos island
The Galapagos archipelago comprises six major islands, 14 minor islands, and more than 100 islets. Having emerged from volcanic activity over a huge span of time, each island is unique in its age and natural history. Each one has something a little different to offer visitors. Here are the most accessible islands to visit and a few of their highlights.
Santa Cruz

Puerta Ayora, the main town on Santa Cruz island, is the tourist centre of the islands — tour agencies, airline offices, restaurants, banks and shops line the streets. It's a stop on most tour itineraries and the place to finalise travel plans, find gifts for friends and family, and sample local cuisine.
Hike to Tortuga Bay on a path that ends at beaches perfect for snorkelling
The lava tubes in the highlands are some of the largest in the islands
The wharf off of the main drag pits the local fish merchants against the sea lions that vie for the daily catch
The Charles Darwin Foundation is the original rallying point for scientific and conservation efforts in the islands. Don't miss the Giant Tortoise Reserve!
San Cristobal
San Cristobal is the provincial capital of the Galapagos. One of the oldest islands, it was Darwin's first stop on his historic journey. It's home to government and educational institutions.
Puerto Baquerizo Moreno acts as the second tourist centre for the islands. Offices of tour agencies, foundations and branches of banks are open during the week
Sapho Bay and the waters around the adjacent Kicker Rock are popular places for snorkelling to see rays, sharks and the occasional hammerhead
Isabela
Originally named Albemarle Island by pirate Ambrose Cowley, Isabela is one of the youngest and largest of the Galapagos archipelago. It was formed by six volcanoes: Sierra Negra, Wolf, Alcedo, Cerro Azul, Darwin and Ecuador. All are active except Ecuador; Wolf erupted most recently in 2015. Sierra Negra last erupted in 2018.
Take a horseback ride to the top of the Sierra Negra volcano
Spot humpback whales off the western coast of the island from June to September
See penguins near Tagus Cove. The cove was a favourite of pirates and whalers; names of ships dating back to 1836 are carved into the nearby cliff sides
Floreana
After being marooned on Floreana in 1805, Irishman Patrick Watkins became the first known Galapagos resident. Post Office Bay is also here, an informal mail system started in the 1700s by whalers. Mail was left for ships returning home in a barrel by those headed out to sea. The tradition lives on today.
Leave postcards at Post Office Bay for others to pick up and deliver once home
Cormorant Point has two contrasting beaches; a green sand beach caused by olivine crystals and Flour Beach, made from crushed white coral
See pink flamingos at the nearby Flamingo Lagoon
Watch for green sea turtles nesting on the sands of Flour Beach
Take a short hike and a small descent by ladder, leading to a lava tube that extends a few hundred yards underneath the surface
Take a panga ride to Gardner Inlet for a view of the large caves and rock formations of the island
Española Island
On this island, you'll be greeted by colonies of sea lions and lava lizards lounging freely. It's also known for its nesting sites of blue-footed and Nazca boobies.
Hike the Punta Suarez trail to the edge of a cliff overlooking a natural lava blowhole
View the waved albatross breeding colony. The world's population of the species migrates here during April and December. Elaborate mating rituals lead to partnerships for life
The white sand beach at Gardner Bay is one of the longest in the islands
Sea turtles bury their eggs on the beach during the mating season between January and March
Bartolomé
One of the sites used in the film Master and Commander, Bartolomé is famous for Pinnacle Rock, a volcanic outcrop formed after lava erupted from an underwater volcano. The iconic formation was used for target practice by US airmen during WWII, adding to its unique shape.
The colourful scenery of the beaches on either side of Pinnacle Rock is contrasted by the barren landscape of Bartolomé's interior. It's often compared to the moon or Mars due to the red lava rocks away from the shore.
Climb to the top of the island's summit, ascending a wooden staircase through the stripped-down landscape where panoramic views await
See Galapagos penguins, sea turtles, parrotfish and small sharks in the shallow waters between the landing point and Pinnacle Rock
North Seymour
North Seymour is home to one of the island's first conservation projects. In the 1930s, the crew of Captain Alan Hancock's ship transferred 72 land iguanas from the nearby Baltra Island to North Seymour in the hope that the reptiles would fare better without feral goats competing for food. At last count in 2018, there were 5,000 land iguanas on the island.
Visit a flamingo lagoon on the isolated Bachas beach
Great frigate birds have the largest nesting colony to be found on the islands
Isla Santiago
The fourth largest island in the archipelago and once home to early settlers including pirates and whalers, Santiago Island gives visitors a chance to see amazing lava fields, pristine beaches and a fascinating array of wildlife. Charles Darwin visited the island in 1835 and spent time with a party of Spanish sailors while documenting the islands' flora and fauna. In 2019, more than 1,400 land iguanas were reintroduced to Santiago from North Seymour Island. The event marks the first time the reptiles have lived on the island since Darwin visited.
See the black lava fields of Sullivan Bay — but be careful, the landscape is still hot
Snorkel and see fur seals on Puerto Egas
Visit Buccaneer Cove, a former pirate shelter that today is a refuge for sharks, sea turtles and sea birds
Fernandina Island
The furthest west islands in the Galapagos, Fernandina Island's La Cumbre volcano is one of the most active in the archipelago. The landing site of Punta Espinosa puts you on a long stretch of beach where penguins, sea lions, and blue-footed boobies dot the landscape.
Explore the volcanic landscape with pahoehoe lava fields stretching from the flanks of La Cumbre
Wander the beach and mangroves that are home to the largest marine iguanas in the islands
Genovesa Island
Located in the northeastern Galapagos, Genovesa Island is known as bird island due to its incredible number of different species. It's home to the largest colony of red-footed boobies and is the place to spot great frigate birds, petrels, Galapagos doves, finches, and lava gulls.
Visit the tidal pools of Darwin Bay where sea birds hover and marine life flourishes
Climb Prince Philip's Steps, named for the British royal who visited the island. You'll see red-footed boobies, Nazca boobies and great frigate birds along the way
Where to find Galapagos wildlife
The Galapagos Islands have a unique ecosystem, meaning wildlife has thrived here for centuries. Don't expect the animals to be shy -- their indifference to your presence is what makes this such a great place to visit.
Galapagos sea lion
Found all over the Islands, there are around 50,000 Galapagos sea lions living in the archipelago. Whether diving to depths of 500 metres, swimming among snorkellers and bathers, or simply lounging on sandy beaches, the sea lion is a favourite among visitors.Where to see the
Where to see the Galapagos sea lion: Everywhere
Killer whale

Orcas, otherwise known as killer whales, are actually members of the dolphin family. As permanent inhabitants of the Galapagos' waters, they are frequently seen, particularly in the Canal Bolivar between Isabela and Fernandina.
Look out for the orca's famous black and white colouration as they spy hop through the waters hunting marine mammals and fish.
Where to see killer whales: Canal Bolivar, between Isabela and Fernandina

Bottlenose dolphin
Although not endemic to the Galapagos, bottlenose dolphins are regular visitors to the Islands. Playful and inquisitive, the dolphins feed in pods of 20 to 30, often swimming alongside cruise ships and yachts.
Look for the dolphin's short beak and sickle-shaped dorsal fin. However, it will probably be the dolphin's playfulness that catches your attention.
Where to see the bottlenose dolphin: Everywhere

Galapagos flamingo
The Galapagos flamingo is one of the largest of the world's five species of flamingo. Feeding on crustaceans and water plants, their distinctive black and pink beaks filter silt and mud from their food.
Found all over the Galapagos, flamingos are generally shy and wary of humans, so viewing them is best done from a distance.
Where to see flamingos: Floreana, Santiago and Santa Cruz
Blue-footed booby

The blue-footed booby is the most popular of the four booby species on the islands, with its distinctive blue feet making it easy to spot. The booby's blue feet also play a big part in courtship, with female boobies choosing males with the brightest blue. The birds perform an elaborate dance during courtship, beginning with the male giving the female a stick. Boobies often mate for life.
Where to see the blue-footed booby: Española, Genovesa
Galapagos penguin
The Galapagos penguin is the only species of penguin that lives in the tropics and is also the smallest. Endemic to the region, the Galapagos penguin mates for life and swim at speeds of up to 35km per hour when hunting.
In 1982, 77% of the Islands' penguin population was wiped out after a particularly strong El Niño event. Numbers have been recovering ever since, with the population now around 2,000.
Where to see the Galapagos penguin: Isabela, Fernandina, Bartolomé
Giant tortoise
Perhaps the Islands' most famous resident is the Galapagos giant tortoise. In fact, the archipelago is even named after the giant tortoise, with Galapagos meaning saddle in Spanish.
The giant tortoise can live for up to several hundred years and its population is estimated at around 20,000 by the Galapagos Conservation Trust.
Where to see giant tortoises: Santa Cruz, Isabela

Land iguana
One of three land lizard species inhabiting the Galapagos, the land iguana is a placid vegetarian despite its fearsome image.
Look out for males engaging in headbutting competitions over territory, or for the relationship with finches who pick ticks off their backs.
Where to see land iguanas: Santa Cruz, Isabela, Fernandina
Marine iguana
Unique among lizards, the marine iguana is the world's only seagoing lizard. Found only in the Galapagos, the lizards vary in size and colour between islands.
Famously unattractive -- Darwin once called them 'hideous-looking' and the 'most disgusting, clumsy lizards' -- marine iguanas are actually surprising agile when in water, feeding on algae and seaweed.
Where to see marine iguanas: Everywhere
Green sea turtle
The Galapagos green sea turtle lives in the tropical and sub-tropical waters of the Pacific islands, reaching 1m in length and almost 150kg in weight. The females return to the Galapagos Islands to lay eggs, which incubate for up to 55 days before hatching.
Green sea turtles are often seen surfacing for air in calm water and are often encountered by snorkellers.
Where to see green sea turtles: Santa Cruz, Fernandina, Santiago
Activities beyond wildlife on the Galapagos Islands
The Galapagos Islands might be most famous for its wildlife, but it's also a place for getting active.
Snorkelling

Snorkelling in the Galapagos Islands allows for thrilling underwater adventures where a whole new world opens up. The Galapagos Marine Reserve is home to sea lions, green sea turtles, billowing clouds of tropical fish, penguins and sharks.
Bartolomé Island
Bartolomé Island's iconic Pinnacle Rock is the place to find penguins. These quick-moving swimmers are frequent companions in the bay especially when the Humboldt Current moves in from Antarctica and cools off the water, attracting them in from the western islands.
North Seymour Island and Mosquera Islet
North Seymour Island and the neighbouring Mosquera Islet are home to a large population of sea lions. Snorkelling here puts you up close and personal with these curious creatures and their young pups.
Floreana Island
Off the shores of Floreana Island is the Devil's Crown — a partially submerged, extinct volcano where wildlife thrives. Sea turtles, sea lions and even sharks are commonly seen in and around the crater, while seabirds crowd the outlying cliffs.
Isabela Island
Isabela Island's Los Túneles is a series of pools sheltered from the sea's currents with interlacing volcanic bridges spanning the depths. The crystal waters are home to decades-old sea turtles, large sea horses, white-tipped reef sharks and thriving schools of tropical fish.

Safety information
The biggest dangers associated with snorkelling in the Galapagos Islands are strong currents and accidentally stepping somewhere you shouldn't. White-tipped reef sharks rest during the day in shallow waters and can be startled. Currents at outlying sites throughout archipelago can be strong even for experienced swimmers.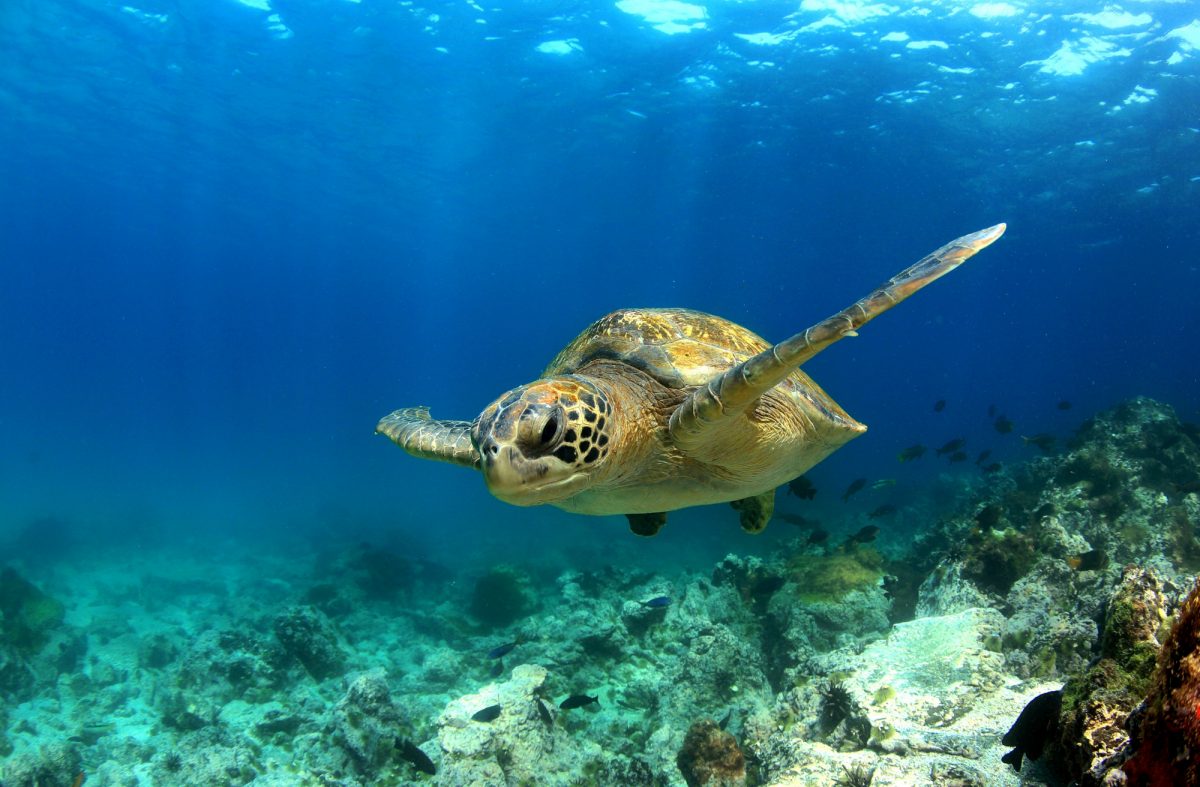 Scuba diving

Scuba diving in the archipelago puts you face-to-face with hundreds of hammerhead sharks, exploring underwater cliffs and caves, or sharing the water with dolphins and whales. Each site attracts a different crowd, so choose carefully.
Dive shops in Puerto Ayora rent equipment, as do live aboard boats, but most cruises recommend that you bring your own gear to ensure safety and comfort.
Gordon Rocks
Off the coast of Santa Cruz Island, Gordon Rocks is a submerged volcano where the depths reveal hammerhead sharks, rays, and sea turtles. Currents can be strong and swells in the shallows mean that divers need to stay below 40 ft.
Kicker Rock
Kicker Rock near San Cristobal Island is one of the best-known sites in the islands to see hammerhead sharks. Hundreds gather in the depths here, while the lion-shaped shadow of Kicker Rock towers above you. Kicker Rock is two hours from San Cristobal and you must be accompanied by a guide.
Wolf and Darwin Islands
Only accessible on live aboard cruises, Wolf and Darwin Islands have multiple dive sites where whale sharks, humpback whales and dolphins are found between June and November. Currents can be strong, but the giants of the sea are only found around these two islands.

Safety information
As with snorkelling, currents are the most concerning part of scuba diving. Many recommend that you don't start diving in the islands, as conditions require experienced divers in most places.
Hiking
Hiking is an everyday part of exploring the islands. Day trips and cruises combine time spent discovering uninhabited islands and snorkelling by sea.
Treks find you on the top of high vistas overlooking scenic bays, walking on trails next to colonies of blue-footed boobies and sea lions, and even hiking up active volcanoes.

Sierra Negra volcano — Isabela Island
Sierra Negra volcano is one of six that formed Isabela Island. It has the second largest caldera (volcanic crater formed when a volcano falls in on itself) in the world and last erupted in 2018. This is a popular hike that takes you through forests and high above the tree line where views stretch across the crater to the neighbouring islands.
Bartolomé Island
Landing at the beach at Bartolomé Island, the path leads up an ascending set of stairs that take you over the volcanic landscape and to a lookout that spans the bay below. Seen in countless movies and postcard perfect pictures, it's one of the best views in the archipelago.
Cerro Tijeretas — San Cristobal Island
Cerro Tijeretas is reached by a short hike past the Interpretation Centre on San Cristobal. The vista offers an amazing view over the bay below and there are trails down to the water and around the area.
The Punta Suarez trail -— Española Island
The Punta Suarez loop trail is a short one-mile trail that puts you in the middle of exotic landscapes and beaches. Sea lions, blue-footed boobies and waved albatrosses are found along the trail and towering cliffs frame the landscape and coast.

Safety information
The most common danger when hiking in the islands is sprains and bruises from hiking along rocky trails. Bring sturdy boots as routes are sometimes muddy, and the rocky volcanic rock is difficult to navigate in normal shoes.
Sea kayaking
Kayaking in the Galapagos Marine Reserve puts you on the water exploring the beaches, coves and islets of the islands close up. Paddling along the coast introduces you to the region's wildlife. Sea turtles swim alongside kayaks, sea lions follow in your wake and marine iguanas dive into the water to join the fun.
Tortuga Bay
Tortuga Bay on Santa Cruz Island is considered one of the best beaches in the world. While the first section has strong currents, the more sheltered part of the beach has opportunities to kayak against a backdrop of mangroves. This is a great route for those looking for fun away from the fray and wildlife that shies away from the beaten path.
El Garrapatero
Another fun spot on Santa Cruz is El Garrapatero beach, a short taxi ride from Puerto Ayora. After a short hike, the secluded beach opens up and kayaks are available to check out the surrounding waters. There is also a tide pool to snorkel or swim and a lagoon behind the sand where flamingos and finches are often seen.
Tagus Cove
Tagus Cove on Isabela Island was a hideout for whalers and pirates who used the archipelago as a refuge from the Spanish fleet. Kayak trips go up the coast from Puerto Villamil, stopping in the bay to explore and then hiking up to a lookout and Darwin's Lake in the nearby highlands.

Safety information
The most common danger when kayaking off the coast of the islands is capsizing. Waves are sometimes choppy and flipping your boat is easier in these conditions.

Surfing
While there are a collection of surfing spots in the Galapagos Islands, the place to go is San Cristobal. The beaches, their breaks, and the animals found here draw surfers from around the world.
Punta Carola beach
Punta Carola is the number one beach in the Galapagos for world-class surfing. During high tide, waves reach ten feet, but at low tide the surf eases up, making it a great place for beginners to hone their skills.
The beach has two breaks — the left reef break is good for beginners and the right break near the point is better for more experienced surfers.
Tongo Reef
Reached after a 15-minute walk south from town through a military zone, Tongo Reef is the surf spot for those who want an alternative to the ten-foot waves of other beaches but still want a challenge.
Waves here reach six feet at high tide -— providing thrills for all levels of surfers. Three take-off zones access the break. Bajito and Medio are the places for beginners and intermediate riders, while further out, Pico has bigger waves for expert surfers to push themselves to the limit.
El Cañón
A sought after surf spot for intermediate and advanced riders, El Cañón has a southern swell with six foot waves.
El Cañon is 20-minute walk from Helena's Garden, two blocks before Playa Man. The trail goes through a military base and a passport is required to enter. The biggest waves arrive between November and May.
La Loberia beach
La Loberia beach is within walking distance from town and is a good spot to surf, snorkel, swim and frolic with the friendly sea lion population.
It is a popular place for experienced surfers; the surf can get big at high tide. Waves move at a medium speed — but when the wind kicks up the water can get too rough to navigate.

Safety information
The Galapagos Islands has a very heavy surf, so it's not a place for beginners. Breaking your board is a real possibility.
Mountain biking
Mountain biking in the Galapagos gives you a break from organised tours and set plans on cruise ships. Trails and routes take you into the highlands of the inhabited islands and let you stretch your legs while enjoying the lush scenery of the archipelago.
Santa Cruz Highlands
The highlands of Santa Cruz are a popular day trip when visiting the island. Trips combine visiting coffee farms and tortoise reserves with riding by bike to beaches on the coast.
La Soledad to Puerto Baquerizo Moreno, San Cristobal
La Soledad is a small lookout in the highlands of San Cristobal with a stunning view of the coast and Kicker Rock. The route takes you past El Progesso, one of the original settlements in the islands. There is a small restaurant at La Ceiba treehouse on the edge of town and a few shops where you can buy water and supplies.
The Wall of Tears -— Isabela Island
The route to the Wall of Tears takes you along the coast and up into the hills of the island. The wall itself is a stark reminder of the Islands' past — where prisoners from the mainland toiled to build the wall in a futile effort to appease their jailers. The road along the shoreline is now closed to all but bikers and hikers.

Safety information
The Galapagos Islands' lack of traffic makes it a safe place for cyclists. The biggest danger comes from cyclists' impact on local wildlife. Make sure you stay to roads and permitted paths — never venture off track.
Beaches
The beaches of the Galapagos are exotic retreats where exploring brings you to secluded bays where sea lions and marine iguanas rest, flamingos feed in lagoons, and cool waters beckon to those who want to swim, surf, and snorkel.
Puerto Villamil beach
The beach in front of the sleepy town of Puerto Villamil on Isabela island overlooks the island's bay. You can see penguins on outcrops and the water is inviting to those who want a dip after a big day of exploring. Small beachside bars and shaded hammocks make it a great spot to relax and unwind far away from the crowds.
Red beach — Rabida Island
The red sand of the beach on Rabida Island comes from the high iron content in the volcanic rock of the island. Sea lions greet those visiting from cruises on this strange landscape, framed by green cactus and palo santo trees.
Bachas beach, Santa Cruz Island
Bachas beach on Santa Cruz Island is often a stop on day trips to neighbouring uninhabited islands. Its protected bay is a great place to swim, and the nearby lagoons are home to flamingos feeding in the shallow water. The beach is named after two barges that were abandoned by the army after WWII.
Post Office Bay — Floreana Island
The beach at Post Office Bay is one of the few places that is just as interesting for its human history. Whalers who first visited the island set up a barrel for mail. Those returning from their time at sea would take mail home for those heading out on their long voyage. Today, visitors from cruise ships leave a postcard and take another home to deliver.

Safety information
The wildlife of the Galapagos Islands beaches, though used to human presence, present the most danger in the islands. Male sea lions aggressively protect their harems and young and sea life such as white-tipped reef sharks can be hard to spot in shallow reefs and can react when disturbed.
See the gems of South America in one trip
Combining Machu Picchu & The Galapagos
Of all the wonders of South America, no two inspire awe and wanderlust like Peru's Machu Picchu and Ecuador's Galapagos Islands. Both have turned heads for decades, earning themselves a spot on the world travel map. Both are conjured up in conversations of lifetime travel memories and wistful bucket lists. Today, these coveted sites are easily-accessible, with many travellers combining Machu Picchu and the Galapagos Islands into one seamless trip.
It wasn't always so. In the early days of Peru tourism, only the most intrepid travellers braved the treacherous local bus rides and bare-bones lodging to reach Machu Picchu on foot — exhausted and sweaty after days of trekking and camping. In the same period and despite the tourism boom of the 19070s, the Galapagos Islands were largely overlooked, except for nature buffs who were determined enough to get around on stomach-churning fishing boats.

Nowadays both Machu Picchu and the Galapagos still receive their fair share of hardcore backpackers and eccentric biologist types. But the allure has expanded far beyond that, attracting travellers of all stripes. It's not uncommon to spot families shooting photos with school-age kids, young honeymooners hiking hand-in-hand, and luxury travellers enjoying new comforts and five star amenities to be found throughout the journey.
Travel to South America's two crown jewels has never been easier or more accessible. Machu Picchu - Galapagos combination trips are less hassle and more affordable than you might think. Perhaps now is the time to turn a dreamy "I'd love to someday" into an excited "It's on the calendar!"

When To Visit The Galapagos & Machu Picchu
South America is a vast continent, and Ecuador's Galapagos Islands are flung far out into the Pacific Ocean. Frequent flights are shrinking these distances for South America's rising tide of travellers, making combination trips more and more doable in a short amount of time. The Galapagos Islands and Machu Picchu pair together nicely as South America's most sought-after destinations.
The biggest factor for combining Machu Picchu and the Galapagos is finding the best time of year for both of them, keeping in mind their differing climates and high seasons.
Best time of year for the Galapagos
As an equatorial chain of islands, the Galapagos enjoys a spring-like climate year-round. There's never a bad time to visit. Seasons vary only mildly, and travellers arrive throughout the year..
Garúa season is from June to December. Temperatures are lower, both in the air and water, which brings cool winds and a foggy drizzle known as garúa. Seas are usually choppier, although nothing that regular motion sickness medication won't cure (a larger ship will provide more stability during this season). The Humboldt current brings plankton blooms to the surrounding waters, causing an abundance of marine life and activity, although expect reduced visibility for diving and snorkelling and check that wetsuits are available!
Warm season is from January to May. Warmer temperatures bring a wetter, more tropical climate, including occasional rain showers interspersed with bright, sunny weather. This is a great time of year for snorkelling. Calmer seas mean those susceptible to motion sickness will do fine on a smaller vessel.
Ask a specialist at your tour operator of choice about timing your Galapagos trip to coincide with certain wildlife events and displays, your own tastes and interests, and how to avoid the high season holiday crowds.
Best time of year for Machu Picchu
In the Andean climate of Machu Picchu, high and low season is more clearly defined.
Dry season is from April to November, when skies are clear and sunny, and chances of rain are low. Within this high season, the very high season is June and July. During these two months, major festivals and the North American summer holiday bring heightened tourist traffic.
Rainy season is from December to March. Given that Machu Picchu is located in the high tropical forests bordering the Amazon Rainforest, rainy season can mean rainy. There are pros and cons to rainy season travel. Downpours are rarely disruptive and wisps of clouds can even make the ruins yet more photogenic. A big advantage to traveling in rainy season is significantly fewer tourists crowding your postcard shot. If you're planning on doing any serious trekking, however, it may be better to aim for dry season.
Best time to combine Galapagos with Machu Picchu
In reality, any time of year will be magical. Travel specialists recommend April and May, as this is just before the very high season in Peru, and also coincides with the "warm season" in the Galapagos. Alternately, September and October capture Peru's less-busy dry season, as well as the cooler, more blue-skied "dry season" in the Galapagos.
Galapagos-Machu Picchu Trip Duration
Combining Peru's Machu Picchu with Ecuador's Galapagos Islands is a good idea for those who are making a one-time trip to South America and want to see its two most treasured sites all in one go. However, taking in both places requires more investment of time and budget than visiting either of the two sites individually.
Minimum time for Galapagos: six days
In order to really get enough out of the Galapagos, a minimum of six days is recommended, including flights. Here's a sample of how that would look:
Day 1: Arrive in Quito or Guayaquil, overnight in mainland Ecuador
Day 2: Morning flight to Galapagos, begin tour
Day 3: Tour day 2
Day 4: Tour day 3
Day 5: Tour day 4
Day 6: Flight back to mainland Ecuador, overnight or departure
This is the bare minimum time required, allowing for only a four-day, three-night package at a land-based hotel. Cruise packages start at four days/three nights in length as well. Full-length cruise routes run closer to eight days long, and more comprehensive land-based itineraries are also around seven days in length.
Minimum time for Machu Picchu: five days
While it's not advisable to rush through a visit to Machu Picchu, it is possible to cut the trip down to as few as five days. Here's how the itinerary would look:
Day 1: Arrive Lima, overnight in Lima
Day 2: Morning flight to Cusco, proceed to Aguas Calientes (Machu Picchu Pueblo)
Day 3: Tour of Machu Picchu, return train to Cusco
Day 4: Cusco
Day 5: Flight to Lima and departure
Again, this is the fastest-possible Machu Picchu itinerary, skipping time in the Sacred Valley and all Peru's other highlights. A more complete experience would require at least six or seven days to acclimatise to the altitude in the Sacred Valley, spend two days at Machu Picchu, and generally make a meaningful connection with the country.
Minimum time for combining Machu Picchu & the Galapagos: 10 days
Since the transit days between the two destinations would overlap, the absolute minimum time required to visit both Machu Picchu and the Galapagos is 10 days. However, this would entail a fast-paced trip with lots of transit relative to time on site. Knowing the stress and discomfort of this pace of travel, reputable tour operators are hesitant to build Machu Picchu-Galapagos combination trips of less than at least 12 days. If you just don't have the time available, it may be worth considering a longer and more in-depth visit of just one location, rather than trying to squeeze both of them in.
Which to see first
Tour operators differ when it comes to the sequence of the trip. Logistically, either is possible in the same amount of time, requiring one day of transit between Peru and Ecuador. From a trip design perspective, there are advantages to both ways:
See the Galapagos first if you want to save Machu Picchu as a more "grand finale" highlight of the trip, or if you're doing a lower budget version of Galapagos (it's always good to end with the splurge).
See Machu Picchu first if you want to end the trip with warmer weather and a more relaxed beach-style experience (although keep in mind that Galapagos is more active than relaxed!), or if the Galapagos portion of the trip is the bigger splurge. Do the cultural immersion and hiking in Peru, finish with a relax and snorkel in the Galapagos — what's not to like?
In reality once your travel dates are decided, the order of your trip will probably be arranged to fit around the departure dates of your Galapagos cruise or land programme, which are the most inflexible components of the trip.
Machu Picchu And Galapagos FAQs
Galapagos FAQs
What's the local currency?
The US$ is the official currency of Ecuador, which means no standing in line at currency exchange if you're traveling from the US!
What documents do I need for the Galapagos?
Visitors from North America and most European countries don't currently need a visa to enter Ecuador, but please double check before departure. Your passport must be valid for at least 6 months beyond the date of departure from Ecuador. In addition to the originals, bring a copy of your passport, a list of identity card numbers and the international phone numbers of their issuing institutions. Store these separately from your original documents in case of an unforeseen problem with emergency contact numbers and medical information.
What should I pack for a Galapagos cruise?
Pack light, quick-drying clothes for the Galapagos. Heavier materials such as cotton take longer to dry in the humid weather. Basics include long pants, a rain jacket, hiking boots, a pair of shoes that can get wet, a hat for the sun, sunscreen, aloe and bug spray. If you wear glasses, bring an extra pair. Buying a waterproof bag for electronics or bringing a box of zip lock bags for boat rides saves the hassle of expensive equipment being damaged.
What electronic equipment is available in Ecuador?
Pack extra SD cards, cables, chargers and batteries for computers, electronics and phones. Even in Quito and Guayaquil, accessories for major brands are hard to find and extremely expensive due to high import taxes. Bringing a point-and-shoot camera is also a good idea for moments when taking out expensive photography gear is impractical.
Will my cell phone work in the Galapagos?
Cell phones on GSM networks generally work in the Galapagos. Check with your provider to find out the specifics of your plan and the charges for using it internationally. Extremely high rates are common, and it's better to know beforehand to avoid the shock after returning home. It's always wise to turn off data roaming before heading abroad.
Is there internet access?
Internet in the Galapagos pales in comparison with the speeds of the United States and Europe. Most hotels have connections, but expect limited range, slow loading times and long waits. Internet on board cruise ships is generally unheard of, or will be via satellite connections at exorbitant pricing — for emergencies only, if at all. Much better to plan to do without and enjoy your surroundings!
How much should I tip?
In restaurants, a 10% service charge is added to the bill; for crew, drivers and staff, $5-10 a day is fair. For guides and trip leaders, $10-15 dollars a day is the norm. Note that apart from tourism destinations, tipping isn't typical and what you leave is entirely up to you.
What are the luggage restrictions?
Most airlines restrict luggage to one checked bag up to a maximum of 40 pounds and one carry-on bag that weighs up to 15 pounds. This is generally recommended for all air travel within South America. Extra baggage can usually be accommodated for a fee.
Are land-based trips better for avoiding sea-sickness?
Not necessarily. Although land-based trips mean spending the night in hotels or lodges you'll still visiting various islands by boat — usually small speedboats, which can be extremely choppy and can cause problems for younger and older travellers.
Can I roam the islands solo?
Visitors on organised tours are required to be accompanied by a registered guide for their own safety and for the protection of the islands' delicate ecosystem.
What are the advantages to different ship sizes?
"Large ships" are only relatively large. They carry 90-100 guests with 30-40 crew — clearly not your average Caribbean cruise liner!
Large ships have more facilities, including larger deck spaces and more social areas, but are not necessarily more luxurious than the smaller ships. Higher cabins have better views, but they're usually more expensive and will feel rockier in strong seas.
Smaller ships are able to anchor closer to the islands, but this is less important considering that all cruises use small motorboats to land on the islands.
Remember that smaller boats will pitch further in choppy seas, so those susceptible to seasickness should bring Dramamine or equivalents. Catamarans tend to be the most stable vessels.
The big difference between smaller and larger ships is the dynamic between your fellow passengers. Expect a more communal atmosphere aboard smaller vessels, getting to know each other while spending your tours and meals with the same 12 to 14 people and the same guide.
On larger ships you'll have more variety in your interactions — touring and eating with different groups of people each day and with various guides.
It's a personal preference, and something to consider when you book your trip. Consult your tour operator or travel agent for more advice.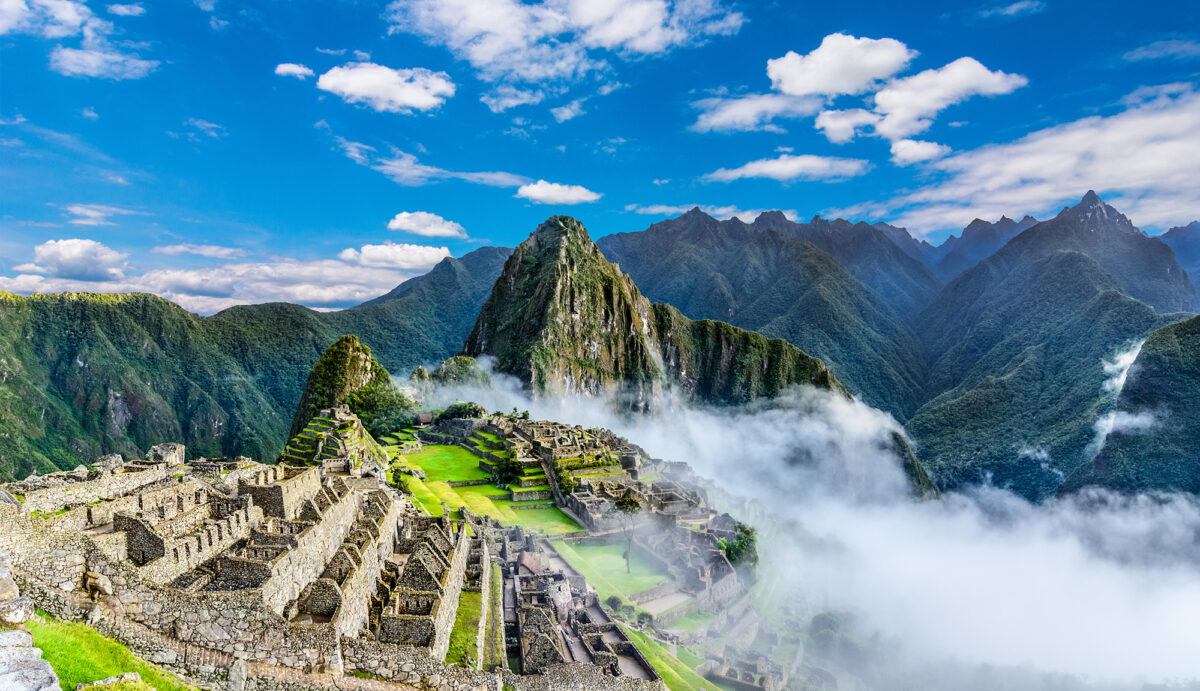 Machu Picchu FAQs
What's the local currency?
The official currency in Peru is the Nuevo Sol (S/.), which is divided into 100 centimos. Some products and services, especially in tourist centres, can be paid for in US Dollars. Currency exchange can be made in banks, hotels and dedicated currency exchange outlets signed "casa de cambio." Avoid changing money in the street.

How much should I tip?
Tipping for exceptional service isn't essential but may be expected. In restaurants a 10% service charge may already be added, otherwise use your own discretion - 10-15% usually suffices. You might want to tip your tour guides around $5 per person, per day.
What documents do I need for Peru?
As with Ecuador no visa is required for most visitors, but double check with plenty of time prior to departure. Ensure your passport is valid at least 6 months prior to your date of departure from Peru. Be sure to retain the immigration slip you'll receive at passport control.
Everything you need to visit Peru's crown jewels
Welcome To Machu Picchu
An iconic enigma
Peru's best-known archeological site is shrouded in mystique. We've all seen postcard photos of the astounding ancient citadel, sprawled out on a dazzling green hilltop. It stirs imaginations and raises questions that even the expert tour guides can't fully answer. Why did the Incas build such a lofty perch? Why was it abandoned? How did the Spanish miss such an important site during their colonisation of Peru? How was it finally discovered by the outside world?
While certain mysteries of Machu Picchu may never be solved, the veil has been lifted on travel to this super-site. What used to be an arduous several-day hiking journey can now be simplified to a several-hour train ride. No longer a privilege of seasoned adventurers, a visit to Machu Picchu has been democratized and put within reach. For kids, seniors, those with decreased mobility, and even first-time overseas travelers, the journey is more accommodating than ever. All are welcome!
Fast facts about Machu Picchu

The Incas began construction of Machu Picchu in the height of their empire, around 1430 AD.

Machu Picchu means "old mountain," taking its name from a peak that hovers above it.

The citadel is linked not just to one "Inca Trail" but to a vast network of ancient Incan roads and canals.

Machu Picchu's average altitude is 8,047 feet above sea level.

In the high season, from June until early September, up to 2500 people arrive daily to admire Machu Picchu from within.
Other archeological sites
Machu Picchu sits at the apex of an ancient empire, with dozens of other sites scattered around it. It's worth visiting a few of the neighbouring ruins for a bigger picture of the Inca people's former grandeur.
Moray. These enormous concentric circular terraces were used for farming. Each layer creates a slightly different microclimate as they descend deeper into the ground.

Maras salt mines. The salt mines of Maras have ancient roots but are anything but ruins — they're still in use today! Salt is harvested here the same way it has been for centuries.

Ollantaytambo. The royal estate of an Incan emperor is now a halfway point between Cusco and Machu Picchu, in the Sacred Valley.

Pisac. Pair this near-to-Cusco ruins site with a local market on Sunday, Tuesday or Thursday of each week.

The "Four Ruins" tour: This popular day trip from Cusco includes the fortress of Sacsayhuaman, the aqueducts of Tambo Machay, the military stronghold of Puka Pucarka, the religious site Q'inqu, and finally Coricancha in Cusco — an impressive Inca temple-turned-Catholic-cathedral, once plated in gold.
Other activities
Balance your ancient history immersion with outdoor adventures or encounters with local communities. Here are a few favorite activities to complement a Machu Picchu visit:
Mountain biking. The dirt roads and terrain are right for exciting exploration around Cusco on the two wheels of a mountain bike. A popular route is to the ruins of Moray and through neighboring villages. Tracks are gentle; first-timers welcome.

Meet an Andean community. Get a taste of today's Andean culture with a traditional weaving demonstration, a visit to a community-run "potato park" or a ceramics workshop with a local artist.

Horseback riding. Reach the ruins of Moray and the Maras salt flats by horseback. Several ranches in the Sacred Valley can arrange this for any level of horseback riding experience.

Rafting the Urubamba River. Take a full day to get drenched as you barrel down the Urubamba river near Cusco. Depending on season and section of the river, the level ranges from calm to Class III rapids. Note this is a dangerous activity; check your travel insurance covers rafting and be sure to check safety codes.
Machu Picchu tip
Unless archaeology is your thing, pick and choose additional ruins sites. "Ruins fatigue" is a real condition for travellers in Peru.
How a Typical Machu Picchu Trip Works
Getting to Machu Picchu
Arrival to Lima. Most international flights from the USA arrive in Lima late in the evening. The Costa del Sol airport hotel is a hassle-free choice to spend the night before an onward morning flight. Your travel agent will advise you on their recommended hotels.

Flight to Cusco. Numerous flights on Peru's major airlines (Avianca, LAN, and Star Peru) offer the one-hour flight from Lima to Cusco anytime from early morning through late afternoon.

Acclimation in the Sacred Valley. Cusco is the highest-altitude point of the Machu Picchu circuit, so it's best to head directly into the Sacred Valley or Machu Picchu Pueblo (Machu Picchu Town, formerly called Aguas Calientes), rather than spending your first day and night in Cusco on arrival.

Train to Machu Picchu Town. The easiest and by far the most popular way of reaching Machu Picchu Town is by train. Choose from PeruRail's mid-range Vistadome or luxury Hiram Bingham, departing either from Cusco (3.5 hours) or Ollantaytambo (2 hours). Book your train tickets in advance, as they tend to sell out during the high season.

Bus to the Citadel. The train will arrive to Machu Picchu Town, five miles below the Machu Picchu entrance. Shuttle buses run every 30 minutes up and down the hairpin-curved road.
Where to stay
Sacred Valley. Spend a night halfway between Cusco and Machu Picchu in the Sacred Valley, for acclimation and a sample of rural Andean culture. Hotels are springing up in and around the towns of Urubamba and Ollantaytambo. You'll find everything from five star luxury resorts to simple lodges and guest houses.

Machu Picchu Town. Decidedly lacking in character of its own, Machu Picchu Town serves as a base for the closest lodging to Machu Picchu itself (except for the expensive Sanctuary Lodge, adjacent to the citadel entrance). Here, hotel options abound. It's recommended to stay a night at Machu Picchu Town — single day trips to Machu Picchu tend to feel too rushed.

Cusco. A gem of a colonial city set at the staggering altitude of over 11,000 feet. Worth exploring for at least a day and a night, although save this for after Machu Picchu to help with acclimation. Cusco hosts a huge variety of lodging. It's good to book ahead during the high season's Inti Raymi festival, when the entire city books up in advance.
Visitor regulations
As Machu Picchu grows in its renown as a destination, a permit system has been enforced in order to keep the sheer volume of travellers in check. Permits to the following sites are required, and can be found at http://www.machupicchu.gob.pe/ (Note, however, that the site's language options are limited and the online payment portal is notoriously spotty). You can also pay directly at the office at Machu Picchu Town, or have permits arranged through a reputable tour operator.
Inca Trail permits. The classic four-day Inca Trail route is strictly regulated by a permit system. The limit is 500 people per day, including guides and porters, and permits sell out months in advance. Any variation of this route (even the one-day "Km 104 hike", which overlaps with the last stretch of the Inca Trail), requires a permit. The Inca Trail is closed for conservation work every February.

Machu Picchu permits. Entrance to the citadel itself is capped at 2,500 per day. While this limit is rarely reached, it's better to reserve in advance — especially during the peak season and festivals.

Huayna Picchu permits. For a short but steep hike to the top of the peak hovering behind Machu Picchu (called Huayna Picchu), reserve in advance. This permit is added to the entrance ticket, and is capped at two waves of 200 people per wave. Less popular is the hike up Machu Picchu Mountain, which is also permit-regulated and can also be added to the entrance ticket.

Rules for visiting. As a protected area, certain rules apply to Machu Picchu visits. It is prohibited to bring food, sound systems, or pets into the citadel. Hiking poles must have rubber covering metal tips, in order to protect the stonework. The gates open at 6am and close at 5pm each day.
"Sunrise" at Machu Picchu?
Catching the sunrise at Machu Picchu sounds like a mystical moment in the making. Indeed, travellers rise at wee hours in order to catch the first shuttles to Machu Picchu and be inside the gates as daylight breaks. The reality can sometimes be less than mind-blowing:
If you are taking a shuttle from Machu Picchu Town, be prepared to rise early and wait in line for one of the first shuttles.
Heavy fog and clouds often obscure the sun's first rays.
Because the landscape is mountainous, the sun's light appears long before the sun itself. This makes for less photogenic sunrises.
On the other hand a big advantage is simply being on-site before the daytime crowds arrive, giving you a blissful hour or two to enjoy the ruins in all their majestic serenity.
Hiking And Trekking To Machu Picchu
Peru's trails and trekking options put it on the map for hikers from all over the globe. In and around Machu Picchu, possibilities abound for first-time or hesitant hikers all the way to confident and experienced trekkers. Stretch your legs with one of these scenic strolls:
Easy: hike to the Sun Gate from inside Machu Picchu
The Sun Gate, also known as "Inti Punku" is a high point where the Inca Trail reaches the entrance to the Machu Picchu citadel. Even if you are not hiking the Inca Trail and don't have a permit, you can walk to this dramatic juncture from inside Machu Picchu.
From the Caretaker's Hut, follow the "Inti Punku" signage. Expect to spend 30-45 minutes on the gradual incline along a stone pathway, and half that time to walk back down. This is a popular spot to try to catch the "sunrise".
Easy: hike to the Inca Drawbridge
Another short and free option from within the Machu Picchu citadel, also doable for any age group or fitness level. Follow the well-marked path from the Caretaker's Hut, where you sign in with your passport number. From there, the 20-30 minute walk on a dirt and stone pathway leads to an ancient drawbridge (no longer in use).
Moderate: ascent to Huayna Picchu
Huayna Picchu is the peak that towers above Machu Picchu in the classic photos. Hiking to the top of it is steep but rewarding — you'll reach a panoramic bird's eye view of Machu Picchu. This hike is so in-demand that a permit system limits volume to 400 hikers split between two waves each day (7-8am and 10-11am). Reach a lofty 8,835 feet of altitude at the summit.
Steep switchback-style stairs lead to a new level of terraces, tunnels, and altars. Due to the steepness, this hike is demanding. It requires a good level of fitness and possibly the use of both hands and feet at some points. Allow at least two hours for the full hike to the top and back.
Moderate: ascent of Machu Picchu Mountain
This hike gets overshadowed by the more popular Huayna Picchu ascent, but offers similar challenges and rewards. The ascent to Machu Picchu Mountain is around twice that of Huayna Picchu, reaching a staggering altitude of 10,111 feet. The trail covers more distance than Huayna Picchu and the grade starts out gently but becomes similarly steep toward the end.
Like Huayna Picchu, this trail's growing popularity has mandated a permit system that limits volume to 400 hikers per day. However, this under-the-radar hike is less likely to be sold out than its rival. Well worth the additional time and effort to reach the top!
Moderate: full-day Km 104 Hike to Machu Picchu (Royal Inca Trail)
For those who are up for a challenge, but prefer day hikes over multi-day trekking, the Km 104 hike is a great one-day sample of the Inca Trail. For this hike, you'll take the train stop called "Km 104", then proceed on foot to Machu Picchu. This 10 km uphill walk usually takes hikers between five and eight hours to complete.
Highlights of the hike are a visit to the steeply terraced ruins of Winay Wayna, and arrival to the Sun Gate, where you'll see the ruins of Machu Picchu cresting below you. After Winay Wayna, the trail merges with the last 3km of the classic four-day Inca Trail, so you will need to secure Inca Trail permits for this hike. Plan early — Inca Trail permits tend to sell out months in advance! Beginning 2016, permits for this trail are scheduled to become separate from the Inca Trail, making permits easier to come by.
Difficult: Inca Trail to Machu Picchu
For diehard hiking enthusiasts, a multi-day trek to Machu Picchu is the ultimate way to reach the famous ruins site. The classic Inca Trail involves four days of trekking and three nights of tent camping, supported by a team of guides and porters. Not for the faint of heart, this trail covers three high-mountain passes reaching altitudes of nearly 14,000 feet.
As permits sell out far in advance, a number of worthy alternative trekking routes have been developed. Although they may not lead directly to Machu Picchu's doorstep as only the Inca Trail does, the treks are satisfying and likely to be less crowded. Operators organize alternates like the Salkantay and Lares trek with tent camping, and there are also lodge-to-lodge trekking options.
Family-Friendly Machu Picchu
Foreign visits to Peru exceeded four million in 2015. Peruvians are happy to note a growing diversity in the tourism their country attracts, including the arrival of families with kids. In fact, about 10% of visitors are traveling with families – a number that continues to grow. But looking at the typical photos of Machu Picchu, perched on a high rugged peak, travelers with children may be concerned about whether it is really a good destination for families.
Says Victoria Westmacott, a family travel blogger, "The wonderful thing with Incan sites is that they are all fun for children to explore."
With Peru's many mysterious chambers and short tunnels, there is no shortage of fuel for young imaginations. "It's so hard to choose the best part or even best parts, as every sight, every meal and every experience was a highlight for us," gushes Westmacott. "The circular terraces at Moray had my son spellbound and both children loved hugging the alpacas and llamas!"
Nowadays, it is possible to visit this world wonder and enjoy whatever level of comfort you prefer. And, with the right planning, children can enjoy this enigmatic site just as much as their parents. If you've been holding off visiting this ancient citadel of the Incas, concerned that it's not child-friendly, now is the time to go. Although it is easier than ever to travel to Machu Picchu these days, there are some considerations that families should keep in mind.
What to keep in mind …

What to do about it …

Altitude Sickness

Cusco is the highest point of the journey, located at 11,152 feet above sea level. Even residents of mile-high Denver, CO can feel the effects. It's impossible to predict how a person will react to altitude, no matter their age or health. Even if you go directly to Machu Picchu, at 7,292 feet above sea level, that too can cause illness. Typical symptoms include headaches, dizziness, shortness of breath, and nausea.

Take it slow

The most important thing is to give yourself time to adjust. It's best not to plan any outings on the first day. Stay hydrated and drink the coca tea that will surely be offered in your hotel. Eat light meals and stay away from alcoholic beverages at first. There is medication that you can get prescribed before traveling to Peru, but be aware that it can make some people feel worse.

Eating Issues

There is a large variety of restaurants to choose from in Cusco, and the list is growing all the time. That said, as you get into smaller areas, and even at Machu Picchu, there aren't as many options. Water is also a concern as, although much of the water in Cusco is chlorinated, elsewhere there can be bacteria and parasites present.

Play it safe

If you eat in the better tourist-oriented restaurants, you will usually be okay. Only drink bottled water, use it to brush your teeth, and keep your mouth closed when showering. Most people do not need to follow these last two suggestions but it's best to play it safe, especially with little stomachs. As children can be very picky about food, it's recommended to bring their favorite snack items from home, which will help keep them happy and make them feel more comfortable.

Accessibility

Even in Cusco, and definitely everywhere else, strollers are more of a hindrance than a help. Sidewalks and roads are often made of stones. Within the archaeological sites, there are few smooth pathways. Instead, there are typically many (many!) stone steps, some of which can be a bit precarious.

Pace yourselves

It's best to have backpack-style carriers for children who are too young to be able to handle the terrain on their own. You may also want to plan only half-day tours so that when the kids get tired, little legs can get a rest.

Attention Spans

The reality is that small children don't typically get as excited about historical venues as adults. Most Inca sites (and Machu Picchu is no exception) feature a lot of stone walls and buildings. While adults can marvel at the architectural engineering, kids may just see a bunch of rocks after a while. Impatience and "ruins fatigue" will set in.

Mix it up each day

Spend more than a day at the main site so that you don't have to see it all at once. Take advantage of the many grassy areas to let the kids run around and play. Be sure to let any tour guides you are using know what is of interest to your family. It can be confusing and tricky when they have people of varying ages to speak to at the same time. If you let them know what your expectations are, you can help them direct their explanations better.
Where to stay
In Machu Picchu Town, Inkaterra's Machu Picchu Pueblo hotel is hands-down the best choice for families. This beautiful five-star accommodation feels more like a jungle retreat than a hotel, and features a large expanse of nature trails that everyone will enjoy. Some are specifically geared toward children. However, as a luxury hotel, it is not in everyone's budget. Another good choice is Casa Andina, which is one of the few that offers the option of adjoining rooms.
Seek out larger lodges in the Sacred Valley, which will be better equipped and have more distractions for the young ones.
When to go
Rainy season showers can put a dampener on outdoor time. Try to plan your trip for between May and September to have the least chance of getting wet. On the other hand, rainy season means fewer crowds, lower prices and easier availability — you'll need to balance your own preferences and requirements.
Kids' choices
The chocolate museum
As you will probably be spending some time in Cusco, you'll want to visit the Choco Museo, where kids can learn how to make their own candy. This doubles as a fun lesson on the roots of of the cacao plant and how it gets transformed into the world's favourite confection.
The alpaca farm
On the way to Pisac from Cusco, stop off at Awanacancha. For adults, there is a store with high quality alpaca items. But the real reason to go is the exhibit that explains how to tell the difference between the four camelids native to Peru. Kids always love being able to feed the llamas and alpacas.
Machu Picchu For Older Travellers
While it's true that Machu Picchu isn't the easiest destination in the world for senior travellers, plenty of visitors with as many as 80 years on the planet successfully tour this ancient Inca site each year. Even well into retirement, lifelong travellers are making their Machu Picchu dream trip happen.
As Michael Palin of Monty Python fame, now over 70 years old, said: "I don't think I shall ever stop traveling. It keeps me up to the mark both mentally and physically and the interaction with the rest of the world and the people I meet makes me feel that there is much more that unites us all, than divides us."
Lifestyle writer Suzanne Gerber describes her visit to Machu Picchu as a 60-something. "Four decades I had dreamed of this day. Eleven-year-old me, 32-year-old me, 45-year-old me, as well as my present self stood together on the citadel and surveyed the magnificence of this ghostly place. It was more beautiful, more evocative, more humbling than I could have imagined. For maybe the third time in my life, I was speechless."
Although older travelers need not fear visiting Machu Picchu, there are some considerations should be kept in mind to ensure that you have the best experience possible.
What to keep in mind …

What to do about it …

Altitude Sickness

It's important to realize that altitude sickness can affect anyone, no matter what their age or health. Cusco, the Inca empire's capital city, is located at 11,152 feet above sea level, and you will have to pass through this city to get to Machu Picchu. Machu Picchu is actually lower than Cusco but still 7,292 feet high, so you can get sick even if you go straight there. Typical symptoms include headaches, dizziness, shortness of breath, and nausea.

Take your time

Most importantly, take your time and don't try to do this trip in just a couple of days. Before spending a night in Cusco, either go straight to Machu Picchu or stop off in the Sacred Valley and spend a night or two there on your way. At 9,524 feet and with an inviting climate, the Sacred Valley's Urubamba is a great place to acclimate and catch your breath. Also, help yourself to plenty of the local coca tea, served everywhere. Eat small, light meals, and take the first day easy.

Medical issues

While older travelers are taking advantage of their relatively good health in order to travel, those who have already been affected by lung or heart disease should be especially careful.

Find support

Travelers age 60+ should get a doctor's approval before visiting the Andes region. Also, be sure that your travel agency is aware of any health conditions so that your guide can be on the lookout.

Tummy troubles

Although Cusco has been attracting more and more fine dining establishments, the rest of the surrounding area has not yet been so fortunate. Water is also generally untreated outside of Cusco, meaning that there can be bacteria or parasites present in it.

Play it safe

If you eat in the higher-class tourist oriented restaurants, or at your hotel, you are less likely to become ill. To be safe, it's best not only to drink bottled water but also to use it to brush your teeth. Also, try not to open your mouth as you're showering.

Mobility

This is one area where even Machu Picchu (in addition to the greater Cusco region falls) a bit short of the mark. In most cases, the areas within the site are only accessible by ancient stone steps, some of which are quite steep and uneven. Guardrails, by and large, do not exist.

Don't rush

Build in plenty of time into your schedule so that you never have the feeling that you need to rush. Crowds are thinner in the mornings and afternoons. Consider spending two days at the site so you aren't trying to do it all in one day. Bring walking sticks, making sure that they are rubber tipped.
Where to stay
In Aguas Calientes, two luxury hotels offer unparalleled service and will ensure that your every need is met: Inkaterra's Machu Picchu Pueblo Hotel and Sumaq. If they are outside your budget, a good option to consider is Casa Andina. Although it has a bit more of a business feel than a vacation accommodation, it is relatively new and quite comfortable.
When to go
As most of the walkways are stone, it's best to avoid the rainy season when they can become more slippery. The months between May and September are generally dry. In particular, May and September are ideal as there is little chance of rain but the climate is not yet too cold. June, July, and August, while dry, are also the coldest (and busiest!) months of the year.
Insurance Tip
It's particularly wise for seniors to purchase travel insurance before making their trip. Illness or accidents can happen to anyone, but having to worry about the financial impact of them will further mar your vacation. Also, be sure that your travel agency has any necessary emergency contact information.
Restaurant Tip
In Aguas Calientes, in addition to the hotel restaurants such as those in Inkaterra and Sumaq, consider dining in Indio Feliz, El Incontri de Pueblo Viejo, and Treehouse as places that have high quality food and are unlikely to cause digestive issues.
Staying Healthy At Machu Picchu
Peru has taken great strides in ensuring a safe and secure experience for its travelers. But, as with any international travel, it's important to exercise caution in an unknown environment.
Tips for staying safe and healthy in Peru:
Be aware of the dangers and annoyances specific to Peru (altitude, food poisoning, rocky terrains).

Organize your travels through a reputable operator that works with the best guides.

Keep the following resources directory on hand, just in case.
If you're traveling on an organized tour, your travel agent will assist you with any of the following.
Insurance essentials
A comprehensive travel insurance policy is a no-brainer whatever your destination of choice. There's nothing intrinsically risky to Machu Picchu (or the Galapagos) but disruption, delays and cancellations do happen and insurance prevents minor inconvenience turning into a ruined vacation. Don't assume your credit card or healthcare policies covers travel - double check before you leave and don't leave home without comprehensive cover. You've been warned!
Medical Doctor - Dr. Eduardo Luna
+51 984 761 277
A great resource in Cusco is Dr. Luna who speaks fluent English and is actually the doctor recommended by the American Embassy. He has a top of the line private office and is happy to go to your hotel if necessary. He's a good person to start with and ask for recommendations if a clinic or hospital is necessary.
Private Clinic in Aguas Calientes - Clinica Medical Cusco
Calle Wiracocha 100
http://www.clinicamedicalcusco...
+51 084 621 039
+51 967 90 90 94; +51 987 57 70 80 (Emergencies)
Private Clinic in Cusco - Clinica Pardo
Av. de la Cultura 710
Plaza Tupac Amaru
http://www.clinicapardo-cusco....
+51 084 256 976
+51 974 213 645; +51 989 431 050 (24 hours)
Hospital - Hospital Regional de Cusco
Av. de la Cultura s/n
Wanchaq, Cusco
http://www.hospitalregionalcus...
+51 084 226 511
+51 084 231 131 (24 hours)
National Police - Policia Nacional
Plaza Tupac Amaru
+51 084 246 088
Tourist Police - POLTUR
Plaza Tupac Amaru
+51 084 235 123
American Consulate - Cusco
Avenida Pardo 845, Cusco, Peru
http://lima.usembassy.gov/serv...
Monday - Friday, 8:00 AM - 2:00 PM
Phone: +51 084 231 474
+51 984 621 369 (Emergencies ONLY)
American Consulate - Lima (Main Office)
Avenida La Encalada Cuadra 17 s/n
Surco, Lima 33, Peru
http://lima.usembassy.gov/inde...
Monday - Friday, 7:30 AM - 5:00 PM
Telephone: +51 016 182 000
Where to go in The Galapagos Islands
Our recommended places
Isla Santa Cruz
Almost all visitors to the Galapagos Islands will touch down in Isla Santa Cruz at some point. From beach walks at Tortuga Bay to giant tortoises at El Chato Reserve, there is plenty to see — but make sure to visit the Charles Darwin Research Centre to learn more about the wildlife you'll encounter on your trip.
Isla Isabela
Isabela is the largest of the Galapagos Islands and is made up of five (sometimes) active volcanoes. Check out Volcan Wolf — the highest point in the entire Galapagos and Volcan Alcedo, home to hundreds of giant tortoises and juvenile hawks.
Isla Genovesa
Stay with us – Isla Genovesa is also known as Booby Island due to the sheer number of goofy-looking Nazca and red-footed boobies that live here. This island is a must for bird-watching enthusiasts, with great frigatebirds, short-eared owls and many more in residence.
Isla Rabida
Famous for the unique red colour of its beach and cliffs, Isla Rabida is known for the sizeable number of flamingos that feed on shrimp in its lagoon, snorkelling with sea lions and the large number of bird species that live here.
Isla Floreana
To the north of Floreana lies Punta Cormorant, a beautiful white sand beach that runs for
720m and is known as the best flamingo lagoon in the Galapagos. The mix of bright pink birds and green backdrops makes for stunning photographs. You can also see sea turtles nesting here from December to May.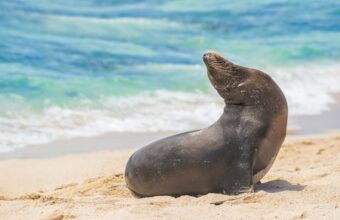 Isla San Cristóbal
Sea lions are everywhere in San Cristobal, so head down to any accessible waterfront to see noisy sea lions and furry babies frolicking on the sand and occasionally taking to the water.
Isla Española
Española is one of the more remote Galapagos Islands, at some 90km southeast of Isla Santa Cruz. Visitors come from March to December to see its colony of waved albatross, giant tortoises and the Hood mockingbird – which is found nowhere else on earth.
Isla Bartolomé
Tiny Bartolomé is most famous for its landscapes and scenery. A set of steep steps leads to a 360-degree viewpoint over the island, looking back on black volcanic formations, marine life and striking reds and greens.
Isla Fernandina
The third largest — and youngest — of the Galapagos Islands, Fernandina has a unique environment which makes it a haven for thousands of slowly-moving marine iguanas, Galapagos penguins, flightless cormorants and sea lions. This is also the island where you're most likely to see a volcanic eruption, with the last happening in 2009.
Isla Santiago
Once a hideout for smugglers and pirates, Isla Santiago is now best-known for Sullivan Bay, where century-old lava has solidified into bubbles and caves, and Puerto Egas, a wet landing where you can see seals, sea lions and sea birds.
Isla Darwin
Tiny Darwin Island, at the remote far north of the archipelago, is one of the world's premier scuba locations. Rarely visited by short tours, these quiet waters teem with whale, Galapagos and silky sharks, hammerheads and more.