Machu Picchu & Galapagos cruise
An epic land and sea voyage of history and nature
Start your trip in Lima, sampling modern Peruvian cuisine before travelling to Cusco to begin your Incan adventure. Explore the lofty citadels of Pisac and Ollantaytambo in the Sacred Valley, before spending a magical day at Machu Picchu exploring its ruin and peaks. Head back to Cusco, making sure to visit Plaza de Armas and Santo Domingo convent, before leaving Peru and flying to Ecuador's capital of Quito and its colonial architecture. From here, you'll travel to the Galapagos Islands, starting on Isla Santa Cruz at the Charles Darwin Research Centre. Next, visit nearby Isla Fernandina to see the unique marine iguana and sea lions, Isla Isabela for giant tortoises and hawks, and Isla Santiago for lava fields and swimming with sea lions. End your trip back on the mainland in Quito.
Key information
| | |
| --- | --- |
| Destinations | Isla Santa Cruz, Isla Isabela, Isla Fernandina, Isla Santiago |
| Activity | Cruise & Sailing, Luxury, Nature & Wildlife, Culture |
| Physical Level | Easy |
| Season | January - December |
Suggested itinerary
Arrive in Lima
Day 1 in Lima
Peru's sprawling capital city is often overlooked by time-poor visitors en route to more photogenic locations, but dwell a while and you'll find a complex city with onionskin layers of history and excellent museums, a proud contemporary culture, genuinely diverse neighbourhoods, and a world-leading food scene.
Don't miss
Explore Lima's arts scene
Frequently seen as little more than a transit hub for Machu Picchu, Lima is in fact one of Latin America's great cities. World-leading gastronomy jostles with a flourishing arts scene, easily filling several days of deep cultural immersion.
Eat like a king in Lima
Lima's chefs cook up a storm with the fruits of the sea, mountains and jungle. But it's not all fine dining and exclusive restaurants: Peru's is an egalitarian cuisine and you'll find excellent food at street stalls, local markets and neighbourhood cantinas.
Explore the Sacred Valley
Day 2–3 in Sacred Valley
As the Urubamba River descends from Cusco, eventually connecting with tributaries of the mighty Amazon, it has carved out a sweep of valley whose beauty defies imagination. Little wonder then that the Inca chose this stunning and fertile location as their spiritual and agricultural heartland. Scattered with ruins, towns and villages where Quechua is still commonly heard, the Sacred Valley is much more than a mere stop-off before Machu Picchu. Spend some time here and get a real understanding for Peru's origin story.
Don't miss
Trekking in Huaraz
There are some fine and justifiably world-famous treks in the Cusco and Sacred Valley region, including the Inca Trail, Lares, Salkantay and Ausangate. But for something completely different consider hiking a portion of the Qhapaq Ñan, the 'original' Inca Trail, or head to the Cordilleras Blanca and Huayhuash around the city of Huaraz.
Marvel at the Inca heartland of Machu Picchu
Day 4 in Machu Picchu
If you're coming to Peru you'll almost certainly visit the ruins that have come to define the entire country. Despite now drawing millions of visitors a year, the crowds can't dent the ruins' sheer scale and undeniable magnificence.
Don't miss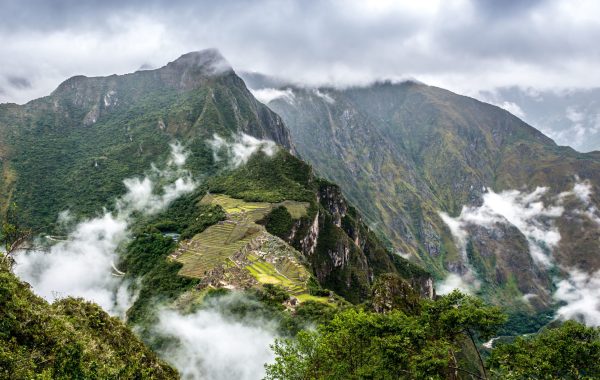 See another side to Machu Picchu
For a different perspective of the ruins and a bird's eye view of the surrounding mountains and valleys, try the moderate hike up adjacent Huayna Picchu. Additional permit is required, our recommended tour operators will be happy to assist.
Sightseeing in Cusco
Day 5–6 in Cusco
Seat of the Inca Empire, Cusco is the epicentre for Peru's tourism industry, drawing millions of visitors en route to Machu Picchu and adventures in the Sacred Valley. With layers of archaeology built on top of each other (often literally), Cusco and its surroundings can keep you occupied for several days. Ignore the tourist traps and see Cusco for the living, breathing, contemporary city it is.
Explore colonial Quito
Day 7–8 in Quito
Perched between Andean mountain peaks, dramatic Quito is the perfect introduction to laidback Ecuador. Check out the UNESCO World Heritage old town, packed with colonial architecture, art-filled churches and buzzy plazas.
Don't miss
Climb Pichincha Volcano
Take the cable car up to the 4,000m high lookout for magnificent views over Quito and the snow-capped mountains that surround it. If you're feeling adventurous, you can book an organised bike up to 4,500m for even more impressive views.
Follow in Darwin's footsteps on Isla Santa Cruz
Day 9 in Isla Santa Cruz
Almost all visitors to the Galapagos Islands will touch down in Isla Santa Cruz at some point. From beach walks at Tortuga Bay to giant tortoises at El Chato Reserve, there is plenty to see — but make sure to visit the Charles Darwin Research Centre to learn more about the wildlife you'll encounter on your trip.
Don't miss
Walk in the hills with giant tortoises
The endangered giant tortoise is making a comeback on the Galapagos thanks to a concerted conservation effort. Head to the highlands of Santa Cruz to see these gentle giants shuffling around the hills.
See the unique marine iguana on Isla Fernandina
Day 10 in Isla Fernandina
The third largest — and youngest — of the Galapagos Islands, Fernandina has a unique environment which makes it a haven for thousands of slowly-moving marine iguanas, Galapagos penguins, flightless cormorants and sea lions. This is also the island where you're most likely to see a volcanic eruption, with the last happening in 2009.
Don't miss
Explore Punta Espinosa colourful sea life
Punta Espinosa on Isla Fernandina is home to some of the most interesting sea creatures in the archipelago. Enjoy watching lazy marine iguanas mingling with sea lions and colourful Sally Lightfoot crabs.
Go volcano climbing on Isla Isabela
Day 11 in Isla Isabela
Isabela is the largest of the Galapagos Islands and is made up of five (sometimes) active volcanoes. Check out Volcan Wolf — the highest point in the entire Galapagos and Volcan Alcedo, home to hundreds of giant tortoises and juvenile hawks.
Don't miss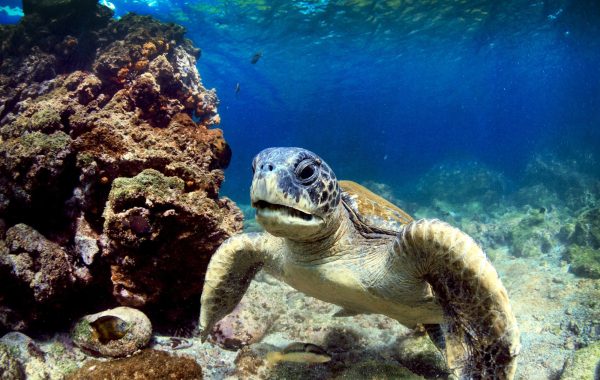 Snorkelling at Los Túneles
A maze of submerged lava tubes formed by Isabela Island's numerous volcanoes, Los Túneles is refuge to sea turtles, reef sharks, mantas, seahorses, and numerous other species. Snorkelling here is akin to swimming in a giant aquarium.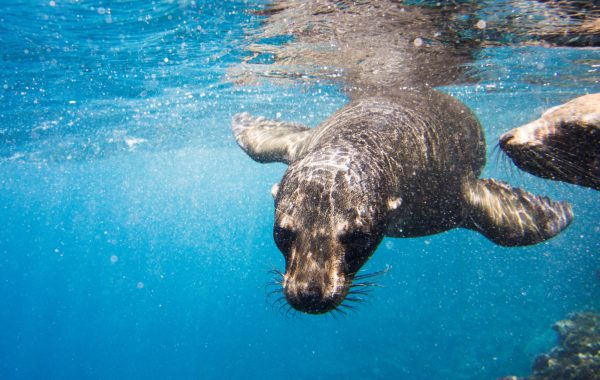 Swim with sea lions
Sea lions are abundant across the islands and are generally fearless around humans. Go for a swim on any of San Cristobal's beaches and you're bound to encounter a colony sunning on the beach or playing in the water.
Visit a pirate hideaway at Tagus Cove
Tucked away Tagus Cove was historically used by pirates and whalers as a hiding point. Today, visitors can still see their graffiti carved into Isla Isabela's cliffs on their hike to the nearby salt-water Darwin Lake.
Explore the underwater caves of Punta Vicente Roca
Take a panga ride to Punta Vicente Roca to snorkel two shallow underwater caves where you can see bullhead sharks, seahorses, batfishes and schools of barracuda.
Visit the black lava fields on Isla Santiago
Day 12 in Isla Santiago
Once a hideout for smugglers and pirates, Isla Santiago is now best-known for Sullivan Bay, where century-old lava has solidified into bubbles and caves, and Puerto Egas, a wet landing where you can see seals, sea lions and sea birds.
Don't miss
Snorkel at Puerto Egas
Snorkelling at Puerto Egas allows you to get in the water with sea lions, sea turtles, tropical fish and even sharks – this is one of the archipelago's premier places to get in the water.
Return to Quito
Day 13 in Quito
Head to Baltra airport for your return flight to Quito and make your international connection.
Where to stay
Classic
Casa San Blas
Right off the main pedestrian fare in the San Blas district and less than three blocks to the main square, Casa San Blas Boutique offers exceptional location and comfort. Inside, the well-appointed rooms make for a great night's rest, and the family-style suites are perfect for families.
Classic
Coral 1 & 2
The perfect cruise vessels for charter groups where comfort is guaranteed. Equipped with two terraces, a dining area, lounge, library, jacuzzi and restaurant serving Ecuadorian and international cuisine.
Capacity: 36 passengers.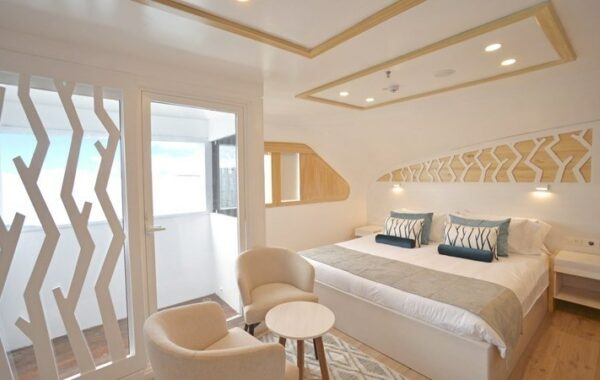 Superior
Sea Star Journey
Boutique yacht offering a wide range of itineraries for those wanting visit the Galapagos Islands in comfort. Featuring 8 air-conditioned suites and spacious social areas with all the luxuries and facilities of a superior first class motor yacht.

Capacity: 16 passengers.
Superior
Sonesta Posada del Inca Yucay
Located in the heart of the Sacred Valley and surrounded by beautiful gardens, the Sonesta Posada del Inca Yucay is a remodelled eighteenth-century monastery that retains its original colonial charm.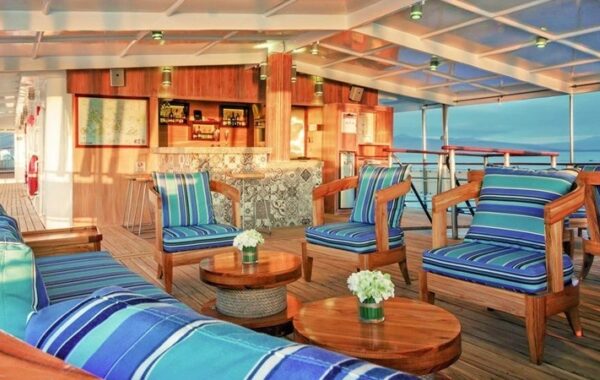 Deluxe
M/V Evolution
This ship features stylish staterooms and suites, indoor and outdoor dining areas, a library cabin, an observation deck, a sundeck with a small hot-tub, a canopied roof-deck bar, and a medically staffed infirmary.

Capacity: 32 passengers.

Deluxe
Machu Picchu Pueblo
Hidden in 12 acres of seclusion, the Pueblo Hotel provides a paradise of individual bungalows with stone paths leading you through the gardens and natural fountains. The Pueblo is laid out in the traditional Andean Village style and consists of 85 luxury cottages, a naturalist centre, a natural Andean sauna, and an exquisite restaurant that overlooks the Vilcanota river below.
Book this itinerary
This route booked with one of our specialist tour operators would cost from $4,760pp. Pricing varies by accommodation class, and can be tailored to suit your budget.
Pricing is typically inclusive of hotels, transfers, meals, and all guided excursions and activities.
Learn more
Contact us now and we'll connect you with a specialist tour operator with more information on how to tailor and book this itinerary.
Other itineraries you might like