The Pantanal offers some of South America's finest wildlife watching. From jaguars to anacondas, parrots to caimans, this is the place in Brazil to see animals. Choose your season carefully — come in the dry season for birdwatching, or head there just after the rains for mammals.
10 days
Amazon and Pantanal adventure
Wildlife and wilderness in Brazil
Cuiabá (1 days)
→
Pantanal (4)
→
Manaus (1)
→
Brazilian Amazon (3)
→
Manaus (1)
View itinerary
A guide to wildlife watching in the Pantanal
The Pantanal provides the best wildlife watching in South America. Here's a guide to the Pantanal's breath-taking gatherings of mammals, birds and reptiles, including many record-breakers of the natural world that are easy to spot here.
Visitors stand a fine chance of watching the world's largest parrot (hyacinth macaw), the largest rodent (the pig-sized capybara), the longest snake (green anaconda) and greatest gathering of crocodilians (yacaré caiman), as well as the New World's mightiest cat (jaguar) and South America's heaviest land mammal (South American tapir).
Even the place itself stands atop a podium: the Pantanal is the world's biggest wetland – ten times bigger than Florida's Everglades and 15 times the size of Botswana's Okavango Delta.
Three-quarters of South America's aquatic heart lies in western Brazil – which harbours the jaguar's share of tourism – with slithers extending into eastern Bolivia and northern Paraguay.
When to go to the Pantanal
Choosing between the wet and dry seasons
Seasons & climate
For wildlife and visitors alike, visiting the Pantanal is all about water. There are essentially two seasons: wet and dry. After the rains fall (usually during the southern summer of November to March, but as early as September in recent years), the Pantanal becomes a gargantuan sponge. Water levels rise by several metres and land becomes a precious resource on to which animals cram. Releasing its reservoir across several months, the Pantanal gradually desiccates until the situation reverses. From June to October, it is waterbodies that increasingly become few and far between, attracting both thirsty mammals and throngs of birds and reptiles that gorge themselves on trapped fish.
Month-by-month
From a wildlife-watching perspective, the optimum time to visit is July to October (particularly August and September, when jaguar sightings peak). Assemblages of scale, feather and fur are greatest during this period. As late winter morphs into spring, so birds gear up to breed; this makes them more visible and vocal than at other seasons. As roads are usually dry, land-based transport is straightforward, granting access to a wide range of lodge-based accommodation.
Temperatures are modest, so biting insects are scarce – although nights sometimes feel a little chilly. On the downside, this is peak season (particularly July, when Brazilians take holiday) so prices are high and tourists numerous. If several boats converge on a sleeping jaguar, for example, the congestion can undermine the 'wilderness' experience.
If price or the risk of crowding deter you, then there are reasons to visit during the shoulder seasons of April to June and November to December. Your wildlife experience will be nearly as good, but tourists are fewer and prices slightly lower. Travel will probably be harder, however, given that floodwaters render some roads impassable. Rain impacts visits earlier in the northern Pantanal (Mato Grosso state) than the south (Mato Grosso do Sul) – which may influence your preferred destination.
During the off-season (January to March), bargains are available and fellow tourists will be a rare sight. Mammal photography is arguably easier, as creatures are forced on to limited tracts of exposed, water-free land. Landscape (well, waterscape) photography offers rich rewards. However, you may need to be flexible in where to visit in the Pantanal.
Some lodges will be inaccessible or even closed, particularly in Mato Grosso. During the wet season, travel is simplest by boat and (where available) light aeroplane, rather than by road. You should also anticipate that some days may be 'rained off' and be prepared for hot, humid conditions with many biting insects.
None of this is an exact science. Nature does not follow the Gregorian calendar. Rains may fall early or late, lightly or heavily. Floodwaters may recede quicker or slower between years. A storm may interrupt proceedings at any time. But wildlife is present year-round – so you will never want for amazing sights. In the words of one experienced Pantanal tour guide, "ultimately, the best time to come here is whenever is convenient for you".
Where to visit in the Pantanal?
Choosing between Mato Grosso and Mato Grosso do Sul
Once you have decided when to travel, the next question is where. Brazil accounts for almost all tourism, with proficient tour operators, lodges and guides active in Mato Grosso or Mato Grosso do Sul states. A typical trip involves three-plus nights (ideally six) at lodges providing food, accommodation and activities. Bolivia's Pantanal offering remains in perpetual infancy, while Paraguay's contribution is restricted to one well-established lodge (Los Tres Gigantes).
The approach to visiting Brazil's Pantanal differs between Mato Grosso and Mato Grosso do Sul – so choose carefully. Multi-location trips are easier in Mato Grosso, as most lodges lie in relative proximity off a single access route, the Transpantaneira 'highway', which teeters across 120 rickety bridges along its 150km. Moreover, the landscape changes as you travel southwards along this great road – from anthill-strewn savannah to dense tropical forest – making it easier to see a greater diversity of wildlife.
In Mato Grosso do Sul, because lodges are further apart, a typical trip encompasses just one or two locations. In Mato Grosso, the quality of lodges is more-or-less uniformly high, while those in Mato Grosso do Sul vary from very good to 'best avoided'.
Keen wildlife-watchers should also consider which of the two states is better for any 'target' species they wish to see. The core elements – waterbirds, caiman and capybara – occur across the two states, but there are a few notable differences.
Mato Grosso is better for jaguar, marsh deer and sunbittern – and the only place worldwide where you can see the endangered chestnut-bellied guan. The southern state offers a better chance to see the maned wolf, giant anteater, pampas deer and peccaries.
How to get to the Pantanal

To reach the Brazilian Pantanal, the most convenient airports are Cuiabá (for Mato Grosso) or Campo Grande (Mato Grosso do Sul). If you have booked with a tour operator or lodge, they are likely to offer transport. A straightforward alternative is to hire a car (4WD is useful, but only strictly necessary once rains set in) to access lodges independently.
This also provides mastery over your itinerary – useful should you spot something interesting en route. Remote locations such as Fazenda Barranco Alto in Mato Grosso do Sul can arrange access by private aeroplane, which can be imperative (if expensive) during the wet season. A recent innovation combines travel and accommodation, with luxurious houseboats such as the Panoramico cruising otherwise impossible-to-reach areas.
Wherever you head, expect to pay handsomely. A rough minimum price for a decent lodge is £200 per night (for accommodation, full board, activities and guide), based on two sharing. For remoteness or luxury, expect higher prices.
For those wishing to do the Pantanal on the cheap, there are campsites at either end of the Transpantaneira, but you'll still need transport to get around. In the south, guides and companies hawk inexpensive services to backpackers in Corumba – although accommodation will be basic and you will take pot luck as to the quality of wildlife-watching.
How to see the Pantanal's wildlife
Jaguars, birdwatching and the big five in the Pantanal
The Pantanal is all about wildlife. Particularly during the dry season, when dwindling ponds heave with animals, numbers can challenge credulity. Best of all, the spectacle is in plain view and at close range. But whenever you visit, there's plenty to see because the Pantanal serves as an ecosystem melting pot, hosting animals from grasslands, wetlands and forests.
Almost as diverse are the activities offered by lodges to help you get close to wildlife. You can take a birdwatching walk through woodland before breakfast, before boarding an open-sided vehicle to scour fazenda (ranch) savannah for deer. After a siesta – thankfully, wildlife takes a breather during midday heat – you might explore rivers by canoe, looking for giant otter, or ride a horse into the wetlands. You may take your sundowner gawping at caiman crowding out a lagoon or spend it aboard a motorboat after a jaguar-seeking excursion along the Cuiabá River. After dinner, it's time to look for nocturnal animals such as nightjars or crab-eating foxes, and smaller fry such as frogs.
The Pantanal's 'big five'
Like Africa, South America has a mammal 'big five'. Maned wolf – like a fox on stilts – and giant anteater inhabit savannahs, the latter both along the northern Transpantaneira (notably at Pouso Alegre) and Mato Grosso do Sul (particularly Fazenda San Francisco). South American tapir – a bizarre creature recalling both horse and pig – occurs at many lodges. Several families of giant otter – nearly two metres worth of sleek, aquatic predator – have become used to human admirers, particularly along the Pixaim River and quiet tributaries of the Cuiabá River, east of Porto Jofre.
The final member of the quintet is the creature that every visitor yearns to see. Jaguars are South America's top carnivore, a musclebound cat capable of felling even large caiman. There is no better place to see them than the Pantanal – specifically along and off the Cuiabá River in Mato Grosso between July and October. Here, a remarkably dense population of animals has become relatively habituated to people, and guides have become familiar with their hangouts. The felines often sun- or shade-bathe on riverbanks, allowing visitor-toting boats to bob offshore at a respectful distance.
Even with such advantages, however, seeing a jaguar is not guaranteed. Maximise your chances by spending at least two days on the river, concentrating efforts in the early morning and late afternoon. Should you encounter one, however, prepare to be joined by other boats: guides help one another by sharing live information on jaguar whereabouts. Away from the Cuiabá River, prospects are lower. Nevertheless, driving slowly along the final 20km of the Transpantaneira may serve you well, while in Mato Grosso do Sul, Fazenda San Francisco probably has the highest success rate.
Big cats and primates
The jaguar is not the only Pantanal cat. Many visitors yearn to see ocelot, in particular, and – ironically, given its name – Jaguar Lodge has managed to coax these mid-sized cats into visiting each night. Other mammals forming part and parcel of a Pantanal visit include southern tamandua (a tree-climbing anteater), armadillos and the raccoon-like South American coati.
Primates include black howler whose far-reaching vocalisations provide pre-dawn wake-up calls. Domestic cattle aside, the most common mammal you will encounter is capybara. Groups of this pig-sized rodent graze waterside vegetation or lounge in muddy hollows.
Reptiles
The most abundant reptile is the yacaré caiman. For crocodilians, these are relatively small and innocuous – but their dry-season gatherings can be mighty, with hundreds cramming into lagoons. An impressive array of lizards ranges from green iguanas (the creature behind the dragon fable) basking on riverside trees to tegus crashing through shrubbery and anoles scampering over bare ground.
Snakes also feature, the most fascinating being two types of anaconda – green (huge but rare) and yellow ('only' very large but more regularly encountered, often under road bridges). If you want to see amphibians, head out at night, particularly when conditions are warm and humid. Rococo toads visit lodge buildings to munch on insects attracted by artificial lights, while tracking down strange calls may lead you to tree-frogs and their ilk.
Birdwatching in the Pantanal
Alongside capybara and caiman, the quintessential Pantanal wildlife spectacle involves congregations of long-legged waterbirds – egrets, storks, ibises and herons feasting on trapped fish. Jabiru is the most iconic; this stork boasts an inflatable crimson throat and a 2.5m long wingspan. Some lodges erect viewing platforms near the giant bird's enormous, throne-like nest, granting privileged insights into its family life. Among other waterbirds, look for roseate spoonbills with their vivid colouration, while anhingas slink around, snake-like and mostly submerged, as they hunt fish.
Not all waterbirds are extrovert – so it pays to know where to look. Capped herons are demure creatures favouring quieter pools shunned by other birds. Sunbitterns – which startle would-be predators by flashing their wings to reveal what appear to be giant eyes – frequent shady margins of slow-flowing rivers. Here, they keep company with all five South American kingfishers, as well as birds of prey such as snail kite and great black hawk.
Whilst water serves as a magnet for many birds, a wider variety of feathered creatures actually inhabits Pantanal forests. An early-morning birdwatching walk under the canopy can pay unexpected dividends, particularly if you are accompanied by a guide who recognises the various calls that emanate from bough or bush. Sylvan stars included the flame-crested helmeted manakin, the shimmering rufous-tailed jacamar and the punk-headed bare-faced curassow. There are even birds that look like trees: the great potoo is a nightbird that evades day-time predation by mimicking a broken-off branch.
Plenty of birds inhabit more open areas too. The most dramatic is the endangered and vividly blue hyacinth macaw, which often nests near lodge buildings – safe from the covetous gaze of illegal bird collectors who decimated the species' population during the 1980s. Hummingbirds visit flowers around lodge buildings, while yellow-billed cardinals bicker outside stables. Burrowing owls, meanwhile, bob their heads while perched atop fenceposts and anthills. Once you get your eye in, you will spot Pantanal birds wherever you look.
Beyond wildlife in the Pantanal
Ranch life and fishing
If watching wildlife doesn't float your boat, you could play at being a peão (Pantanal cowboy). The region is dominated by vast cattle ranches, so leap into the saddle, help herd cattle and sip terere, an ice-cold tea drunk through a metal straw from a gourd. Alternatively, go piranha-fishing then barbeque your catch. Just be prepared for disparaging looks from other visitors; after all, the majority of Pantanal tourists prefer life in their wildlife.
Things to do in Pantanal
Our recommended experiences and activities
Pantanal
Birdwatching in the Pantanal
The Pantanal is a birders' paradise. Look out for the greater rhea, guira cuckoo, chaco chachalaca, black-hooded parakeet and hyacinth macaw, among hundreds of other endemic and migratory species.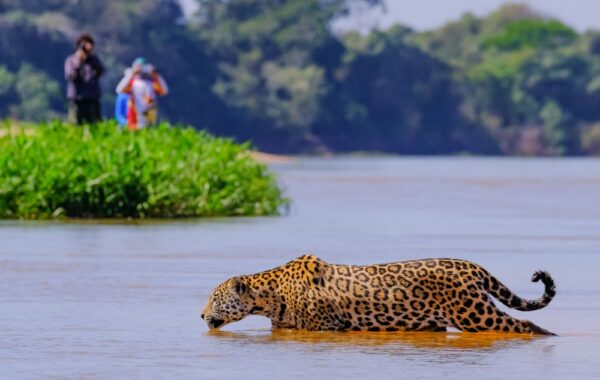 Pantanal
Go jaguar-spotting in Porto Jofre
Porto Jofre on the Claro River is the best place in the Pantanal to search for the elusive jaguar. Although your chances of seeing one are slim, you'll also have the chance to see plenty of other bird and wildlife.
Where to go in Brazil
Our recommended places
Rio de Janeiro
Is there another city on earth that can match Rio's beauty? Mountain peaks, lush forests, beautiful beaches and playful inhabitants make Rio a must-see on any Brazilian itinerary. From the famous beaches of Copacabana to edgy Botofago, Rio is the perfect bookend to a Brazil trip.

Spend several days exploring Brazil's bustling coastal city — and home to the world's biggest carnival. Visit the city's famed beaches and diverse neighbourhoods, as well as the urban rainforest of Tijuca Forest. Ride the rack railway up Corcovado Mountain to see up-close the 30m-high statue of Christ the Redeemer — perhaps one of the most recognisable icons of Brazil. Then drive through Santa Teresa neighborhood to explore the area's history and beautiful 19th and early 20th century mansions.
Paraty
A picturesque colonial-era town nestled on a beautiful stretch of Atlantic coast and backed by forested mountains.
Paraty offers a mix of small-town colonial Brazil and excellent wildlife watching — complete with beaches and a bay made for watching sunsets. Explore the 17th century Portuguese architecture including the waterfront Capela de Santa Rita, a whitewashed church built in 1722, and the larger First Church of Our Lady of the Remedies.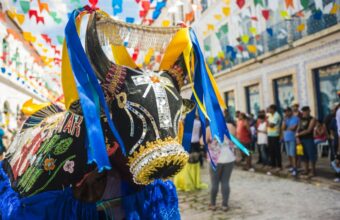 São Luís de Maranhão
Known for its Afro-Brazilian vibe, the World Heritage-listed centre of Sao Luis is a great place to stroll around admiring colonial mansions, art galleries and museums. Look out for the Bumba-Meu-Boi do Maranhao festival, which transforms the historic centre with music, folklore and food.
Brazilian Amazon
The Amazon rainforest is the world's most important ecosystem, home to pristine rainforest, indigenous communities and an abundance of wildlife. Head here for remote jungle experiences, ecolodges and the chance to see piranhas, river dolphins and monkeys.
Iguazu Falls
The mighty Iguazu Falls are actually a chain of 275 smaller waterfalls, forming an awe-inspiring semi-circle of water and noise. Lying between Argentina and Brazil, the falls are an awesome sight on their own, but both sides offer excellent wildlife watching.
Manaus
Steamy, sultry Manaus is the entry point to the Brazilian Amazon and a huge port city, despite being more than 1,500km from the sea. This jungle is more concrete than rainforest but serves as a place to stock up on supplies before heading into the wild. If you do hang around, look out for the city's street markets, full of fascinating jungle fruits.

Lençóis Maranhenses National Park
A perfect mix of smooth sand dunes, hidden lagoons and ocean views, Lençóis Maranhenses National Park is one of Brazil's most beautiful natural wonders. Make sure to take a dip in one of the many lakes and lagoons.
Jericoacoara
The small fishing village of Jericoacoara is the perfect place to try out some adventure activities. Get on the ocean water to try kitesurfing, windsurfing or paddle boarding, or kick back with a caipirinha in one of the many beachside bars.
Cuiabá
Best known as the gateway to the wildlife of the Pantanal, Cuiaba is worth a day or two of your time. Spend it exploring the city's colonial architecture around the main square, the indigenous culture museum near Mato Grosso University and the surprisingly excellent dining scene.
Barra Grande
Brazil northeastern coastline is full of beautiful beaches, but Barra Grande is one of the best. Conditions here are perfect for kite-surfing and wind-surfing, so join the professionals on the water for an exhilarating experience.
Salvador
Tropical Salvador is home to plenty of gorgeous coastline, but it is the city's Afro-Brazilian culture that attracts visitors. Here, believers reconnect with African gods in Candomble ceremonies, rhythmic music pulses from weekly festivals and the cuisine is sharpened with plenty of hot chilli. Once Brazil's first capital, modern Salvador is youthful, energetic and unmissable.
Brasilia
Brazil's much-maligned capital is one of the world's greatest examples of modernist architecture, but is often at the bottom of visitors' must-see destinations. That's a shame, as purpose-built Brasilia is a centre of avant-garde design. The city is set out like a crucifix, with its architectural sites laid out along the grand Eixo Monumental.
São Paulo
Sprawling São Paulo is Brazil's biggest city, economic powerhouse and cultural centre. It's not the prettiest of cities, but it has something for everybody, from Brazil's best museums and restaurants to an unparallelled music and clubbing scene. Sampa (as it's known by locals) is intimidating in size, but get used to navigating this giant and you'll soon see why this cosmopolitan city is so intoxicating.
Ilha de Boipeba
A 12-km stretch of jungle and beaches, laidback Boipeba is the perfect place to lounge on the beach, eat delicious seafood and unwind from the stresses of the mainland. While still basic, there are plans ahead to build several resorts, so get here quick.
Ilha Grande
The island of Ilha Grande is tucked away between Rio de Janeiro and Sao Paulo and is a popular holiday destination with both Brazilians and international travellers. Its coves are full of beautiful beaches, with the most notable being Lopes Mendes beach – once voted the 13th most beautiful beach in the world.