The Amazon rainforest is the world's most important ecosystem, home to pristine rainforest, indigenous communities and an abundance of wildlife. Head here for remote jungle experiences, ecolodges and the chance to see piranhas, river dolphins and monkeys.
10 days
Amazon and Pantanal adventure
Wildlife and wilderness in Brazil
Cuiabá (1 days)
→
Pantanal (4)
→
Manaus (1)
→
Brazilian Amazon (3)
→
Manaus (1)
View itinerary
10 days
The Brazilian Amazon and Iguazu
Wildlife and waterfalls in Brazil
Rio de Janeiro (4 days)
→
Iguazu Falls (2)
→
Manaus (1)
→
Brazilian Amazon (3)
View itinerary
Things to do in Brazilian Amazon
Our recommended experiences and activities
Brazilian Amazon
Go piranha fishing on the Amazon
The razor-toothed piranha is one of the Amazon's most distinctive animals. Found throughout the Amazon, the piranha is relatively easy to catch and can be eaten, though most return the fish to the water.
Where to go in Brazil
Our recommended places
Rio de Janeiro
Is there another city on earth that can match Rio's beauty? Mountain peaks, lush forests, beautiful beaches and playful inhabitants make Rio a must-see on any Brazilian itinerary. From the famous beaches of Copacabana to edgy Botofago, Rio is the perfect bookend to a Brazil trip.

Spend several days exploring Brazil's bustling coastal city — and home to the world's biggest carnival. Visit the city's famed beaches and diverse neighbourhoods, as well as the urban rainforest of Tijuca Forest. Ride the rack railway up Corcovado Mountain to see up-close the 30m-high statue of Christ the Redeemer — perhaps one of the most recognisable icons of Brazil. Then drive through Santa Teresa neighborhood to explore the area's history and beautiful 19th and early 20th century mansions.
Paraty
A picturesque colonial-era town nestled on a beautiful stretch of Atlantic coast and backed by forested mountains.
Paraty offers a mix of small-town colonial Brazil and excellent wildlife watching — complete with beaches and a bay made for watching sunsets. Explore the 17th century Portuguese architecture including the waterfront Capela de Santa Rita, a whitewashed church built in 1722, and the larger First Church of Our Lady of the Remedies.


Pantanal
The Pantanal offers some of South America's finest wildlife watching. From jaguars to anacondas, parrots to caimans, this is the place in Brazil to see animals. Choose your season carefully — come in the dry season for birdwatching, or head there just after the rains for mammals.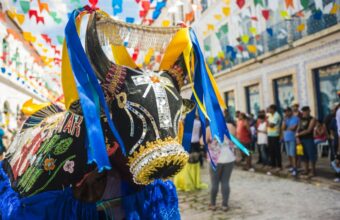 São Luís de Maranhão
Known for its Afro-Brazilian vibe, the World Heritage-listed centre of Sao Luis is a great place to stroll around admiring colonial mansions, art galleries and museums. Look out for the Bumba-Meu-Boi do Maranhao festival, which transforms the historic centre with music, folklore and food.
Iguazu Falls
The mighty Iguazu Falls are actually a chain of 275 smaller waterfalls, forming an awe-inspiring semi-circle of water and noise. Lying between Argentina and Brazil, the falls are an awesome sight on their own, but both sides offer excellent wildlife watching.
Manaus
Steamy, sultry Manaus is the entry point to the Brazilian Amazon and a huge port city, despite being more than 1,500km from the sea. This jungle is more concrete than rainforest but serves as a place to stock up on supplies before heading into the wild. If you do hang around, look out for the city's street markets, full of fascinating jungle fruits.

Lençóis Maranhenses National Park
A perfect mix of smooth sand dunes, hidden lagoons and ocean views, Lençóis Maranhenses National Park is one of Brazil's most beautiful natural wonders. Make sure to take a dip in one of the many lakes and lagoons.
Jericoacoara
The small fishing village of Jericoacoara is the perfect place to try out some adventure activities. Get on the ocean water to try kitesurfing, windsurfing or paddle boarding, or kick back with a caipirinha in one of the many beachside bars.
Cuiabá
Best known as the gateway to the wildlife of the Pantanal, Cuiaba is worth a day or two of your time. Spend it exploring the city's colonial architecture around the main square, the indigenous culture museum near Mato Grosso University and the surprisingly excellent dining scene.
Barra Grande
Brazil northeastern coastline is full of beautiful beaches, but Barra Grande is one of the best. Conditions here are perfect for kite-surfing and wind-surfing, so join the professionals on the water for an exhilarating experience.
Salvador
Tropical Salvador is home to plenty of gorgeous coastline, but it is the city's Afro-Brazilian culture that attracts visitors. Here, believers reconnect with African gods in Candomble ceremonies, rhythmic music pulses from weekly festivals and the cuisine is sharpened with plenty of hot chilli. Once Brazil's first capital, modern Salvador is youthful, energetic and unmissable.
Brasilia
Brazil's much-maligned capital is one of the world's greatest examples of modernist architecture, but is often at the bottom of visitors' must-see destinations. That's a shame, as purpose-built Brasilia is a centre of avant-garde design. The city is set out like a crucifix, with its architectural sites laid out along the grand Eixo Monumental.
São Paulo
Sprawling São Paulo is Brazil's biggest city, economic powerhouse and cultural centre. It's not the prettiest of cities, but it has something for everybody, from Brazil's best museums and restaurants to an unparallelled music and clubbing scene. Sampa (as it's known by locals) is intimidating in size, but get used to navigating this giant and you'll soon see why this cosmopolitan city is so intoxicating.
Ilha de Boipeba
A 12-km stretch of jungle and beaches, laidback Boipeba is the perfect place to lounge on the beach, eat delicious seafood and unwind from the stresses of the mainland. While still basic, there are plans ahead to build several resorts, so get here quick.
Ilha Grande
The island of Ilha Grande is tucked away between Rio de Janeiro and Sao Paulo and is a popular holiday destination with both Brazilians and international travellers. Its coves are full of beautiful beaches, with the most notable being Lopes Mendes beach – once voted the 13th most beautiful beach in the world.