Backed by the dramatic Santa Ynez Mountains, Santa Barbara, is a hot-spot for white-sand beaches and palm-lined promenades. Look out for A-class celebrities, many of which have extravagant homes here.
Where to go in Western USA
Our recommended places
Los Angeles
Stroll along Hollywood Boulevard, spot your favourite TV and film stars on the Walk of Fame, and you can't miss the hillside Hollywood sign. Kids can also get up close to their own entertainment stars in Disneyland.
San Francisco
Crammed into less than 50 square miles and with a population of less than a million, small San Francisco packs a mighty punch. Its patchwork of different neighbourhoods -- Mission District, Haight-Ashbury, Chinatown and many more -- all offer a different side to the city, while the big attractions -- Alcatraz, Golden Gate Bridge and Fisherman's Wharf -- are all worth the visit.
This is also a city of culture. There are Michelin-starred restaurants. There are pop-up diners and incredible food trucks. There is a world-class music scene and plenty of outdoor adventures, from whale-watching at Land's End to hiking in Mount Diablo. Just watch out for the earth tremors -- San Francisco's proximity to the San Andreas faultline means it experiences several hundred tremors a year.

Napa Valley
Napa Valley is filled with lush vineyards that can be visited on foot or with the vintage railcars of the Napa Valley Wine Train which covers 36 miles. The family owned wineries offer guided tours, and some hotels even have their own. When you're not drinking wine, enjoy kayaking on the Napa River and enjoy the region's famous cuisine.
Yosemite National Park
There are 800 miles of trails through the mountains and woodlands of Yosemite, where you can spot black bears, coyotes, bobcats and mule deer among other wildlife. Get up close to the famous El Captan, Half Dome, Bridal Falls and Yosemite Falls which plunges a dramatic 739m.
San Diego
A two hour drive south from L.A. is San Diego, the second largest city in California, which is renowned for its entertainment parks, including Sea World, San Diego Zoo and Balboa Park, the latter of which boasts some stunning historic buildings and green spaces. Leave some time to relax on some of California's most beautiful palm-lined beaches.
Palm Springs
Set in possibly the most biologically diverse ecosystem in the Americas, Palm Springs is not only a winter playground for celebrities, but also a stylish place to relax in hot springs, spas and top-class golf courses at the base of the San Jacinto Mountains.
Las Vegas
Spend a day or two discovering the grandeur of Las Vegas and its famously flamboyant attractions. Stroll along the Strip, visit casinos, enjoy a Broadway-type, and relax at one of the popular restaurants and bars with city-scape views, such as Top of the World at The Stratosphere or Skybar at the Waldorf Astoria.
Sedona
On arrival to the unique geological area of Sedona, you will be welcomed by red-rock monoliths, with names such as Coffee Pot and Cathedral, protruding from the desert landscape. Climbing up the sandstone spires is fascinating, as are the popular hiking trails that weave between them.
Grand Canyon
Follow the trails to explore Grand Canyon National Park and be sure to stop at the canyon edge to fully appreciate its enormity. At 446km long, up to 29km wide and 1,857m deep, the yawning gorge is full of caves and crevasses in which Native Americans built settlements. You can learn about this rich culture and history by visiting a reservation on the Canyon's south rim or inside the canyon.
Monument Valley
Pass through the Painted Desert with its kaleidoscope of colours to reach Monument Valley on the Arizona-Utah border. Visitors are welcomed by a distinct desert scape of finger-like sandstone monoliths that reach 300m above the valley of sweeping arid wilderness — the epitome of the American West.
Lake Powell
The concrete Glen Canyon Dam would dominate the scenery if it was not for the commanding Colorado River and the bright blue waters of Lake Powell that lap against the tall red walls of the canyon. The extraordinary scenery is appreciated best from atop the dam, which is the second highest concrete arch-dam in America.
Bryce Canyon
Within the Mormon State of Utah is this multi-coloured spectacle of protruding sandstone pinnacles that gather along the edges and deep inside Bryce Canyon. The canyon is set beside dense pine woods that are popular for walks and camping.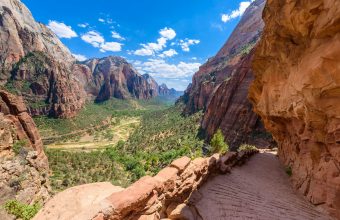 Zion National Park
Visit Zion National Park with its towering rock formations that have been carved over time with the help of the mighty Virgin River. Walk along the forest trails that line the river, alongside the Emerald Pools to admire their waterfalls, and to the deep chasms of Zion Narrows.
Mammoth Lakes
Journey through Death Valley and ascend the Sierra Nevada Mountains to the alpine resort of Mammoth Lakes, famous for its skiing and hiking trails. It was a successful gold mining town in the 19th century and you can take a tour of the ruins, mining equipment, and mine shafts.
Monterey Peninsula
Monterey Peninsula offers a mix of wind-whipped beaches, hidden coves and delicious seafood. The towns of Monterey and Carmel-by-the-Sea are laid back seaside towns showcasing the region's sea trawling history, replete with cosy restaurants and excellent gastropubs.
This is a perfect stop for those wanting a getaway from San Francisco's bright lights.
Lake Tahoe
Explore the surroundings of this clear mountain lake by bike, kayak or cruise, or relax on one of its beaches to enjoy the unique views of the Sierra Nevada mountains and the Carson Range. Secret Cove is the ideal secluded spot to relax in.
Sacramento
You can easily spend a few hours at the 28-acre Old Sacramento State Historic Park learning about The California Gold Rush, which took place in 1848–1855. Perhaps even try panning for gold in the river! You can even step back to those historic days by taking a ride in a horse-drawn carriage.