Self-drive California
A scenic coastal route
A popular self-drive route through California, calling at some popular and lesser-known locations. Explore the scenic towns that dot the Pacific coast, including Monterey, Carmel, Solvang and San Luis Obispo. Continue south through Malibu and Santa Monica (marking the end of the famous Historic Route 66, which is well worth following for part of your journey), not forgetting to enjoy some gorgeous beaches, before arriving in Los Angeles. Spend a couple of days enjoying the city before heading inland to experience flamboyant Las Vegas. Finish your trip off with a day or two enjoying the entertainment parks and beaches of San Diego.
Key information
| | |
| --- | --- |
| Destinations | Western USA |
| Activity | Nature & Wildlife, Culture |
| Physical Level | Easy |
| Season | January - December |
Suggested itinerary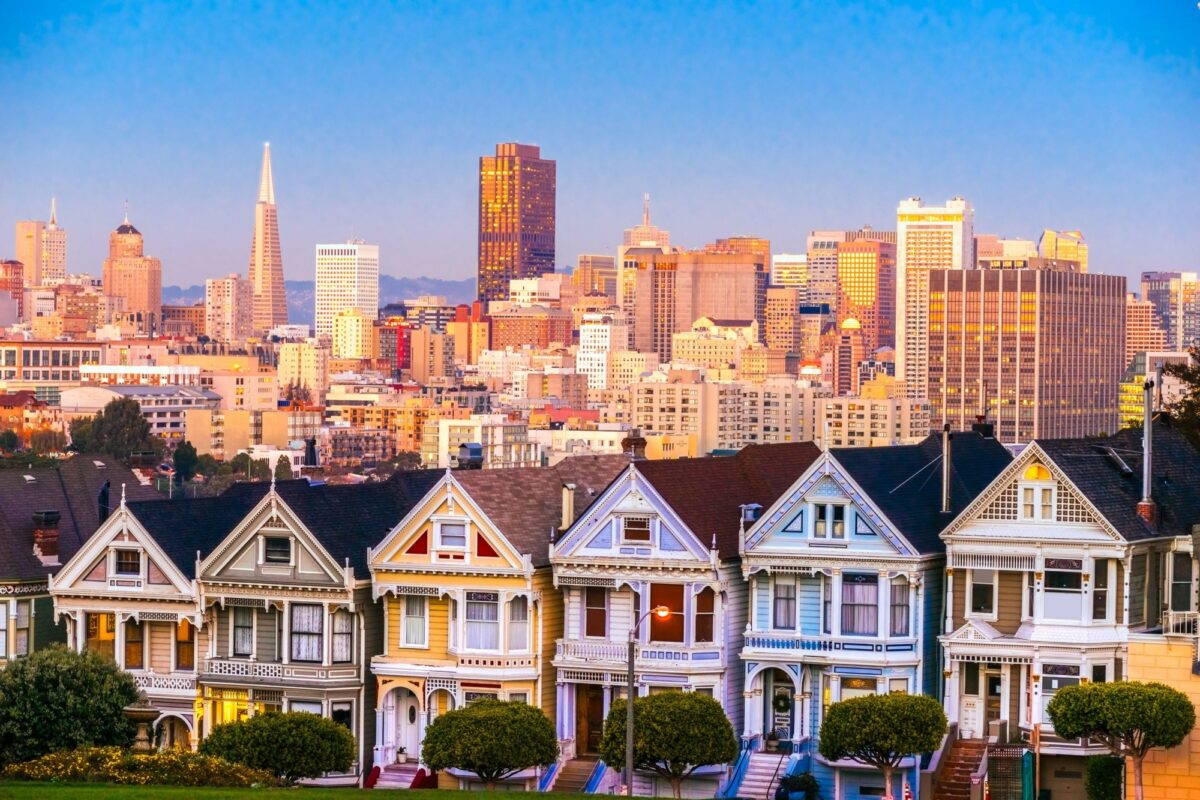 Walk the hills of San Francisco
Day 1–3 in San Francisco
Crammed into less than 50 square miles and with a population of less than a million, small San Francisco packs a mighty punch. Its patchwork of different neighbourhoods -- Mission District, Haight-Ashbury, Chinatown and many more -- all offer a different side to the city, while the big attractions -- Alcatraz, Golden Gate Bridge and Fisherman's Wharf -- are all worth the visit.
This is also a city of culture. There are Michelin-starred restaurants. There are pop-up diners and incredible food trucks. There is a world-class music scene and plenty of outdoor adventures, from whale-watching at Land's End to hiking in Mount Diablo. Just watch out for the earth tremors -- San Francisco's proximity to the San Andreas faultline means it experiences several hundred tremors a year.

Don't miss
Enjoy the coastline of San Fran
Take a stroll along Fisherman's Wharf, explore the Marina District before experiencing the lively city at night. Stop at the spectacular Golden Gate bridge that connects San Francisco Bay with the Pacific Ocean to enjoy a classic view of the skyline. Perhaps even take a boat to the infamous Alcatraz.
Explore the central coastline
Day 4–6 in Monterey Peninsula
Monterey Peninsula offers a mix of wind-whipped beaches, hidden coves and delicious seafood. The towns of Monterey and Carmel-by-the-Sea are laid back seaside towns showcasing the region's sea trawling history, replete with cosy restaurants and excellent gastropubs.
This is a perfect stop for those wanting a getaway from San Francisco's bright lights.
Don't miss
Tour California's scenic central coast
After exploring Monterey Peninsula, take a drive to the pretty resort of Carmel-by-the-Sea. Continue along Big Sur to San Simeon and Solvang. After a drive of 350 miles, enjoy the bakeries, wineries and boutique shops in this quaint town which was founded by Danish immigrants. You could then continue driving to Malibu and the bright lights of L.A.
Relax on Santa Barbara's beaches
Day 7 in Santa Barbara
Backed by the dramatic Santa Ynez Mountains, Santa Barbara, is a hot-spot for white-sand beaches and palm-lined promenades. Look out for A-class celebrities, many of which have extravagant homes here.
Experience Hollywood
Day 8–9 in Los Angeles
Stroll along Hollywood Boulevard, spot your favourite TV and film stars on the Walk of Fame, and you can't miss the hillside Hollywood sign. Kids can also get up close to their own entertainment stars in Disneyland.
Drive through the desert to Las Vegas
Day 10–11 in Las Vegas
Spend a day or two discovering the grandeur of Las Vegas and its famously flamboyant attractions. Stroll along the Strip, visit casinos, enjoy a Broadway-type, and relax at one of the popular restaurants and bars with city-scape views, such as Top of the World at The Stratosphere or Skybar at the Waldorf Astoria.
Don't miss
Enroute from Los Angeles to Las Vegas
Travel 280 miles east through the Mojave Desert until you reach the gambling capital of the world--once a quiet Mormon settlement in the desert. A little off route, but well worth a visit, is the ghost town of Calico.


Marvel at the world's most famous canyon
Day 12 in Grand Canyon
Follow the trails to explore Grand Canyon National Park and be sure to stop at the canyon edge to fully appreciate its enormity. At 446km long, up to 29km wide and 1,857m deep, the yawning gorge is full of caves and crevasses in which Native Americans built settlements. You can learn about this rich culture and history by visiting a reservation on the Canyon's south rim or inside the canyon.
Don't miss
Journey to San Diego
Day 13–14 in San Diego
A two hour drive south from L.A. is San Diego, the second largest city in California, which is renowned for its entertainment parks, including Sea World, San Diego Zoo and Balboa Park, the latter of which boasts some stunning historic buildings and green spaces. Leave some time to relax on some of California's most beautiful palm-lined beaches.
Don't miss
Enjoy the ride from Las Vegas to San Diego
Driving south past Lake Elsinore you will reach the town of Temecula with its rolling hills and vineyards before ending your 336 mile drive in San Diego — the perfect place to relax in the sunshine.
A spot of shopping in the Seaport Village
Seaport Village, on the waterfront of downtown San Diego, is a recreation of a historic harbour with meandering walkways that take you to its 70 shops, galleries, and eateries spread across 14 acres.
Other itineraries you might like