The UK's Best Long Distance Walks
Great Britain's long distance paths, trails & ways
By
Daniel McCrohan
,
Fergal MacErlean
&
Simon Hepinstall
Last updated 29 Oct 2020
The United Kingdom could have been tailor-made for walking holidays. These shores aren't called green and pleasant for nothing. Rolling, rural landscapes stretch away into the distance; a green-and-gold patchwork of farmland, criss-crossed by wildlife-filled hedgerows and fringed with deep-scented woodlands of oak, ash, beech and hazel. Further afield there are windswept moors, remote hills and valleys, and of course, a never-ending coastline, topped by cliffs and dotted with smugglers coves and long sandy beaches.

Walking trails in the UK follow rivers and canals, chalk ridges and estuaries, disused railway lines and even ancient pilgrimage routes, inspiring a liberating sense of escape from modern society, and a strengthening of bonds between walkers, nature and the outdoors.
And yet because Britain is so small, walkers are never really that far from civilisation. Standing atop a moorland crag, with nothing but the buffeting Northumberland wind for company, you may feel as though you have the whole of the northwest to yourself, but the next village is always just around the corner, waiting to offer you a warming cup of tea, a bed for the night, and a hearty 'full-English' breakfast to set you up for your next day's hike.
Those hardy enough to brave the British weather in a tent, and strong enough to carry all the gear, can camp as they hike. Few places allow wild camping, though it is often tolerated if your presence is fleeting and discreet, and in any case, there are thousands of official campsites dotted around Britain with a flat spot for your tent and a welcome hot shower.
For those who prefer a lighter rucksack and a roof over their head at night, youth hostels, guesthouses and that great British institution – the B&B (bed and breakfast) – are also on hand to welcome weary walkers.
Trails here are rarely difficult technically (leave those crampons and ice-picks at home, folks), but don't underestimate the gradients of some paths (especially the coastal routes) which lead you from the beach to cliff top and back down to beach, time and time again – phenomenal views (and ice creams) provide some consolation.
The main walking season runs from Easter until the end of August and is busiest during the school summer holidays when B&Bs fill up fast. You can walk at other times, and it can be a hugely rewarding, back-to-nature experience as you'll often have trails to yourself, but be prepared for cold weather, short daylight hours, and a few places such as campsites and cafes being closed.
Featured walking holiday specialists
The UK's best long-distance walking trails
Popular and lesser-known routes & ways
There are more than a dozen official National Trails in England and Wales, and scores of other fabulous long-distance walks besides.
The following 'Best of Britain' offers four hugely contrasting walking experiences in terms of location, terrain and difficulty, but each promises an equally tremendous tramp across the glorious countryside.
The Coast to Coast Path
Considered by some to be the best long-distance walk in England, Wainwright's Coast to Coast Path has many remarkable qualities, but it's the walker camaraderie that is so often the stand-out take-home of this hugely popular cross-country hike. The scenery is at times stunning – looking at you, Lake District – but the sense of community you experience with fellow walkers is felt here on this walk perhaps more than on any other in Britain.
The Coast to Coast Path
Distance: 190.5 miles (306.5km)
Duration: 14 days
Start point: St Bees
End point: Robin Hood's Bay
Difficulty: Moderate to hard – very hilly through the Lake District stages; poorly waymarked in places, particularly over the Pennines; expect rain and boggy ground at times
Suitable for: Fit walkers with a sense of adventure
This is largely due to the fact that many, if not most walkers tackle the Coast to Coast Path in one go (or at least in two halves), rather than dipping in and out of it on day- or weekend-hikes as many people do for Britain's other long-distance trails. The result is that you'll bump into the same people again and again over the course of your two-week walk, in pubs, cafes and hostels along the route, where you can share a drink, and compare blisters whilst drying your bog-drenched toes in front of a roaring log fire.
Coast to Coast isn't an official National Trail. Instead, it was the brainchild of the legendary fell walker and guidebook writer Alfred Wainwright, who in 1973 decided to plot a walk-to-remember across the width of the country which, as far as he knew, wouldn't break any trespassing laws. Two-thirds of the trail is spent walking through three of England's 10 national parks (The Lake District, The Yorkshire Dales and the North York Moors) and the route includes some of the most dramatic upland scenery in England. Prepare to be blown away by the beauty of some of the Lake District sections. Prepare also for quite a lot of rain.
The Coast to Coast walk route
Starting from the beach at St Bees, beside the Irish Sea, your first five days of the Coast to Coast Path are an undoubted highlight as you climb your way through the spectacular hills, lakes and valleys of the Lake District – so special it was awarded Unesco World Heritage status in 2017. Over the first couple of days, you'll walk the craggy shoreline of Ennerdale Water, trot past YHA Black Sail, the most remote hostel in England, and climb up and over the rocky pass near Honister Slate Mine, before descending into the lush valley of Borrowdale, with its trio of stone-cottage hamlets.
The climb up and over Greenup Edge is challenging for sure, but the views are breathtaking, and it's now just a short stroll into the pretty village of Grasmere, home to a plethora of teahouses, cafes, and B&Bs, a 150-year-old gingerbread shop, and Dove Cottage, where former poet laureate William Wordsworth once lived. The climb up the Great Tongue to the tiny mountain lake of Grisedale Tarn will leave you gasping, but it's a pleasant walk down Grisedale Valley, under the shadow of 950m-tall Helvellyn, to the cute village of Patterdale, with its sheep-filled fields and walker-friendly White Lion pub.
Climbing out of Patterdale is a joy, up and over Angletarn Pike, where you sometimes see wild deer, and the even higher Kidsty Pike before descending to the huge Haweswater Reservoir en route to Shap.
Sadly, the Lakes are behind you now, but that means the walking gradients become easier so you can begin to cover more miles each day. Historic Kirkby Stephen is your next stop before you climb up and over the Pennines on a day often clouded in mist, or obscured by rain – the waymarking is hard to follow here – before you crawl, often exhausted, into lovely Keld, with its collection of 'forces' (waterfalls), for a well-earned rest. Pastoral Swaledale Valley leads you to Reeth with its welcoming pubs and numerous places to stay, then it's on through farmland to centuries-old Richmond, the largest settlement on the path, and home to the formidable Richmond Castle.
The next couple of days are forgivingly flat before you hit the heather-covered North York Moors and climb up to remote Blakey Ridge, where a bed, a meal and a pint await at the 500-year-old Lion Inn, the walk's most iconic pub.
You're now just a hop, skip and a jump from the North Sea, via the lost-in-time village of Grosmont (steam trains, anyone?), the fairytale-like woods of Little Beck and the squelchy bogs of Sneaton Low Moor. Sweeping views abound as you follow the east coast of England south to Robin Hood's Bay where a celebratory pint at Bay Hotel's Wainwright's Bar is the order of the day.
Coast to coast sections
Budget walkers rejoice – the Coast to Coast path has an abundance of youth hostels, meaning you can stay in cheap dormitory-style accommodation without breaking the bank. There's also plenty of opportunity to camp, particularly in the Lake District where so-called 'wild camping' is tolerated in most places. That great British institute, the B&B, is also well represented all along the route. The following itinerary assumes you'll be walking from west to east, starting in St Bees. Most walkers do this, though it's just as easy to walk the other way.
Day 1: St Bees – Ennerdale (14 miles)
Day 2: Ennerdale – Borrowdale (15 miles)
Day 3: Borrowdale – Grasmere (9 miles)
Day 4: Grasmere – Patterdale (8.5 miles)
Day 5: Patterdale – Shap (15.5 miles)
Day 6: Shap – Kirkby Stephen (20.5 miles)
Day 7: Kirkby Stephen – Keld (13 miles)
Day 8: Keld – Reeth (11.5 miles)
Day 9: Reeth – Richmond (10.5 miles)
Day 10: Richmond – Danby Wiske (13 miles)
Day 11: Danby Wiske – Ingleby Cross (10 miles)
Day 12: Ingleby Cross – Blakey Ridge (21 miles)
Day 13: Blakey Ridge – Grosmont (13.5 miles)
Day 14: Grosmont – Robin Hood's Bay (15.5 miles)
The extra mile
Instead of ambling your way down pretty Grisedale Valley to the village of Patterdale on Day 4, the more adventurous can opt instead for an ascent of Helvellyn (England's third-highest peak; 950m) followed by a decidedly hairy descent of the mountain ridge known Striding Edge. It adds at least an hour onto your hike for that day and is certainly not for anyone who suffers from vertigo.
Hadrian's Wall Path
This unique walking trail not only crosses the width of England, but also follows the course of Britain's largest Roman monument – a 1,900-year-old, 73-mile long fortification that once marked the northern boundary of the Roman Empire. Understandably, much of Hadrian's Wall has disappeared over the centuries, but significant stretches of it remain today, as do the ruins of many of the forts, mile castles and turrets that were once spread evenly along its length.
Hadrian's Wall Path
Distance: 84 miles (135km)
Duration: Six days
Start point: Wallsend, Newcastle
End point: Bowness-on-Solway
Difficulty: Moderate to easy – well-marked route; few steep gradients; some stiles to negotiate
Suitable for: Any reasonably fit walker, including families.
Roman history buffs will need weeks to fully explore all the Wall-related sights and museums en route, but the casual walker will also adore this National Trail. Apart from the architectural and historical interest, all around the Wall is scenery of breathtaking beauty, from the wild, wind-blasted moors of Northumberland to the pastoral delights of Cumbria. What's more, this is one of the easiest long-distance trails in Britain; a week-long romp following a well-marked path through gently rolling countryside with very few steep climbs and little more than the odd wooden stile to interrupt your flow.
Unusually for a National Trail, the authorities in charge of maintenance of Hadrian's Wall Path request that walkers do not attempt the trail in winter (ie October to April) when the path is at its most fragile as this increases the risk of heavy walking boots accidentally disturbing unexcavated archaeological artefacts.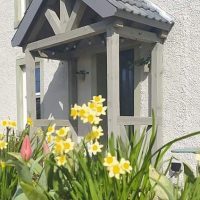 Midtown Farm B&B
Ideally located for Hadrian's Wall
| | |
| --- | --- |
| | Cumbria |
| | Custom itinerary, Private tour |
| | Family, Active, Walking Holiday |
Hadrian's Wall Path route
A forgivingly flat but fascinating first stage starts outside the Roman fort of Segedunum in a suburb of Newcastle aptly named Wallsend. You then follow the River Tyne through the city's iconic Quayside area then along the pleasant Tyne Riverside Country Park before climbing through woods to Heddon-on-the-Wall where you'll see your first major chunk of Hadrian's Wall.
A more modest second day passes the bird-filled lakes of Whittledene Reservoir before ending in the village of Chollerford where you'll find Chesters Roman Fort, with its quirkily old-fashioned museum and hugely impressive Roman baths, the best-preserved on the whole trail. A glorious day three showcases the most complete section of Wall on the path (at Black Carts), the best-preserved fort (Housesteads), the most famous tree in Northumberland (at Sycamore Gap), and some of the finest views on the whole trail. The stage ends at Once Brewed where there's a great range of accommodation, a cracking pub and a short walk to Vindolanda Fort, which contains some of Britain's most treasured Roman artefacts, including the remarkable handwritten documents known as the Vindolanda Tablets.
Day four is almost as good, with plenty of chunks of Wall to gawp at and more great views as you climb to the highest point on the trail. This is also where you cross from Northumberland into Cumbria and where the scenery changes from windswept moors and crags to gentle rolling cultivated landscape. There are more decent chunks of Wall either side of Birdoswald Fort, but these are now stretches of turf Wall rather than the more impressive stone Wall you'll have seen further east.
Any further remnants of Wall disappear completely as you approach the historic city of Carlisle through pretty farmland scenery before stretching your legs for the final stage, along the bird-filled flatlands of the Solway Estuary to the end of the path at the peaceful village of Bowness-on-Solway.
Hadrian's Wall Path sections
Accommodation is plentiful along the route, and includes campsites, hostels and B&Bs. Where you break for the night depends not only on how far you're able to walk each day, but also on how interested you are in the numerous Roman sights along the way. It can take a few hours to visit a museum or the ruins of a Roman fort, but not every walker visits them all, so factor this into your plan. The following schedule is just one option of many and assumes you'll be starting at Wallsend in Newcastle, but it's just as easy, and popular, to walk the other way.
Day 1: Newcastle – Heddon-on-the-Wall (15 miles)
Day 2: Heddon-on-the-Wall – Chollerford (15 miles)
Day 3: Chollerford – Once Brewed (13 miles)
Day 4: Once Brewed – Walton (15.5 miles)
Day 5: Walton – Carlisle (11.5 miles)
Day 6: Carlisle – Bowness-on-Solway (14 miles)
The extra mile
For a taste of what it's like to walk this trail with kids in tow, listen to this travel podcast which follows our writer Daniel McCrohan as he walks and camps his way along the length of Hadrian's Wall Path with his family.
Pembrokeshire Coast Path
Whisper it quietly; this might just be the best coastal path in Britain. Pembrokeshire has it all – dramatic clifftop vistas, seemingly endless beaches, secluded coves and tiny fishing villages, but best of all; almost no one knows about it, so you get pretty much all of it to yourself.
Pembrokeshire Coast Path
Distance: 186 miles (299km)
Duration: 16 days
Start point: Amroth
End point: St Dogmaels
Difficulty: Moderate – No problem to navigate, and not technically difficult, but don't underestimate its length, nor the steepness of some of the cliff climbs
Suitable for: Any fit walker; great for families, though not necessarily in one sitting
You'll need two or three weeks to complete the trail in one go, and, as with most coastal paths in Britain, you'll have to endure a lot of ups and down as you climb from clifftop down to cove and back up to clifftop, time and time again. But the rewards are plenty; as well as the sensational views, there's wildlife to spot (seals, dolphins, all manner of seas birds), historic sites to explore (including no fewer than 11 castles), and exotic Welsh cuisine to fuel those tired legs (oggy and faggots, anyone?).
Pembrokeshire Coast Path route
Starting in the seaside village of Amroth, day one takes you across the sandstone cliffs of south Pembrokeshire to pretty Tenby, with its pastel-coloured harbour buildings and boat rides out to the monastic island of Caldey. You'll soon reach the beachside 12th-century castle at Manorbier Bay before passing a series of magnificent beaches – Freshwater West, Barafundle Bay, Broad Haven – each with its own unique character. Having negotiated a route around the MoD firing range at Castlemartin, and the more inviting Angle peninsula, you approach the least desirable part of the walk, around the heavily industrialised estuary of Milford Haven – fortunately, historic Pembroke and its magnificent Norman castle provide a welcome distraction.
The coastline becomes increasingly more attractive again as you approach Dale peninsular, then turns spectacular around Marloes peninsula where the three barren islands of Skomer, Skokholm and Grassholm attract thousands of seabirds, plus a boatload or two of curious day-trippers.
After the surfing hotspot of Newgale you reach St David's, Britain's smallest city and home to a beautiful cathedral plus a host of cute cafes, pubs and restaurants. The rugged coastline of St David's peninsular provides fabulous hiking over the next few miles as you pass long sandy beaches, hidden coves and windswept bluffs before climbing the cliffs at Pwll Deri for outstanding ocean views.
The large harbour town of Goodwick and Fishguard offers a chance to stock up on supplies before you round the peninsular known as Dinas Island and negotiate the beautiful clifftop path to historic Newport, a precursor to the even more dramatic (and energy-sapping) clifftop walk on your final day.
Pembrokeshire Coast Path sections
Some of the more remote stretches have a dearth of accommodation so you may need to adjust your daily distances accordingly. In general, there's a good range of places to stay, from campsites and hostels, to B&Bs and guesthouses. Don't forget to factor in one or two rest days; walking for 16 days on the trot is a tough ask.
Day 1: Amroth – Tenby (7 miles)
Day 2: Tenby – Manorbier Bay (10.5 miles)
Day 3: Manorbier Bay – Broad Haven (10.5 miles)
Day 4: Broad Haven – Angle (20.5 miles)
Day 5: Angle – Pembroke (11.5 miles)
Day 6: Pembroke – Milford Haven (12.5 miles)
Day 7: Milford Haven – Dale (9.5 miles)
Day 8: Dale – Marloes (12 miles)
Day 9: Marloes – Newgale (15.5 miles)
Day 10: Newgale – St Davids (9.5 miles)
Day 11: St Davids – Whitesands Bay (8.5 miles)
Day 12: Whitesands Bay – Trefin (11 miles)
Day 13: Trefin – Pwll Deri (9.5 miles)
Day 14: Pwll Deri – Fishguard (10.5 miles)
Day 15: Fishguard – Newport (11 miles)
Day 16: Newport – St Dogmaels (16 miles)
The extra mile
Give your legs a rest at Martin's Haven and ride the waves out to Skomer Island, a protected national nature reserve that's home to a third of the world's population of manx shearwaters as well as thousands upon thousands of indescribably cute puffins. No need to pre-book anything; just buy your morning boat ticket when you arrive.
South Downs Way
Most of the gradients are reassuringly manageable along the pleasant chalk hills of the South Downs Way, and the weather down here is usually pretty favourable. You'll need just over a week to complete the hike from the cathedral city of Winchester to the seaside resort of Eastbourne, and for much of that time, you'll be blessed with sumptuous views of rural Hampshire and Sussex from your perch atop the ridge of chalk which this hundred-mile National Trail follows.
South Downs Way
Distance: 99 miles (159km)
Duration: 9 days
Start point: Winchester
End point: Eastbourne
Difficulty: Moderate to easy – relatively short and very easy to navigate; few very steep climbs, though a lot of walking up and down small hills
Suitable for: Any reasonably fit walker, including families; can also be cycled
You'll walk through landscapes of rolling hills and breezy fields of corn, passing numerous pretty villages with thatched cottages, historic pubs and gardens bursting with blooms. And there's a fitting final-day climax as you rollercoaster your way up and down the majestic chalk cliffs known as the Seven Sisters before reaching the beaches of Eastbourne for a celebratory ice cream.
South Downs Way route
Easy going to start with, the Way leaves the River Itchen in Winchester and continues along leafy country lanes through a patchwork of villages, fields, hedgerows and woodland, before reaching the Meon Valley and its scattering of pretty hamlets. The true line of the Downs begins now, a ridge of chalk hills which you'll follow all the way to Eastbourne.
You'll soon be climbing Butser Hill (270m), the highest point on the trail and known for its numerous species of butterfly, before flirting with the beech forests of Queen Elizabeth Country Park on your approach into the village of Buriton, with its pretty pond and 12th-century church. More shaded woodland follows before the steep climb up Beacon Hill (242m). Look out for Bronze Age burial mounds as you cross Cocking Down – you may even catch a glimpse of the Isle of Wight off to the southwest. There's a beautiful forest to walk through atop Graffham Down, as well as more ancient burial mounds before the Way picks up part of the old Roman road over Bignor Hill.
There are lovely views over the Arun Valley as you sweep your way down towards the picture-perfect village of Amberley before eventually reaching the hilltop Chanctonbury Ring, the site of a long-since-disappeared Iron Age hill fort dating back to the 6th-century BC and now a copse of beech trees commanding fabulous views.
The climb up Truleigh Hill is soon followed by wonderful views over Devil's Dyke and, after passing through Pyecombe, you soon spot the famous pair of 16th-century windmills, known affectionately as Jack & Jill. The rolling hills continue as you climb up Ditchling Beacon, down to the railway level-crossing at Southease, then up Firle Beacon, before reaching the delightful Tudor village of Alfriston, with its quaint teahouses and ye-olde pubs.
The final day's walk is the best of the lot, as you follow the River Cuckmere through pastoral scenes of English countryside all the way to the coast, where your rollercoaster ride up and down the marvellous Seven Sisters chalk cliffs begins. One final climb up to Beachy Head, marked by its famous lighthouse, is all that's left between you and that ice cream shop in Eastbourne.
South Down's Way sections
A key consideration on this walk is that you'll have to drop down off the hills to reach many of the towns and villages you'll be staying in, and that means a steep climb back up to the trail in the morning! There are numerous options, though, and the following is just one of many possible itineraries. If you're fit, and not carrying a full load of camping equipment, you could easily combine some pairs of stages into one longer stage.
Day 1: Winchester – Exton (12 miles)
Day 2: Exton – Buriton (12.5 miles)
Day 3: Buriton – Cocking (10.5 miles)
Day 4: Cocking – Amberley (11.5 miles)
Day 5: Amberley – Steyning (10 miles)
Day 6: Steyning – Pyecombe (10 miles)
Day 7: Pyecombe – Southease (14.5 miles)
Day 8: Southease – Alfriston (7.5 miles)
Day 9: Alfriston – Eastbourne (10.5 miles)
The extra mile
It's well worth dropping down off the Way at Bignor Hill to make the 30-minute detour to Bignor Roman Villa. Believed to date from the 3rd-century AD, it contains some of the world's best-preserved Roman-era floor mosaics, including the longest corridor mosaic in Britain.
The South West Coast Path
The South West Coast Path is England's longest trail but also one of its most famous and highly rated. In the Lonely Planet Guide to Great Britain it is the first attraction mentioned and often features in lists of the world's best walking trails.
The South West Coast Path
Distance: 630 miles/1,014km
Duration: 30 – 60 days, or shorter sections
Start point: Minehead, Somerset
End point: Poole, Dorset
Difficulty: Moderate to hard, with repeated climbs and descents
Suitable for: There's a small scenic section for everyone but the whole route is for those with time and stamina.
The route skirts the shoreline of England's South West peninsular, providing a constantly changing nautical panorama that ranges from popular seaside resorts to wildly remote rocky headlands.
The 630-mile trail passes through Somerset, Devon, Cornwall and Dorset. As it rises and falls with every river, beachhead and cliff top, the total elevation, or height walkers have to climb, is a hefty 114,931 feet (35,031 meters). That's four times the height of Everest.
Nevertheless the coastal path is generally well signed and maintained, there is a wide selection of places to eat and stay, and a huge selection of sights, attractions and viewpoints on every stretch. And for the less experienced walker there is another great attraction: it's almost impossible to get lost on the South West Coast Path.
South West Coast Path route
Walkers usually start at the special SWCP sculpture of giant hands holding a folded map on the seafront promenade at Minehead in Somerset and end at the metal monument next to the dunes at South Haven Point on the edge of Poole Harbour, Dorset.
This north to south direction is the norm but it can equally be walked from Poole to Minehead: the waymark signs point in both directions. For the sake of convention most guides and day-by-day plans describe it in the anti-clockwise direction from Somerset to Poole.
It starts with a particularly dramatic section along the Exmoor coast. This includes its highest point, the flat-topped, heather-clad bulk of Great Hangman Hill near Combe Martin (1,043ft/318m).
The surf beaches of North Devon are followed by the high, dark, brooding cliffs of the Hartland headland. Cornwall is a sequence of charming bays, beaches and estuaries, before the path returns to the green inlets and harbours of South Devon.
Torbay involves more beach resorts and Victorian hotels, before the grand finale of the World Heritage Jurassic Coast of spectacular rock formations and geological drama on the shores of East Devon and Dorset.
This is the UK's most popular holiday region for a reason. The path includes many memorable scenes that will have walkers unpacking their cameras, including: Clovelly's unspoilt whitewashed and flower-bedecked cottages tumbling down to its tiny harbour, the clifftop castle ruins of Tintagel, the sandy crescent of Mount's Bay, Penzance, dominated by St Michael's Mount, the grand natural harbour of Falmouth and the dramatic red cliffs of East Devon leading into the extraordinary formation of the Chesil Beach.
South West Coast Path sections
Very few walkers complete the path in one go; for most it's a longer-term project that's broken up into more easily-manageable sections. Exactly how you split it up depends on how much time you have for each stretch, and how challenging you want to make it.
The official South West Coast Path website has various suggested itineraries, including this 52 day programme broken up into eight week-long segments:
Section one: Minehead to Westward Ho! (7 days, 87 miles)
Section two: Westward Ho! to Padstow (7 days, 78 miles)
Section three: Padstow to St Ives (6 days, 66 miles)
Section four: St Ives to The Lizard (6 days, 69 miles)
Section five: Lizard to Par (6 days, 72 miles)
Section six: Par to Torcross (7 days, 94 miles)
Section seven: Torcross to Seaton (6 days, 72 miles)
Section eight: Seaton to South Haven Point (7 days, 92 miles)

Need-to-know
Minehead is easy to reach by road, although a glorious alternative is the West Somerset steam railway, which runs a regular service from Taunton to the seafront.
At the other end, most walkers jump on the Sandbanks ferry at South Haven Point across the entrance to Poole Harbour. The three-mile walk through the town to Parkstone Rail Station may seem the longest of the whole route, so note that buses and taxis are an option.
The vast majority of the 8-odd million who venture onto the path every year are doing small sections, perhaps just to buy an ice cream in the next beach cafe. On some stretches there may be no other walkers all day but be prepared for crowds and queues passing close to resorts on sunny summer weekends.
The path is so long that small sections can still provide a fulfilling holiday in their own right. Particularly scenic stretches might include Minehead to Woolacombe, Bude to Padstow, St Ives to Penzance, Exmouth to Lyme Regis and Weymouth to Poole.
Secret spots
It's not all famous postcard scenes and the path offers plenty of little-trumpeted discoveries that can provide the best memories of all. Hidden treasures include Britain's smallest church deep in the cliff top woods at Culbone near Porlock, the pretty National Trust valley reaching the sea at Branscombe in East Devon and the strange geological secret waiting to be discovered at the mouth of Boscastle Harbour (clue: it makes a strange noise).
The Yorkshire Wolds Way
The Yorkshire Wolds Way leads across the glorious rolling farmland and chalk landscapes of East Yorkshire, an unspoilt corner of England largely neglected by popular tourism.
The Yorkshire Wolds Way
Distance: 79 miles (127km)
Duration: six days
Start point: Hessle, East Yorkshire
End point: Filey, North Yorkshire
Difficulty: Easy to medium
Suitable for: Relaxed walkers who prefer quiet rural exploration over star attractions at every turn
The route wends its way from the banks of the expansive Humber estuary, across the tranquil countryside and unspoilt villages of the Wolds to reach the spectacular headland of Filey Brigg on the North Yorkshire Coast.
There are no cities on the route and no serious hills either. Don't imagine it's dull though: this is rural England at its best. It's an area that seems to have bigger skies with wide panoramic views. It's easy to see why artist David Hockney spent years painting landscapes here.
Yet the Wolds Way is never crowded. In fact, this has been called 'Britain's least known National Trail' by the BBC. Nevertheless, the path is generally well mapped, maintained and way-marked.
The Yorkshire Wolds Way sections
Day one: Hessle to South Cave (13 miles/21km)
The path starts on the foreshore next to the landmark Humber Bridge then leads up into the Wolds along leafy paths and through quiet historic villages.
Day two: South Cave to Market Weighton (12 miles/19km)
Walk across hills with wide estuary views and then choose between the main route, via the classic historic country town of Market Weighton, or a trail offshoot to the pretty village of Goodmanham.
Day three: Market Weighton to Millington (9 miles/14km)
Today's highlight is one of Yorkshire's great hidden secrets: the photogenic old village of Londesborough and its grand aristocratic parkland. It's a good spot to look for circling red kites too.
Day four: Millington to Thixendale (12 miles/19km)
Follow the path through a series of gentle dry valleys, enjoying long distance views, leafy countryside and friendly village pubs.
Day five: Thixendale to Sherburn (19 miles/30km)
Near the romantic deserted medieval village of Wharram Percy, cross the highest point of the Wolds Way at (700ft/215m). Savour views from Settrington Beacon during a day that mixes old woods with rolling open country.
Day six: Sherburn to Filey (17 miles/28km)
Leave this Saxon village to pass Iron Age earthworks on the hills above, then descend from the Wolds to the classic seaside resort of Filey for the opportunity to paddle on its wide sandy beaches.
Need-to-know
Hessle makes a good starting point: it's just three miles west of Hull, at the northern end of the Humber Bridge, and road links couldn't be better. Hessle also has regular rail and bus services.
At the other end of the walk, Filey has convenient road and rail links too. Some walkers celebrate by marching right out onto the spectacular headland of Filey Brigg, but even then it's only a 20-minute walk back to the station.
For walkers planning a shorter version of the Wolds Way, public transport options are rather limited as this crosses a very rural area with no cities or rail links. The best option for a break is likely to be at Market Weighton, which offers buses to Beverley, Hull and York.
Rural East Yorkshire accommodation is generally unpretentious but welcoming in a cosy old-fashioned way. Expect homely inns, B&B's and guesthouses, real ales and hearty traditional food.
It's an all-year route but although winters are generally mild it can be bleak and windy up on the higher Wolds. Spring provides great wildflowers and the poppy fields of June are renowned. Don't worry about summer crowds this far inland. The old broadleaved woodlands colour any autumn walk here too.
Wharram Percy
The Wolds Way passes the haunting remains of Wharram Percy, a deserted medieval village hidden among the trees on a grassy hillside. The ruined church, millpond and cottages are one of the biggest of the UK's 3,000 abandoned medieval villages and are now an English Heritage site. It's open all the time and is free to enter.
The Monarch's Way
The Monarch's Way loops down from the West Midlands to the south coast of England, following the lengthy route taken by Charles II to evade capture following defeat by Cromwell at the Battle of Worcester in 1651.
The Monarch's Way
Distance: 615 miles/990km
Duration: 30 - 60 days, or shorter sections
Start point: Worcester
End point: Shoreham-by-Sea, West Sussex
Difficulty: Easy to medium
Suitable for: History fans and walkers who enjoy discovering little known patches of rural England
With the roundheads in hot pursuit and a large bounty on his head, Charles took a roundabout route via Bristol, Yeovil and Salisbury before finally escaping by boat to France. Charles II took six weeks but he had to hide in trees and barns. Today the walk should be much more relaxed—especially if you break it up into separate sections!
The paths and bridleways are usually well maintained and signposted with a logo of the Royal Oak tree (where Charles famously hid). It is also marked with a string of diamonds on OS maps.
It's England's longest inland waymarked hike and is characterised by its leafy well-established paths that include plenty of canal towpaths and disused railways. The gradients are mostly gentle, the terrain cultivated and much of the route passes through little-known rural areas.
The Monarch's Way route
It's customary to start at Worcester, as Charles did. He escaped rapidly after watching the Royalist defeat in the final battle of the English Civil War from the cathedral tower, so the grand gothic church is a good place to begin.
The path loops north to Bosbobel and the famous Royal Oak tree where Charles hid, then heads into Shropshire as Charles tried to escape to Wales. It turns south to Stratford on Avon and through the Cotswolds to Bristol. Then crossing over the Mendip Hills, it continues to Wells and down to Charmouth on the Dorset coast. The final loop curls back over the Chalk Downs of Wiltshire and Hampshire to Shoreham in Sussex.
The Monarch's Way sections
The Monarch's Way is so long that it is usually broken into three sections for convenience of description and mapping. Each of these could make a one to two week holiday depending on the speed of walking.
Section one: Worcester to Stratford (180 miles/290km)
Through the West Midlands and Shropshire, highlights include following a network of historic Industrial Revolution canals, seeing a descendant of the Boscobel Royal Oak and reaching Shakespeare's Stratford-upon-Avon. Less celebrated discoveries along this section might include the romantic ruins of White Ladies Priory and Moseley Old Hall, both used as hiding places by Charles.
Section two: Stratford to Charmouth (210/340km)
Crossing the Cotswolds and Mendips are the most arduous parts of the Way but the compensation is a sequence of some of the finest English country towns and villages, including Stow-on-the-Wold, Cirencester, Tetbury, Wells and Montacute. Lesser known highlights include the classic thatched cottages in Upper and Lower Qunton in Warwickshire, the thick woods at Abbots Leigh above the winding Avon Gorge and pretty South Cadbury nestling under its mysterious hillfort.
Section three: Charmouth to Shoreham (225miles/360km)
The Way loops from the Jurassic Coast inland along the ridge of southern England's chalk downland, passing the major attraction of Stonehenge. Memorable less crowded (and less expensive) discoveries along the route might include the vast hill fort at Old Winchester Hill, crossing the parkland under the ramparts of Arundel Castle and the view from the great cliff peak at Golden Cap, the highest point on England's south coast.
Need-to-know
Worcester and Shoreham are easily accessible by road or rail, as are many spots along the Monarch's Way. It doesn't cross wilderness areas, so refreshments, accommodation and transport links are never far from the trail.
A path this long can be walked in smaller sections of course and detailed mapping and guides are available for specific stretches provided by various local authorities and walking groups.
The Monarch's Way Association is the best source of detailed information. It publishes three books on the route and offers up-to-date online news about work and conditions on the trail, including via social media. Visit: www.monarchsway.50megs.com
Did you know?
The original Royal Oak, where Charles II took shelter, is long-gone. But the tree's descendents live on in Boscobel and, in a more figurative sense, across the country, as the country's third most common pub name.
Round-the-Isle-of-Wight Trail
As a long distance walk, the Isle of Wight coastal path is quite short but it provides an opportunity to walk right round the shoreline of England's largest island. You might find that on return to the start point there's great satisfaction in completing an island's circumference, regardless of the length!
The Isle of Wight trail
Distance: 70 miles/113km
Duration: 4 – 6 days
Start point: It's a circuit – but any of the ferry terminals make most sense
End point: Wherever, it's a circuit, see above!
Difficulty: Moderate with a few gentle cliff climbs
Suitable for: Seascape admirers and those who like a sense of achievement
Along the way, the Isle of Wight offers a surprisingly varied sequence of landscapes, including jagged chalk headlands, long sandy bays, salt marshes and estuaries. There are certainly no boring stretches on this route.
Many islanders are keen walkers and many visitors try at least part of the coast trail. This means the local authority keeps the path well maintained and signposted. It also means you are likely to see other walkers at any time, especially round Tennyson Down and the Needles. Nevertheless the round-the-island walk is generally less crowded than mainland coastal trails simply because it's harder for most people to get there.
Isle of Wight Coast Path route
It's a circular route of course so walkers could start anywhere and it may depend on your accommodation plans.
Most walkers will arrive by ferry and so the terminals make sensible start and end points.
The choice of clockwise or anti-clockwise is entirely down to personal preference. Similarly, the time of year is a personal choice. Summer brings more people but better chances of good weather; winter storms could make a coast walk very memorable or spoil your day. Generally the Island has a mild climate and the north coast is particularly sheltered.
It makes sense to check the dates of occasional round-island walks and races before committing. Even major yachting events like the Round-the-Island race could make a big difference to the walk, either positive or negative depending on taste, and also affect availability of accommodation.
Isle of Wight coastal path sections
Wherever you start it's useful to know what each section of the walk is like:
Day 1: Cowes to Yarmouth (16 miles/26km)
Heading along the sheltered north coast with views across the Solent and its busy waterways to the mainland. Highlights include Newtown Nature Reserve and panoramic views at the delightful coastal village of Gurnard.
Day 2: Yarmouth to Brighstone (14 miles/23km)
This is probably the most spectacular day on the route. Savour amazing seascapes including Alum Bay, the Needles and the south coast 'chines' or valleys. Note Tennyson's grand home at Freshwater too.
Day 3: Brighstone to Niton (8 miles/13km)
Another inspiring day, now walking along the south coast of big chalky cliffs, grand sea views and rolling grassy downs.
Day 4: Niton to Sandown (9 miles/14km)
A chance to explore Ventnor's Victorian charm and free botanical gardens, then stroll along Shanklin and Sandown's classic seaside promenades.
Day 5: Sandown to Ryde (12 miles/19km)
Continue up the east coast tackling a fascinating sequence of seaside resorts, wild cliffs, sandy bays and yachting harbours.
Day 6: Ryde to Cowes (8 miles/13km)
Head back along the north coast through attractive wooded shores to photogenic Wootton Creek, then passing Queen Victoria's favourite home at Osborne House to descend back into the bustling yachting centre of Cowes.
Need-to-know
Arriving at the route's start point will usually involve a ferry trip for most walkers. The available ferry routes for vehicles and pedestrians are: Portsmouth to Fishbourne, Southampton to East Cowes and Lymington to Yarmouth.
Additional pedestrian-only ferries are: Southampton to West Cowes, Portsmouth to Ryde and Southsea to Ryde.
The best route can depend on your route to the south coast and where you plan to stay on the island. Accommodation should not be a problem; there aren't any wilderness areas although there are some largely rural stretches. As a holiday destination the choice should cover everything from nice boutique hotels to campsites and B&Bs.
Don't miss
Walkers pass through to one of the Island's great 'secret' locations: Steephill Cove near Ventnor. The tiny classic bay with its semi-circle of pretty old fishing huts and cottages can only be reached on foot. Look out for the seafood pasty stall.
The White Horse Trail
The White Horse Trail is a circular long distance walking route through the Wiltshire countryside linking eight white horse chalk figures and visiting historic sites like Avebury, Silbury Hill and the Kennet and Avon Canal.
The White Horse Trail
Distance: 94 miles/151km
Duration: 5 – 8 days
Start point: Circular route
End point: Circular route
Difficulty: Moderate, with some hills
Suitable for: Walkers who like history, legends… and great views
The eponymous chalk figures are famous sights across the Wiltshire Downs and each has a different story and associated legends.
It's a very rural trail using well-established paths across classic chalky hills and neat Wiltshire farmland. It can be muddy but there are no wilderness sections.
It's rated moderate because there's a fair amount of clambering up the sides of chalk hills - all the horse figures are cut on the sides of escarpments. The total elevation of the White Horse Trail is 6,703ft/2,043m and the highest point is 932ft/284m.
The White Horse Trail route
The route can be tackled in either direction and from any point, as it is a circle – but a possible day plan provides a formula to make your own holiday arrangements.
Day 1: Westbury to Market Lavington (11 miles/18km)
Start at Wiltshire's oldest and most iconic White Horse at the site of Alfred the Great's victory over the Danes. Then follow a spectacular ridge path next to the army's Salisbury Plain ranges.
Day 2: Market Lavington to Pewsey (12 miles/19km)
The trail leads down into the fertile Pewsey Vale with the village's modern white horse on the hills above.
Day 3: Pewsey to Marlborough (11 miles/18km)
More glorious rolling Wiltshire Downs leading into the grand historic market square of Marlborough and its 200-year-old horse.
Day 4: Marlborough to Broad Hinton (8 miles/13km)
Discover the Hackpen Hill Horse cut to commemorate Queen Victoria's coronation amid great countryside views.
Day 5: Broad Hinton to Compton Bassett (12 miles/19km)
Pass prehistoric and medieval earthworks to find Broad Town's small horse figure cut on a slope above the woods.
Day 6: Compton Bassett to Bottlesford (14 miles/23km)
Pass the Georgian Cherhill White Horse, walk part of the ancient Ridge Way and discover the Avebury World Heritage Site. Cross the mysterious Wansdyke and Milk Hill, Wiltshire's highest point, to find the remote Alton Barnes horse.
Day 7: Devizes to Westbury (15 miles/24km)
Follow the Kennet and Avon canal towpath down Caen Hill, then cross the farmland and leafy villages back to Westbury.
Need-to-know
The route is a circuit so can be started and ended anywhere. Obvious start/end points are the towns Westbury, Marlborough and Devizes. Note that of those, only Westbury has a rail link but Devizes and Marlborough have more historic (and attractive) town centres to explore.
Wherever you start the White Horse Trail there's a good choice of accommodation in the towns, less so in the rural spots. It is certainly advised to plan ahead because some stretches will only be served by a couple of farm B&Bs.
Unlike other more popular routes, there may not be a huge choice of organised walking holidays on offer but your accommodation may offer a luggage transfer service, or be able to recommend one.
The walk can be tackled at any time of year and crowds won't be much of a problem. In the peak of summer there may be small crowds around Westbury White Horse, the Kennet and Avon towpath and Avebury but these are generally wide-open spaces with lots of room to escape others if that's what you want.
Caen Hill Flight
The walk out of Devizes along the Kennet and Avon canal provides an unexpected highlight: the Caen Hill Flight. This sequence of 29 locks is more than 200 years old and was built to help the canal negotiate the steep hill outside the town. It takes a narrow boat all day to pass through them all – thankfully walkers pass by much quicker.
Other popular UK walking routes
Self-guided vs guided walking holidays
Complete freedom or ease of travel?
You've got three main options here: 1) Self-guided and carrying your own bags; 2) Self-guided, but using a walking holiday company; 3) Guided or escorted, typically with a small group of other walkers.
Each has its own merits. Which you plump for depends partly on your physical ability and your budget, but generally speaking it's a question of convenience versus freedom.
Self-guided and carrying your own bags
It's difficult to quantify the sense of freedom you have when you set off on a walk from A to B, carrying everything you might need along the way. Some take this to the extreme by being almost completely self-sufficient, carrying a tent and cooking equipment with them and pitching up at whatever quiet camping spot they find each evening. Others will use hostels or B&Bs as they go, but carry all the clothing and extra supplies they might need for a week-long trip.
You certainly save money walking this way, especially if you camp, as baggage-carrying firms and particularly guides can be expensive, but the main advantage is that you don't have to tie yourself down to a rigid schedule. Instead, you can go with the flow, walking as fast or slow as you prefer and stopping wherever and whenever you like. And unless you're hiking a very remote mountainous area in, say, the Scottish Highlands, navigation is rarely a major problem.
Most walking trails in Britain are well marked, particularly the National Trails and the coastal paths, and they are usually covered by a comprehensive, easy-to-follow guidebook, or at very least a mapping series. Top tip: Invest in a guidebook. It'll be the best £10 you spend on your trip.
Self-guided, but using a company
For most walkers, carrying all the gear you need for a multi-day trip just isn't feasible, but going on a fully-fledged guided tour also doesn't appeal. Fortunately, there are plenty of walking holiday companies at hand who, for a small fee, will organise your nightly accommodation and transport your luggage from one guesthouse to the next as you complete your walk. There are some restrictions (they can't always deliver to campsites, for example, nor to very remote hostels), and you'll be tied to a pre-agreed itinerary of course, but this option does leave you with the freedom of walking on your own, without having the physical burden of anything more than a light day pack.
Escorted walking holidays
For those who don't trust their navigational skills or just prefer to walk with others, guided tours offer fully-supported group walks with an experienced guide. This also removes the hassle of having to plan your trip – a nice feeling when you're on a holiday. Trips usually include accommodation, transport arrangements, baggage transfer, minibus back-up and, of course, a guide.
The downside is that you won't be able to stop where and when you want, to take that afternoon snooze on a sunny riverbank, to spend an extra few minutes lining up that perfect selfie, or to take an extra rest day in an idyllic fishing village you discover you have a soft spot for. Taking a guided tour also makes your walking holiday significantly more expensive.
Walking holiday typical costs
Self-guided, carrying your own bags
Accommodation: around £550 (£100 if camping)
Meals: around £350 (£140 if cooking for yourself)
Extras (entrance tickets etc): around £100
Total: £1,000 (£340 if camping)
Self-guided, using a bag carrying company
Same as above, plus baggage-carrying service of around £10 per day per bag
Total: £1,140 (£480 if camping)
Self-guided, using a walking holiday operator
Between £80 and £100 per person per day, includes accommodation, breakfasts, bag transfers and all other logistics.
Fully escorted/guided
Two weeks fully guided: around £1,400 (including breakfast, but not any other meals)
Meals: around £350
Extras (entrance tickets etc): around £100
Total: £1,850

Walking holidays to Scotland's highlands, islands and coast
For long-distance hikes, Scotland is hard to beat. The scenery is outstanding and the trails a joy to follow. One of the aspects that make walking here so appealing is the sense of space. This ancient land feels much bigger than it is thanks to the amount of wilderness and low population density: Scotland is the most sparsely populated country in the United Kingdom, with only 70 people per square kilometre; England has more than six times that.
A walking holiday here, as in the rest of the UK, offers a great variety of terrain from delightful coastal routes to long trails that traverse a big chunk of the country with character-filled overnight stops. Hearty food will help keep your energy levels up and you will find lots of regional variations in the cuisine and, of course, the whisky. A warm Scottish welcome also makes a trip here extra special and you can be assured the locals will make your holiday a memorable one. The knowledge that you are exploring a part of the UK, perhaps an entire region you have never been to, is one that many domestic visitors relish.
There are 29 nationally promoted Great Trails in Scotland which range in length from 24-210 miles. Together, they provide almost 2,000 miles of well-managed paths from the Borders to the Highlands. This guide covers walks in Fife, in the east of the country between Edinburgh and Dundee; Speyside, from Aviemore north to the Moray Coast; the central county of Stirlingshire into Perthshire on the Rob Roy Way and the outskirts of Glasgow into the Highlands on the iconic West Highland Way.
Fife and Speyside offer gentler terrain than the other options, though they are totally distinct with the Speyside Way following a broad, partly wooded, river valley while walking in Fife passes through strings of villages, by quaint old harbours and through rich agricultural land. These areas are best for families and walkers who like to take their time sightseeing en route. A basic level of fitness will suffice for much of the walking here.
The West Highland Way passes through increasingly rugged country as it progresses from south to north. This is a trail that is ideal for younger hikers or seasoned walkers. Less fit walkers will manage but will have to push themselves.
The Highlands of Scotland have few villages and only scattered hotels for long distances. Thorough prior planning is required if you are not going with a guide.
Stirlingshire and Perthshire, on the Rob Roy Way, are filled with smaller hills than the Highlands and the walking is generally a little easier than the more rugged lands to the north. The Rob Roy Way does have one section where experience will help in following the trail. For this reason, we recommend that those with a poor sense of direction engage a guide.
Many attractions and visitor centres are seasonal, opening from Easter to September. And, broadly speaking, that is the best time for outdoor activities. Favoured months are May and September as the weather can be at its most crisp and stable then. In more recent years, heavy rains drop in July and August.

Scotland is a place of many lochs, rivers and moorlands. These are all lovely but (and this quite a big ´but´) they provide ideal conditions for the Scottish midge, which bites walkers from June to late September. Always carry repellent and clothing that will cover your limbs. It is advisable to keep these items accessible along with a head midge net and peaked hat. Warm, sultry, cloudy days are the worst. Dawn and dusk are also when you may be worst hit.

If you are the totally independent type, Scotland is your oyster. Wild camping is enshrined along with access, subject to common sense caveats, through the Land Reform (Scotland) Act (2003) which includes some of the most walker-friendly legislation in Europe.
Scotland's best long-distance walking trails
Popular and lesser-known routes and ways
The following 'Best of Scotland' offers four hugely contrasting walking experiences in terms of location, terrain and difficulty, but each rewards with memorable experiences as you wander across this invigorating land.
West Highland Way
West Highland Way
Distance: 96 miles (154km)
Duration: Eight days
Start point: Milngavie
End point: Fort William
Difficulty: Moderate with harder northern sections – well-marked route; some remote and hilly parts
Suitable for: Any reasonably fit walker, family-friendly sections highlighted below
Scotland's oldest and most popular long-distance walking route – the West Highland Way – appeals to serious walkers, strolling day trippers and even runners who race the 96 miles in under 35 hours! Walkers take around a week to complete the distance, travelling from the outskirts of Glasgow, past Loch Lomond's wooded banks, via Tyndrum and across the wilds of Rannoch Moor before a final stretch to finish in the Highland town of Fort William.
The full undertaking is a long and fairly challenging trail but the majority of those who hike it only have an average level of fitness. As with all long-distance walks, it's a very good idea to get some multi-day training in first if you can to harden up your legs and feet.
Then, all going well, you can relish in the experience as you trek ever northwards. Wildlife that may be seen includes hardy feral goats, red deer and golden eagles, but it's the Highland scenery that offers stunning views year-round. Filmmakers have long been drawn to sights you will see en route.
Sections of Braveheart with Mel Gibson as the Scottish legend, William Wallace, were shot around Loch Leven, Glencoe and in the Mamores mountains near Fort William, all of which are along the West Highland Way trail.
The West Highland Way route
A really satisfying aspect of this long-distance walk is the sense of progression. The change in landscape from the lowlands of the start to the finish near the foot of Britain´s highest mountain Ben Nevis (1,345m) is memorable.
The West Highland Way begins as you step off the high street in Milngavie (pronounced Mullguy!). You'll be following in good company: around 85,000 people walk parts of the Way every year. Indeed the West Highland Way has been well tramped over the centuries as much of it follows ancient drove roads, military roads from Jacobean times, old coaching roads and disused railway lines.
You enter Mugdock Country Park, pass the Carbeth Huts built by Glaswegians during the thirties, cross a stile and suddenly the scenery becomes wilder. Straight ahead stands wooded Dumgoyach Hill, to the right an ancient volcano – Dumgoyne and, in the distance, bigger hills, including Ben Lomond can be seen. In the foreground, a rocky path can be seen weaving its way across this more open landscape.
The first night, spent in Drymen, will give an inkling of the camaraderie that walkers of this epic route share. You´ll probably recognise fellow hikers the following day as you edge up the stunning eastern shore of Loch Lomond, part of a national park, passing oak-wooded islands that drip with natural beauty. Families will love the sections north of Rowardennan and by Inversnaid which give unrivalled views of the loch.

By day five you will be in the shadow of Beinn Dorain, a magnificent mountain that rises from the foot of the trail to a pleasing conical top. Then, after Bridge of Orchy, the route bursts through trees onto the open hillside. Below is Loch Tulla and beyond the vast expanse of Rannoch Moor. On a sunny day, its many lochans glisten like a jewelled rug. Lochan na h-Achlaise, beyond Loch Tulla, is backed by the Black Mount to your left. They include Stob Coir an Albannaich – the Highlandman's peak.
Descend to the Inveroran Hotel, one of Scotland's oldest inns which retains a charm of yesteryear. Wake the next morning to the fresh Highland air and set off to join a Thomas Telford designed cobbled road which was in use until 1933.
Further on, Bá Bridge over the tumbling river makes a good half-way spot for a break. As you progress the views over the expanse of Rannoch Moor open out and you'll realise this is no place to be in bad weather.
Round a corner to see the track drop ahead with Buachaille Etive Mór – Glencoe's guardian – on your left and the Kingshouse Hotel below. The Kingshouse has a famous climbers' bar complete with classic photos and you can camp by the river for free.
The final two days are the hardest. First, you ascend the Devil's Staircase to reach the highest point of the West Highland Way at 550m, with breathtaking views back to The Buachaille and north to the Mamores mountain range before dropping down to overnight in Kinlochleven.
After a good night´s rest, another big climb is tackled to gain superb views down tidal Loch Leven. Then the Way takes the Lairigmor (the great pass) for easier walking between towering mountains and then views of might Ben Nevis.
The last leg follows Glen Nevis into the heart of the seagull filled town of Fort William where you can eat to your heart´s content.
West Highland Way day by day
Given the popularity of this trail, there's a great range of accommodation and support services available. Choose from a mix of accommodation, combining camping experiences with a night in a comfortable B&B or well-appointed hostel.
There are plenty of character-filled old inns to stay in too. These will always be filled with other tired but contented walkers where the smell of malt whiskey hangs pungent in the air. The vast majority of hikers, excepting perhaps day-walkers, go south to north which helps build your strength for the harder hillier sections near Fort William.
Around East Loch Lomond, be aware that camping restrictions are in place between 1 March and 31 October.

Day 1: Milngavie to Drymen (12 miles)
Day 2: Drymen to Rowardennan (15 miles)
Day 3: Rowardennan to Inverarnan (14 miles)
Day 4: Inverarnan to Tyndrum (12 miles)
Day 5: Tyndrum to Inveroran (9 miles)
Day 6: Inveroran to Kingshouse (10 miles)
Day 7: Kingshouse to Kinlochleven (9 miles)
Day 8: Kinlochleven to Fort William (15 miles)
Rob Roy Walk
Rob Roy Walk
Distance: 79 miles (127km)
Duration: Six days
Start point: Drymen
End point: Pitlochry
Difficulty: Moderate to hard – partly way-marked route, ill-defined path in places; hilly sections
Suitable for: Any reasonably fit walker, family-friendly sections highlighted below.
Named in honour of the 17th-century folk hero, the Rob Roy Way passes through rugged country closely associated with the irrepressible Scot and follows tracks he would have taken on his many adventures.
While Rob Roy was no saint, he was a man who captured the popular imagination. Variously described as a folk hero and Robin Hood type figure, he was wont to help the less fortunate with random acts of kindness.
Rob Roy was a hugely effective and talented leader of a section of his clan, the MacGregors, and proved himself to be a very persistent thorn in the side of the government and its local supporters.
His life story, from successful cattle dealer to outlaw, has become the stuff of legend, helped in no small part by several audacious escapes. On one occasion, a troop of dragoons surprised him at his Balquhidder farm and, hopelessly outnumbered, he succumbed. The troops rode down Strathyre with a dejected-looking Rob Roy in the saddle. It seemed certain he would be sentenced and imprisoned like his father. MacGregor, however, timed his escape to perfection at a narrow point by Loch Lubnaig, disappearing up a heathery slope as the horses below danced in confusion.
The great thing about the Way is that it passes through all these places. So, as you walk through this beautiful landscape, you are literally walking through history.
The Rob Roy Way route
Expect quiet pine forests, scenic lochshores, and wilder upland sections where the adventure is tangible. The first four days lead northwards through the Loch Lomond and Trossachs National Park – a gem among Scotland's landscapes.
Set off from Drymen where the Clachan Inn dates from Rob Roy's time. The route meets and follows the West Highland Way for a short distance before ascending a minor moorland road. Forest tracks and a quiet road leads to Aberfoyle. The variety of terrain and underfoot surfaces followed are typical of the Way.
Scotland's most notorious outlaw was born north-west of Aberfoyle, at the far end of Loch Katrine in 1671, and named Raibert Ruadh MacGregor – red-headed Robert. By his thirties, he had prospered as a cattle dealer. But when his chief cattle hand, or drover, absconded with a large sum of borrowed money MacGregor was accused of embezzlement, evicted and outlawed.
Next, the quiet Way leads by the wooded shores of Loch Venachar and Loch Lubnaig. Families will enjoy the flat section from Loch Venachar to the southern end of Loch Lubnaig, just before which is a particularly pretty woodland trail by the Falls of Leny.
Beyond Loch Lubnaig, divert off the Way for Balquhidder where one can see Rob Roy's grave at the churchyard where he was buried in 1734.
After overnighting at Lochearnhead, walk up Glen Ogle on an old rail line, crossing a viaduct. At the crest look left to spy a beautiful hidden lochan, or small loch, before reaching the village of Killin at the head of Loch Tay. There´s a wilder aspect to the landscape here and great panoramic mountain views once you have climbed stiffly to the dammed Loch Breaclaich. This is wild country where you need to be prepared for the elements. The going can be tough and wet underfoot.
By the time you drop back down to Loch Tay at Ardeonaig you will be glad to follow the gently undulating lochshore road which gives magnificent views to lofty Ben Lawers opposite. The official way leaves the road at the hamlet of Acharn. However, it is recommended that you keep straight to visit the fantastic Crannog Centre – with its reconstruction of the ancient stilt dwelling – and overnight in Kenmore.
The next leg begins with a sharp road climb before rejoining the Way to continue east above the River Tay. The conical peak of Schiehallion draws the eye. Its Anglicised name translates from the Gaelic Fairy Hill of the Caledonians. Stroll on to reach the enchanting birch-clad Birks of Aberfeldy.
Nearing the end of the journey you will reach Strathtay close to a prison from which Rob Roy escaped in June 1717.
The final uphill leg of the Way offers rewarding views over Strathtay before a welcome descent through woods with bustling Pitlochry down below your feet.
Rob Roy Way day by day
Accommodation is generally plentiful along the route (except on the south shore of Loch Tay on Day 5), with options that include campsites, hostels, B&Bs and hotels. The seven-day schedule outlined below is a popular one, with a stay each night in the main villages or town en route. Very fit walkers could complete the Way in four or five days. Note there is an additional optional 17-mile loop through remote glens to the hamlet of Amulree from Loch Tay. For wild country lovers, this is well worth considering.
Either way, it is best to complete the trip from south to north to benefit from the prevailing wind and to soak up the atmosphere of the Rob Roy country at the beginning.
Day 1: Drymen to Aberfoyle (11 miles)
Day 2: Aberfoyle to Callander (9 miles)
Day 3: Callander to Lochearnhead (16 miles)
Day 4: Lochearnhead to Killin (7.5 miles)
Day 5: Killin to Kenmore (18 miles)
Day 6: Kenmore to Aberfeldy (8 miles)
Day 7: Aberfeldy to Pitlochry (10 miles)
Speyside Way
Speyside Way
Distance: 65 miles (105km)
Duration: Five to eight days
Start point: Buckie
End point: Aviemore
Difficulty: Easy to moderate – well-marked route; few steep gradients; some stiles to negotiate
Suitable for: Most walkers, family friendly sections
The Speyside Way is one of four official Long Distance Routes in Scotland (the others are the West Highland Way, the Southern Upland Way and the Great Glen Way). It largely follows the course of the majestic River Spey from the Moray coast to the Cairngorms National Park gateway town of Aviemore. Along the route one passes myriad whisky distilleries and stands of ancient pine and birch woods.
The route principally follows the wide and peaceful Spey Valley and passes through some of Scotland's most beautiful landscapes. Alongside, the river – the fastest flowing in Scotland – is glimpsed regularly and walked next to, though not continuously.
It springs from the Cairngorm mountains, a vast subarctic plateau where reintroduced reindeer thrive. Not surprisingly, the Spey has shaped the landscape and character of the lands through which it passes. The pure waters have given rise to a staggering number of malt whisky producers across Speyside, more than half of the total distilleries in Scotland. You'll literally smell them before you see them from the trail!
In the 1600s pine logs felled in the ancient forests under the Cairngorms were transported downriver in rafts. The timber was used for railway construction, and later for shipbuilding where the river meets the sea at Kingston and Garmouth, from where more than 500 vessels were launched.
The Speyside Way route
Lace up your boots to leave Buckie, formed from a string of villages during the 19th-century herring boom years, to walk pleasantly to the mouth of the Spey. This is a fine walk from all the family and leads to the Scottish Dolphin Centre. The nutrient-rich Spey waters mean fish flourish here which in turn provides a haven for wildlife including bottlenose dolphins, ospreys, grey and common seals, the occasional otter and many coastal birds. The free-to-enter centre is located in an 18th Century salmon fishing station.
A further easy five miles leads inland with stretches of riverside path that are flower-lined in the warmer months. Take your time, bring a picnic, and soak up the atmosphere on a lazy summer´s day. Afterwards, in the village of Fochabers, you can eat well as there is a good range of excellent local produce from the surrounding fertile lands.
Heading south Day 3 is considerably longer (at 13 miles) and harder (graded moderate) as the Way negotiates hillier ground on woodland paths, roads and forestry tracks. A highlight is the view from the steep wooded slopes of Ben Aigan, which looks down over Speyside. From there a descent leads back down to the river before the mighty Spey is crossed on a road bridge by charming Craigellachie. A must-see is the Craigellachie Hotel, where the unique Quaich bar stocks some 900 single malts!
The next day´s stretch is very pretty. Note that the narrow riverside path with views to famed fishing spots can get muddy here.
Stroll through woods and tunnels before reaching a park by Aberlour, or Charlestown of Aberlour, as it is known in full. The linear town is home to the famous Walkers shortbread factory, and, of course, the Aberlour distillery. If you're feeling peckish, the butcher shop sells a superb steak pie.
The Speyside Way visitor centre (open April-September) is located in the old Aberlour railway station and has displays on the natural and local history, including archive footage of the former railway.
Carry on, rising gradually, to follow the river bank downstream through mixed woodland and cross the river below. Knockando distillery is passed in a couple of miles. Close by are the distilleries of Tamdhu and Cardhu. The latter runs tours which will proudly tell you how it was the first distillery in Scotland to have been set up by a woman. Further on, you will recross the Spey on a lattice girder bridge to reach the old Ballindalloch station building, near the Cragganmore distillery (tours).
Continuing south to Grantown is the hardest section of the route (graded moderate/hard). It´s hilly and rough and wet underfoot with two burns (streams) to cross on stepping stones; these may be difficult to cross in flood conditions.
Once completed, the remaining three days to Aviemore are a breeze and nice and flat. The villages passed through all have good facilities with lots of home cooking in the cafes. Ancient pine woods are walked through by Nethy Bridge and the final leg gives superb views across the Spey Valley to the Cairngorms´ mighty northern faces.
Speyside Way day by day
The official Speyside Way website describes the Way from the sea inland to Aviemore, but notes that this is a matter of preference. With this walk, one can just as easily hike downstream. It´s up to you. On the whole, there is a lot of accommodation choice for hotel, B&Bs with a more restricted choice for hostels and campsites.
You may struggle to get accommodation for one night in Ballindalloch. If you are doing the Way independently a simple workaround is to arrange for a taxi to pick you up from Aberlour.
There is also a hard 15-mile spur to Tomintoul from Ballindalloch. This mainly uses rough hill tracks.
Day 1: Buckie to Spey Bay (5 miles; family friendly)
Day 2: Spey Bay to Fochabers (5 miles; family friendly)
Day 3: Fochabers to Craigellachie (13 miles)
Day 4: Craigellachie to Ballindalloch (12 miles; family friendly)
Day 5: Ballindalloch to Grantown (13 miles)
Day 6: Grantown to Nethy Bridge (6 miles)
Day 7: Nethy Bridge to Boat of Garten (5 miles; family friendly)
Day 8: Boat of Garten to Aviemore (6 miles; family friendly)
Fife Coastal Path
Fife Coastal Path
Distance: 117 miles (188km)
Duration: Eight days
Start point: Kincardine
End point: Aviemore
Difficulty: Easy first half, easy to moderate thereafter – well-marked route; few steep gradients; rough ground and slippy steps in places; some sections only suitable at low tide
Suitable for: Most walkers, family friendly sections
Tamer than the above trails, this 188km well-signed route passes through picturesque seaside villages, old smuggling caves, and fabulous beaches. In summer it is very beautiful. There are many historical castles and sites too in addition to the stunning sea views; Fife is bounded by the Firths (estuaries) of the Forth and Tay, to the south and north respectively, and juts east into the North Sea. You can even take a boat trip to one of the islands.
The route really lends itself to walking in multiple sections if that takes your fancy rather than one big undertaking. Its character changes a lot from the low-lying easy first half to include some rougher but straightforward parts on the easternmost section, the East Neuk.
Fifers are proud of their historical importance – Dunfermline was Scotland's ancient capital – and they stoutly defend the popular county title 'the Kingdom of Fife'.
There´s more wildlife along the route than you might expect, even where it passes busy urban areas at Kirkcaldy and adjacent former steelworks and old colliery sites. Further east there are several wildlife reserves and a seal colony. The mouth of the Tay estuary is also where hundreds of sea ducks and wildfowl come to roost. And the dunes are full of fluttering butterflies during the summer months.
Fife Coastal Path route
Starting from the western extremity of Fife at the village of Kincardine on the River Forth the path entices you east. Bridges span the Firth of Forth and for the remainder of this section, you can clearly see the far side. The walking is easy and delightful on a calm day when the water can appear like a mirror.
Soon the excellent path runs to Culross by the prominent chimney stack of the last coal-powered station in Scotland, Longannet, which closed in 2016 marking the end of an era as the Fife Coalfield was one of the principal coalfields in Scotland until the late 80s.
Allow plenty of time to see the ancient burgh town, which is very attractive and is packed with colourful, Old Dutch style stone buildings which attest to the strong trade links that the Forthside town had with Veere in the Netherlands. During the 16th century, the town had a thriving community, developed under the laird, Sir George Bruce, and for whom the striking red-tiled Culross Palace was built.
Torry Bay Local Nature Reserve is passed before a steep climb above the firth. The historic villages of Charleston and Limekilns are reached after. Day one gives a good taste of the variety of the Fife Coastal Path for the next sections
Day four follows sandy beaches during low tides, with alternatives at other times. Beyond Largo Bay the path climbs to Shell Bay where there are two options – one goes up over the cliffs, the second the Ellie Chainwalk hugs the rocks with chains for handholds. Elie is a beautiful harbour village like many to follow.
Day five can´t be beaten though for its string of picturesque harbours. Pittenweem, Anstruther and Crail are all linked by the coastal path which is easy to follow and ideal for families. From Anstruther, there are daily boat trips during the summer months to the puffin-filled Isle of May nature reserve.
Beyond Crail the terrain becomes rough. The path narrows by Fife Ness with more low tide only sections beyond a golf course.
Day six also needs to be planned in advance due to sea levels. The rewards are the sense of remoteness and views of a pink sea stack, the Buddo Rock, and the Rock and Spindle, the weathered remains of a volcanic plug. The path leads to the East Sands by St Andrews – the famous golf centre and university town – where you should visit the centre to see the beautiful but ruined 12th-century cathedral.
Heading on from Leuchars the following day is an easy family-friendly section as far as Tayport. It passes through Tentsmuir Point National Nature Reserve. Located at the mouth of the Tay Estuary this forms an important roosting and feeding area for huge gatherings of seaduck, waders and wildfowl. It is also a haul-out area for more than 2000 common and grey seals. Butterflies are a feature of the grassland and dunes too.
Further on you will see Broughty Ferry on the far side of the Tay and then Dundee. It´s fun to realise you have rounded Fife!
One last day of the Fife Coastal Path is all that remains. It takes in the sizeable Normans Law and leads through some nice woodlands. It leads to a suitably pleasing end in the charming town of Newburgh at the coastal path arch.
Fife Coastal Path day by day
Accommodation is plentiful in all locations, though you should book early, and is largely B&Bs or hotels.
The exception is the final day section from Balmerino to Newburgh, though Newburgh itself has plenty of options.
The entire route from Kincardine as far as Newport-on-Tay is well served by public transport, and the section between Kincardine and Kirkcaldy is served by the mainline railway.
More detailed information on sections affected by tides can be found from the official path website.
Day 1: Kincardine to Limekilns (11 miles)
Day 2: Limekilns to Burntisland (17 miles)
Day 3: Burntisland to Buckhaven (14 miles)
Day 4: Buckhaven to Elie (13 miles)
Day 5: Elie to Cambo Sands (16 miles)
Day 6: Cambo Sands to Leuchars (14 miles)
Day 7: Leuchars to Wormit Bay (16 miles)
Day 8: Wormit Bay to Newburgh (15 miles)