South Island
Snow-capped mountains, hiking trails and adventure sports

Destinations
Christchurch, Lake Tekapo, Wanaka, Queenstown, Glenorchy
Activity
Adventure, Nature & Wildlife, Culture & History, Trekking, Cities, Hiking, Water Sports, National Parks
Physical Level
Easy
Take in the amazing cities and scenery of New Zealand's South Island with a seven-day trip, starting in beautiful Christchurch on the east coast. From this starting point, venture inland to Lake Tekapo's turquoise waters, the ideal spot to relax during the day before stargazing at night. Continue down the length of the island to Lake Wanaka, where you can try a range of outdoor activities with snowcapped mountains as your backdrop, before heading to the hiking trails of Glenorchy, nestled on the shores of Lake Wakatipu. Finish your trip at the stunning city of Queenstown, on the eastern side of Lake Wakatipu, and enjoy some of the myriad adventure sports available.
Top experiences
Our recommended activities and highlights
Glenorchy
Skydive high above the Glenorchy mountain range
The blue lakes and snow-capped mountains in and around Glenorchy are so stunning that they were used as locations for The Lord of the Rings films, and, for those who dare, skydiving is an incredible way to take in this amazing scenery.
Lake Tekapo
Stargaze at Lake Tekapo
Part of UNESCO's Dark Sky Reserve, Lake Tekapo's sparkling emerald waters offer stunning views of the Southern Alps by day and fantastic stargazing at night. Flower-lovers should aim to visit between mid November-December for the thousands of lupins which decorate the waterfront.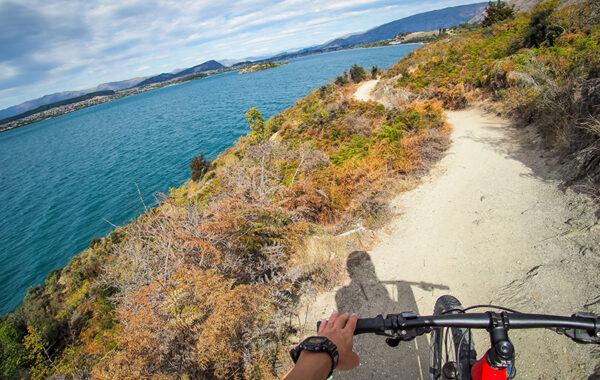 Wanaka
Mountain biking in Wanaka
The Deans Bank 11km track through the Otago landscape offers fantastic mountain biking for intermediate-advanced riders, with views of the Clutha River and Southern Alps.
Request a custom itinerary
Get a tailored itinerary from one of our specialist tour operators
Your details are safe and will not be used for any other purpose. By clicking 'Send' you agree to our
Privacy Policy
Other tours you might like
Why Horizon Guides?
Expert travel guides
Our guides are written by the leading experts in their destinations. We never take payment for positive coverage so you can count on us for reliable and impartial travel advice.
Authentic experiences
We curate exceptional trips in underrated places, organised by the very best tour operators who live and breathe their destinations and are passionate about authentic, responsible tourism.
Give back to mother nature
We'll plant 50 trees for every trip booked via the Horizon Guides site in partnership with the International Tree Foundation, who carry out sustainable community forestry projects in Africa.