Morocco cities and desert
Casablanca | Rabat | Fez | Sahara | Marrakech
Destinations
Marrakesh, Rabat, Moulay Idriss, Casablanca, Essaouira, Merzouga
Activity
Culture & History, Luxury, Cities, Photography, Culinary
Start your tour of Morocco's major cities with its largest, Casablanca, which has a growing street art scene. Grabbing a guide to take you on a tour is the perfect way to discover the city on foot. Then, follow the coast north to the capital of Rabat where you can take in more art by exploring the Mohammed VI Museum of Modern and Contemporary Art. The hillside town of Moulay Idriss lies inland to the east of Rabat and is worth a visit for its history and beauty before heading south to the Sahara for a sunset camel trek near Merzouga. The trip's endpoint is Marrakech, where you can enjoy a high tea like a royal.
Trip highlights
Merzouga
Take a sunset camel trek in the Sahara Desert
The western fringe of the vast Sahara Desert creeps into southern Morocco and one of the most authentic ways to experience it is to watch the golden sands melt together as the sun goes down with an evening camel ride.
Casablanca
Take a street art tour in Casablanca
Exploring Morocco's largest city is best done on foot, and a great way to do this is by checking out its growing street art scene, which adds a touch of colour to the city's old white buildings, with the help of a tour guide.
Marrakesh
Design your own Moroccan slippers in Marrakesh
The souks are filled with colourful babouche slippers in a rainbow of colours, styles and sizes, but during a hands-on workshop organised by Atelier d'Ailleurs, guests can make a pair to suit their style. Accompanied by a master craftsman throughout the three-hour workshop, guests select the leather, cut, hammer, sew and select the colourful accessories to accompany the pair of slippers they take home at the end.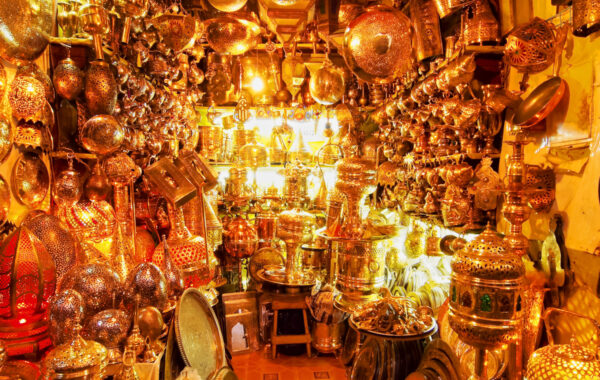 Marrakesh
Get lost in Marrakesh's soulful souks
In a city of countless winding alleyways and palaces centuries old, grab a local guide for a walking tour. You may discover the souks where items are still handmade, palaces with tales to tell, and gardens for a peaceful rest.
Moulay Idriss
Bake Moroccan biscuits in the hillside town of Moulay Idriss
Escape the crowds with a visit to the charmingly picturesque hillside town of Moulay Idriss. The town is of national importance thanks to its religious history but still fairly quiet. It is welcoming to visitors and local guesthouses offer the opportunity to bake traditional Moroccan biscuits in community ovens.
Marrakesh
Sample street food in the Jemaa el Fna
As the sun sets, Jemaa el Fna comes to life with entertainers, street performers and food stallholders selling everything from sheep's brain, snails and mixed grill. The ambience turns up as evening rolls on. Wander on your own or join a guided street food tour.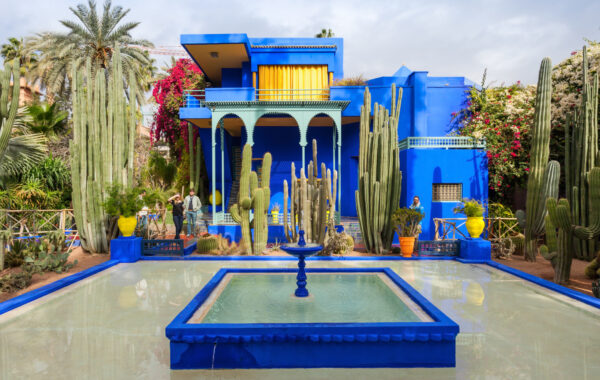 Marrakesh
Get botanical in Marrakesh's Majorelle Gardens
Seek some shade at the peaceful Majorelle Gardens in Gueliz, a neighbourhood in the heart of Marrakesh developed during the French protectorate era. The colourful and varied botanical garden also features a striking blue Cubist villa and is home to the Islamic Art Museum of Marrakesh and the Yves Saint Laurent Museum.
Rabat
Explore modern art in Rabat's Mohammed VI Museum
Experience modern and contemporary Moroccan culture at the Mohammed VI Museum in Rabat. Only opened in 2014, the stunning modern museum building itself took ten years to build, and inside it houses the works of Moroccan and international artists from the twentieth century onwards.
Previous
Next
Other trips you might like
Why Horizon Guides?
Expert travel guides
Our guides are written by the leading experts in their destinations. We never take payment for positive coverage so you can count on us for reliable and impartial travel advice.
Authentic experiences
We curate exceptional trips in underrated places, organised by the very best tour operators who live and breathe their destinations and are passionate about authentic, responsible tourism.
Give back to mother nature
We'll plant 50 trees for every trip booked via the Horizon Guides site in partnership with the International Tree Foundation, who carry out sustainable community forestry projects in Africa.