Classic Vietnam
Hanoi | Halong Bay | Phong Nha-Ke Bang National Par| Hue | Hoi An | Nha Trang | Dalat | Ho Chi Minh City | Mekong Delta
Destinations
Ho Chi Minh City, Hanoi, Sapa, Halong Bay, Mekong Delta, Hue, Dalat, Phong Nha Caves, Fansipan Mountain
Activity
Adventure, Cruise, Nature & Wildlife, Culture & History, Family, Cities
Hanoi to Ho Chi Minh City via the eastern coast lets you sample a sizeable amount of what Vietnam has to offer. Sample Hanoi's culture before heading east to the country's famous limestone bays. As you head south, visit the caves of Phong Nha-Ke Bang National Park and the charming towns of Hue and Hoi An. From Nha Trang head west to Dalat and its beautiful waterfalls before finishing your adventure at the historical Ho Chi Minh City. Extend this route with trips to the Mekong Delta in the south and the beautiful countryside of the north.
Top experiences
Our recommended activities and highlights
Halong Bay
Vietnam's lesser-known bays
While crowds flock to the famous Halong Bay, the nearby limestone karst islands of Lan Ha and Bai Tu Long are formed by the same geological feature that runs 100km up the Vietnam coastline and are just as beautiful, yet with a more isolated appeal.
Dalat
Chasing the waterfalls of Dalat
Dive into a bit of adventure with a guided canyoning experience at the Elephant and Pongour Waterfalls near to the city of Dalat in Vietnam's central highlands. The region's fertile soils yield natural resources aplenty but wildlife still thrives here, including elephants, bears and gibbons.
Fansipan Mountain
'The Roof of Indochina'
At 3,143m, Fansipan is the highest mountain in the Indochinese Peninsula. With ethereal panoramas of the Hoang Lien mountain range from the summit, the 1-3 day hike is a must for adventure seekers, while the cable car from Sapa provides a slightly gentler option.
Sapa
Motorbike the Northwest Loop
This one-week journey winds through mountains cut by deep valleys, past isolated ethnic villages, rice paddies and jaw dropping vistas. Aside from Sapa, be prepared for no English speakers, Western food or high-end lodgings on this motorbike adventure.
Ho Chi Minh City
Go with the flow in Ho Chi Minh City
In a city of nine million people, get a local perspective by hopping on the back of a motorbike. These tours offer a whirlwind sample of Ho Chi Minh City's historic sites, tasty street food and some of its 24 unique districts.
Ho Chi Minh City
Experience the war at Cu Chi tunnels
The remarkable, if not slightly claustrophobic, network of tunnels at Cu Chi serves as a reminder of the brave and innovative resistance made by the Viet Cong. Fancy firing an AK-47? You can do that here too at the site's accompanying firing ranges.
Hue
Two-wheel the Hai Van Pass
Located between Hue and Hoi An, a ride over the Hai Van Pass is the scenic way to connect these two popular tourist destinations. The 19km roadway winds over the mountain and delivers stunning coastal views best enjoyed by motorbike or bicycle.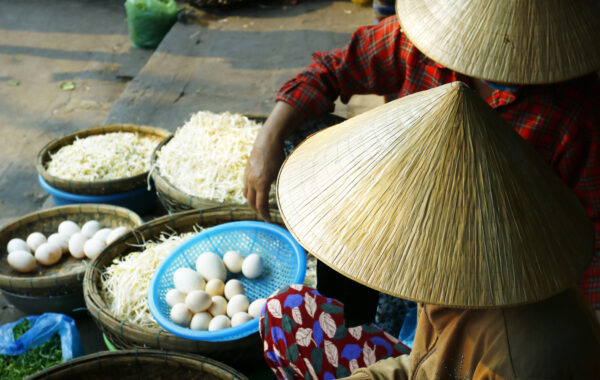 Hanoi
Sample authentic street food in Hanoi
Weave your way through the Vespas of Vietnam's capital to Hanoi's Old Quarter; a hub of history and culture and the perfect place to enjoy Southeast Asian cuisine at its most authentic with a dish of pho and glass of refreshing Bia Hoi beer.
Phong Nha Caves
Hike, boat or swim Phong Nha's caves
Home to the largest and third largest cave in the world, Phong Nha is a wonder of ancient karst and underground worlds. Venture into the longest dry cave in Asia, take a boat on an underground river through Phong Nha Cave or swim into the unlit Dark Cave.
Mekong Delta
Breakfast on a boat in Can Tho
At the largest floating market of the Mekong Delta, float between wooden ships laden with fruits and vegetables as tiny sampans putter around selling everything from iced coffee and fresh coconuts to banh mi sandwiches and bowls of noodle soup.
Request a custom itinerary
Get a tailored itinerary from one of our specialist tour operators
Your details are safe and will not be used for any other purpose. By clicking 'Send' you agree to our
Privacy Policy
Other tours you might like
Why Horizon Guides?
Expert travel guides
Our guides are written by the leading experts in their destinations. We never take payment for positive coverage so you can count on us for reliable and impartial travel advice.
Authentic experiences
We curate exceptional trips in underrated places, organised by the very best tour operators who live and breathe their destinations and are passionate about authentic, responsible tourism.
Give back to mother nature
We'll plant 50 trees for every trip booked via the Horizon Guides site in partnership with the International Tree Foundation, who carry out sustainable community forestry projects in Africa.