When to go to Peru
The best time of year to visit Peru & Machu Picchu
Seasons and climate
Peru's climate varies depending on where you choose to go, with the country split into three distinct regions: Amazon rainforest, mountainous highlands and the coast. Each region has its own climate, with the rainforest typically hot and wet, the mountains dry and temperate with variations in temperature, and the coast sunny and dry.
While Peru's seasons can be generally split into wet (October-April) and dry (May-September), the country's geographical diversity means there's always somewhere worth visiting no matter the time of year. Just be prepared for the temperature change in the highlands — days can be warm and sunny, but temperatures plummet at night.
When to visit Machu Picchu
Timing your visit to Machu Picchu is about making trade-offs: the drier months bring more crowds, while wetter weather means fewer crowds but potentially worse visibility.
During the dry season skies are mostly clear and free from heavy cloud and mist, and the likelihood of intense rain is low–although still entirely possible!
The downside to the more agreeable climate is that it brings heavy demand, particularly for the peak months between June and August. Travelling during this period necessitates early bookings and advance reservations, particularly when securing the all-important Inca Trail permits.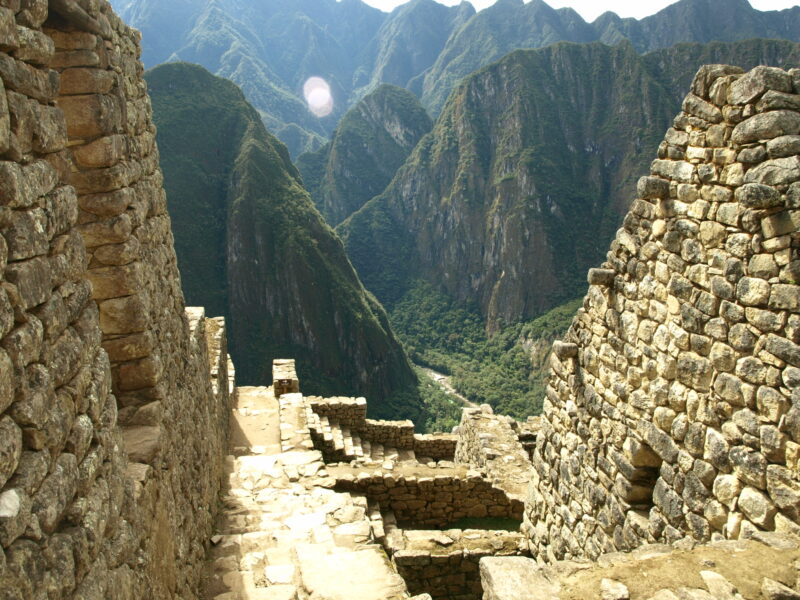 November to March is the rainy season with heavy rainfall, plenty of cloud cover and muddy trails. But the rainfall is rarely disruptive. There will be heavier cloud cover but it's the wisps of fog over Machu Picchu that make the classic postcard shot. And then there's the dramatically lower footfall during this period–incomparably quiet compared to peak season with lower prices and higher availability to match.
For many, the ideal zones are around early May and late September when nights are a bit warmer but you'll still have a good chance of staying dry. These are also outside of the peak season so the trails and Machu Picchu itself will be that bit quieter.
Month-by-month
January and February are two of the wettest months to visit Amazonian Peru, with the Inca Trail closing during February for maintenance and cleaning. Instead, head to Peru's coastal regions or the Chan Chan ruins at Trujillo where the weather is warm and sunny.
March and April see the rains continue across the highlands, but this can be a good time to book permits and treks as travellers wait for the drier summer months. Colonial Arequipa and its smouldering volcanoes in the far south are dry and pleasantly warm around Easter.
The summer months are the peak months for Peru's historical ruins. Permits for the Inca Trail can book up months in advance as the rains recede in the highlands. Remember that temperatures can drop quickly at night, so pack appropriately.
By September, the crowds are beginning to disperse as the dry season comes to an end. This shoulder season is an excellent time to visit the Amazonian cloud forests around Chachapoyas, with wild flowers in full bloom and an abundance of birdlife. You'll also find treks less busy — at least until December, when the holiday season brings the crowds back to Peru.
Events and holidays
The wetter months at the start of the year means that celebrations are few and far between until February's Candlemas, which is especially lively in the mountainous regions. Expect folkloric music and dance over a two-week period.
Peru's carnival might not be as well-known as Brazil's, but it is still wildly celebrated across the entire country. Held just before Lent each year, carnival is a riot of parades, costumes and plenty of dancing.
For a taste of an Inca celebration, visit Cusco during June for Inti Raymi (festival of the sun). Held to mark the winter solstice, the Inca festival attracted 25,000 revellers to Cusco. Today, visitors can watch the procession from Cusco to Sacsayhuaman, which culminates in the ritual sacrifice of a llama.
The high season also sees Peru mark Independence Day (Fiestas Patrias) on July 28th and 29th, with festivities in the southern cities beginning earlier than their northern neighbours.
November is Peru's festival month, with the start of the month celebrating All Saints Day before the world-famous All Souls Day (Dia de Los Muertos) on November 2nd. Families take offerings of food and flowers to family graves, with festive parades in Andean towns. Finally, Puno Week (starting November 5th) sees street parades celebrate the emergence of Manco Capac — the first Inca.
Why Horizon Guides?
Expert travel guides
Our guides are written by the leading experts in their destinations. We never take payment for positive coverage so you can count on us for reliable and impartial travel advice.
Authentic experiences
We curate exceptional trips in underrated places, organised by the very best tour operators who live and breathe their destinations and are passionate about authentic, responsible tourism.
Give back to mother nature
We'll plant 50 trees for every trip booked via the Horizon Guides site in partnership with the International Tree Foundation, who carry out sustainable community forestry projects in Africa.