How to visit Rajasthan
Exploring India's historical north
By
Lakshmi Sharath
,
Mariellen Ward
&
Rachel Bracken-Singh
Last updated 14 May 2020
A brief history of Rajasthan
Rajasthan is India's royal state. Dubbed the 'Land of Kings', its rich history can be traced back to the Indus Valley Civilisations of 2000 BCE, with excavations in Bundi showing prehistoric settlements.
However, it is the Rajputs for whom Rajasthan is best known. Beginning in the 9th century, this dynasty gave Rajasthan both its initial name of Rajputana and its most profitable period. The Rajputs were a cluster of different communities and clans who came together to share a common ideology and culture, synonymous with being a warrior clan.
The two Rajput kingdoms that stood out were the Sisodias of Mewar whose capital was Chittorgarh (and later Udaipur), and the Rathores of Marwar with Jodhpur as their capital. Many more existed in the region, often fighting against each other. In Indian history, Rajputs are synonymous with tales of chivalry, romance and flamboyance, as told through folk tales.
But the various Rajput clans who set up small kingdoms slowly emerged as a combined force. They were in almost constant conflict with the Mughals, with things coming to a head in the 16th century with Mughal Emperor Akbar. He had married a Rajput princess and formed alliances with some rulers, but the Sisodias and Rathores refused to countenance an allegiance. A 1526 battle saw Akbar take Chittorgarh, with the town's women famously self-immolating to preserve their honour.
In the 18th century, The British East India Company convinced many of the Rajput states to join them, forming an independent state with the new name of Rajasthan. Most of the rulers became vassals of the British Raj who declared the region as princely states. There were around 19 states which eventually merged into Rajasthan.
Today, Rajasthan is known for its royal history, filled with colour, valour and courage. Remnants of its past remain in its rich traditions, folklore and crafts. Its imposing palaces and forts remain a trademark of Rajasthani architecture, set in the vast desert and mountains that surround it.
Architecture of Rajasthan
The history of Rajasthan is shown through its many forts, palaces and historical buildings. Almost every major city — and many minor ones — will have some form of architectural wonder to explore.
Temples
Rajasthan's temples date back to the 4th century, although more ornate and architecturally interesting temples began to develop from the 9th century. These typically had sculptures and marble carvings, such as the stunning Delwara complex at Mount Abu.
Other notable temples include the Brahma Temple in Pushkar, which is one of the few in India dedicated to Brahma. This Hindu god was said to be cursed with having no places of worship on earth. Take a holy dip in Pushkar Lake before offering your prayers in the temple.
For a change of pace, visit the Karni Mata temple in Bikaner, which holds more than 20,000 black rats. Each time a rat dies, a statue is built inside the temple complex.

Havelis
Havelis (mansions) were the homes of rich merchants and traders in Rajasthan's cities. Decorated with stone carvings and interiors of murals and frescoes, each merchant tried to outdo the next to show their importance and wealth.
Every major city in Rajasthan will have havelis worth visiting, but Jaisalmer is a particular hotspot. Look out for the Patwon Ki haveli and the elephants of Nathmal Ki haveli.
Chattris and baoris
Built to commemorate the region's maharajas and nobles, chattris (cenotaphs) are a frequent feature of Rajasthan's architecture. Chattri literally translates as umbrella, which references the dome-like structure that covers the cenotaph.
Rajasthan's desert location means that conserving water has always been a major issue. Baoris are stepwells that were traditionally built to provide drinking water. Over time, they became meeting places and temples, decorated with sculptures and carvings. The 46m deep Ranji Ki Baori in Bundi is a fine example, showcasing carvings of Lord Vishnu.
Hill forts and palaces
These sprawling complexes often housed whole cities within them, including palaces, temples and trading centres. Built on hillsides, these forts used natural defences to protect themselves, such as forests, deserts and of course, hills. The views from the forts are spectacular.
Although initially conceived for protection from invading armies, these forts quickly became more extravagant as royal families settled in. Some of the best examples of Rajput architecture can be found in its palaces. Two of the most striking are the Hawa Mahal in Jaipur and the City Palace in Udaipur. Look out for the sheesh mahal (hall of mirrors).
Visiting these forts is a chance to experience and imagine Rajasthan in its Rajput period, when kingdoms nudged up against each other and courtly culture helped develop the region's arts, textiles and music.
There are eight main hill forts in Rajasthan, clustered around the Aravalli mountains. Designated as UNESCO World Heritage sites, these forts were built by Rajput kings and date from the 5th century.
Delhi, Agra, Jaipur and beyond
The Golden Triangle not just about the Taj Mahal and the Red Fort. It's a chance to witness the many identities of India through the iconic destinations of Delhi, Agra and Jaipur.
From the towering Qutub Minar to the formidable Amer Fort, visiting the Golden Triangle is also an insight into India's architectural history. But beware — overtourism and overcrowding can be a real problem. Avoid unethical elephant rides and big tour groups, and make sure you're respectful of local customs and dress when visiting sites like the Taj Mahal. Let's keep the Triangle golden.
Golden Triangle routes
Plan for a minimum of five days to see the Golden Triangle — but more is always better. Most Golden Triangle tours will start with a couple of days in Delhi to acclimatise and view the big city sights. The most logical route is to then travel to Agra (four to five hours by road/three hours by train). Here, most trips opt for two days and one night, allowing you to view the Taj Mahal early in the morning.
The journey from Agra to Jaipur takes four hours by road and three and half by train. For most, Jaipur is the introduction to Rajasthan and from here you can explore the rest of the state to the west. However, should you choose to complete the Triangle by returning to Delhi from Jaipur, the journey time is approximately six hours by road and four hours by train.
Highlights
The Golden Triangle cities of Delhi, Agra and Jaipur are all located within 250km of each other and can be covered by road or rail. This is a trail filled with history and laced with stories — you get to see forts and palaces, mosques and mausoleums.
The iconic Taj Mahal is on everyone's itinerary but there is also the Red Fort, a UNESCO World Heritage Site. Old Delhi is more fascinating with its monuments and markets, while colourful Jaipur offers palaces and forts.
Delhi
India's capital is a riot of cars, noise and sights — from the iconic India Gate built in 1917 to commemorate first world war soldiers to the stately Rashtrapathi Bhavan (President's residence). For an authentic experience of Delhi past, head to Shahjahanabad, the Old Delhi city created by Mughal emperor Shah Jahan in the 17th century. Founded when the emperor moved his capital from Agra in 1639, the walled city was shaped like a quarter circle with the elegant Red Fort (Lal Qila) towering over the citadel as a focal point.
Wander down vibrant Chandni Chowk, once the city's main street and now one of India's busiest markets, serving up famed Delhi street food like stuffed parathas (flatbreads) and crisp jalebis (fried sweets). Meaning 'moonlight square', Chandni Chowk got its name from a large pond of water that existed in front of the Town Hall — now long lost to the mass of vendors.
The elegant Jama Masjid, built at a cost of 1 million rupees between 1644 and 1656, sits across the road from the Red Fort at Chandni Chowk's end. The last of Shah Jahan's architectural wonders (he commissioned the Taj Mahal and Red Fort, but fell ill shortly after the Masjid's completion), the mosque once housed almost 25,000 worshippers and is still in use today. Look for its minaret towers and domes and dress conservatively if you plan to visit.
Away from Shahjahanabad, visit the UNESCO World Heritage sites of Humayan's Tomb, dedicated to the Mughal emperor, and Qutub Minar, a soaring 73m tower built in 1193 after the sacking of Delhi's last Hindu kingdom.
With five distinct stories built from red sandstone and marble, the purpose of Qutub Minar is still shrouded in controversy. Some say it was built to celebrate the beginning of Muslim rule in India, while others argue it is simply a minaret used by muezzins to call the faithful to prayer.

Agra
The Taj Mahal is clearly the showstopper here, but as the monument becomes ever more popular, make sure you are aware of the drawbacks of visiting, such as the heat and crowds. Try to visit early in the morning to beat the rush, avoid the south gate as it doesn't open until 8am and read up on the list of items you can't take in to avoid disappointment. Please note that the Taj Mahal is closed on Fridays.
Agra was the Mughal capital and was previously known as Akbarabad under the leadership of Mughal emperor Akbar. In 1565, he built the Agra Fort from red sandstone, making it the seat of the Mughal Empire until his grandson Shah Jahan moved the capital to Delhi in 1639.
Today, you can visit the fort by entering the Amar Singh gate to its south, taking in the various palaces, pavilions and courtyards along the way. Don't miss the Mathamman Burj, a marble tower where Shah Jahan was imprisoned by his son Aurangzeb until his death in 1666. From his window, he could view the Taj Mahal, built as a tomb for his wife Mumtaz.
A visit to Agra is not complete without visiting the Mughal architectural masterpiece and forgotten town of Fatehpur Sikri. Its magnificent Bulund Darwaza (Gate of Victory) commemorates Akbar's victory at Gujarat. Standing 54m tall, the gate to Fatehpur Sikri guards its southern entrance and is made of red sandstone with marble decorations. Inside, you can see the intricately marbled tomb of the sufi saint Sheikh Salim Chishti, who foretold the birth of Akbar's son Salim.
Jaipur
The Pink City retains its royal touch with the elaborate architecture of its many palaces and forts. In the Old Town, you'll find the City Palace (still home to Jaipur's royals), the Hawa Mahal and Jantar Mahal. But it's the old Mughal capital of Amer where three magnificent forts — Amer, Jaigarh and Nahargarh — watch over the city, that is Jaipur's best attraction.
See our full Jaipur guide.
Rajasthan's capital is postcard picture perfect and is the gateway to all the state has to offer. There are palaces, forts, temples, stepwells, gardens and lakes all waiting to be explored. Jaipur's Old City is painted in shades of terracotta (Jaipur's nickname is the Pink City) and its crumbling buildings are awash with history.
Highlights

Founded by Raja Jai Singh II in the 18th century (1727), Jaipur was initially created to supply water to neighbouring Amer Fort. Now a UNESCO World Heritage site, Amer Fort — along with Nahargarh Fort and Jaigarh Fort— remains the main attractions of Jaipur.
Amer Fort
Built in the 10th century and constructed from red sandstone and marble, Amer Fort (also known as Amber Fort), with its elaborate ramparts, opulent palaces and old temples, has been home to royalty since the 16th century.
Set over four levels with six separate sections, the fort overlooks Maota Lake. Its palaces — Sheesh Mahal (Palace of Mirrors) and Sukh Niwas (Hall of Pleasure) — use fans and fountains to create a cool, calming atmosphere.
The Sheesh Mahal is filled with mirrors and pieces of coloured glass inlaid into its walls and ceilings. Built by Maharaja Man Singh in the 16th century for his queen, the palace is supposed to mimic the starry sky. According to legend, one candle was enough to light up the entire palace, causing it to glow and glisten even in the dark. Look out for the marble carved magic flower: seven unique designs including lotus, fish tail, cobra and scorpion, which are unveiled by hiding part of the panel with your hand.
The Sukh Niwas is where the king spent time with his queen and concubines. This palace is decorated with paintings of vases in blue, green and yellow, designed to give a peaceful and relaxed atmosphere. This palace is also home to a rudimentary form of air-conditioning, with a channel cut into the ground where cold water would flow, cooling the palace's temperature.
Jaigarh Fort
Perched on the hills of Cheel Ka Teela (Hill of Eagles), Jaigarh Fort was built in 1726 by Jai Singh II to protect the Amer Fort. The two forts are connected by a series of underground passageways. Jaigarh Fort is famous for a cannon called Jaivana, which was once the world's largest cannon on wheels. There are small temples inside the fort and several palaces, including Laxmi Vilas, Lalit Mandir, Aram Mandir and Vilas Mandir.
Jaigarh Fort also has a bizarre spot in history. While its water tank might seem ordinary — three levels, enough capacity to store six million gallons of water -— it is also allegedly the place that Man Singh stored his treasure. In 1977, then Indian prime minister Indira Gandhi ordered a search to look for the Fort's treasure. After three months, the search was called off — but at the same time, the Delhi-Jaipur highway closed for three days, prompting rumours of the loot being whisked away in secret.
Nahargarh Fort
One of the best forts in Jaipur for sunset views, Nahargarh is also believed to be haunted by the ghost of a Rathore prince called Nahar Singh Bhomia. In an attempt to pacify his spirit, you'll find a small fortress built in his name inside the fort. Nahargarh was built as a royal retreat by Sawai Jai Singh, and it is the beautiful Mahavendra Palace that is its architectural highlight.
The palace's arched entrance is decorated with floral frescos, while inside its courtyard lies nine identical suites, meant for each of his queens. Each suite is two-storied with living quarters, bedroom and kitchen. At the palace's head lies the king's palace, complete with decorated doors and frescos.
City Palace
The City Palace complex is one of Rajasthan's architectural highlights. Its Chandra Mahal is still a royal residence and entry is restricted to the ground floor, which houses the Mahal's museum and a collection of royal memorabilia. Grand courtyards, lush gardens and monuments dot this architectural masterpiece in the middle of Jaipur's Old City. Built in the 18th century, the opulent palace includes Mukut Mahal, Maharani's Palace, City Palace Museum and Shri Govind Dev Temple.
Hawa Mahal
Built as an extension to the City Palace, the Hawa Mahal (Palace of Winds) was designed to allow female royals to watch processions without being observed. The palace resembles a collection of beehives, with more than 953 jharokas (windows) with intricate lattice work allowing the wind to cool inhabitants during the summer.
Jal Mahal
Built by Maharaja Sawai Pratap Singh in the middle of the 18th century, the Water Palace is typical of Rajasthani architecture. The palace has five storeys, of which four are under water. It was apparently a summer retreat and a picnic spot where royals gathered to go duck hunting. You cannot enter the palace but you can see it from the banks of Man Sagar Lake.
Why is Jaipur pink?
The city was painted pink during the reign of Raja Ram Singh in the 19th century (1876) to welcome the then Prince of Wales, Albert Edward, who later on became King Edward VII. There is even an Albert Hall named after him in the city.
The golden city comes alive
An 800-year old living fort, the never-ending sand dunes of the Thar Desert and haunting tales bring the Golden City of Jaisalmer alive.
Highlights

Glowing in shades of yellow, Jaisalmer was founded in the 12th century by Rawal Jaisal of the Bhatti clan and is famous for its fort. It earned the name the Golden City from the yellow sandstone used to build the fort and houses of the Old Town, creating a golden glow over the town. Nearly 4,000 people still live in Jaisalmer Fort — more than a quarter of Jaisalmer's population.
Jaisalmer Fort
The second oldest fort in Rajasthan, Jaisalmer Fort is a UNESCO World Heritage site and along with seven others (Amer Fort in Jaipur, Chittor Fort in Chittorgarh, Kumbhalgarh Fort in Kumbhalgarh, Ranthambore Fort at Sawai Madhopur, Gagron Fort in Jhalawar, Mehrangarh Fort in Jodhpur and Jaigarh Fort in Jaipur), are collectively known as the Hill Forts of Rajasthan.
The earliest settlement in the fort came up in the 17th century. The fort is built of yellow sandstone and the colour changes as the day progresses, from a light gold in the morning to a deep honey at sunset.
Standing at the top of the fort, you get a view of the entire old town. There are 99 bastions and four fortified entrances. Inside the fort, you can see the Laxminath temple dedicated to the Hindu god of wealth Lakshmi and her consort Vishnu, ancient Jain temples and the traditional Rajput architecture of the Raj Mahal Palace.
However, Jaisalmer is more than just a series of temples and palaces. This is a living fort, which nearly 4,000 people still call home. Its narrow alleyways are lined with shops, restaurants and guesthouses.
Jain temples
Jaisalmer has a huge legacy of Jainism. Built in the traditional Dilwara architectural style, the fort houses seven Jain temples known for their art and intricate carvings. Remember that no photos are allowed inside the temples.
For more on Jainism, visit the town of Lodhruva 15km from Jaisalmer. Here, you'll find magnificent Jain temples dedicated to the 23rd tirthankar (Jain great teacher). Rebuilt in the 1970s after years of ruin, the temples still bear the scars of past battles.
Look out for a pair of cobras who live in the compound — seeing either is said to bring good luck.
Fort Palace Museum
Towering over the main square of the fort is the seven storey Fort Palace Museum. Formerly the Raj Palace (Palace of Kings), the museum is home to the mirrored Rang Mahal, which is filled with paintings and sculptures from the 15th century. Most of the palace is open to visitors, allowing you to explore the small rooms and stooped walkways designed for spying on the outside world. Head to the top of the palace for views over the city.
Gadisar Lake
A man-made lake created right in the heart of the city, Gadisar Lake is surrounded by chattris (elaborate ornate tombs and cenotaphs), temples and stepwells. First created by Jaisalmer founder Raja Rawal Jaisal and then rebuilt by King Garisisar, the lake is a good spot to see migratory birds stopping for a drink.
Patwon Ki Haveli
Ornate merchant mansions dot Jaisalmer and the most lavish and grand among them is the 19th century Patwon Ki Haveli. Now a museum, Patwon Ki Haveli is worth visiting for its architecture, intricate designs and history. The complex is a combination of five havelis and each is filled with stunning murals, mirror-work and paintings. The haveli belonged to merchant Guman Chand Patwa and his sons, who traded in gold, silver and brocade embroidery.
There are also two other beautiful havelis worth visiting — Nathmal Ki Haveli, which is guarded by two elephants carved in yellow sandstone, and the peacock-like grand roof of Salim Singh Ki Haveli.
Sam Dunes
A trip to Jaisalmer is not complete without a camel ride in the sand dunes. Although there are several dunes around the city, the most popular is Sam Dunes, found 40km outside the city. Head there early morning or at sunset for great photographs. Khuri Dunes is another popular destination.
Desert Cultural Centre and Museum
This small museum tells the story of Rajasthan's various princely states and explores the history behind traditional Rajasthani culture, including music and textiles. The centre hosts a nightly puppet show in English.
Abandoned Kuldhara
Take the eerie trail to Kuldhara, an abandoned, haunted village 35km from Jaisalmer in the desert, to learn the tale of the 18th century Paliwal Brahmins. According to legend, the Paliwal were harassed by the local ruler who set his heart on one of the girls in the community. The Paliwal were given just a day to accept his proposal. Overcome by desperation, the entire community left their homes and escaped in the death of the night. Legend says that after several centuries, the Paliwal returned as ghosts to revisit their homes and the village is haunted. You can visit Kuldhara during the day to see the abandoned village and if you are curious, try braving it at night.
Romantic lakes and palaces
The City of Lakes is undoubtedly the most romantic place in Rajasthan. Capital of the Mewar kingdom, Udaipur was founded in the 16th century by Maharana Udai Singh II, before becoming the capital of neighbouring Chittorgarh. Known for its palaces, this beautiful city is surrounded by seven lakes and the Aravalli range of mountains.
Highlights

There is something intrinsically romantic about Udaipur as you lose yourself in its lakes, palaces and gardens, so it's no surprise the city is a sought after wedding destination. While there are seven lakes in and around the city, the most popular are Lake Pichola and Fateh Sagar Lake.
City Palace complex
Standing tall along the banks of Lake Pichola are a series of palaces stitched together — all built in different eras starting from the 16th century. There are eleven individual palaces here, filling Udaipur's skyline and forming the largest palace complex in Rajasthan.
City Palace has several entrance gates known as pols, but you'll most likely enter through Bara pol, which takes you into a courtyard and the triple-arched Tripolia gate. The courtyard is filled with eight marble toranas (arches), where kings weighed themselves in gold and silver before distributing the riches to their subjects. Constructed in a blend of Rajasthani and Mughal styles in granite and marble, the palaces reveal a network of halls, terraces, courtyards and towers.
The main part of the complex is open as the City Palace Museum. Visit the miniatures at Kishan Vilas, which according to legend, was where Maharana Bhim Singh's daughter Krishna Kumari drank poison to solve a dispute between suitors from Jaipur and Jodhpur over her marriage— and thus saving the city from invasion.
Head to the Sheesh Mahal (Palace of Mirrors) for art and intricate mirror-work, the Moti Mahal (Pearl Palace) for coloured glasswork, Mor Chowk (Peacock Courtyard) for mosaics and decorative peacocks and the Manak Mahal (Ruby Palace) for porcelain and crystal figurines.
Lake Palace
Shimmering white on Lake Pichola, the Lake Palace is a beautiful monument right on the water. Now a luxury hotel, Lake Palace was originally a royal summer palace called Jag Nivas. Entry is restricted to hotel guests, but take a cruise to view its marble edifice laced with semi-precious stones.
Jag Mandir Island
Lying adjacent to the Lake Palace is the Jag Mandir, another palace which sits as an island on the lake. It was used as a resort by royalty in the 17th century to host parties and is believed to be a source of inspiration for Mughal Emperor Shah Jahan when building the Taj Mahal — he took refuge at Jag Mandir when he rebelled against his father Jehangir.
The Jag Mandir is built over three storeys and architecturally blends Mughal and Rajput influences. Its entrance is guarded by a row of huge stone elephants, before giving way to the 17th century Gul Mahal tower and mosque, which has a small exhibit on the island's history and great views over the lake.
Monsoon Palace
Another beautiful royal palace, the Monsoon Palace (Sajjan Garh Palace) sits atop the Aravalli Hills overlooking Fateh Sagar Lake. Built in the 19th century as a refuge from the annual monsoon, the palace was also used as a hunting lodge. Visit the palace in the evening for sunset views, or head here during the monsoon and watch the clouds float over Udaipur.
Saheliyon Ki Bari
A beautiful park filled with sculptures and statues, Saheliyon Ki Bari (Garden of Maidens) was created by Maharana Sangram Singh for his queen and her 48 female attendants as a refuge from court life. It's now a popular meeting spot. Look out for the lotus pond and elephant fountains.
Bagore Ki Haveli
Located at Gangaur Ghat on the banks of Lake Pichola, this 18th-century palace belonged to the then prime minister of Mewar, Amar Chand Badwa. The Rajput architecture has been preserved and there is a museum dedicated to Mewar culture, including jewellery boxes, royal clothing and mural paintings.
Arts and crafts
While Udaipur is a romantic city filled with magnificent palaces and sunset cruises, it is also known for its local arts and crafts, silverware and paintings. Visit the Bharatiya Lok Kala Mandal institution, dedicated to the region's folk arts and crafts. Set up in 1952, the museum collects dresses, musical instruments, ornaments and other folkloric memorabilia. You can watch music performances and cultural shows here.
Near the Fateh Sagar Lake is the Shilpagram, a cultural village dedicated to local crafts and a living museum, depicting the life and traditions of the folk artists. Hathi Pol bazaar, Bapu bazaar and Bada bazaar are the best places to buy jewellery, textiles and crafts.
Chittorgarh
Chittorgarh is the capital of the historical Mewar kingdom and is easily accessible from Udaipur as a day trip. Yet another of Rajasthan's UNESCO World Heritage sites, the town is synonymous with Meerabai, a princess who relinquished her royal status in an act of devotion to the Hindu god Krishna. Visit the temple named in her honour.
Blue hues in Rajasthan's second city
Known as the Blue City, Rajasthan's second largest city is dominated by the formidable 15th century Mehrangarh Fort. Palaces, citadels and cenotaphs set in lush gardens surround Jodhpur, but it is the iconic shade of blue that gives it its identity.
Highlights

For most, a visit to Jodhpur begins and ends with the towering Citadel of the Sun called the Mehrangarh Fort. Founded by King Rao Jodha of the Rathore clan, the 15th-century fort is the symbol of the city, which tumbles down in vivid shades of blue below the fort.
While Mehrangarh Fort and Umaid Bhawan Palace dominate the landscape of Jodhpur, it is fascinating to take a walk through the lanes of the Old City. The Old Market Square is dominated by a towering 19th-century clock tower called the Ghanta Ghar. Soak in the atmosphere as you walk around the market, shopping for local shoes called Jodhpuri Mojari, trying street food or searching for Rajasthani textiles.
Set in the Thar Desert, Jodhpur is a favourite destination for film-makers, with both Bollywood and Hollywood films filmed here.
Mehrangarh Fort
One of the largest and best maintained forts in India, Mehrangarh was built in 1459 by Rao Jodha, the founder of the Marwar Kingdom and the city of Jodhpur. Standing on a rocky outcrop, the fort is 410ft above the city, encircled by walls and surrounded by gates.
There are several palaces, courtyards, temples and cannons inside the fort, which offers great views of the blue-clad city below. There are seven entrance gates, of which two — Jayapol and Fattehpol — were built by different rulers to commemorate their military victories. It's about a 300m walk up through the hills to Mehrangarh from the Old City. If you're feeling lazy, you can take an autorickshaw up the winding road.
On entering, you'll see the fort's old entrance (Loha Pol) up ahead. Inside, look out for two sets of small handprints on the wall. These are the sati marks of royal widows, who committed ritual suicide on the funeral pyres of their husbands.
The fort's museum houses artefacts depicting royal life, with displays of weapons, costumes, art, paintings, palanquins and turbans. Don't miss the Daulat Khana gallery, which houses a collection of Mughal period art and the Chamunda Mata temple, which is dedicated to the patron deity of the Rathore clan.
The desert rock Rao Jodha Park, located at the foot of the fort, gives an introduction to the flora and fauna of desert life.
Umaid Bhawan Palace
One of the largest royal residences with 347 rooms, Umaid Bhawan is still a private residence to the royal kings of Jodhpur. Built in 1946, there are three parts to it — the royal residence, a museum and a luxury hotel.
Construction began in the 1920s when the city was going through a severe drought and the palace became a source of employment to many people. Located on the outskirts of the city atop Chittar Hill, the Palace is made of marble and golden sandstone in the Indo Deco style, with ornate rooms and grand courtyards. The museum displays some of the treasures of the royal family including a private collection of classic and antique cars.
Jaswant Thada
Drive a little distance from Mehrangarh Fort to see this marvel in white — Jaswant Thada. A memorial built for King Jaswant II by his son Sardar Singh in 1899, it stands shrouded by trees and surrounded by gardens. The mausoleum is carved out of marble and was a burial site for the kings of Marwar. Look out for portraits of Rathore rulers and the odd memorial to a peacock that flew into a funeral pyre.
Mandore
The former capital of the Rathore clan lies in ruins amidst a beautiful garden filled with a fort, cenotaphs, temples, rock terraces and sculptures. Don't miss the cenotaph of Maharaja Dhiraj Ajit Singh, which combines Jain and Buddhist architecture. This chattri also commemorates the ritual suicide of his 64 queens and concubines, who threw themselves on his funeral pyre in 1724.
Located 9km from Jodhpur, visit for the Hall of Heroes (dedicated to folkloric characters), the Temple of Gods and the many monkeys roaming around.
The inspiration behind Rudyard Kipling
Rajasthan's 'other' Blue City is known for its beautiful paintings tucked away in the Chitrashala, the art gallery inside the Bundi Palace. Less well-known compared to the other cities of Rajasthan, Bundi is a beautiful place full of unique architecture, such as the aptly-named Taragarh or Star Fort. The city's place in literature is secured -- Bundi inspired Rudyard Kipling when he wrote Kim, with the author staying at the Sukh Mahal.
Highlights

Bundi is a historic place, with archaeologists finding several Stone Age tools dating back 200,000 years in 2017. There are also caves with rock art which are between 5,000-10,000 years old in and around the city.
Originally founded by the Meena tribe, Bundi's name comes from a chieftain called Bunda Meena. Bundi has some amazing viewing points, so head to the Taragarh Fort for a view over the city, before losing yourself in the art gallery at Chitrashala. If you're after architecture, try Chaurasi Khambon ki Chhatri to admire the geometric precision of the 84 pillars of the cenotaph, or examine the artistry of Bundi's 50 stepwells.
Taragarh Fort
This 14th-century fortress' name means the Starry Citadel, and this is a perfect place to do some stargazing on a clear night. The fort houses the Garb Gunjam cannon which rather curiously means The Thunder from the Womb. Although crumbling in places, the fort is worth the steep climb for its palaces, murals and views over Bundi. Watch out for the monkeys.
Bundi Palace (Garh Palace)
Just below the Taragarh Fort stands Bundi Palace. The majestic Hathi Pol (Elephant Gate) greets you with its massive pillars, before heading inside to the Badal Mahal, Chhatra Mahal and Phool Mahal, each of which houses treasure troves of paintings. However, the palace's biggest attraction is its group of turquoise and gold murals depicting historical battles and royal processions.
The neighbouring Chitrashala Palace houses paintings commissioned by Rao Ummed Singh. Look for the images of Krishna, particularly the one of him playing the flute in the trees.
Sukh Mahal
Built along the banks of the Jait Sagar Lake in the 18th century during the reign of Ummed Singh, the Sukh Mahal was home to Kipling and inspired him to write Kim. Meaning the palace of bliss, the Sukh Mahal is home to Mughal art and statues, a marble cenotaph and gardens.
Chaurasi Khambon Ki Chhatri
Built in the 17th century by Rao Raja Anirudh for his foster brother Deva as a dome-shaped memorial, this cenotaph is famous for its 84 pillars (although legend says you can't count them all). The cenotaph has several ornate sculptures and a linga (a form of Shiva) built in the centre.
Raniji Ki Baori
Stepwells are an architectural feature of Rajasthan and Gujarat. With water being a scarcity, stepwells were designed not only as sources of drinking water, but also places to bathe, pray and relax. Often sculpted as temples with gates, arches and pillars, there are about 50 stepwells in Bundi, but most of them are in ruins. The Raniji Ki Baori is the best known, built in the 17th century by Queen Nathavati, wife of Rao Raja Anirudh Singh. It is 46m (150ft) deep and each level has carvings of deities.
Chitrashala
Bundi is known for its miniature paintings and murals and there is a story behind them.
In the 16th century when the Hadoti kings broke away from Mewar and befriended the Mughals, Emperor Akbar of the Mughals sent three artists from Chunar near Varanasi as "gifts" to the royal court. The artists shifted their canvas from palm leaf manuscripts to walls. Armed with a thin brush that had a single hair, they created the minute details of Bundi art that mixes Rajput and Mughal influences.
To see the best of Bundi art, you must head to the Chitrashala, an art gallery tucked away in the Umed Bhavan, a part of the Bundi Palace. The entire gallery is a riot of colours with paintings depicting mythology, deities, temples and some beautiful and bold portraits of Rajasthani women. The colours are in vivid shades of turquoise and teal. There is even an Indian version of Romeo and Juliet.
Rajasthan's rugged, dry terrain is dominated by desert. However, pockets of jungle and fauna exist in its national parks, two of which are home to the seldom spotted tiger.
Ranthambore National Park

Located in the heart of Sawai Madhopur district, Ranthambore National Park is a tiger reserve and former hunting ground of maharajas. A couple of hours drive from Jaipur, it's home to just under 100 Bengal tigers, as well as leopards, crocodiles, sloth bears and hyenas.
It also includes the neighbouring Sawai Mansingh and the Keladevi sanctuaries. Spread over 400 square km, the wildlife reserve is a combination of dry deciduous forests and open grasslands with more than 500 species of plants.
Ranthambore is one of the most important tiger sanctuaries in India, but the tiger population has reduced due to poaching. However, this is still the best place to spot tigers in India. Make sure you use a reputable guide and respect the animals if you choose to go on safari. You'll be able to choose from either a canter truck which sits 20, or a more personalised jeep which sits six.
As well as tigers, the park is home to leopards, wild boars, wild dogs, hyenas, wild cats, sambar and chital deer, sloth bears and crocodiles among other wildlife.
Look out for the giant banyan tree near Jogi Mahal -- this gigantic banyan is thought to be the second largest in India and more than 200 years old.
Ranthambore Fort
Ranthambore is named after the towering Ranthambore Fort which was built in the 10th century. It stands 700ft tall, with three temples dedicated to Shiva, Ganesh and Ramlalji. There is a colourful Ganesh Chaturthi Fair which is celebrated in the fort's temple during August/September every year. Look for the ancient Jain temples built in the 12th-13th centuries, the 32-pillared cenotaph and an old mansion called Sameton Ki Haveli.

Sariska National Park
Sariska National Park is a tiger reserve nestled in the heart of the Aravalli Mountains. Spread over 866 square km, Sariska's landscape is a combination of thorny scrub forests and rocky landscapes.
Sariska has lost many tigers to poaching over the years. In the last decade, the park has introduced new cubs to the reserve which have successfully integrated into the environment, giving hope that Sariska's tiger population can grow again.
Besides tigers, the park is home to leopards, wild boars, wild dogs, hyenas, wild cats and many deer. You can also see crocodiles in Siliserh Lake. The park is also rich in birdlife, with plenty of peacocks, crested serpent eagles, vultures and the Indian eagle owl.
Sariska was a hunting lodge of the Maharajas of Alwar and it became a wildlife reserve in 1955. It was part of Project Tiger (a conservation programme launched by the Government of India in 1973 to protect the Bengal tiger from extinction), becoming a national park in 1990.
In recent years, the park's tiger population has struggled. In 2004, Sariska was found to have no tigers left, leading Rajasthan's local government to introduce three tigers from Ranthambore in 2005. Controversially, the government also relocated two villages said to encroach on the habitat of the tigers. As of 2018, there are believed to be 18 tigers resident in Sariska.
Sariska is located close to Jaipur at 122km and Delhi at 200km away, which are the closest airports. You can hire a taxi and drive to Alwar and Sariska. The entry fee for a safari cost R470 per person and R400 for video camera. The best time to visit is October to March if you want to avoid the heat.

Keoladeo National Park
Previously known as Bharatpur Bird Sanctuary, the Keoladeo Ghana National Park is located in Bharatpur and is almost equidistant from both Delhi (180km) and Jaipur (178km). A UNESCO World Heritage site, Keoladeo is a birdwatcher's dream and is home to more than 370 different species of bird. Of these, approximately 230 are resident in the park, with the rest migratory.
Known locally as Ghana, Keoladeo is a man-made wetland spread over 30 square km. Created by Maharaj Suraj Mal more than 250 years ago, the park was previously a hunting ground for kings and was used as a duck shoot during British rule.
Visitors come to see painted storks, cormorants, cranes and several species of eagle. While in the area, visit Lohagarh Fort, which contains palaces, museums and cultural artefacts.
Seasons & climate
Rajasthan may be one of the driest states in India, but its geography means its climate is more varied than you might think. The arid Thar Desert bordering Pakistan sees little rainfall and experiences extremes of both high and low temperatures, while southern cities like Udaipur are more temperate. Jagging across the state from southeast to northwest is the Aravalli mountain range, which is the source of several cooling rivers.
Temperatures in Rajasthan soar during the summer period between April and June, when it can become uncomfortably hot. The monsoon season (July-September) breaks the heat but is best avoided by travellers, meaning that the most popular time to visit Rajasthan is the cooler, drier period between November and February.
Month-by-month
The best time of year to visit Rajasthan is between October and March, avoiding both the monsoon and the heat of summer. October and November are festival season, with Diwali, Pushkar Camel Festival and Jodhpur's International Folk Festival all taking advantage of the cooler evenings. Be aware that the mid-winter months of December and January can get quite chilly, particularly in the villages around the Thar Desert, where night temperatures can reach freezing.
Visit in March to experience the colourful Hindu festival of Holi, when temperatures are beginning to heat up. Join revellers in throwing powdered colours and water at each other in this celebration of the start of spring.
The full force of summer begins in April, with temperatures regularly soaring above 35C. Most visitors avoid the heat between April and June, although the drier climate means tiger sightings are more likely in the national parks as they venture out in search of water. Travellers choosing to visit at this time should spend some time in the Aravalli range, joining locals escaping the heat. Head to the hill station of Mount Abu for some respite from the worst of the heat.
Monsoon season is between July and September, when even Ranthambore National Park closes, such is the ferocity of the rain. Head instead to the Aravalli range, where lush greenery takes over, or to the lakes of Udaipur. The rain means most tourist sites are deserted, which makes it a less crowded — if wet — time to visit.
Festivals and Events
The cooler months of January and February bring out Rajasthan's artistic crowd, with the annual Jaipur Literary Festival taking place in January. The festival attracts world-famous authors, poets and musicians. For something slightly different, head to the three-day Jaisalmer Desert Festival (normally falling in February), featuring camel races, puppetry and insights into desert life.
March is all about Holi, the festival of colours which welcomes in spring. Gather around a traditional bonfire to celebrate the demise of the demoness Holika on Holi eve, before joining in the 'festival of love' and colour-throwing the next day.
The summer heat of April to June sees the Islamic holy month of Ramadan (dates change each year) and the three-day eid-al-fitr celebration at its end. To escape the sun, climb to the hill station of Mount Abu and its Summer Festival, with traditional music, boat races and carnivals.
The monsoon season sees Rajasthanis retreat indoors, but August 15th brings India's Independence Day, a celebration of succession from the United Kingdom in 1947. The end of the monsoon in October sees two major Hindu festival — Navratri, which celebrates the goddess Durga, and Diwali, a five-day blowout of gift-giving and fireworks.
If you're after a festival with a difference, visit Pushkar's Camel Festival in November, complete with camel races and trading.
Rajasthani cuisine is well-known across India for its richness and abundance of spice. Its desert location plays a huge part in its food scene, with cured, pickled and dried foods all popular. Dairy products are also common, with milk, cream and yoghurt used to flavour and thicken curries and gravies. Despite the harsh conditions, Rajasthan's royal background means that meat was often consumed, so you'll find many great meat and vegetarian options.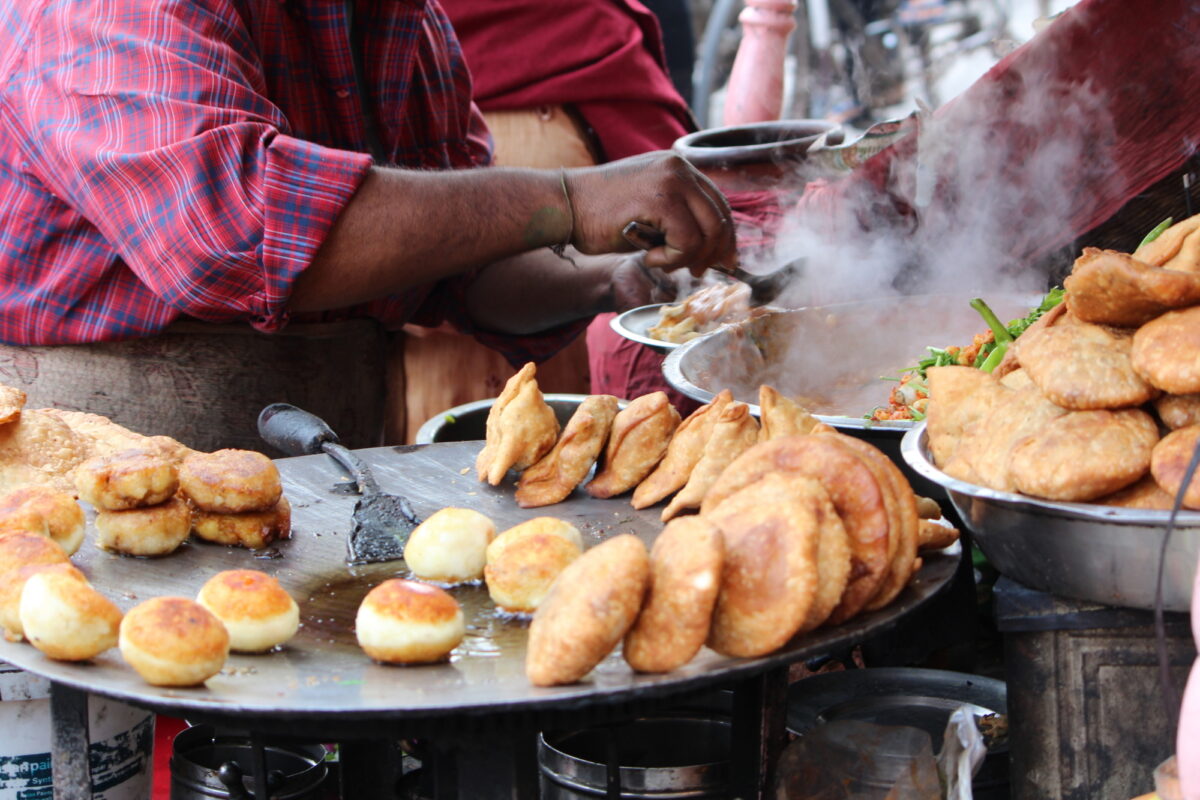 What to eat and drink in Rajasthan

Traditional Rajasthani cuisine is often quite spicy, as chilli was used to preserve and cure food. Try laal maas (mutton curry), Rajasthani kadhi (dumplings in a spicy sauce) and the ubiquitous dhal bhati churma (a wheat bread stuffed with peas and onions, then dipped in ghee and served with dhal).
Don't miss out on some of Rajasthan's street food. Make sure to pick a stall that is popular with locals and looks clean. Try kacchori (deep fried dumplings), samosas and full thalis (set meals containing curried vegetables, dhal, pickles, rice and bread).
The basics
No meal in India is complete without a supply of roti (unleavened flatbreads) to mop up the food. Try bhakri, a roti made from millet or corn and eaten with garlic, chilli and raw onions — locals believe it wards off sunstroke. For more substantial breads, try buttery parathas (flaky, pastry-like discs of bread) and doughy naans.
Dhal and pulses
India has more than 50 different varieties of dhal, but Rajasthan's most popular is the afore-mentioned dhal bhatia churma and urad dhal (black lentils cooked with garam masala, chilli, cumin and coriander).
When in Jodhpur, try kabuli Jodhpuri, a local speciality made of fried gram flour dumplings, vegetables and sometimes meat. Most fried street-food snacks are made with gram flour, such as the ubiquitous pakoras.

Meat dishes
Chicken, goat and mutton are all commonly eaten in Rajasthan, while religious taboos mean beef (forbidden to Hindus) and pork (forbidden to Muslims) are unlikely to be found. Many meat dishes in Rajasthan are cooked with dairy rather than water, with buttermilk, ghee and curds all being used to preserve the meat — perfect for desert conditions.
Try achar murg (pickled chicken), kachar maas (a dry dish of lamb cooked in spices) and laal maas (mutton curry in a deep red sauce).
Fruit and vegetables
The harsh climate conditions means that Rajasthanis have had to be inventive when it comes to fruit and vegetables. Try aloo gobi (dry cauliflower and potato cooked with spices) or mattar paneer (a mild curry of peas and firm cheese). Look out for fruits special to the region, such as kair, a berry eaten with desert beans — it tastes better than it sounds.
You'll also find many vegetables pickled or cured in chutneys. Each meal will come with an assortment to try.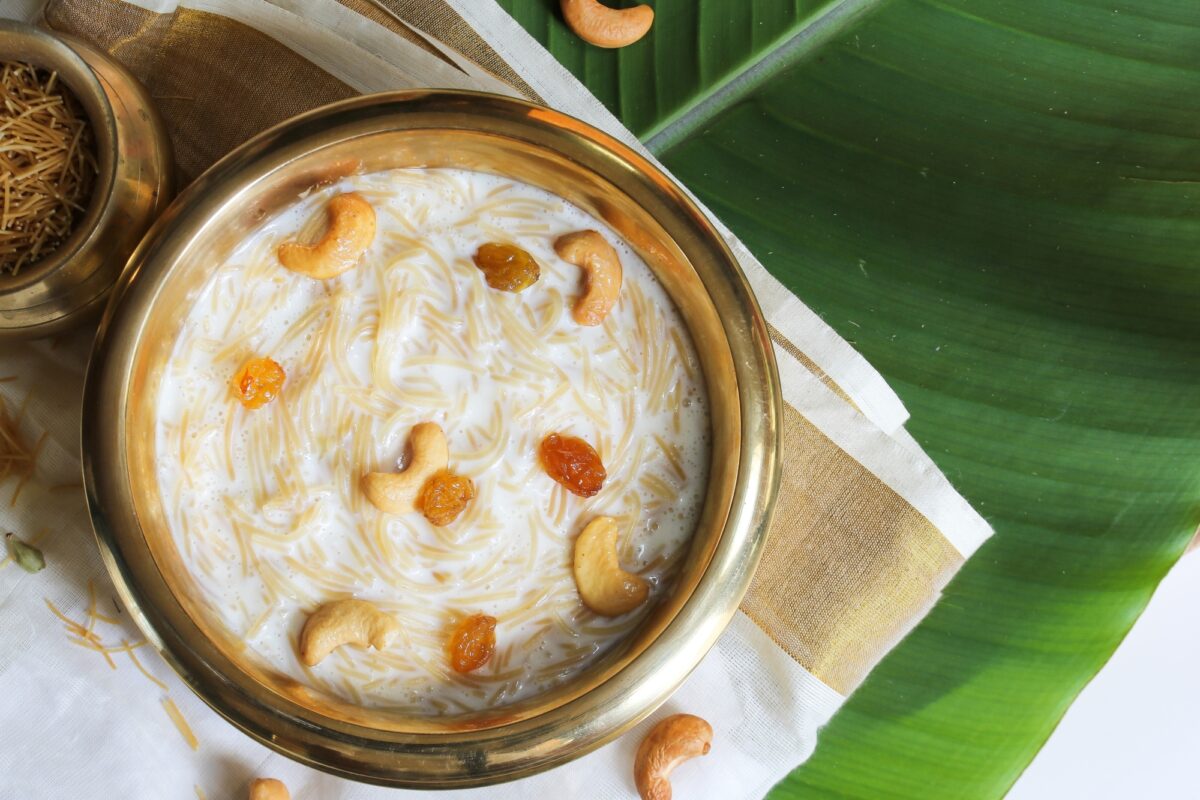 Sweets and desserts
Indian desserts are incredibly sweet and Rajasthan's are no exception. Try badam barfi, an achingly sweet concoction of sugar, milk, butter and nuts; gulab jamun (deep-fried sponge balls swimming in rose-flavoured syrup) and kheer (a rice pudding flavoured with cardamom, saffron and nuts).
Drinks
The Indian summer can be cruel, with hot winds blowing in from the Thar Desert forcing temperatures above 40C. It's important to stay hydrated while in Rajasthan, but it also allows you to sample some of the state's more creative thirst quenchers. Try nimbu shikanji, a lemonade style drink made with fresh lemons and black rock salt; bael juice, made from the pulp of the wood apple and mixed with jaggery and salt; and chaach, a buttermilk drink served with salt and cumin.
All you need to know to begin planning your trip to Rajasthan.
What currency does India have? How easy is it to exchange money?
The currency of India is the Indian Rupee (INR). The best place to exchange money is in airports, city centre currency exchanges and some five star hotels. There are also ATMs everywhere that will accept international debit cards.
Will my credit card work in Rajasthan?
Visa and MasterCard credit cards will definitely work in Rajasthan's major cities, but don't expect villages or smaller towns to always accept them. Some vendors in bigger destinations accept American Express as well.
How long should I spend in Rajasthan?
Rajasthan is a vast state with many interesting places to visit. Plan to spend at least a week in Rajasthan if you want to see a few different cities and sites of interest. However, you could easily spend several months travelling around.
What is transport like in Rajasthan?
Taxis are plentiful and easy to hail on the street. If you're planning on staying in one location for a while -- or want to travel long-distance in a taxi -- it can be better to book one for the entire trip. Some cities have Uber and also Ola (Indian version of Uber). You can also take local autos to travel within cities.
There are trains, buses and even flights that will take you from one city to another within the state.
Is Rajasthan safe to visit?
Rajasthan is safe to visit, but like anywhere, look out for pickpockets in crowded places and take the usual precautions you would when travelling.
Will I need vaccinations or any malaria tablets before visiting?
Malaria is present in Rajasthan in low levels. It is always best to consult with your doctor on any medical requirements prior to travel. They will have the most up-to-date medical information for travel to Rajasthan.
Will my cellphone work in Rajasthan?
The easiest way to use your cellphone in Rajasthan is to purchase a local SIM card on a pay as you go contract and swap it into your phone. This avoids high roaming charges and also improves you connectivity. However, depending on where you're travelling from, it should be possible to use your cellphone in India.
Is there internet access in Rajasthan?
The increasing coverage of 3G and 4G mobile services and wifi in businesses means the fabled Indian internet cafe is becoming less common. Wifi is widely available in hotels, restaurants and cafes and is almost always offered free.
How much should I tip?
Tipping in Rajasthan is customary. You should expect to tip between 10-15% in hotels and restaurants. Round-up the fare in taxis, unless you've hired by the day, in which case tip 50-100 rupees.