13 days
India's Golden Triangle & tigers
Taj Mahal and Rajasthan tiger safari
Delhi (3 days)
→
Agra (3)
→
Ranthambore National Park (2)
→
Jaipur (3)
→
Mumbai (2)
View itinerary
21 days
Classic northern India
The Golden Triangle and Rajasthan by train, plane and automobile
Delhi (3 days)
→
Agra (3)
→
Jaipur (3)
→
Jaisalmer (3)
→
Udaipur (3)
→
Mumbai (3)
View itinerary
Andaman and Nicobar Islands

...
Where to go in India
Our recommended places
Delhi
Start your Indian adventure in capital city Delhi. Your guide will introduce you to the sights of this grand city, starting with the World Heritage site of Humayun's Tomb, Gandhi's eternal flame and the imposing India Gate, a memorial to 82,000 soldiers who died during World War One.
Make sure to explore the narrow streets of Old Delhi, founded in 1639 by the Mughal Emperor Shah Jahan, who moved the Mughal capital here from Agra. Try street food, marvel at the architecture and absorb your surroundings – it's crowded and chaotic, but this is the real India.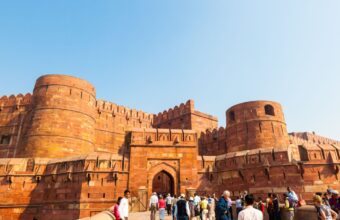 Agra
Your arrival into Agra will give you your first glimpse of the world-famous Taj Mahal. Spend a couple of days exploring this monument to love (Emperor Shah Jahan built it to house the tomb of his wife Mumtaz Mahal), as well as Agra Fort and Chandni Bazaar. If time allows, visit the ancient ruins of the sandstone city of Fatehpur Sikri.
Rajasthan
Rajasthan is a riot of colours. From the pink hues of Jaipur to the inky blues of Jodhpur, your first view of kaleidoscopic Rajasthan will be a sensory overload. Known as the Land of Kings because of its Maharaja-filled royal history, the state is crammed with huge medieval forts, shimmering palaces and opulent mansions. It's history heaven.
However, Rajasthan is more than just its past. Tigers roam its national parks, camel herders still live a nomadic life in its deserts (with the occasional smartphone thrown in) and skilled artisans make handicrafts and textiles that inspire designers around the world. So come and immerse yourself in the colour-soaked India of your dreams.
Kerala
Kerala is one of India's most beautiful states. From its spiderweb of lazy backwaters to the tea-covered hills of the Western Ghats, Kerala's landscapes are breathtaking – and that's before you even consider its 600km of coastline and beaches.
However, there is more to Kerala than just natural beauty. This is a place famous for its ecotourism initiatives and its unique culture and traditions, whether houseboats on its waterways or its vibrant Kalaripayattu martial art, said to be a precursor to Kung Fu. Kerala is also home to Ayurveda, a healing therapy using natural herbs that goes back more than 5,000 years. Come to Kerala to nourish both your body and mind.