How to combine Machu Picchu and the Galapagos
See the gems of South America in one trip
Of all the wonders of South America, no two inspire awe and wanderlust like Peru's Machu Picchu and Ecuador's Galapagos Islands. Both have turned heads for decades, earning themselves a spot on the world travel map. Both are conjured up in conversations of lifetime travel memories and wistful bucket lists. Today, these coveted sites are easily-accessible, with many travellers combining Machu Picchu and the Galapagos Islands into one seamless trip.
Combining Machu Picchu & the Galapagos
It wasn't always so. In the early days of Peruvian tourism, only the most intrepid travellers braved the treacherous local bus rides and bare-bones lodging to reach Machu Picchu on foot — exhausted and sweaty after days of trekking and camping. In the same period and despite the tourism boom of the 19070s, the Galapagos Islands were largely overlooked, except for nature buffs who were determined enough to get around on stomach-churning fishing boats.

Nowadays both Machu Picchu and the Galapagos still receive their fair share of hardcore backpackers and eccentric biologist types. But the allure has expanded far beyond that, attracting travellers of all stripes. It's not uncommon to spot families shooting photos with school-age kids, young honeymooners hiking hand-in-hand, and luxury travellers enjoying new comforts and five star amenities to be found throughout the journey.
Travel to South America's two crown jewels has never been easier or more accessible. Machu Picchu and Galapagos combination trips are less hassle and more affordable than you might think. Perhaps now is the time to turn a dreamy "I'd love to someday" into an excited "It's on the calendar!"

Popular Galapagos & Machu Picchu tours
Best time to visit the Galapagos & Machu Picchu
Seasons, weather and sea conditions
South America is a vast continent, and Ecuador's Galapagos Islands are flung far out into the Pacific Ocean. Frequent flights are shrinking these distances for South America's rising tide of travellers, making combination trips more and more doable in a short amount of time. The Galapagos Islands and Machu Picchu pair together nicely as South America's most sought-after destinations.
The biggest factor for combining Machu Picchu and the Galapagos is finding the best time of year for both of them, keeping in mind their differing climates and high seasons.
Best time of year for the Galapagos
As an equatorial chain of islands, the Galapagos enjoys a spring-like climate year-round. There's never a bad time to visit. Seasons vary only mildly, and travellers arrive throughout the year..
Garúa season is from June to December. Temperatures are lower, both in the air and water, which brings cool winds and a foggy drizzle known as garúa. Seas are usually choppier, although nothing that regular motion sickness medication won't cure (a larger ship will provide more stability during this season). The Humboldt current brings plankton blooms to the surrounding waters, causing an abundance of marine life and activity, although expect reduced visibility for diving and snorkelling and check that wetsuits are available!
Warm season is from January to May. Warmer temperatures bring a wetter, more tropical climate, including occasional rain showers interspersed with bright, sunny weather. This is a great time of year for snorkelling. Calmer seas mean those susceptible to motion sickness will do fine on a smaller vessel.
Ask a specialist at your tour operator of choice about timing your Galapagos trip to coincide with certain wildlife events and displays, your own tastes and interests, and how to avoid the high season holiday crowds.
Best time of year for Machu Picchu
In the Andean climate of Machu Picchu, high and low season is more clearly defined.
Dry season is from April to November, when skies are clear and sunny, and chances of rain are low. Within this high season, the very high season is June and July. During these two months, major festivals and the North American summer holiday bring heightened tourist traffic.
Rainy season is from December to March. Given that Machu Picchu is located in the high tropical forests bordering the Amazon Rainforest, rainy season can mean rainy. There are pros and cons to rainy season travel. Downpours are rarely disruptive and wisps of clouds can even make the ruins yet more photogenic. A big advantage to traveling in rainy season is significantly fewer tourists crowding your postcard shot. If you're planning on doing any serious trekking, however, it may be better to aim for dry season.
Best time to combine Galapagos with Machu Picchu
In reality, any time of year will be magical. Some tour operators recommend April and May, as this is just before the very high season in Peru, and also coincides with the "warm season" in the Galapagos. Alternately, September and October capture Peru's less-busy dry season, as well as the cooler, more blue-skied "dry season" in the Galapagos.
The Galapagos Islands
A guide to responsible wildlife watching
A visit to the Galapagos Islands is an experience. Sheltered from human intervention for millennia, this group of volcanic islands cast adrift in the Pacific Ocean was instrumental in changing the way humanity viewed itself, once we finally found them. For it was at the Galapagos that Charles Darwin formulated his theory of evolution by natural selection, inspired by the variety and adaptability of the islands' wildlife.
Get the guide
Galapagos-Machu Picchu trip duration
Combining Peru's Machu Picchu with Ecuador's Galapagos Islands is a good idea for those who are making a one-time trip to South America and want to see its two most treasured sites all in one go. However, taking in both places requires more investment of time and budget than visiting either of the two sites individually.
Minimum time for Galapagos: six days
In order to really get enough out of the Galapagos, a minimum of six days is recommended, including flights. Here's a sample of how that would look:
Day 1: Arrive in Quito or Guayaquil, overnight in mainland Ecuador
Day 2: Morning flight to Galapagos, begin tour
Day 3: Tour day 2
Day 4: Tour day 3
Day 5: Tour day 4
Day 6: Flight back to mainland Ecuador, overnight or departure
This is the bare minimum time required, allowing for only a four-day, three-night package at a land-based hotel. Cruise packages start at four days/three nights in length as well. Full-length cruise routes run closer to eight days long, and more comprehensive land-based itineraries are also around seven days in length.
Minimum time for Machu Picchu: five days
While it's not advisable to rush through a visit to Machu Picchu, it is possible to cut the trip down to as few as five days. Here's how the itinerary would look:
Day 1: Arrive Lima, overnight in Lima
Day 2: Morning flight to Cusco, proceed to Aguas Calientes (Machu Picchu Pueblo)
Day 3: Tour of Machu Picchu, return train to Cusco
Day 4: Cusco
Day 5: Flight to Lima and departure
Again, this is the fastest-possible Machu Picchu itinerary, skipping time in the Sacred Valley and all Peru's other highlights. A more complete experience would require at least six or seven days to acclimatise to the altitude in the Sacred Valley, spend two days at Machu Picchu, and generally make a meaningful connection with the country.
Minimum time for combining Machu Picchu & the Galapagos: 10 days
Since the transit days between the two destinations would overlap, the absolute minimum time required to visit both Machu Picchu and the Galapagos is 10 days. However, this would entail a fast-paced trip with lots of transit relative to time on site. Knowing the stress and discomfort of this pace of travel, reputable tour operators are hesitant to build Machu Picchu-Galapagos combination trips of less than at least 12 days. If you just don't have the time available, it may be worth considering a longer and more in-depth visit of just one location, rather than trying to squeeze both of them in.
Which to see first
Tour operators differ when it comes to the sequence of the trip. Logistically, either is possible in the same amount of time, requiring one day of transit between Peru and Ecuador. From a trip design perspective, there are advantages to both ways:
See the Galapagos first if you want to save Machu Picchu as a more "grand finale" highlight of the trip, or if you're doing a lower budget version of Galapagos (it's always good to end with the splurge).
See Machu Picchu first if you want to end the trip with warmer weather and a more relaxed beach-style experience (although keep in mind that Galapagos is more active than relaxed!), or if the Galapagos portion of the trip is the bigger splurge. Do the cultural immersion and hiking in Peru, finish with a relax and snorkel in the Galapagos — what's not to like?
In reality once your travel dates are decided, the order of your trip will probably be arranged to fit around the departure dates of your Galapagos cruise or land programme, which are the most inflexible components of the trip.
Machu Picchu And Galapagos FAQs
Galapagos FAQs
What's the local currency?
The US$ is the official currency of Ecuador, which means no standing in line at currency exchange if you're traveling from the US!
What documents do I need for the Galapagos?
Visitors from North America and most European countries don't currently need a visa to enter Ecuador, but please double check before departure. Your passport must be valid for at least 6 months beyond the date of departure from Ecuador. In addition to the originals, bring a copy of your passport, a list of identity card numbers and the international phone numbers of their issuing institutions. Store these separately from your original documents in case of an unforeseen problem with emergency contact numbers and medical information.
What should I pack for a Galapagos cruise?
Pack light, quick-drying clothes for the Galapagos. Heavier materials such as cotton take longer to dry in the humid weather. Basics include long pants, a rain jacket, hiking boots, a pair of shoes that can get wet, a hat for the sun, sunscreen, aloe and bug spray. If you wear glasses, bring an extra pair. Buying a waterproof bag for electronics or bringing a box of zip lock bags for boat rides saves the hassle of expensive equipment being damaged.
What electronic equipment is available in Ecuador?
Pack extra SD cards, cables, chargers and batteries for computers, electronics and phones. Even in Quito and Guayaquil, accessories for major brands are hard to find and extremely expensive due to high import taxes. Bringing a point-and-shoot camera is also a good idea for moments when taking out expensive photography gear is impractical.
Will my cell phone work in the Galapagos?
Cell phones on GSM networks generally work in the Galapagos. Check with your provider to find out the specifics of your plan and the charges for using it internationally. Extremely high rates are common, and it's better to know beforehand to avoid the shock after returning home. It's always wise to turn off data roaming before heading abroad.
Is there internet access?
Internet in the Galapagos pales in comparison with the speeds of the United States and Europe. Most hotels have connections, but expect limited range, slow loading times and long waits. Internet on board cruise ships is generally unheard of, or will be via satellite connections at exorbitant pricing — for emergencies only, if at all. Much better to plan to do without and enjoy your surroundings!
How much should I tip?
In restaurants, a 10% service charge is added to the bill; for crew, drivers and staff, $5-10 a day is fair. For guides and trip leaders, $10-15 dollars a day is the norm. Note that apart from tourism destinations, tipping isn't typical and what you leave is entirely up to you.
What are the luggage restrictions?
Most airlines restrict luggage to one checked bag up to a maximum of 40 pounds and one carry-on bag that weighs up to 15 pounds. This is generally recommended for all air travel within South America. Extra baggage can usually be accommodated for a fee.
Are land-based trips better for avoiding sea-sickness?
Not necessarily. Although land-based trips mean spending the night in hotels or lodges you'll still visiting various islands by boat — usually small speedboats, which can be extremely choppy and can cause problems for younger and older travellers.
Can I roam the islands solo?
Visitors on organised tours are required to be accompanied by a registered guide for their own safety and for the protection of the islands' delicate ecosystem.
What are the advantages to different ship sizes?
"Large ships" are only relatively large. They carry 90-100 guests with 30-40 crew — clearly not your average Caribbean cruise liner!
Large ships have more facilities, including larger deck spaces and more social areas, but are not necessarily more luxurious than the smaller ships. Higher cabins have better views, but they're usually more expensive and will feel rockier in strong seas.
Smaller ships are able to anchor closer to the islands, but this is less important considering that all cruises use small motorboats to land on the islands.
Remember that smaller boats will pitch further in choppy seas, so those susceptible to seasickness should bring Dramamine or equivalents. Catamarans tend to be the most stable vessels.
The big difference between smaller and larger ships is the dynamic between your fellow passengers. Expect a more communal atmosphere aboard smaller vessels, getting to know each other while spending your tours and meals with the same 12 to 14 people and the same guide.
On larger ships you'll have more variety in your interactions — touring and eating with different groups of people each day and with various guides.
It's a personal preference, and something to consider when you book your trip. Consult your tour operator or travel agent for more advice.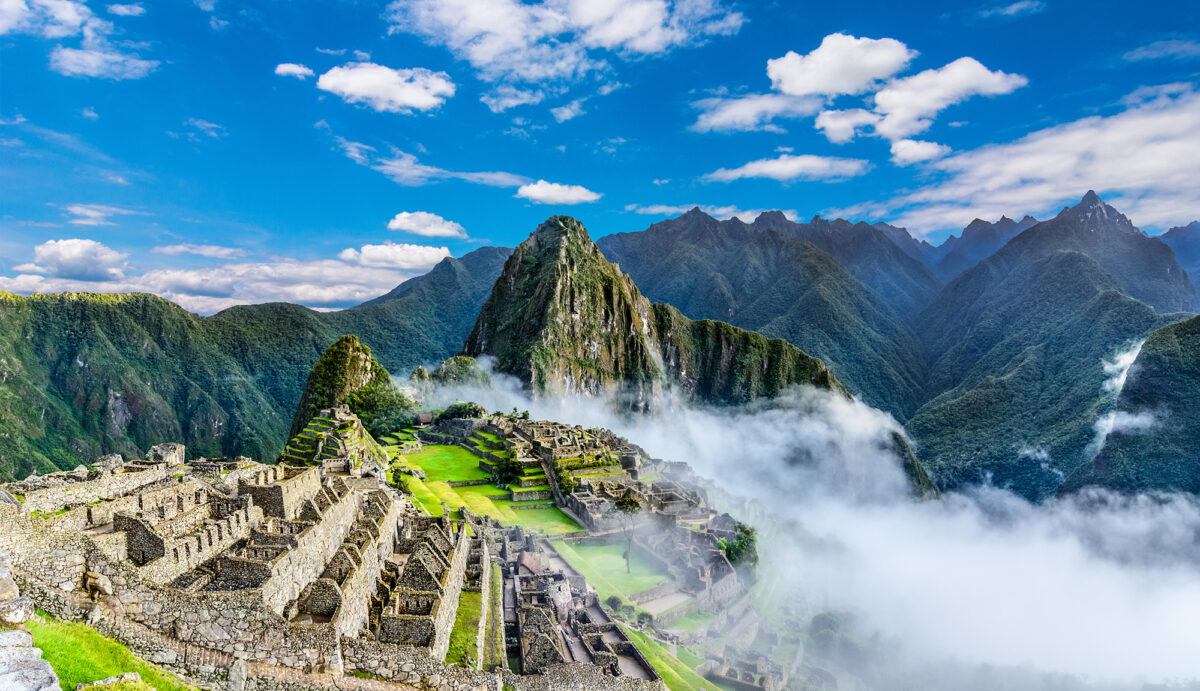 Machu Picchu FAQs
What's the local currency?
The official currency in Peru is the Nuevo Sol (S/.), which is divided into 100 centimos. Some products and services, especially in tourist centres, can be paid for in US Dollars. Currency exchange can be made in banks, hotels and dedicated currency exchange outlets signed "casa de cambio." Avoid changing money in the street.

How much should I tip?
Tipping for exceptional service isn't essential but may be expected. In restaurants a 10% service charge may already be added, otherwise use your own discretion - 10-15% usually suffices. You might want to tip your tour guides around $5 per person, per day.
What documents do I need for Peru?
As with Ecuador no visa is required for most visitors, but double check with plenty of time prior to departure. Ensure your passport is valid at least 6 months prior to your date of departure from Peru. Be sure to retain the immigration slip you'll receive at passport control.